If you want to see a different side of Hawaii, zip lining on the Big Island should do the trick. You'll discover a unique perspective of this tropical paradise while whizzing through lush rainforests.
The guided courses have several sections, so by the time you reach the end of the line, you'll be flying like a pro. There are dual zip lines too, perfect for racing your friends.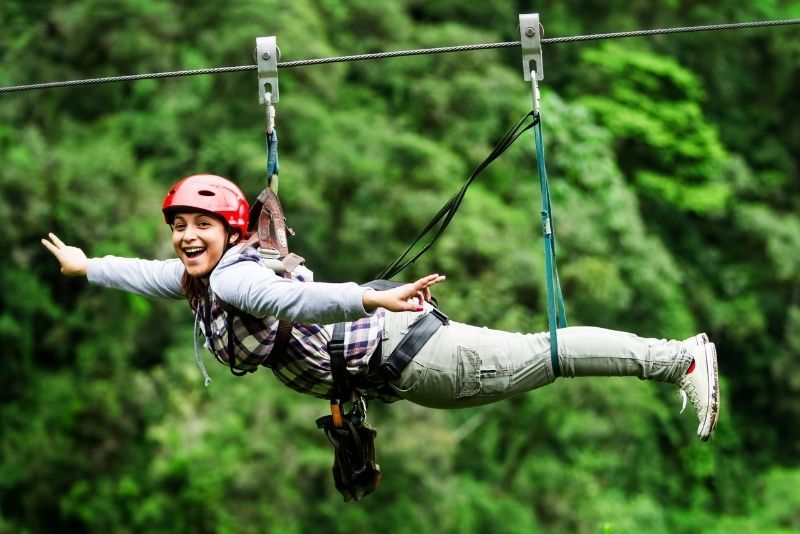 Here's all you need to know about zip lining, one of the most fun outdoor activities on the Big Island.
What are the best zip lining tours on the Big Island?
Big Island zip lining trips
Most zip lining tours on Big Island follow a similar itinerary and are suitable for anyone of reasonable fitness. They take in up to nine different lines that are strung out through the trees in the tropical forest.
The excursion begins with a safety briefing, and you'll be kitted up with a harness and helmet, ready to take on the wild. Your instructor will explain the course so you know what to expect. The group will then be driven by van up to the top of the property, where the course starts.
There will be another quick briefing, and when everyone is happy, it's time to take to the trees. After climbing up to the first platform and strapping in, the adrenaline will soon start to flow.
Before you know it, you'll be skimming the treetops, dangling over rivers and hurtling past waterfalls on your epic aerial mission. You can enjoy views of the Pacific Ocean from here too.
There will be a platform between each zip line, so you can take a breather and prepare to tackle the next one. Some tours finish with a dual line which is great fun if you're traveling with friends and want to see who is fastest.
Zip lining tours with bonus activities
Zip lining on the Big Island can easily be combined with other outdoor adventures – more on this in the combo tour section below.
The days usually begin with an exhilarating zip lining session in the jungle, before moving deeper into the interior to explore further. Popular activity additions include kayaking and stand up paddle boarding, as well as hiking to secret waterfalls. Lunch is often included to keep your energy levels topped up.
These tours tend to last longer and range from 4 hours to a full day out and about.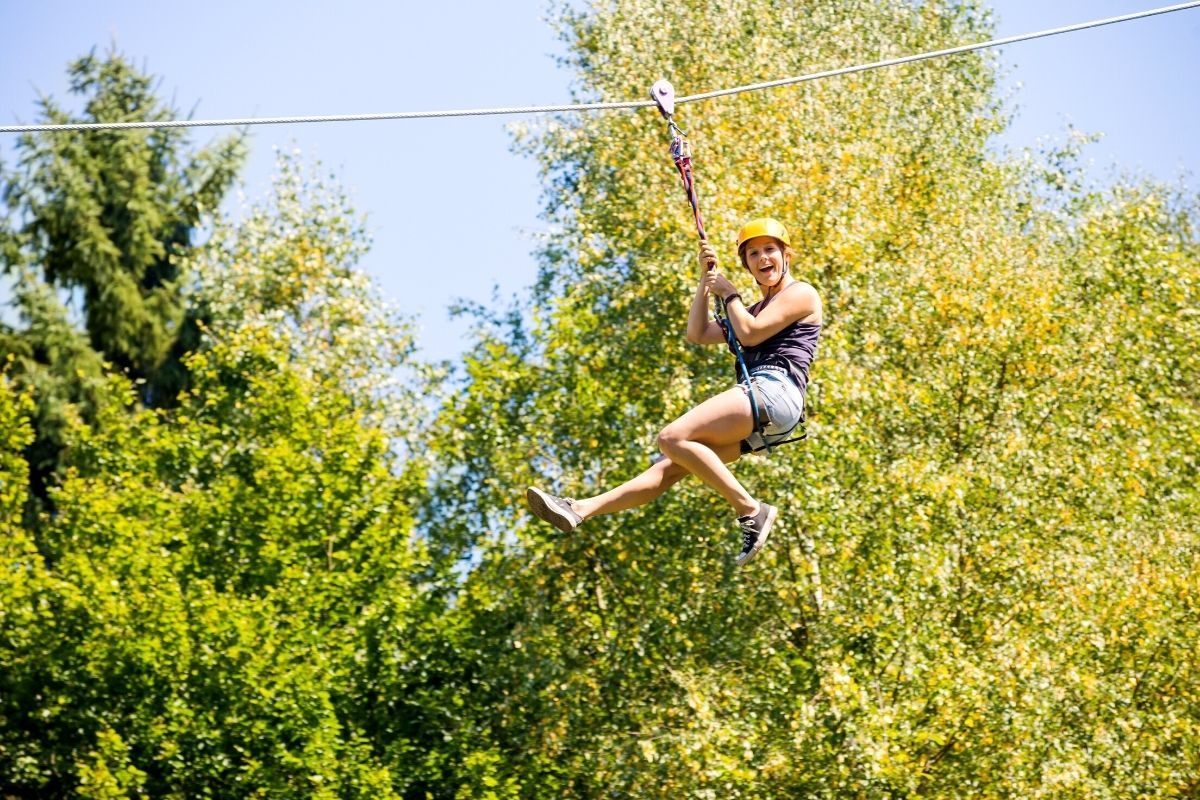 How much does zip lining on the Big Island cost?
Big Island zip lining tours start at US$190 per person for 2.5 hours and US$230 for 3 hours. The 4-hour excursion that includes kayaking, paddle boarding and swimming is priced at US$310 per participant.
For the full-day trip with both zip lining and hiking, expect to pay US$290 per traveler. Equipment and lunch are included in the tour package.
These are all guided group trips with a maximum of 20 people on each tour.
What is included?
The following is usually included on the Big Island zip lining tours:
Professional guide.
Zip lining gear such as harness, rigging and helmet.
Water and snacks.
Some providers also offer free access to the Botanical Gardens for a self-guided tour, while others include kayaks and paddle boards for multi-activity trips.
The full-day zip line and hiking adventure package covers:
All zip lining equipment and a guide.
Walking poles, backpacks and waterproof jackets.
Towels, sunscreen and insect repellent.
Picnic lunch.
GoPro cameras are often available to rent, and some tour companies offer photos that can be purchased after the excursion. A few operators include souvenir photos for free.
Where does it start?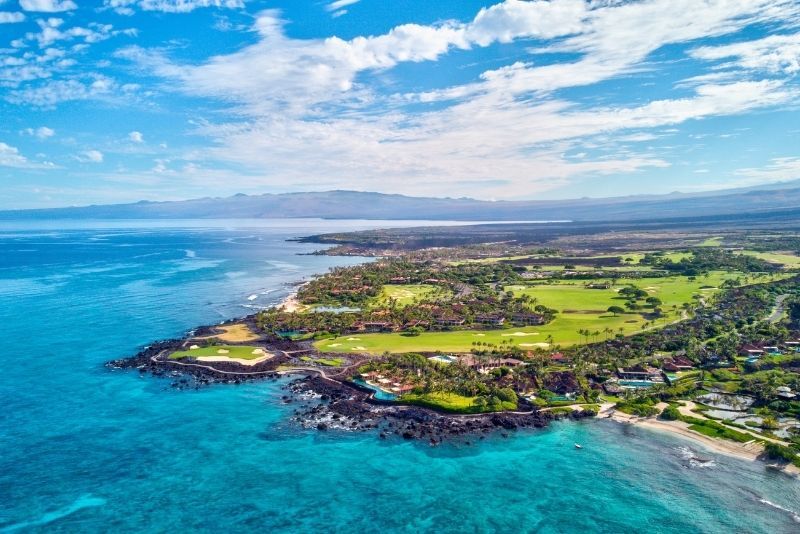 Hotel transfers are not included on the Big Island zip lining packages, so you'll have to make your own way to the start points.
These are usually either at the Umauma Falls Visitor Center or the Botanical World Adventures Guest Center. You'll find these on the east side of the island, off Old Mamalahoa Way just north of Hakalau.
The full-day tour with both zip lining and hiking begins in the Kohala Forest, up in the north of the island. Full access details will be given on booking.
You will need to check in about 45 minutes before your tour starts – this is for the safety briefing and kit allocation.
How long does it take?
Most zip lining tours on the Big Island are between 2.5 and 3 hours long. This gives you plenty of time to zoom through the jungle on multiple lines without feeling rushed.
Longer tours offer additional activities, like kayaking, paddle boarding and hiking. These trips are either 4 or 9 hours in length.
When is the best time to go zip lining on the Big Island?
Zip lining in Hawaii takes place throughout the day, so you can easily fit a tour into your schedule. Mornings are generally cooler, so if you're not a fan of the heat, this is the time to go.
Morning excursions also leave your afternoons free, so you can try other activities like snorkeling tours or boat trips.
It's wise to book your session toward the beginning of your vacation in case bad weather forces a date change.
Are there any combo trips available with zip lining tours on the Big Island?
Zip lining adventures with kayaking and paddle boarding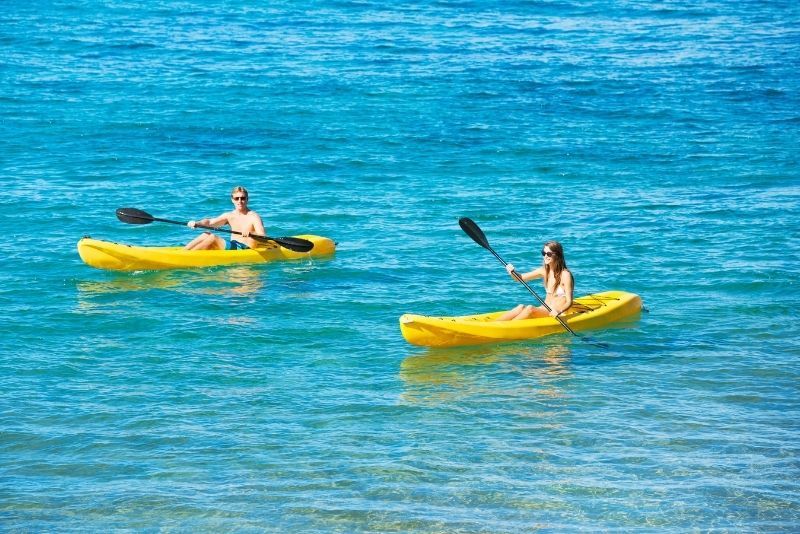 Combine some of Hawaii's most thrilling outdoor pursuits on this fun activity tour. After having your fill of zip lining through the jungle at Umauma Falls, you'll wobble across a suspension bridge before heading down to the water.
Once you're at the waterfall pool, you can go swimming, try your hand at kayaking, and float around on a paddle board. Lunch is provided on this half-day zip lining tour on the Big Island.
Zip lining tours with a waterfall hike
If you want to stretch your legs and explore deeper into the rainforest, then these excursions are for you. The tour begins with a zip line extravaganza up in the canopy, followed by a private picnic overlooking the Pololu Valley.
Then you'll enjoy an off-road ride to the waterfalls, where your hike begins. You'll trek around a nature reserve that was once a sugarcane plantation where waterfalls, secret bridges and ancient taro terraces can be seen.
Is it safe to go zip lining on the Big Island?
Big Island zip lining excursions come with all the necessary safety gear as well as professional instructors, so you have nothing to worry about.
These tours are not advisable for anyone with a fear of heights, or travelers with heart conditions or back problems. The maximum participant weight is 122 kilograms, and guests are sometimes weighed at check-in.
Are children allowed?
For safety reasons, the minimum age for zip line participants is between 4 and 8 years, depending on the operator. All children must be accompanied by an adult.
Check the tour details before booking if you are traveling with a young family.
What happens in case of bad weather?
Hawaii zip lining is weather dependent, which means your tour may be canceled if conditions are poor. All is not lost, however, as you'll receive a full refund or be offered a different date.
Try and book your excursion at the start of your visit to Big Island, just in case it needs to be postponed.
Travel tips
Zip lining trips on the Big Island are one of the most popular activities here, so book ahead to avoid missing out.
Wear comfortable outdoor clothing and closed-toe shoes suitable for physical activities. You will be walking on uneven surfaces.
Remember to take swimwear and a towel if your tour involves waterfall swimming or kayaking.
Gratuities are not mandatory but are always welcome if you've enjoyed your Big Island zip lining experience.