It has been said that we know more about the surface of the moon than we do about the ocean floor. Submarine tours in Gran Canaria allow you to change all of that for yourself as you board a private submarine to explore Davey Jones's locker.
Gran Canaria presents one of the few places on Earth that's perfect for submarine outings due to crystal clear waters that teem with life — something you'll discover for yourself once you take a dive. Sit back and watch schools of fish and marine animals cascade down your window while your vessel explores the secrets of the deep sea.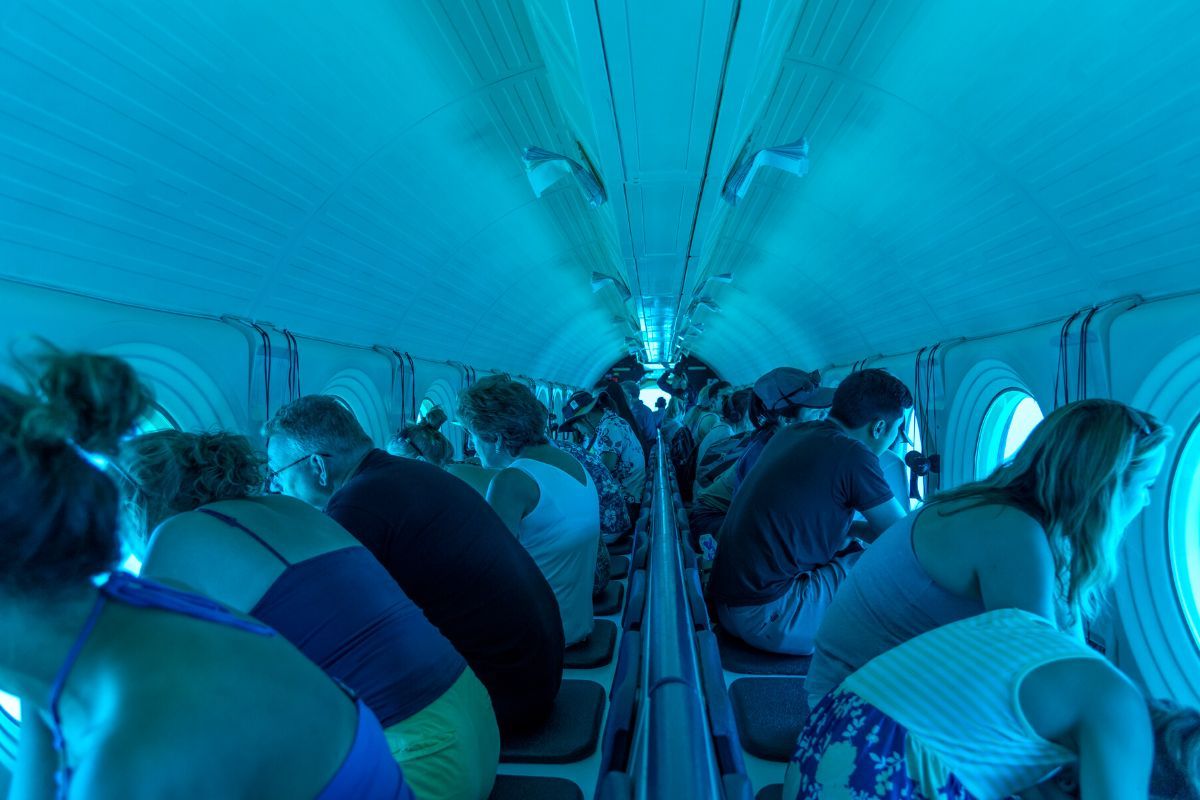 Here's all you need to know about submarine tours, one of the most breathtaking activities in Gran Canaria.
What are the best submarine tours in Gran Canaria?
Submarine tours are a rarity, with only a handful of submersible vessels operating commercially in Europe. That's why it's no surprise that there's only one submarine tour operating in Gran Canaria. Luckily for travelers to the island, it's regarded as one of the best submarine tours in Europe.
The Golden Shark submarine tour in Gran Canaria
The aptly named Golden Shark will be your temporary home for this unforgettable venture into the blue beyond. After arriving at the tour company in Puerto de Mogan, you'll undergo a short safety briefing, whereafter you'll familiarise yourself with the Golden Shark.
The vessel measures 18 meters long by 4 meters wide, leaving more than enough space for a maximum of 10 passengers aboard. The interior feels more like some futuristic movie set than it does a typical submarine — an impression that's enhanced by the fact that each passenger has their own TV screen and observation hole.
Your unforgettable voyage begins with an above-water cruise to the diving area — a region that's been chosen due to its ocean life and the presence of a couple of shipwrecks. You'll watch the diving process on your TV screen, obtaining a detailed account of everything that needs to happen to submerge the ship.
The Golden Shark will then proceed to dive down 25 meters, a depth that's deeper than most scuba diving tours. Here, you'll be able to view the strange animals that call the ocean floor their home, a couple of shipwrecks and schools of fish.
If you're lucky, you might be able to view shoaling behavior — an event that the human eye rarely gets to behold. The water clarity largely depends on external factors like the weather or tides — but in the worst-case scenario you'll still be able to enjoy the novel experience of an underwater voyage.
The amount of ocean life you'll encounter on these excursions differs from one outing to another because you are dealing with wild animals. However, you can rest assured that your experienced skipper and crew are doing their best to leave you with a truly unforgettable memory.
The diving and resurfacing process takes place in such a way that no difference in air pressure is experienced — making the excursion relatively safe for people with ear and balance problems and other underlying medical conditions.
How much do submarine tours in Gran Canaria cost?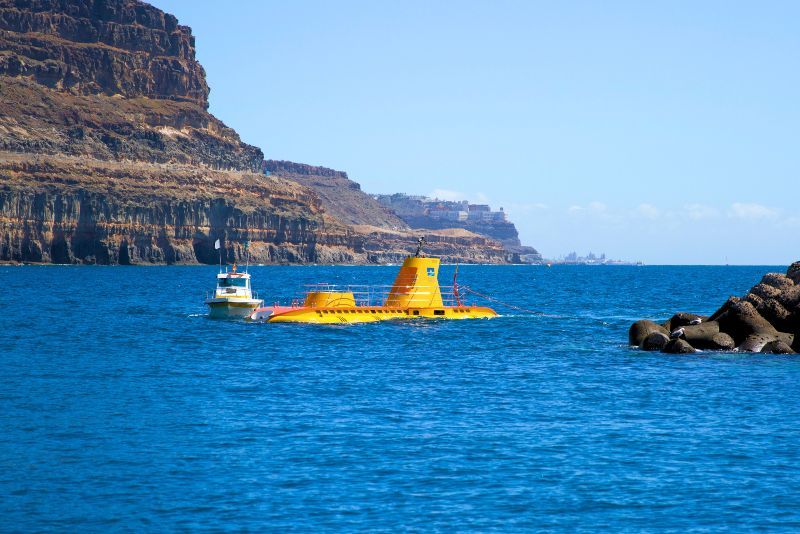 Submarine tours in Gran Canaria are extremely affordable when you take into account the logistics and the type of vessel these tours need — especially if you compare them to other specialized excursions like plane or helicopter tours.
The Golden Shark submarine tour in Gran Canaria will cost €35 per person, easily making it one of Europe's most affordable submarine trips. Each tour is limited to a maximum of 10 persons, meaning you'll still have a relatively intimate experience.
What is included?
Submarine tours in Gran Canaria include a knowledgeable guide, a qualified skipper and a journey in a fully submergible vessel. This last distinction is very important, as other tours might call themselves submarine tours, but they use boats with transparent hulls — meaning the vessel never ventures underwater.
Onboard the submarine you'll find a designated seat with your own private window and television screen — perfect to watch the vessel submerging and resurfacing. All necessary safety equipment, like life jackets and emergency dinghies, are also onboard.
Where does it start?
All submarine tours in Gran Canaria depart from the harbor in Puerto de Mogan, on the island's southwestern shore. To reach it from Las Palmas de Gran Canaria, simply follow the GC-1 southwards until you arrive at the popular resort town. The tour company is called Atlántida Submarine and you'll find them at the opposite end of the harbor mouth.
How long does it last?
The entire duration of a submarine tour in Gran Canaria is just over an hour, with 40 minutes spent submerged. The rest of the time is used to travel to and from the diving spot as well as the onboarding process.
Is it safe?
Yes, submarine tours in Gran Canaria are safe, as they provide expert guides and safety equipment. While this excursion is considered safe for people with an underlying health condition, you should still check with a medical professional.
These outings are not suitable for people who suffer from claustrophobia since the space inside the submarine as well as the access are quite tight.
When is the best time for a submarine tour in Gran Canaria?
There's no such thing as a bad time when it comes to Gran Canaria's submarine tours with conditions being close to perfect all year round. That being said, your tour may be rescheduled or even canceled in the rare event of inclement weather.
The best time of year in terms of the number of visitors would be from June to October — with the island receiving the bulk of its yearly tourists during the winter months.
Which other water activities can be done in Gran Canaria?
Travel tips
Wear comfortable clothing as you'll be seated for the duration of the tour.
Bring a light jacket or sweater, as it may get a bit chilly inside the submarine.
Don't forget to bring your camera or smartphone to capture the  unique underwater views and marine life sightings. Be mindful of any photography restrictions enforced by the tour operator.
Pay close attention to the safety briefing provided by the crew before boarding the submarine.
Avoid hitting the windows in order to not disturb marine life.
If you are prone to motion sickness, it may be helpful to take preventive measures beforehand and choose a seat near the center of the submarine where there is less movement.
Follow any rules and regulations set by the tour operator, including restrictions on food, drinks, smoking, and use of electronic devices.