Picture Greece hundreds of years ago at a time when empires ruled and castles and forts were built to protect royalty and cities.
This is exactly the vibes Spinalonga exudes, but it's not the only reason why the tiny Greek isle has become famous in recent years. Up until 1957, the entire island was home to a "leper colony" where those infected were able to live in harmony. Remember, back then there was no cure for leprosy.
But its history dates way further back than the '90s, and, originally, a medieval fort was constructed here during the Venetian times to protect neighboring towns. Enjoy a day tour to Spinalonga from Heraklion as you trek the now-deserted island, a stone's throw away from Plaka village.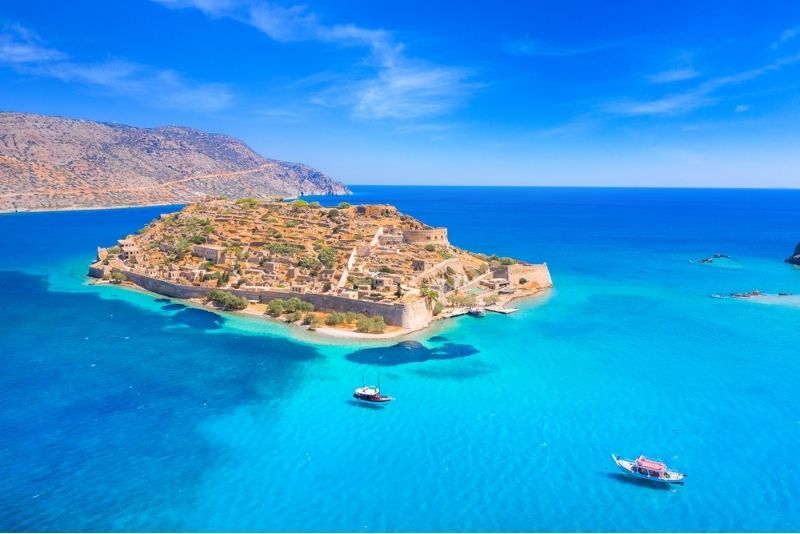 How to get to Spinalonga from Heraklion?
Spinalonga is situated over 60 kilometers from Crete's capital city, Heraklion, and is only accessible by boat. There are three nearby towns in north-eastern Crete where you can take the boat to reach the island — Agios Nikolaos, Elounda and Plaka.
From Heraklion to Spinalonga by bus and boat
Public buses only run from Heraklion to Agios Nikolaos. From there, you can either catch a boat to Spinalonga or transfer to a bus to Plaka or Elounda.
Via Agios Nikolaos
Here, you can take 1-hour cruise to Spinalonga. Most boats that depart from Agios Nikolaos are larger cruise liners.
Via Elounda
At Agios Nikolaos bus station, transfer to a bus that runs to Elounda. The total travel time on the roads is over three hours. From Elounda, catch a 30-minute boat ride to Spinalonga island.
Via Plaka
From Agios Nikolaos bus station, transfer to a bus that goes to Plaka. Although Plaka is the closest village to Spinalonga, located a kilometer away, your total time on the road is longer. However, boats from Plaka to the island usually run every 30 minutes, and it takes just five minutes to get to Spingalonga.  
From Heraklion to Spinalonga by car
Skip the buses and drive directly to Elounda or Plaka with a private rented car. It takes one hour from Heraklion to Elounda, but almost two hours to reach Plaka. At Elounda or Plaka, park your car at the port and catch a boat to Spinalonga.
You can drive from Heraklion to Agios Nikolaos, but most boats departing from here to Spinalonga are big cruise liners or those on pre-booked trips.
Guided tour to Spinalonga from Heraklion
Don't stress about figuring out bus timetables and hunting down local boats, instead enjoy a guided tour from Heraklion to Spinalonga in a private vehicle and boat.
Start the day right in Heraklion with a hotel pickup and travel from nearby towns like Agios Nikolaos to Spinalonga on the waters. Some tours pit stop in Plaka or Elounda too.
How much does the entrance ticket to Spinalonga cost?
You will need to pay entrance to visit the historical site. There are annual days of the year when the entrance to the island is free.
These are March 6, April 18, May 18, the last weekend of September and Oct. 28, as well as the first Sunday of every month from Nov.1 to March 31.
Spinalonga entrance fee:
Adults: €8
Senior (over 65): €4
Children (under 18) and students: FREE
What is the typical itinerary of a day tour to Spinalonga from Heraklion?
Start exploring Crete's eastern coastline with a private pickup from your hotel in Heraklion in the morning. Leaving the capital city, enjoy a scenic drive to one of the nearby local villages where your boat to Spinalonga departs.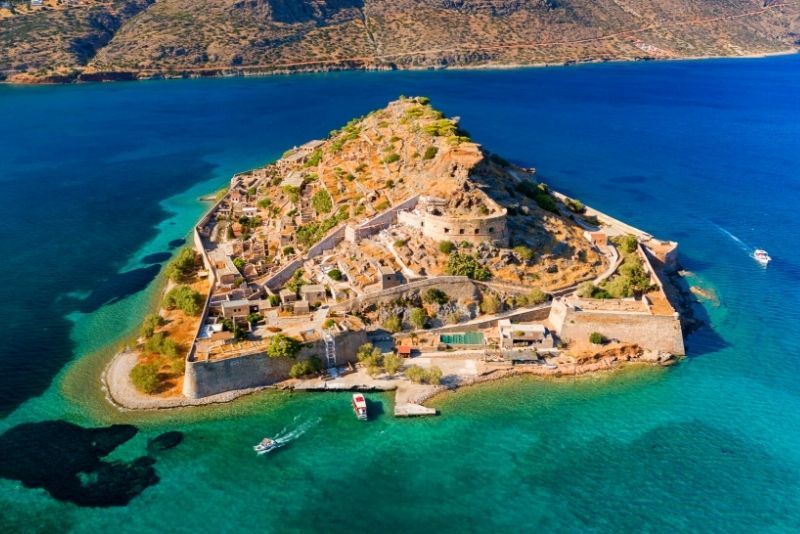 Stroll the town's neighborhood and gander at buildings that show off architecture from hundreds of years ago.
Some popular towns to visit on a day trip from Heraklion to Spinalonga include Agios Nikolaos, Elounda, Plaka and Kritsa. You will pass through villages like Kato Louma, Nikithianos, Fourni, Karydi and Valtos.
Hopping onto your tour boat from the town port, head for Spinalonga. Once arriving on the island, trek the archaeological ruins of the once-leper colony. Discover a fortress and wander through abandoned homes, hospitals and buildings — your knowledgeable guide shares stories of its history along the way.
Before you're dropped back in Heraklion, relax, drink, eat and be merry with lunch and wine tasting at a vineyard in Plaka. The tour ends with a drop-off at your accommodation in Heraklion.
What kind of tours are available to go to Spinalonga?
As you can't drive directly from the capital city to the "leper island," day tours to Spinalonga from Heraklion pass through nearby towns. While you're there, don't miss the opportunity to explore the neighborhoods.
Day trip to Spinalonga from Heraklion
Spend eight to nine hours adventuring through Crete's coastal landscapes and oceanic scenes. A convenient hotel pickup in Heraklion is included and leaving the capital city at 9 AM, travel through local villages.
Stop off in a town with a port like Agios Nikolaos, Elounda or Plaka, with time to explore the local sites, and board the boat to the island. At Spinalonga, investigate the historic site and an islet that's completely abandoned, houses and shops included.
Back on the mainland, enjoy a traditional lunch by the seaside before departing back to Heraklion. Your private transport drops you at your accommodation.
Private guided tour to Spinalonga from Heraklion
Enjoy something extra and end your day trip to Spinalonga with a private winery or olive oil estate tour — tastings included.
Once concluding your venture around the stone-cobbled isle, you'll jump back on the boat and head for Vassilakis Estate (an olive oil factory) or Scalani Hills Boutari Winery for a three-glass wine tasting. Explore the vineyards, learn about the production of olive oil or visit the cellar at the winery.
These are small group tours and include private transfers to and from your Heraklion accommodation offering flexible pickup times. Lunch at a local taverna is included in the Spinalonga excursion.
Day tour to Spinalonga plus Agios Nikolaos and Elounda from Heraklion
During the journey from Heraklion to Spinalonga, visit two or three picturesque towns and spend an hour or two walking the cobbled streets. Grab a cocktail at a bar, go souvenir shopping and learn about some of Crete's famed attractions.
Enter a church from the 12th century, built in the style of the Byzantine Empire. Pass by gorgeous lakes and stop at an old fishing village that is filled with fancy stays and cool cafes in its modern-day.
Enjoy beaches and bays along the way for a dip in the ocean or snorkel (bring gear). Once done visiting Spinalonga, grab lunch and transfer back to Heraklion with a private transfer.
Full-day private transfers from Heraklion to Spinalonga
Departing Heraklion in a private vehicle from your hotel, sit back and enjoy being driven from one town to the next, and take your own time checking out different spots on your Crete bucket list. Once ready to depart for Spinalonga, hop on board a pre-organized boat.
Reaching the isle, explore the grounds and area unguided, and ride back to Plaka with time for lunch wherever you choose. Heading back to Heraklion in the late afternoon, transfer to your accommodation after a 10-hour day trip.
How much does a tour to Spinalonga from Heraklion cost?
A day trip to Spinalonga costs between €39 and €146 per person. Tours from Heraklion to the island, stopping off at one or two towns, are €39 to €115 per person. The price differs based on group size, and the number of destinations visited along the way.
Cheaper tours have group sizes of up to 15 travelers and do not include some ticket prices such as the Spinalonga entrance fee or boat rides. Specialized tours with pit stops at an olive oil factory are from €105 to €115 per person, and a trip to Spinalonga with a wine tour and tasting at the end is €146 per person.
Unguided trips from Heraklion to Spinalonga are €44 per person and include transfers only. You will need to pay for all other costs like entrance fees, boat tickets and lunch, among others.
What will you see and do on Spinalonga?
The entire island's perimeter is only 1.5 kilometers, so it's easy to explore by foot. Although there was life on Spinalonga until 1957, it remains uninhabited. The buildings used during the colony still exist, with traces of the Venetian period.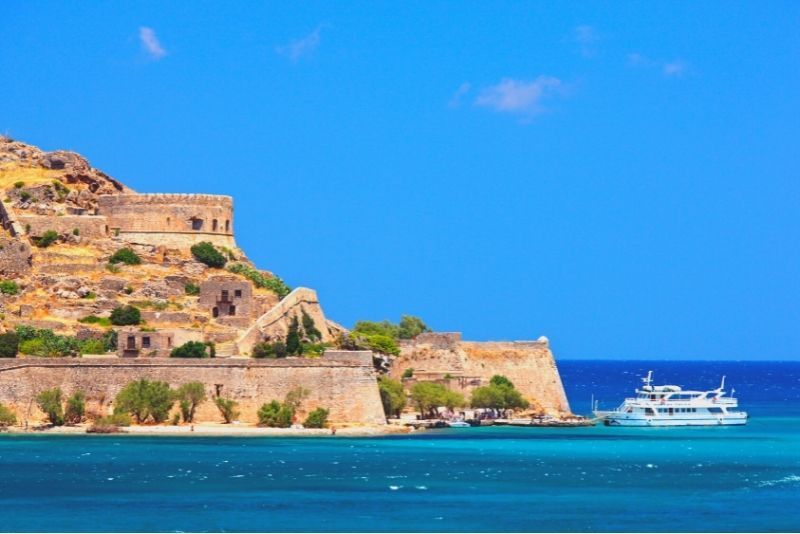 16th-century Venetian fortress
Constructed in the 16th-century to protect Mirabella Bay (which you can spot from Spinalonga), the derelict stone fort takes you back when knights and soldiers ruled.
Local settlement
Wander through the abandoned village where people used to live from 1903 to 1957. There's a small museum filled with some photographs from back then, and one or two of the houses have undergone renovation.
Visit the only hospital on the island a bit further down from the settlement, and discover where the community theatre once operated.
Church of Saint George
Walk through the tiny church and check out the cemetery at the back. From this point, revel in the views of deep blue ocean hues.
When is Spinalonga open over the year?
The historic site is closed during winter (Nov.1 to March 31) and only opens for the summer season (April 1 to Oct.31).
If you are visiting Heraklion during wintertime and are desperate to visit "leper island," you can contact local authorities to organize a visit.
What are the opening times?
Spinalonga is open Monday to Sunday from 8:30 AM to 6 PM during the summer season. The island is open from 8 AM to 6 PM for some public holidays.
When is the best time to visit Spinalonga?
The summer season is the best time to visit the island. Many day trips and tours are running during this time, and the weather in Crete is stunning.
Trips from Heraklion to Spinalonga include stopping in other nearby towns, and if you're not keen on walking in the heat, visit in late April or October.
Are there any tours to Spinalonga from other cities in Greece?
Yes, there are other tours departing from other cities in Greece:
Travel tips
Wear a strong sunblock, sunhat and comfortable walking shoes.
Some tours require you to book your pick-up and drop-off locations at least 24 hours in advance.
A trip to Spinalonga is dependent on the weather. A boat ride is a no-go if it's storming or rough out at sea.
Bring extra spending money for shopping, or lunch and entrance tickets if not included in the tour price.
Don't forget a fully charged camera or mobile phone.