If history and food are your things, a jaunt to Ston should be on the cards. This medieval town sits on the coast of the Adriatic sea and is known for having the longest fortified walls in Europe.
The town has an annual salt harvest, which is done using shovels and wagons — the same method that's been used for 2,000 years. Ston is known for its oysters — which some say are the best in the world.
Be sure to sample their top-notch local produce, including olive oil and cheese, and take a tour of their boutique wineries.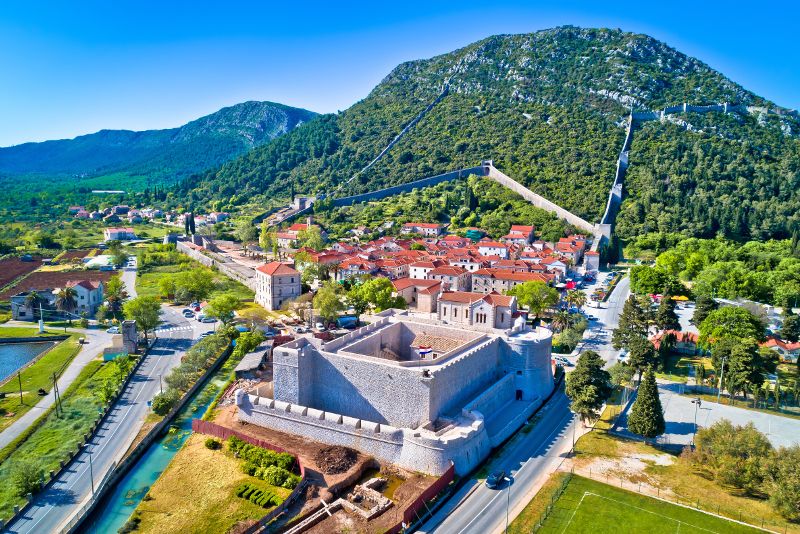 How to get to Ston from Dubrovnik?
Ston is in the south of Dalmatia and forms part of the Pelješac Peninsula. It's just an hour's drive northwest of Dubrovnik, making it perfect for day trips.
From Dubrovnik to Ston by car
It takes about 55 minutes to get to Ston from Dubrovnik by car. Simply follow the D8 along the coastline and then take the 414 to Ston.
From Dubrovnik to Ston by bus
The cheapest option to reach Ston is by bus, which takes 1 hour and 15 minutes. Buses leave from Dubrovnik Bus Station to Ston daily from 6 AM.
Guided tour to Ston from Dubrovnik
Guided excursions to Ston provide transportation to and from your accommodation in Dubrovnik, a tour guide to provide historical context, and free time to explore popular attractions.
What is the typical itinerary of a day tour to Ston from Dubrovnik?
All Ston day trips from Dubrovnik start with pickup at your accommodation in Dubrovnik or a predetermined location. The tours then head northwest by car or minibus along the Pelješac Peninsula.
The tour will then stop in Ston, where you will typically get a few hours to admire the Medieval walls and salt works. You will have free time to explore the city and enjoy dining and shopping. From there, some tours will take you to wineries, an oyster farm or the island of Korcula.
After spending the day in Ston, you'll make the journey back to Dubrovnik and be dropped off at your accommodation.
What kinds of tours are available to go to Ston?
There are different tour options for your trip to Ston from Dubrovnik, and all of them come with an English-speaking tour guide. Most tours incorporate visiting the island of Korcula and leave between 8 AM and 9 AM.
Guided tours to Ston from Dubrovnik
There are two types of tours from Ston to Dubrovnik, The first type will see you traveling in a large tour group of up to 100 people. The second kind will usually include the same experiences as the first kind, but you will travel in a smaller group of up to 18 people.
Guided tours are between five to 12 hours long and may include hotel pickup and drop-off or transport from a predefined departure point. You will get to experience all of Ston's main attractions, including the medieval walls and saltworks. You will visit an oyster farm and one or more wineries. Most tours allow a stop on the island of Korcula. You will then be taken back to Dubrovnik.
Private tour to Ston from Dubrovnik
Private tours follow a similar itinerary as most guided tours, but you will have undivided attention from your tour guide and the option of tailoring it to your interests. Only your group will participate and these tours allow up to eight people if your transport is by minivan, or three people if you're traveling by car.
Private tour vehicles are air-conditioned and you'll get free bottled water. Some short private tours will take you to only one or two wineries for wine tasting and lunch. These tours typically won't include a boat ride to an oyster farm, while some of them will include a stop in Korcula.
2-Day tour to Ston from Dubrovnik
If you'd like to do a 2-day sailing adventure to Ston from Dubrovnik, you can rent a sailboat. These usually come with a skipper. Sail directly to Ston to enjoy this historic town's medieval walls, salt plain and delicious local food and wine. Don't forget to try the oysters!
You will then go to the small village of Kobas, where you'll sleep over. The next day, you will visit the sandy beaches of Marculeti and return to Dubrovnik late afternoon.
A trip like this typically includes breakfast, soft drinks, some wine, food platters and the use of snorkeling equipment.
How much does a tour to Ston from Dubrovnik cost?
A guided tour to Ston from Dubrovnik that includes a visit to Korcula island and wine tasting cost around €55 per person. For day tours that visit several wineries and offer oyster experiences cost between €100 and €400 per person.
Small group tours cost starting from €200 per person and are limited to eight persons per minivan.
Private tours cost around €200 per person for a group of two persons. A 2-day sailing trip to Ston from Dubrovnik cost €1,700 per group of up to six persons.
What will you see and do on a Ston day trip from Dubrovnik?
During a Ston day trip from Dubrovnik, you can expect to experience both its history and gastronomy.
Medieval walls
Completed in the 1500s, the medieval walls in Ston are the longest fortified walls in Europe at more than 5 kilometers. They are the second largest defensive wall in the world after the Great Wall of China.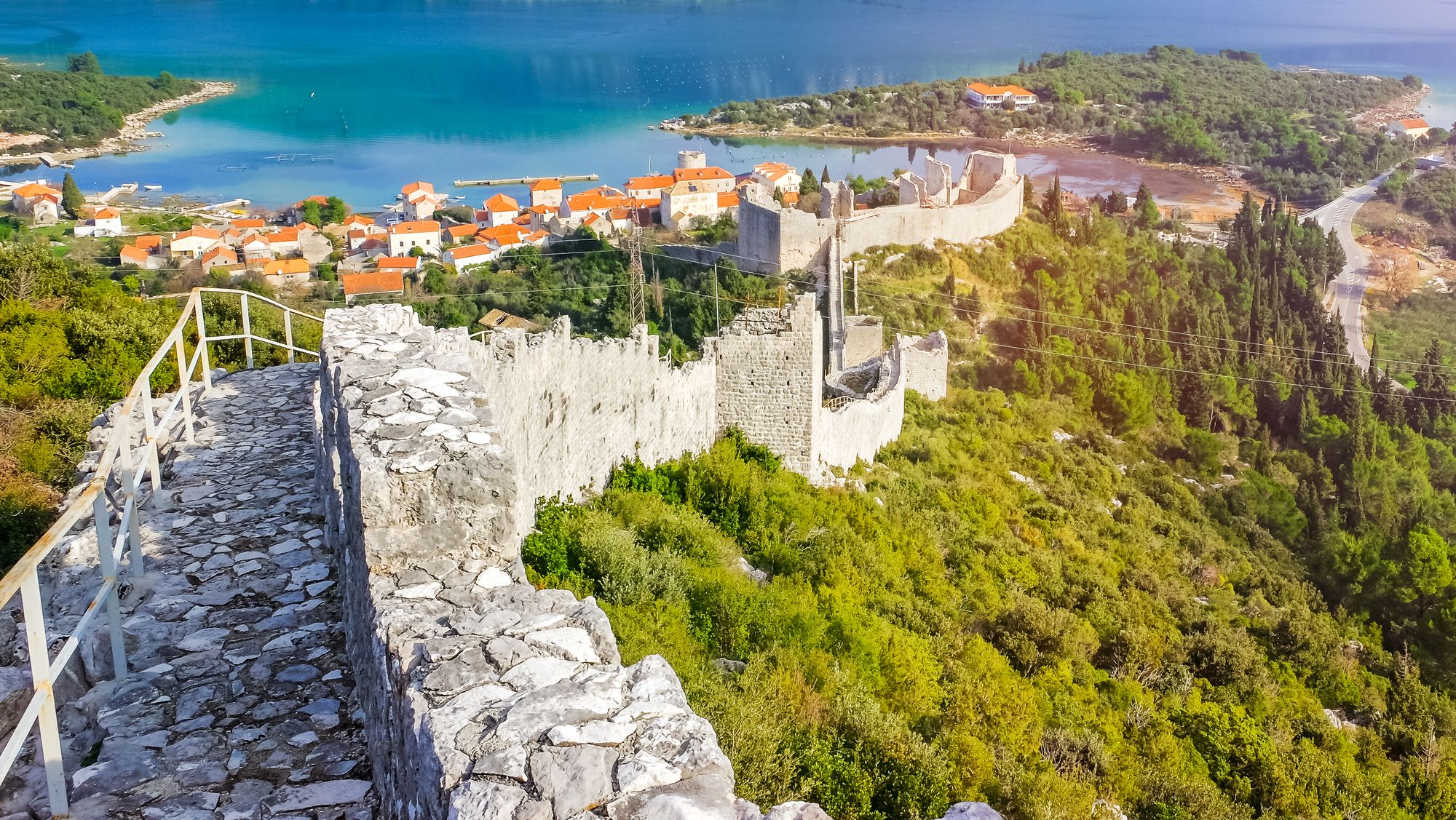 Salt works
Salt in Ston has been harvested in the same way for 2,000 years. It is one of the oldest of its kind in the world and you can also buy salt there. During the annual harvest in July, salt workers scoop the salt up with shovels and transport it in wagons.
Oyster farms
Oyster harvesting has been happening in Ston for thousands of years, and its oysters receive high praise from visitors worldwide. You can visit the oyster farm by boat and eat these delicacies directly from the sea sprinkled with lemon juice — the best way to enjoy them, according to oyster lovers.
Wineries
Ston has plenty of boutique family-run wineries. Sip on a locally made red or white while you look out over the ocean.
Korcula
You'll typically get to see the charming island of Korcula, see Korcula Old Town and admire St. Mark's Cathedral. You'll also get to sample liqueurs and local wines at a traditional Croatian winery.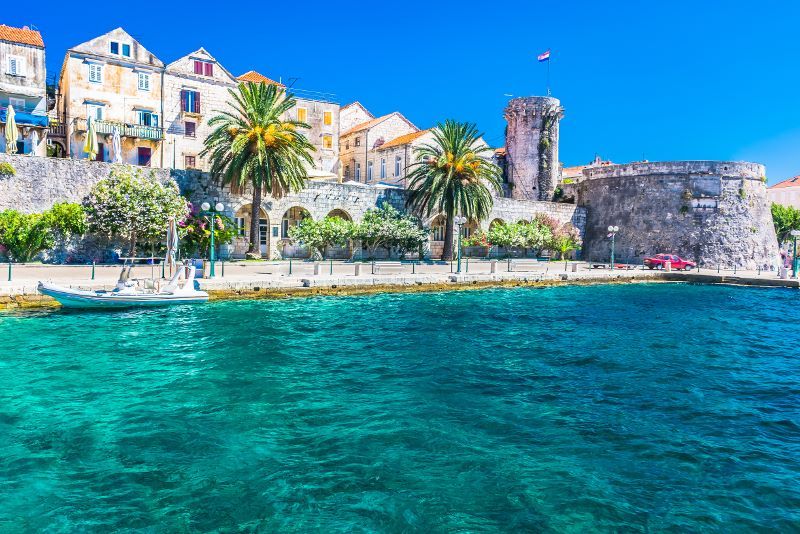 When is the best time to visit Ston?
The best time to do a day trip to Ston is in summer, particularly in July and August. During this period, you can witness its annual salt harvest, which is interesting to observe.
Travel tips
Wear comfortable shoes as you may be walking a lot – especially along the medieval walls.
Carry sunscreen, a sunhat and a bottle of water.
Be sure to take a camera (with lots of memory), as there are some stunning views that you'll want to capture.
Going on a tour with an English-speaking guide will give you a better understanding of the history of Ston and its surrounding areas.
Prepare to spend most of your time outdoors, as Ston boasts breathtaking vistas and scenic paths.