​​For many years Chicago was the epicenter of criminal activity in the USA with notorious criminals like Al Capone and John Dillinger running their crime empires in the early 1900s. Chicago set the scene for murder, robbery, and vice-related crimes and the roaring 20s is still regarded as one of the most crime-ridden eras.
Chicago visitors can still explore the old stomping grounds of America's biggest criminals and hear about the city's lavish history which retells like a thrilling Hollywood blockbuster on a Gangster and Crime tour.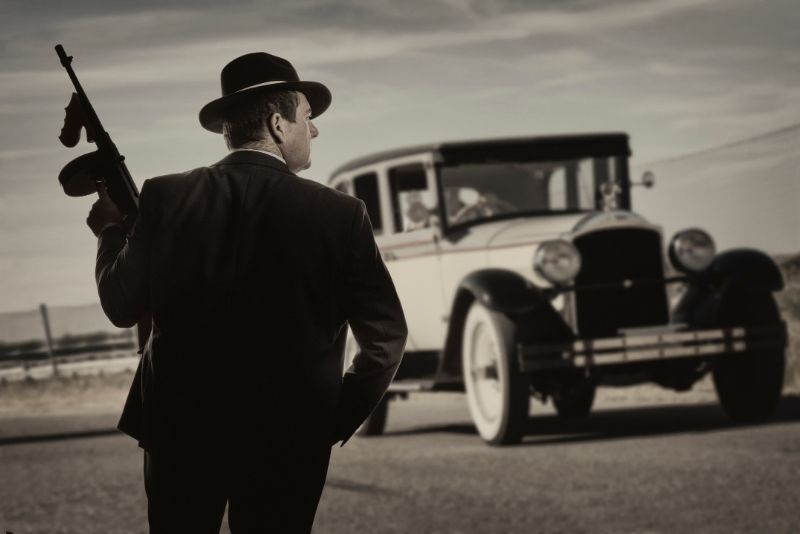 You will find below all you need to know about gangster and crime tours, one of the most interesting options for sightseeing tours in Chicago.
What are the best Gangster and Crime tours in Chicago?
Chicago Mob & Crime Bus Tour
Delve deep into the bloody past of Chicago with a bus tour of all of the city's most notorious historic crime spots. Walk in the footsteps of John Dillinger as he robbed the city blind and hear fascinating stories about Al Capone, the Untouchables, the Chicago Mob and more.
You will stand in the spot where the gruesome Valentine's Day Massacre took place and visit several murder scenes including the Biograph Theatre, Holy Name Cathedral and Clark Street Bridge. Enjoy all of these sites from the comfort of a luxury coach, safe from the elements of the Windy City.
Gangsters and Ghosts Tour in Chicago
Step back into the roaring twenties and see if you run into the ghosts of gangsters past. Take a walking tour through the haunted streets of Chicago and see where the crime-ridden underbelly of the city thrived during prohibition-era America.
The tour visits some of the city's most haunted places like Palmer House, Congress Hotel, and Death Alley and you will have shivers down your spine as you listen to tales of murder and deceit from Chicago's darkest times.
Private Al Capone Gangster Tour in Chicago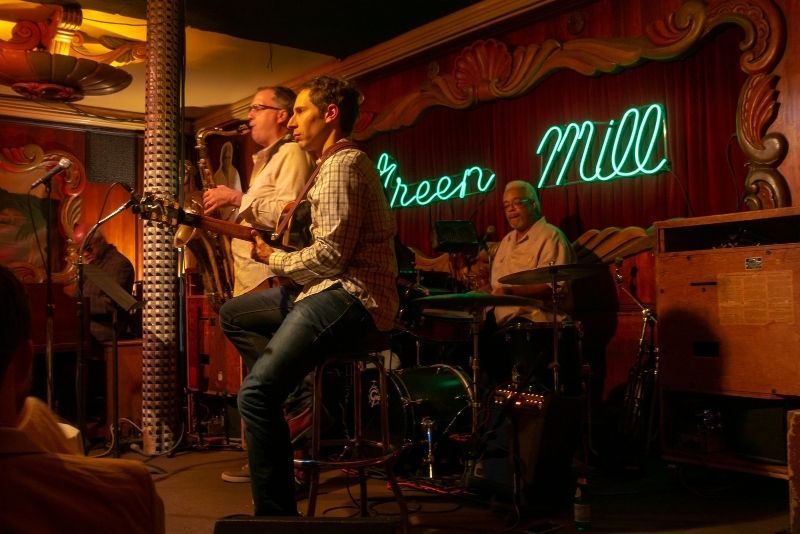 This private tour offers luxury fit for a mob boss and his crew. Get picked up in a grand car and get whisked off to several locations associated with the infamous Al Capone and other mob heavy hitters.
See where Al Capone's men were ambushed and where Dillinger met his end. You will even sit at Al Capone's famous green dining booth at Green Mill and visit the haunting scene where the St. Valentine's Day Massacre unfolded.
1920s Architecture Walking Tour in Chicago
The twenties was a spectacular time in Chicago and this unique setting brought forth a boom in art deco architecture. This architecture walking tour focuses on the fabulous remnants of the time, showcasing the finest jazz-era architecture.
You will also hear stories of gangsters and flappers alike, and learn how crime influenced so much of the city's history leading up to the Great Depression.
Chicago Gangster and Crimes Self-Guided Tours
If you want to avoid crowds and enjoy the sites of Chicago at your own pace, opt for a self-guided audio tour instead of a pre-booked tour. The informative tour will take you to all the most famous places around Chicago and give you haunting retellings of events that unfolded in the city.
You can also buy a self-guided exploration game for a fun twist on a conventional audio tour. Make your way through the city by solving clues and mysteries just like the men in blue did in the 20's.
Which places are visited/seen on Gangster and Crime tours in Chicago?
Chicago is littered with places associated with the mob and notorious gangsters from the city's past.
St. Valentine's Day Massacre Site
This location was the setting where mob history irreversibly changed in 1929 when Al Capone became public enemy number one. Seven men were lined up and shot in cold blood as a turf war between Capone's Italian gangsters and Malone's Irish men came to a head.
Biograph Theater
John Dillinger was another of Chicago's most notorious gangsters and led a crew of criminals that robbed more than 20 banks. He met his fateful end at the front entrance of the Biograph Theater where he was shot dead by FBI agents after watching a gangster film and making his way to the street. Today the theater is on the National Registry of Historical Places and is one of Chicago's most famous landmarks.
Holy Name Cathedral
The Holy Name Cathedral is another iconic Chicago landmark with a dark history. The cathedral was destroyed in the Great Chicago Fire in 1871, but it was also where Hymie Weiss was shot dead in a brutal shooting. He became known as the only man that Al Capone ever feared and today visitors can see the bullet markings in the cathedral's cornerstone, the very location where Weiss was brought down.
How much do Gangster and Crime tours in Chicago cost?
The classic Gangster and Crime tours in Chicago cost around $45 per person, while ghost tours are around $35, as there is no transportation included. The architecture walking tour also costs $35 per person.
A private Al Capone Tour starts from $800 for a small, but prices change depending on group size. Less than five people enjoy a lower rate while more people will require larger transportation. It costs around $1,200 for groups of more than six people and $1,600 for groups larger than 13 people.
Audio tours and the haunted city exploration game each cost $5 and multiple people can access the audio on one device.
What is included in a Gangster and Crime tour in Chicago?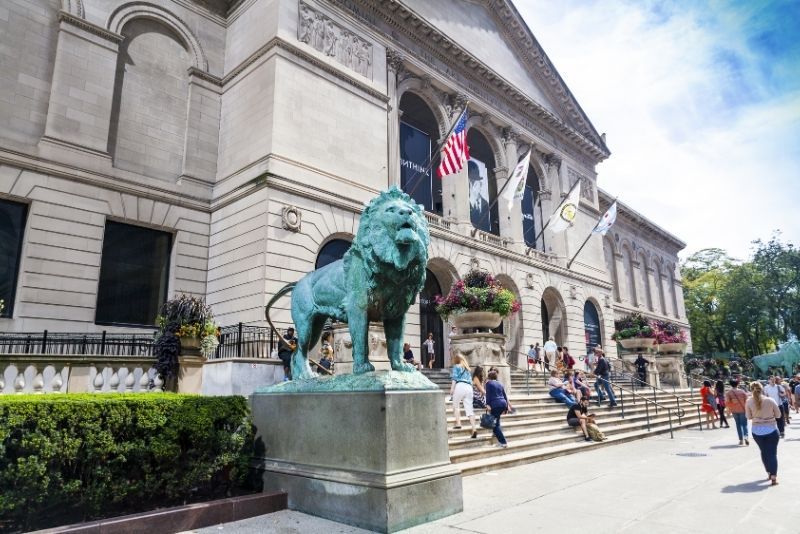 The Gangster and Crime bus tour in Chicago includes transportation to all the most famous locations onboard a luxury, climate-controlled bus. You will be accompanied by a knowledgeable English-speaking guide and some tours include a fun quiz or dress-up opportunities.
A private Al Capone Gangster Tour offers the extra luxury of hotel pickup and drop-off in a snazzy Mercedes or Cadilac. You will also have a guide on board to fill you in on all the show-stopping history that has passed through the streets of Chicago.
Gangster Ghost Tours in Chicago usually include entry tickets to Palmer House and Plaza Hotel & Convention Center and you also get access to the Chicago Riverwalk and the Art Institute of Chicago.
If you book an audio tour or the exploration game you get lifetime access to the audio and apps, allowing you to enjoy the information at your own pace.
Where do Gangster and Crime tours in Chicago start?
Bus tours leave from 163 E. Pearson Street and you will immediately recognize the distinct red and yellow bus. The bus will be on the southeast side of Pearson and Michigan Avenue across from the Water Tower Mall.
Private tours offer you the luxury of pickup and drop off at any location within Chicago city limits.
Walking tours all start at different locations but they are mostly dotted around the city center and pier area. You will get specific meeting instructions when booking your tour.
How long do Gangster and Crime tours in Chicago last?
Gangster and Crime bus tours in Chicago all last between 1.5 and 2 hours, with night-time tours going a bit longer.
Private tours are a little longer and you will enjoy 3 hours of exploring, while walking tours are between 1 and 2 hours each.
When is the best time for a Gangster and Crime tour in Chicago?
Take the first opportunity you get to enjoy a Gangster and Crime Tour in Chicago. You will get to see many of the city's notorious locations and a look into the city's history will help you understand the workings of the city today.
Are children allowed on a Gangster and Crime tour in Chicago?
Most tours are suitable for children of all ages and some even allow children under 6 to join for free. Keep in mind that some of the tours involve gruesome, scary, or unsettling stories that might not be suitable for children but you should use your own discretion.
Walking tours are also not ideal for people with infants as the tour follows a brisk pace and everything is not stroller accessible. Speak to your tour operator before booking a tour if you plan on taking children to make sure it is possible.
Travel tips
Have weather-appropriate clothing ready, especially for walking tours.
Wear comfortable shoes on walking tours as you will cover a substantial distance.
Have your phone fully charged when doing a self-guided audio tour or exploration experience.
There are no bathrooms on the Chicago Gangster Tour bus and you are not allowed to consume any food or drink when on the bus.