The city of Casablanca lies along the western coast of Morocco, overlooking the Atlantic Ocean. The North African metropolis uniquely blends Moorish and French history, which is reflected in its Mauresque architecture and eclectic art.
A camel riding tour from Casablanca to Marrakesh will take you through arid desert landscapes, offering the perfect opportunity to experience this traditional mode of transport during your visit.
As you traverse the Moroccan dunes on your camel, you'll get a unique perspective of the country's vast beauty. With a local guide by your side sharing fascinating tales and history, the journey is as enriching as it is picturesque.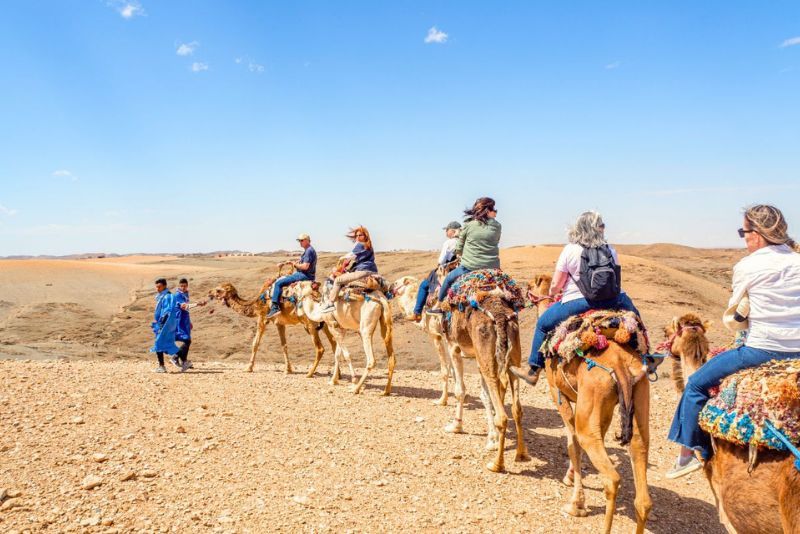 Here's all you need to know about camel riding, one of the most exhilarating outdoor activities in Casablanca.
What are the best camel riding tours from Casablanca?
Guided Camel Riding Tour from Casablanca
Book a day trip from Casablanca to Marrakesh to experience camel riding in the Moroccan desert like a local. This 12-hour journey begins with a morning pickup in Casablanca by a registered historian, who will serve as your knowledgeable guide. You'll leave the city and head south to Marrakesh, with stops at points of interest along the way, such as the Hassan II Mosque, the largest functioning mosque in Africa.
Your first stop will be at La Palmeraie, where you'll embark on an exciting camel ride. Board your camel and trek through a vast palm grove, taking in the sights and sounds of the Moroccan desert. Afterward, you'll drive by one of the most famous gardens in the country, Jardin Majorelle, before arriving at Koutoubia Mosque, the iconic holy place of Marrakesh.
Other notable stops include the Bab Agnaou gates, the Mellah Jewish Quarter, the elaborate Bahia Palace and Jemaa el-Fnaa, a square filled with snake charmers and merchants. The tour finishes with shopping in the Souk Semmarine market, exploring the maze-like streets of the Marrakesh Medina and the French-inspired Gueliz neighborhood before the journey back to Casablanca.
Private Camel Riding Tour from Casablanca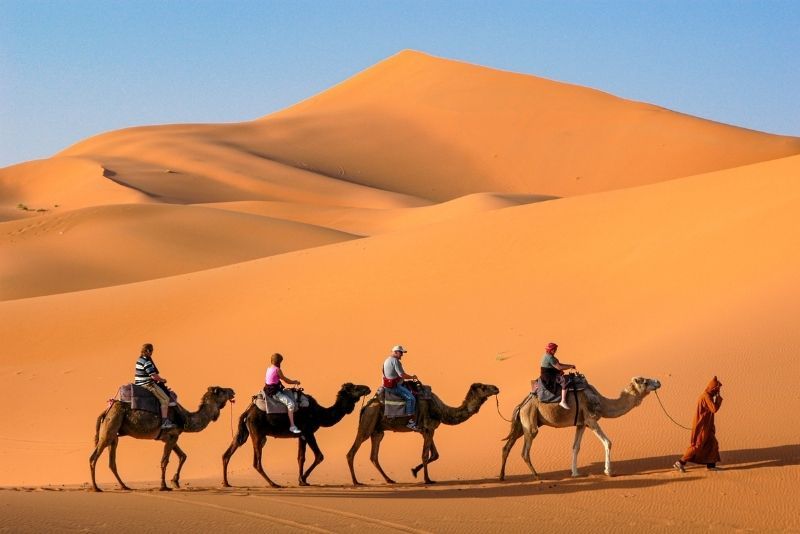 Book a private camel riding tour from Casablanca to enjoy the luxury of a flexible itinerary and personalized attention from your guide. On this 12-hour excursion, you'll travel from the coastal city south to Marrakesh, stopping at some of the best landmarks along the way. With a private guide to lead the journey, you'll have plenty of time to ask questions and see as much as possible on your tour.
The day begins with a hotel pickup in a private air-conditioned vehicle from your hotel in Casablanca. You'll relax for the 3-hour ride until you reach the Medina of Marrakesh. Once there, your professional guide will take you on a 3.5-hour walking tour of Marakesh's old town. You'll have some free time for shopping in the markets and to buy some traditional Moroccan items such as argan oil.
Afterward, you'll head to the famous Bahia Palace, where you'll see the opulent fortification built for the former Grand Vizier Bou Ahmed. Stroll through the Jewish Quarter before reaching the eerie hidden Saadian tombs, built in 1557. You'll marvel at the Koutoubia Mosque, one of the most identifiable buildings in the entire city. Head to Jemaa el-Fnaa, the busiest marketplace in Africa, to explore the eclectic market stalls and performers.
After a traditional lunch, you'll enjoy over an hour of free time in Jardin Majorelle to observe the desert oasis. Wind your way through the botanical gardens to see the flora and fauna before meeting back with your guide. This excursion includes a camel riding tour through the desert dunes along with a traditional Berber tea ceremony before heading back to Casablanca.
7-Day Casablanca to Marrakesh Camel Riding Tour
For a more immersive camel riding experience in Casablanca, book a 7-day tour to and from Marrakesh. This week-long trip hits all the major sights between the two cities, with accommodation and food provided along the way. The excursion begins with a morning pickup in Casablanca, from where you'll head to the traditional bleu city of Chefchaouen for some sightseeing and shopping. You'll spend the first night at a 4-star hotel overlooking the breathtaking Rif Mountains.
On day 2, you'll travel to Fez for a historic walk through the town's medina, visiting monuments such as the Palace, the Nejjarine fountains and the mausoleum of Moulay Idriss. After a night's rest in the neighborhood of Riad, you'll head toward the Merzouga desert for day 3.
You'll arrive first in Ifrane — nicknamed the Switzerland of Morocco — then pass through the Middle Atlas Mountains to take pictures and admire the native monkeys. Enjoy lunch in Midelt and a ride through Berber villages until you reach the Merzouga desert. Embark on a sunset camel trek across the dunes and close the night with a traditional Berber ceremony of food and music.
After an evening under the stars in a desert camp, you'll wake for a once-in-a-lifetime sunrise over the dunes. Board your caravan of camels and trek back to Merzouga. After returning to the vehicle, you will head to Todghra Valley Gorge and later Dades Valley for a lavish Moroccan dinner.
Day 5 will stop at several of the most popular Hollywood filming destinations, such as Ouarzazate and the UNESCO World Heritage Site, Ait-ben-Haddou Ksar. Day 6 begins in Marrakesh with a tour of the major sites of the city. End the day in the Jamaa el Fnaa square. Day 7 begins the journey back to Casablanca with a brief stop at the Hassan II mosque if time permits.
How much do camel riding tours from Casablanca cost?
Group guided camel riding tours from Casablanca typically cost around US$150 per adult, US$75 per child (aged 3 to 11) and are free for infants.
Private camel riding tours cost about US$650 per adult, US$110 per child aged 5 to 12, and around US$75 for younger travelers.
Seven-day-long camel riding tours through the Moroccan desert from Casablanca cost about US$2200 per adult aged 23 to 45, US$1200 per senior aged 46 to 86, US$900 per youth aged 15 to 22, US$600 per child aged 5 to 14 and US$200 per infant.
What is included?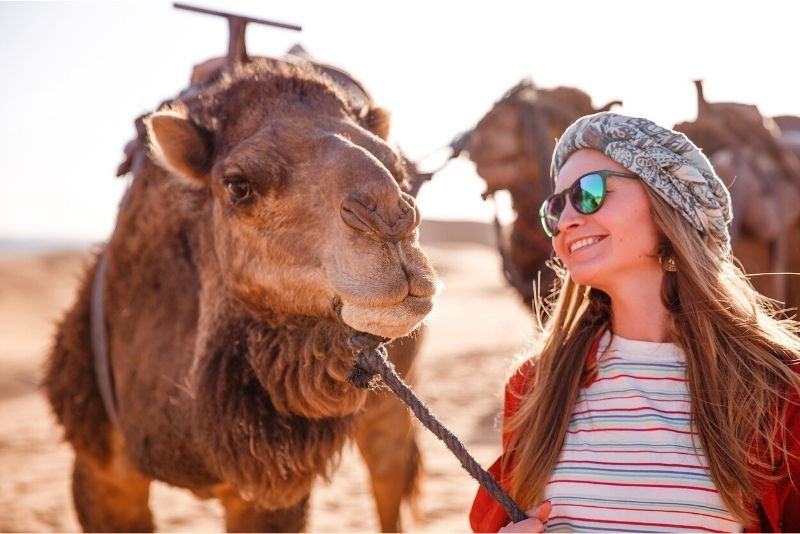 All camel riding tours include roundtrip hotel pickup and drop-off in an air-conditioned vehicle, the services of a knowledgeable, multilingual guide and the camel ride itself. Entrance fees for attractions visited on your journey are not always covered, so confirm the details before booking.
Group guided tours include lunch, mineral bottled water, wet wipes, sweets and candies for refreshment. Private excursions typically include a walking tour through the Medina of Marrakesh and a traditional Berber tea ceremony.  Seven-day camel riding trips include one night in a luxury desert camp, three dinners, accommodations in nice hotels and all breakfasts.
Where does it start?
All camel riding tours from Casablanca include roundtrip transportation from your hotel at a designated time, so you do not need to worry about traveling to meet your tour guide.
How long does it last?
Single-day camel riding tours from Casablanca last about 12 hours, which includes time for the desert trek and a sightseeing in Marrakesh. Week-long trips last seven days, including all transportation.
Is it wheelchair friendly?
Camel riding tours from Casablanca are typically not wheelchair friendly excursions.
When is the best time for a camel riding tour from Casablanca?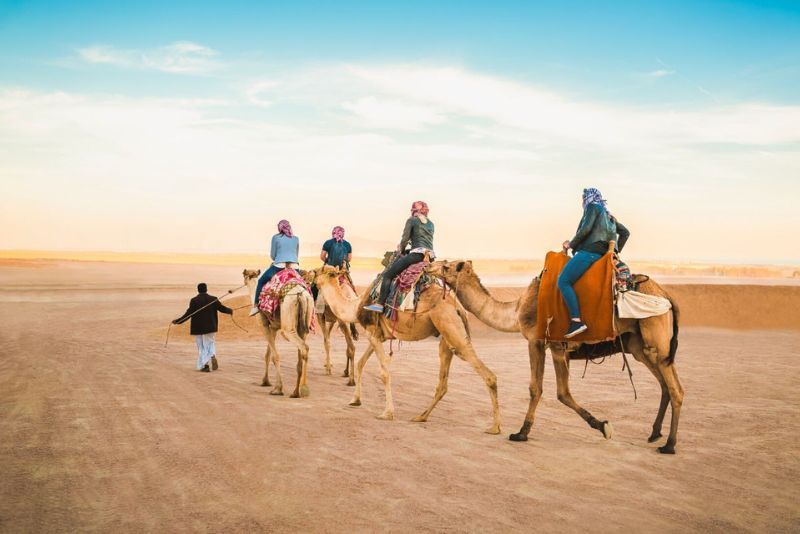 The best time for a camel riding from Casablanca is during the cooler months, from October to April, when temperatures are mild. This ensures a comfortable ride without the sweltering heat. Mornings or late afternoons are ideal within these months to experience the essence of Morocco with the gentle sway of a camel, while avoiding peak sun hours.
Which other outdoor activities can be done in Casablanca?
Travel tips
Wear long pants to prevent chafing and closed shoes to protect your feet. Lightweight, breathable fabrics are best.
The Moroccan sun and wind can be dehydrating. Carry water with you and drink regularly.
Camels are living creatures, so treat them with kindness and respect. Avoid making loud noises or sudden movements.
Try to maintain an upright posture when riding. Slouching can be uncomfortable during a long ride.