A day trip to Vienna from Budapest will let you enjoy the picturesque Hungarian countryside before taking you to one of the most beautiful cities in the world.

Visit the Esterházy Palace in Fertőd, Tata Castle and the towns of Sopron and Győr where you can learn more about the local traditions and culture.
An excursion to Vienna is guaranteed to be the highlight of your trip and you won't be disappointed by the historic architecture and many things to do.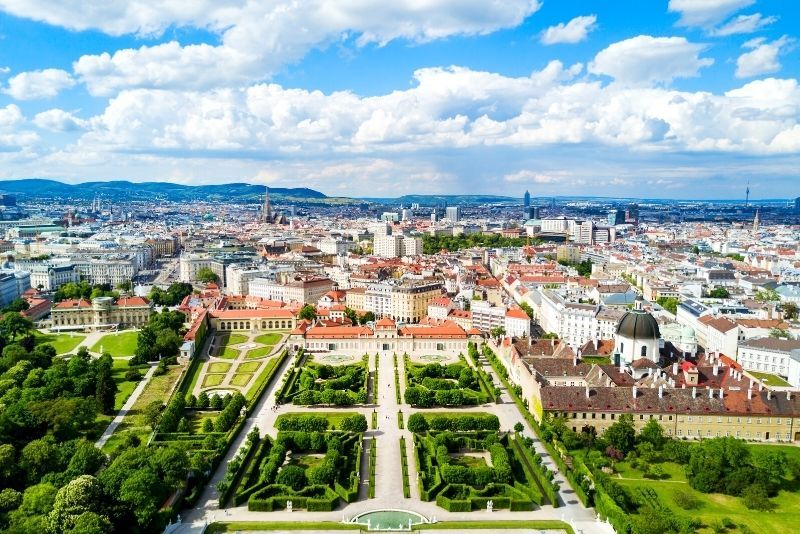 How to get to Vienna from Budapest?
Budapest sits approximately 243 kilometers north-west from Vienna, the home of Sigmund Freud and Mozart. This is a popular route for day trip tourists who want to see both cities in a short amount of time.
From Budapest to Vienna by car
Take the E-75 road northwest from Budapest toward Gyor, and then follow the E-60 into Austria. Keep an eye out for signs to "Wien," which is the Austrian name for Vienna. In either direction, the trip takes approximately two hours and 15 minutes. The drive is comfortable and relatively straightforward.
From Budapest to Vienna by bus/public transport
The bus is another excellent and easy way to get from Budapest to Vienna. During the day, there are many connections to choose from and the trip takes just under three hours.
In Budapest, buses depart from Nepliget bus station (by the M3 blue metro line) or Kelenfold (at the end of the M4 green line). There are also the RegioJet trains which go directly from Budapest to Vienna.
Prices start as low as €9 per person and the ride takes just under three hours making this a fast and affordable choice.
Head to Budapest Deli train station to begin your journey to Vienna. You'll arrive at the central station in Vienna from where you can easily navigate the city via regional trains, buses and the metro.
Guided tour to Vienna from Budapest
Make the most of your day trip from Budapest to Vienna by joining a guided tour. Usually, these tours last about 12 hours and take you through beautiful towns and countryside in Hungary along the way. You'll be meeting your group at a central location in Budapest and will begin the journey to Vienna together.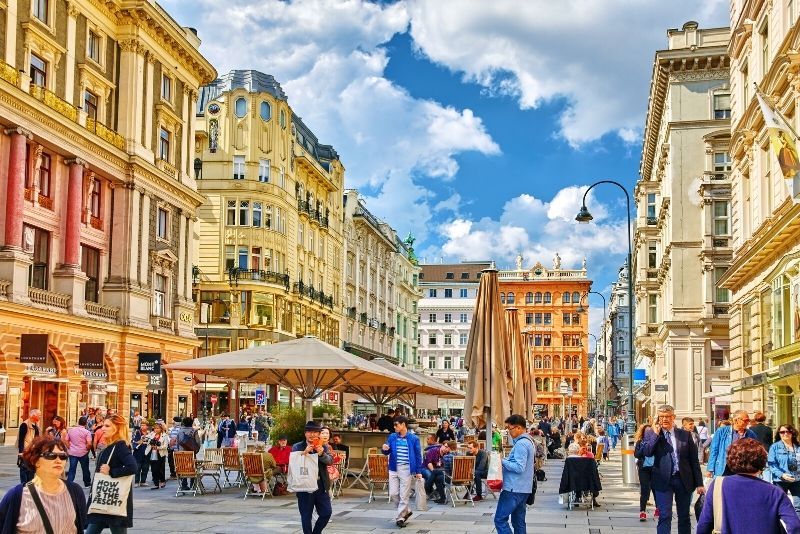 What is the typical itinerary of a day tour to Vienna from Budapest?
Your day trip from Budapest to Vienna will begin with a pickup from your hotel in Budapest, where you will be greeted by your tour guide and driver. Some tours might ask you to meet somewhere in the city center of Budapest. Consult your tour provider for details in case you are unsure of where the meeting point is located.
Hop on an air-conditioned bus or van and begin your journey to beautiful Vienna. Luckily, the drive is very beautiful and there is always something to see when looking out the window.
On arrival in the city, most tours will drive along the famous Ringstrasse, which is the main boulevard in Vienna and where the City Hall, Parliament and State Opera are located.
On your excursion to Vienna, you will visit the Hofburg palace, formerly used as the Imperial Palace and served as the seat of the Habsburg dynasty. Of course the group will also make a stop at the Kaerntnerstrasse, which is known as Vienna's Main Shopping Street.
Enjoy a visit to the famous Wiener Staatsoper and the Oesterreichisches Parlament, the Austrian Parliament. This is not only the center of political activity, but also a hotspot for history, stories, art and intricate architecture. Your tour guide will be able to share interesting anecdotes and additional information with the group.
Afterward, you will stop at St. Stephen's Cathedral before continuing to Schönbrunn Palace which is where your excursion of Vienna will conclude.
What kinds of tours are available to go to Vienna?
There are many different kinds of tours to Vienna to choose from if you want to visit the city. Research different itineraries and durations to make sure you'll find one that is right for your needs.
Guided tours to Vienna from Budapest
A guided day tour from Budapest to Vienna is easy and stress-free. Most offers include an early pick-up at your hotel which is very convenient. You can ride in comfort in a climate-controlled sedan or minivan with a driver, who will accompany you for the entire day.
A medium-sized group of like-minded travelers will accompany you during your journey to Vienna.
Private tour to Vienna from Budapest
You will spend an unforgettable day in Vienna on this 12-hour private trip from Budapest. Admire the historic city's beautiful buildings. St. Stephen's Cathedral, the Imperial Palace, and the historic center are must-sees and cannot be missed.
Your guide will pick you up and drop you off at your Budapest hotel. Of course, you'll be able to make special requests for your itinerary and customize your excursion to Vienna.
2-Day tour to Vienna from Budapest
A 2-day private tour from Budapest to Vienna lets you experience Eastern Europe in-depth. Your private guide will take you to the Schönbrunn and Hofburg palaces in Vienna, Bratislava Castle and other interesting sights.
Included are lodging, breakfast, lunch, private excursions and transportation. No need to do any planning whatsoever since everything is already taken care of.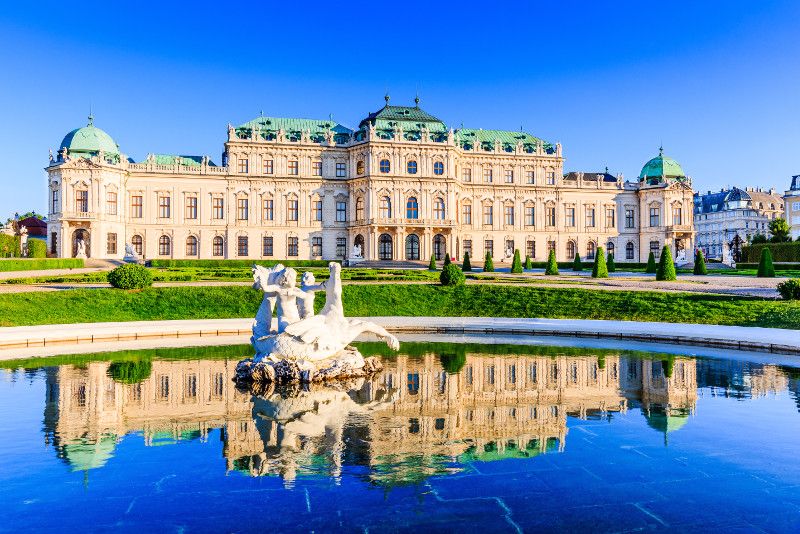 How much does a tour to Vienna from Budapest cost?
Prices for day trips from Budapest to Vienna might change depending on the number of people on the trip, the destinations they stop at along the way, the type of tour and other factors.
Guided tours to Vienna from Budapest are priced at approximately €90 per person. Private tours will be around €800, while a 2-day tour to Vienna will be at least €800 or more.
What will you see and do in Vienna?
Vienna is a place where history and culture meet, creating one of the most beautiful cities in Europe. The historic architecture, authentic Austrian cuisine and many impressive landmarks are what bring millions of tourists to this city annually.
Ringstrasse
This circular boulevard was built during the 19th century and is lined with impressive buildings like the City Park, Parliament, Burgtheater, State Opera House and City Hall. Either go for a jaunt along this marvelous road or ask your driver to take you here as you reach Vienna.
Schonbrunn Palace
This famous place in Vienna is considered one of the most beautiful palaces and parks in Europe. It is also the biggest building in the Baroque style of Austria. On the grounds of the complex, there are fountains, green labyrinths, a botanical garden and even an old zoo.
Not sure what to do in Vienna with kids? This palace will be a fantastic choice, especially on a sunny day.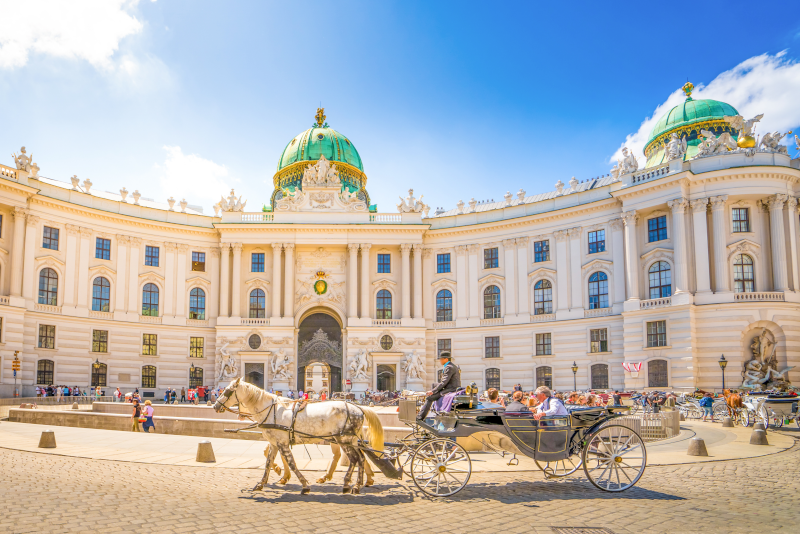 The Burgtheater
Next to the Town Hall of Vienna you will find an old theater. The snow-white building can be visited on guided tours with a guide. You can look at the paintings, sculptures and other works of art in the galleries, or buy a ticket and go to one of the many shows.
St. Stephen's Cathedral
One of the most well-known buildings in Vienna is St. Stephen's Cathedral. The beautiful cathedral has been watching over the city for more than 700 years. It is one of the most important and well-loved landmarks in Austria. Climb the tower's 343 steps to get a fantastic view of the city.
The Hofburg
A trip to the palace of the emperor leaves a lasting impression. This landmark is located in the heart of Vienna and the journey here is well worth it for day trip tourists.
Visit the impressive interior of the palace and learn more about its history in the attached museum. Some of the rooms in the medieval castle are still used as the president's official residence.
Vienna City Hall
If you have time, set aside a whole day to see this famous spot in Vienna. This landmark is more than 100 meters high and can be seen from almost every part of the city.
The city hall hosts more than 800 concerts, festivals and shows every year. Check the list of events well in advance to see whether there are any events going on during your visit.
When is the best time to visit Vienna?
The Christmas season is the best time to go to Vienna if you truly want to experience the magic of this city. You'll be able to go to the famous Christmas markets and enjoy hot drinks and authentic snacks.
Summer is the most popular time to visit Vienna because the weather is sunny and there are lots of events taking place in the city. However, prices will be at an all-time high and you will need to pre-book hotels and tours far in advance.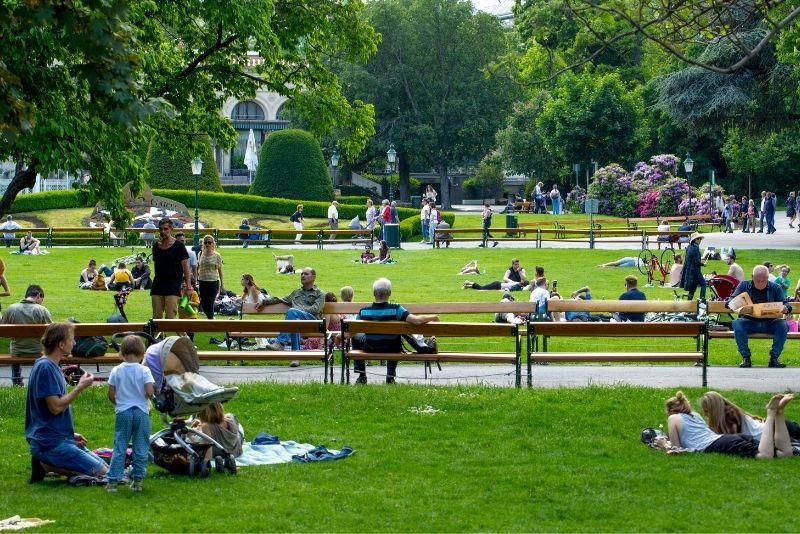 Travel tips
●  Be on time for your tour to avoid delays. Tour guides may not wait for individual participants and you could miss your excursion to Vienna.
●  Wear comfortable shoes as you will be walking a lot. During the colder months, you might want to bring an extra layer in case you get cold.
●  Bring your passport and travel documents. While you technically do not need it to cross the border, you might still be asked for ID.
●  Learn a few basic German words so you can communicate on your day trip to Vienna. Keep in mind that the Austrian dialect is very strong though which might make understanding locals a challenge.