Lake Balaton provides a unique experience to visitors in the heart of Hungary! The freshwater lake is the largest in Central Europe, making it a prime tourist destination. It boasts almost 200 kilometers of shoreline, resort towns on the southern shore and mountainous wine regions on the northern shore.
The lake played an integral role in parts of Hungarian history. Princes constructed fortresses in the area, and it became a major research hub and the last major German offensive during World War II occurred in the area.
The unique history combined with countless tourist attractions makes a Lake Balaton day trip from Budapest your next perfect vacation!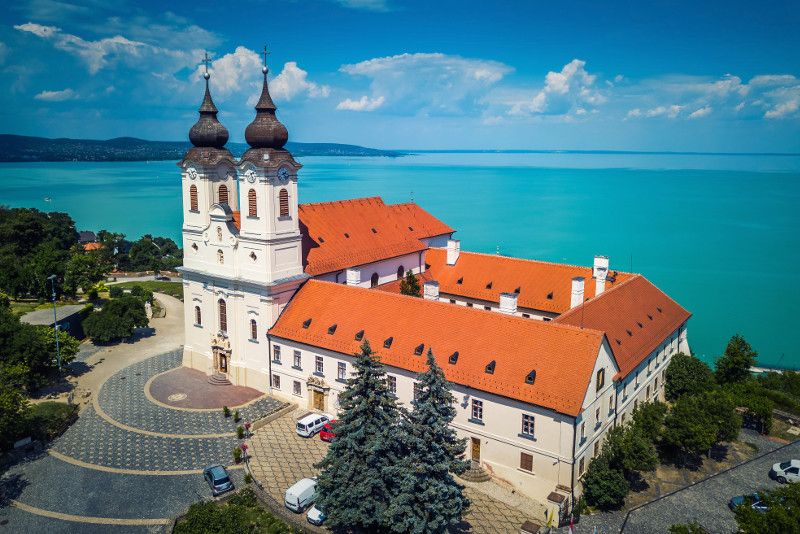 How to get to Lake Balaton from Budapest?
The distance between the lake and Budapest varies based on which part of the lake you want to visit. For example, the village of Balatonakarattya sits on the northeastern shore of the lake, making it the closest point to Budapest.
Balatonakarattya is just under 100 kilometers southwest of Budapest, but other points near the lake are further away. Balatonberény, on the other hand, is one of the most southern points near the lake that sits almost 200 kilometers outside of Budapest.
From Budapest to Lake Balaton by car
The jaunt from Budapest to Lake Balaton takes between one and two hours to drive. The length of your journey depends on which part of the lake you want to visit, the traffic and which route you take. Balatonakarattya, for example, is a straight shot on the M7 toll road.
From Budapest to Lake Balaton by public transportation
Perhaps the most simple way to reach Lake Balaton from Budapest is by public transportation. You can sit back and relax while traveling through the heart of Hungary.
Public transportation alleviates the stress of driving, finding parking and worrying about your car all day. You have a handful of bus and train options to reach Lake Balaton from Budapest.
The journeys take anywhere from two to three hours, depending on your method of public transportation.
You can book the tickets online, and they usually cost less than €10. Most trains and buses take you to Zamardi. You must then make the short walk to the Balaton Sound to reach the lake.
Guided tour to Lake Balaton from Budapest
If you don't want to drive or take public transportation to reach Lake Balaton, book a guided day tour. These tours provide transportation to and from Budapest, a professional guide and driver and free time to explore the area. Skip the stress that comes with travel planning!
How much does the entrance ticket to Lake Balaton cost?
Visiting Lake Balaton is very cost-effective because there is no entrance fee. You can enjoy the water, take in the scenery and soak up the sun for free. Some local attractions may have entrance fees, so be sure to check ahead of time.
What is the typical itinerary of a day tour to Lake Balaton from Budapest?
Day tours to Lake Balaton from Budapest typically last for 10 hours. You will spend the day enjoying the lake, exploring local towns and visiting historic attractions. Every tour offers visitors a unique experience, so the itinerary varies from tour to tour.
The day tour begins by meeting at a common location in Budapest, or your tour operator will pick you up directly at your accommodation. Your tour group will then head southwest towards the lake.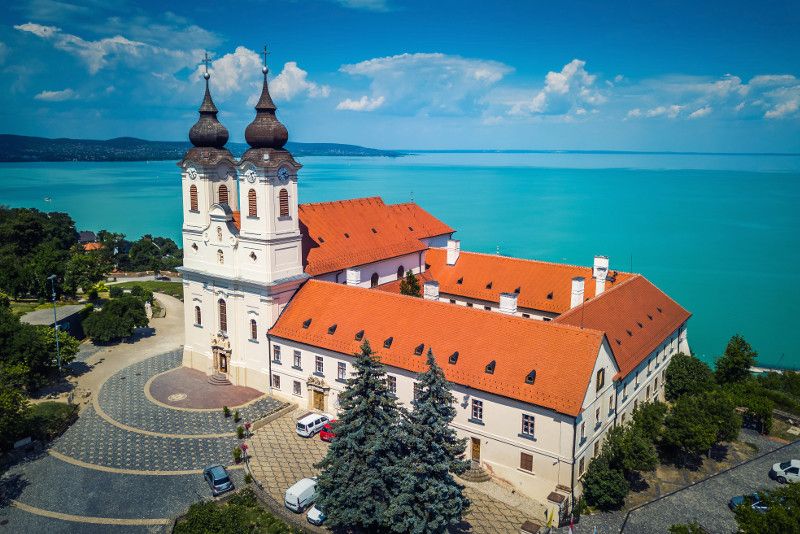 You may stop at nearby small towns along the way to learn about the history of the area. Most tours make their way to the lake where you can enjoy the water.
Some tours provide you with a boat cruise, while others give you free time to explore. From there, some groups head to the world's largest porcelain factory called Herend.
The tour group will then travel back to Budapest after a day of exploring. The tour ends at the same meeting location. Some tour operators will take you directly to your accommodation. Confirm with them ahead of time.
What kinds of tours are available to go to Lake Balaton?
Booking a day tour from Budapest to Lake Balaton is a great way to take advantage of all that the lake has to offer. You can choose from a wide variety of tours, including day tours, private tours and a paddle boarding tour.
Day tour to Lake Balaton plus Herend from Budapest
Most day tours take you to Lake Balaton with a stop at Herend on the way. Some tours may also stop at other nearby cities so you can further explore the area.
These day trips allow you to meet new friends from different corners of the world while enjoying the lake. The tour includes round-trip transportation, a driver, a guide and most entrance fees.
Private tour to Lake Balaton plus Herend from Budapest
Private tours provide a great option to explore Lake Balaton in a more intimate setting. Your tour is limited to the other travelers in your group. Most private day tours follow the same itinerary as other tours, but they give you more privacy and scheduling flexibility. You pay for private tours per group, not per person.
Paddleboarding tour in Lake Balaton
If you want to get up close and personal with the lake, a paddle boarding tour is a great option! You can explore Tihany National Park while paddle boarding through the water. These tours only last a few hours and do not transport you to or from Budapest.
How much does a tour to Lake Balaton from Budapest cost?
The cost of a day tour from Budapest to Lake Balaton varies based on what attractions the tour includes, how long the day tour lasts, which tour operator you select and whether or not it is a private tour. The prices usually range anywhere from €29 to €800.
The most budget-friendly option is a paddle board tour of Tihany National park for €29. You can book a day tour for anywhere from €65 to €77, but private day tours range from €98 to €800.
You have a variety of options available to you, so make sure you pick the one that best suits your needs! Consider your budget, which attractions you want to visit and how many people you want in your group when booking your day tour.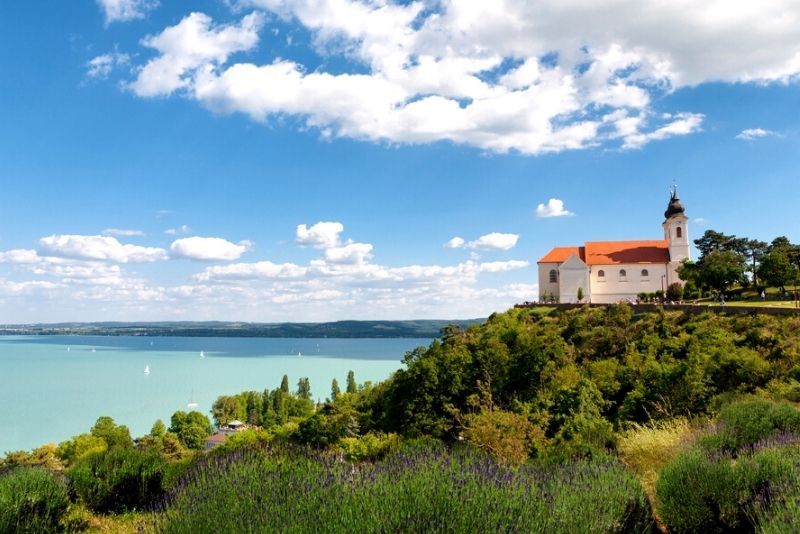 What will you see and do in Lake Balaton?
Lake Balaton is the perfect place to soak up the sun! You can swim, sit on the beach, take a boat across the water or paddleboard in the lake. The area is also full of local shops and restaurants for you to wine and dine at.
Many tours make a pit stop at the Herend Porcelanium, the world's largest porcelain manufacturer. You can learn how traditional Hungarian porcelain is made and purchase unique souvenirs to take home.
You can also visit Tihany Abbey on the Tihany Peninsula. It is regarded as Europe's most beautifully renovated settlement and home to Benedictine Abbey. Spend time exploring the monastery while taking in the stunning surroundings.
When is Lake Balaton open over the year?
Lake Balaton is open all day every day. Tours and local attractions may close in observance of select holidays, but you can still plan your visit to the lake.
What are the opening times?
You can travel to the lake at any time of the day, though we advise scheduling your visit during the day. Water activities become challenging and unsafe as it gets dark outside. You can plan those activities during the day and then visit nearby towns at night. Tour operators also only offer tours during the day.
When is the best time to visit Lake Balaton?
Since Lake Balaton boasts many outdoor activities, it is best to plan a trip during the summer. July is typically the warmest month with average temperatures of 28 degrees Celsius. You can expect warm water and sunny days for most of June through August.
Average temperatures drop to single digits from October to April. You can still visit the area, but you can't enjoy many of the outdoor activities in the cold weather.
Travel tips
Get ready for the beach by bringing your sunscreen, bathing suit and towel.
Decide which part of the lake you want to visit ahead of time and plan your transportation accordingly.
Book your train or bus tickets in advance to save money!