With its sweeping panoramic vistas of the Canadian Rockies, Banff National Park is an excellent choice for a day trip from Calgary. It is a beautiful place for anyone who loves the great outdoors, and it offers a variety of exciting activities.
Scenic drives and hot springs offer relaxation that everyone can enjoy. For those looking for more energetic excursions, you can explore the numerous hiking trails or enjoy world-class skiing set among stunning scenery.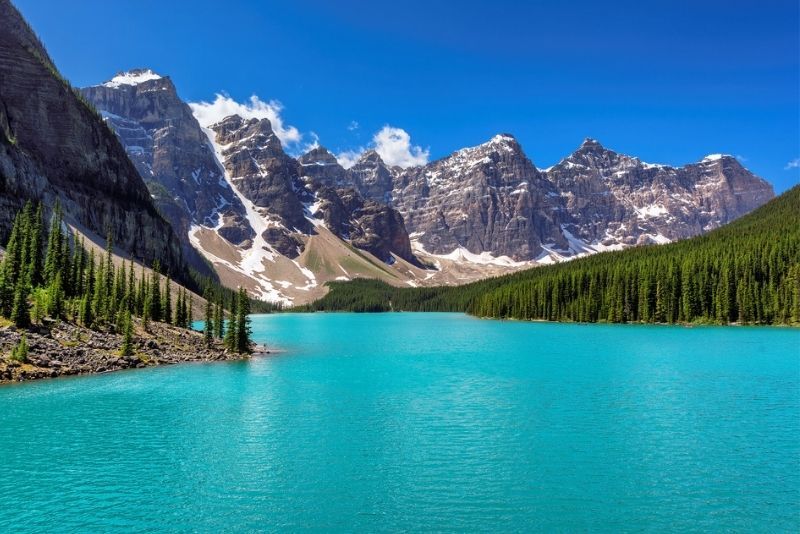 How to get to Banff from Calgary?
You can get to Banff town, located within Banff National Park, by car or bus. It lies over 120 kilometers west of Calgary and is easy to reach. The road does not go up and down mountain passes, so a comfortable trip is assured. Whichever mode of transport you use, expect some impressive views for most of the journey.
From Calgary to Banff by car
It is a relatively straightforward journey to get to Banff from Calgary. Find your way onto the Trans-Canada (Highway 1) and follow the signs for Banff.
From Calgary to Banff by bus
There is no public bus service to Banff at this time.
Many tour operators are making the journey from Calgary International Airport or Calgary downtown to Banff at reasonable rates. These buses should drop you off directly at your hotel.
Brewster Express is one of the most reputable services and has departures from downtown or from the airport throughout the day and year-round. On-It Regional Transit has buses on weekends and public holidays from Calgary. It is the cheapest option, but they only run from May to September.
Guided tour to Banff from Calgary
Many day trip to Banff from Calgary options are available to take the hassle out of travel. Most companies should pick you up from the airport or your hotel in Calgary, and travel time to Banff shouldn't take much more than 1.5 hours. More extended excursions are also available if this is your preference.
Shuttle transfer to Banff from Calgary
For those tired from their flight on arrival in Calgary, you can arrange for a shuttle transfer to pick you up at Calgary International and take you directly to your hotel in Banff. Some of these shuttle transfers can also pick you up from your hotel in Calgary.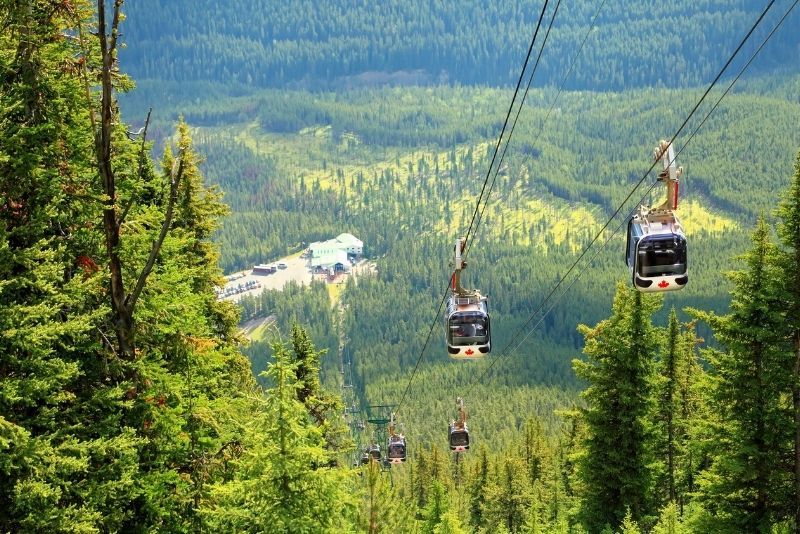 How much does the entrance ticket to Banff National Park cost?
There are various fees for entry to Banff National Park. However, you only need to pay if you arrive by private vehicle. Tickets are valid until 4 PM the following day. They are available online, at the park gate or at the Visitor Center in Banff.
Adult: C$10.50 (US$8.25)
Senior: C$9 (US$7)
Youth (under 18): Free
Family/group (up to 7 people): C$21 (US$16.50)
Commercial group (per person): C$9 (US$7)
Alternatively, you might want to stay in the area for a longer period or wish to enter the park multiple times. Therefore, you could consider the Parks Canada Discovery pass, which you can purchase online.
Adult: C$72.25 (US$56.75)
Senior: C$61.75 (US$48.50)
Family/group: C$145.25 (US$114)
What is the typical itinerary of a day tour to Banff from Calgary?
Banff National Park day trips will begin with an early pickup at your hotel or a designated meeting point. Travel is usually by coach, while those on private day tours to Banff will enjoy the luxury of a private vehicle.
The journey to Banff National Park from Calgary shouldn't take more than two hours along a relatively easy highway devoid of winding mountain roads. On the way, you can take in scenic mountain vistas and meet your fellow travelers on the coach.
Once in the park, you will usually stop in Banff town for lunch before visiting various sights around the park. These sights will depend on the tour you booked, but Lake Louise will almost certainly feature.
Scenic drives and stops to take in the panoramic views are a certainty, while some tours may even offer a ride on the famous Banff Gondola to the top of Sulpher Mountain.
Your driver will return you to Calgary in the evening in time for dinner.
What kinds of tours are available to go to Banff?
There are different types of Banff National Park day tours from Calgary. Due to the number of sights in the park, you should look around to find the operators that offer the most appealing ones to you.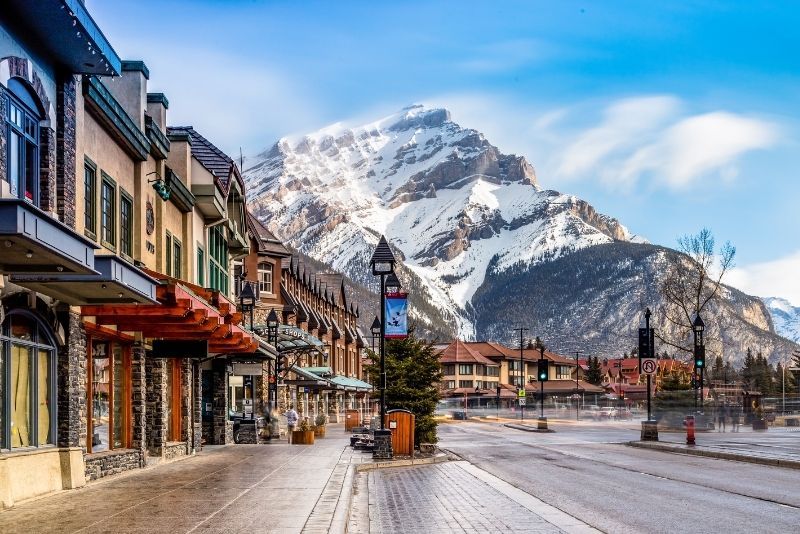 Guided tours to Banff from Calgary
These tours will meet you at your hotel or a designated pickup point. You will be transported in a comfortable air-conditioned coach or smaller vehicle and enjoy the company of a knowledgeable guide.
Private tour to Banff from Calgary
Private day excursions to Banff are more expensive than guided tours, but you may be able to set your itinerary and get to places inaccessible by a coach. These tours may even use a 4×4 vehicle, allowing you to get off the beaten path and explore the park's far corners.
Day trip to Banff plus Jasper National Park from Calgary
If visiting Banff National Park isn't enough for you, consider taking a tour including other sights like Jasper National Park. It may be a good option to opt for a 2-day tour if you wish to get more time or see other attractions.
How much does a tour to Banff from Calgary cost?
Guided coach tours can start as low as C$125 (US$100). These Banff day trips will have up to 50 people sharing the experience. Guided day tours using smaller vehicles will be more expensive, but much fewer people will be on the excursion.
Private day tours can start at less than C$380 (US$300) and offer a more one-on-one experience. However, they can cost up to C$1,265 (US$1,000), depending on the level of luxury.
The cost of a multiday tour from Calgary depends on the number of days and can cost more than C$1,265 (US$1,000).
What will you see and do in Banff National Park?
Winter sports are among the most popular activities in Banff National Park. Hiking tours and mountain biking are also popular in the summer months.
Day tours to Banff will usually take in the most popular natural attractions around the park. Among these are the many scenic lakes, hot springs and abundance of towering mountains.
Lake Louise
Lake Louise is probably the park's most famous attraction and is one of the world's most famous lakes. It is a beautiful deep-turquoise lake surrounded by craggy peaks that have wowed visitors for generations.
Although there is the discordant Chateau Lake Louise that may not be to everyone's taste, you can still enjoy the panoramic views on the many hiking trails. Therefore, most day trips to Banff from Calgary will include a stop here.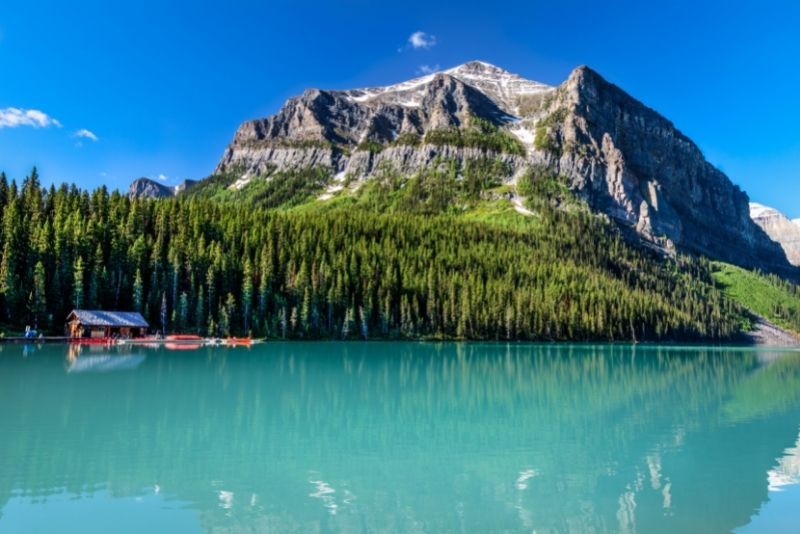 You can also enjoy world-class skiing at the Lake Louise Ski Resort. It is an excellent downhill ski area, and the season usually starts from November until May.
From May 20 to Oct. 9, the Lake Louise Summer Gondola at the ski resort offers stunning aerial views of the area and the opportunity to observe grizzly bears in their natural habitat.
Johnston Canyon
Johnston Canyon is another natural wonder you can explore. With its many falls and prominent canyon walls, it is one more unforgettable experience in this remarkable park. Many day trips to Banff National Park feature itineraries that include this canyon.
Summer is the best season to visit, but if you fancy some ice climbing or ice walking, visiting at certain times of the winter is also a good choice.
Icefield Parkway
You are in for a treat if you manage to visit this area on your excursion to Banff National Park. There are few drives as scenic as the Icefield Parkway.
If you have the time and energy, you can walk the route – or even cycle it if you are feeling particularly adventurous. You will see the usual snow-capped peaks, as well as numerous glaciers and turquoise lakes.
Moraine Lake
The second most famous lake in the park is Moraine Lake. Some say that it is even more dreamlike than Lake Louise, which is quite a feat. You can relax by the shores or take the adventure further and discover it by canoe or join a hike.
The road to Moraine Lake is only open for half the year, from October to May. During the winter, the road becomes a cross-country skiing adventure, although you cannot visit the lake itself as it is a high-risk area for avalanches.
Banff Gondola
An inclusion on many day trips to Banff National Park itineraries is the Banff Gondola to the peak of Sulpher Mountain. At the top, you can experience 360-degree panoramic views of no less than six Rocky Mountain ranges.
You can hike to the peak and gondola down – or vice-versa if you prefer. Visiting the restaurants and observation decks or soaking in the hot springs that give the mountain its name are other options to consider.
When is Banff National Park open over the year?
Banff National Park is open year-round. However, some attractions may close during the winter months. Many roads will close due to the weather. However, other roads will stay open but may have some facilities closed.
What are the opening times?
Banff National Park is always open. However, visitor centers have different opening times throughout the year.
Banff Visitor Center
January 1 –  May 14: 9 AM to 5 PM
May 15 – September 30: 8 AM to 8 PM
October 1 – December 31: 9 AM to 5 PM (closed on Christmas Day)
Lake Louise Visitor Center
January 1 – June 8: 9 AM to 5 PM
June 9 – September 28: 8:30 AM to 7 PM
September 29 – December 31: 9 AM to 5 PM (closed on Christmas Day)
When is the best time to visit Banff National Park?
The best time to visit is dependent on the activities you wish to take part in. June to August is a great time to hike or bike and experience nature.
However, if doing winter sports is your goal, visiting at the height of winter is ideal. Remember that some attractions or roads might not be accessible during this time, and you might not be able to take in all the sights.
The Aurora Borealis is another sight the park has to offer. You can easily see it in all its grandeur from September to mid-May.
Are there any tours to Banff National Park from other cities in Canada?
If you are reaching the city of Banff by other means of transportation, you can check the tours to Banff National Park starting from Banff.
Travel tips
Book weekend bus trips from Calgary to Banff well in advance, as this is a very popular time and seats fill fast.
Do not approach wild animals you see in the park or in Banff town.
If you're planning on renting a car, the prices are much cheaper in downtown Calgary than at the airport.
Layer properly when visiting the park in winter, as temperatures are freezing.