Alexandria is an ancient city famous as home to Queen Cleopatra – the last pharaoh of Egypt. Today, Alexandria is a modern metropolis with a long and fascinating heritage. Its museums and monuments appeal to artistic dreamers and curious historians alike.
Alexandria day trips from Cairo are a popular choice for those who want to explore Egypt's Mediterranean side. The city is cooler than Cairo, with palm trees and beaches rubbing shoulders with mosques and markets.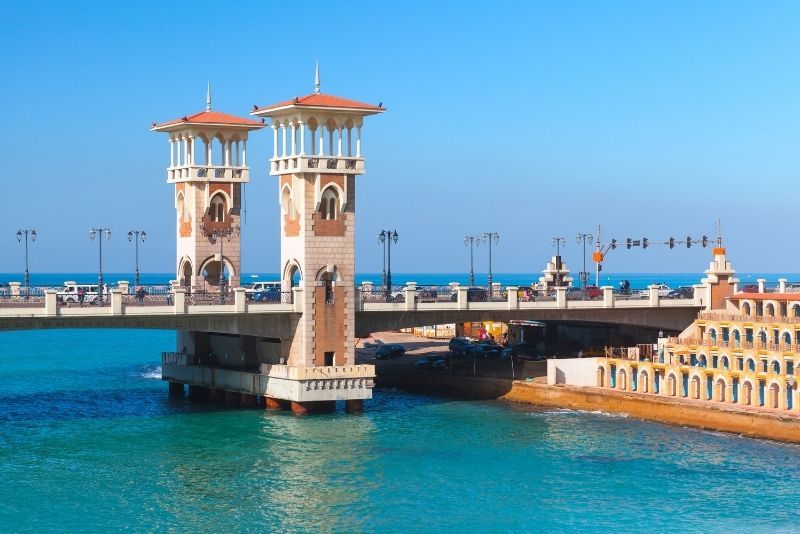 Here's all you need to know about Alexandria, one of the most extraordinary destinations for day trips from Cairo.
How to get to Alexandria from Cairo?
Alexandria sits on the Mediterranean coast, about 220 kilometers north of Cairo. You can visit on a day trip by booking a guided tour, or by using public transport. In general, first-time visitors are advised not to self-drive in Egypt.
From Cairo to Alexandria by train
The train is the fastest public transport option for traveling between Cairo and Alexandria. Departures are regular throughout the day from Ramses Train Station in Cairo city center.
The journey to Alexandria from Cairo takes 2.5 hours by fast train or 3.5 hours on the slower regional trains. It's a good idea to buy your ticket online the day before to avoid hassle at the station.
Guided tour to Alexandria from Cairo
By far the most enjoyable way to visit Alexandria from Cairo is on a guided day tour. Hotel pickups are generally included for a smooth and safe transfer.
To make the most of your time in Alexandria, these excursions last a full day.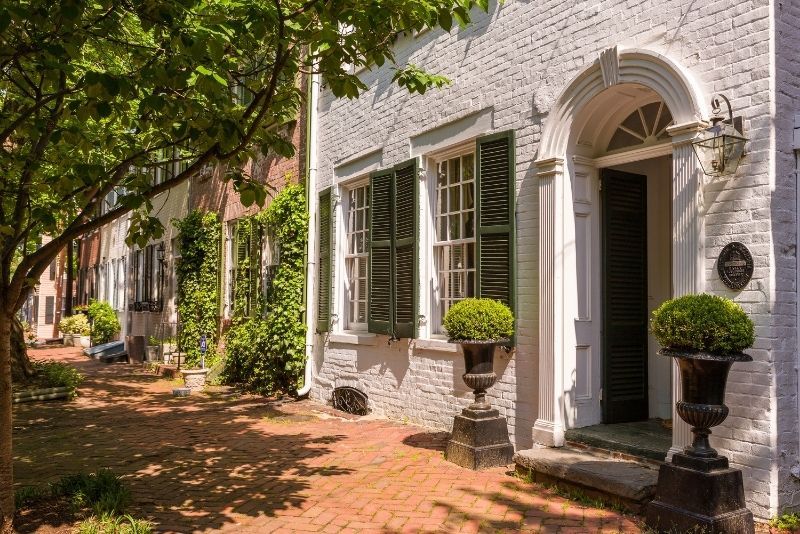 What is the typical itinerary of a day tour to Alexandria from Cairo?
After an early morning collection from your Cairo hotel, you'll travel by bus or minivan to Alexandria. The drive takes between 2.5 and 3 hours depending on traffic.
The first stop of the day is the Library of Alexandria – home to 8 million books and a whole lot of famous statues. Then, it's on St. Mark's Church and the traditional markets in the Old Town.
After lunch, you'll visit the Abu El-Abbas Mosque, the corniche and the old harbor to see the fishing boats.
Your day trip to Alexandria from Cairo finishes with Qaitbay Castle before it's time to jump back on the bus for the return journey.
What kind of tours are available to go to Alexandria?
There are lots of day tours to Alexandria from Cairo to choose from. Most are private excursions but there are some group trips available if you want a cheaper option.
Guided group tours to Alexandria from Cairo
These Alexandria jaunts are run on a group basis, so you'll be visiting with other like-minded travelers. This is a convivial way to explore without breaking the bank.
Traveling with a knowledgeable guide who can take you to all the best spots is the ultimate way to experience Alexandria. You'll learn about the history of the city and swing by some of the most photogenic viewpoints too.
Private day trip to Alexandria from Cairo
Up the luxury with a private Alexandria day trip, where you'll have the vehicle and guide to yourself. Door-to-door transfers are all part of the service, making you feel like royalty right from the start.
The beauty of these trips is the itinerary, which can be designed to fit your personal preferences. Just let your guide know if there are particular places you want to visit during the day. You can spend as long as you want at photo stops too.
3-Day private tour to Alexandria plus Giza from Cairo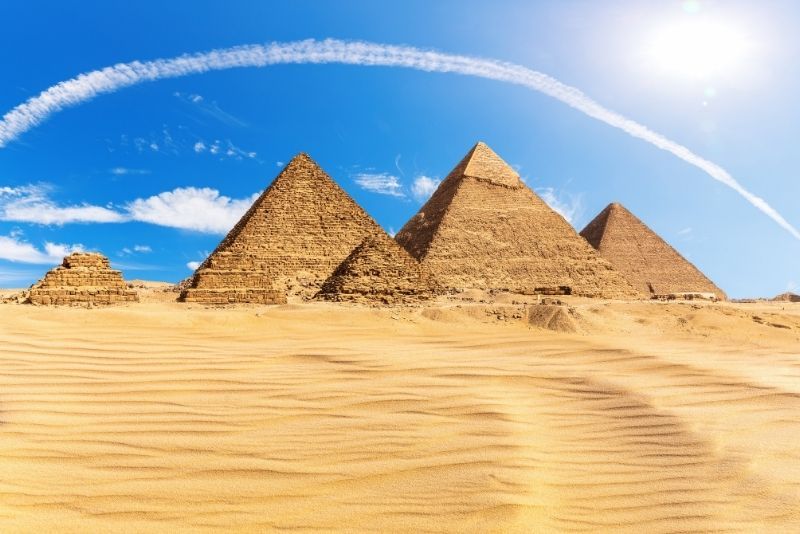 For the ultimate adventure, take in some of Egypt's top sights on a fun-filled 3-day private tour to Alexandria and Giza. This is an easy way of ticking off everything from the Pyramids to the Great Sphinx, with bonus camel rides thrown in for good measure.
On these multi-day tours from Cairo, you'll have a private car and guide for hassle-free transfers.
How much does a tour to Alexandria from Cairo cost?
Small group Alexandria excursions cost US$70 per person and include hotel pickups and transfers in an air-conditioned vehicle. You'll have a local guide for the day too. Entrance fees are extra and payable on site at the different attractions.
Private day tours from Cairo to Alexandria are priced at US$130 per passenger. You'll be transported by luxury minivan with a qualified Egyptologist guide. Hotel pickups are provided, as well as lunch and all entry fees. You will need to buy your own drinks.
For the private 3-day trip to Alexandria and Giza, expect to pay US$160 per person. This is for a guide and transport only – you'll have to arrange your own meals and accommodation.
What will you see and do in Alexandria?
Library of Alexandria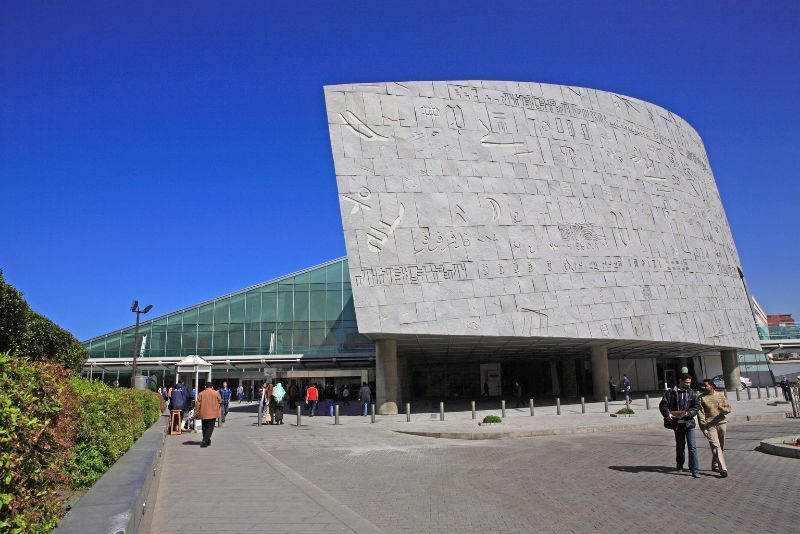 Once the largest library in the world, this venerable city icon is known for its excellence in Classical antiquity. The highlight of your visit is the open court where statues of Alexander the Great and Ptolemy the First keep an eye on proceedings.
There are several museums on site too, including one that's home to precious manuscripts.
Abu El-Abbas Mosque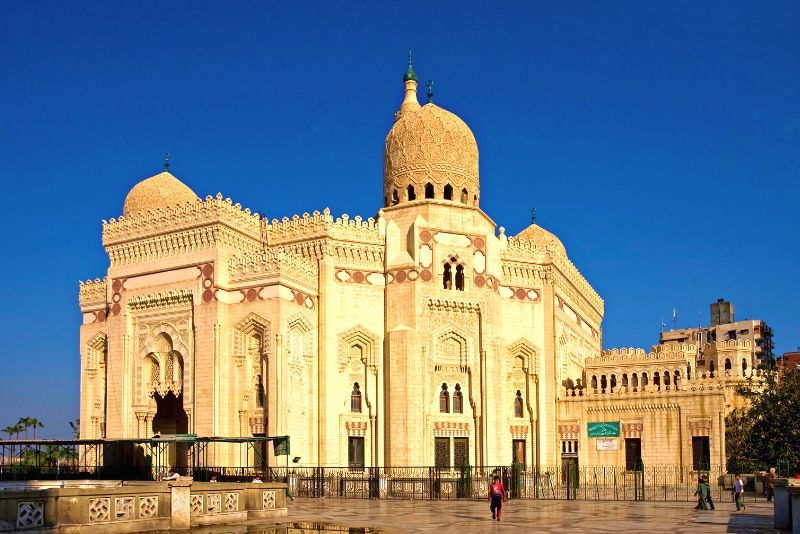 Towering above the city skyline, the Abu El-Abbas Mosque is the most important building in Alexandria. Constructed in 1775 on top of the tomb of Sufi Saint Abu'l Abbas, the mosque architecture is beautiful both inside and out.
Roman ruins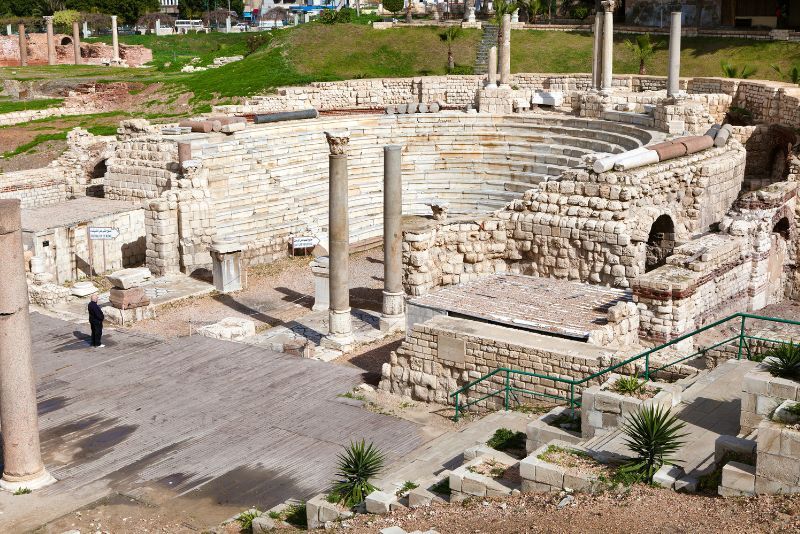 Some day trips to Alexandria from Cairo focus on Roman sights. The amphitheater of Kom El-Deka boasts Roman baths with mosaic floors as well as a pleasure garden and several villas.
The Catacombs of Kom El Shoqafa often feature too. This eerie cemetery was built in the 2nd century A.D. and is known as one of the Seven Wonders of the Middle Ages.
Church of St. Mark
This Coptic church is the oldest in Africa and the ancient seat of the Pope of Alexandria. The building sits on the site of the church founded by St. Mark in 60 A.D. – some say he is buried beneath the foundations.
The unusual arched domes and Coptic engravings make for worthy photos.
Markets
Most day tours from Cairo to Alexandria include visits to the city's top markets. In the Old Town, you can browse for traditional goods, while over in the gold markets you'll be dazzled by elaborate wedding jewelry.
When is the best time to visit Alexandria?
While you can visit Alexandria at any time of year, the dry period between spring and fall is your best bet. The city is one of the coolest places in Egypt during the summer.
Winter brings the rain up here on the coast, so most people avoid booking a day trip to Alexandria in December or January.
Travel tips
The Alexandria Library is closed on Fridays and Saturdays, so it won't be included on your itinerary if you visit on these days.
Try to reserve tickets for day trips to Alexandria from Cairo well in advance, as seats are limited and sell out fast.
Wear comfortable shoes for walking around Alexandria and don't forget your sunglasses or sunscreen.
Bottled water is included on most tours, but you might want to take some snacks for the journey.