On the border of Argentina and Brazil (also accessible in Paraguay) lies the largest waterfall system in the world, Iguazu Falls. After snaking primarily through Brazil, the Iguazu River feeds into the falls and splits the river into upper and lower Iguazu. There are over 250 individual waterfalls.
The breathtaking falls have become a popular tourist destination over the years and have been named one of the new natural seven wonders of the world. You can access them from either Brazil or Argentina, so Iguazu Falls are the perfect day trip destination from Buenos Aires.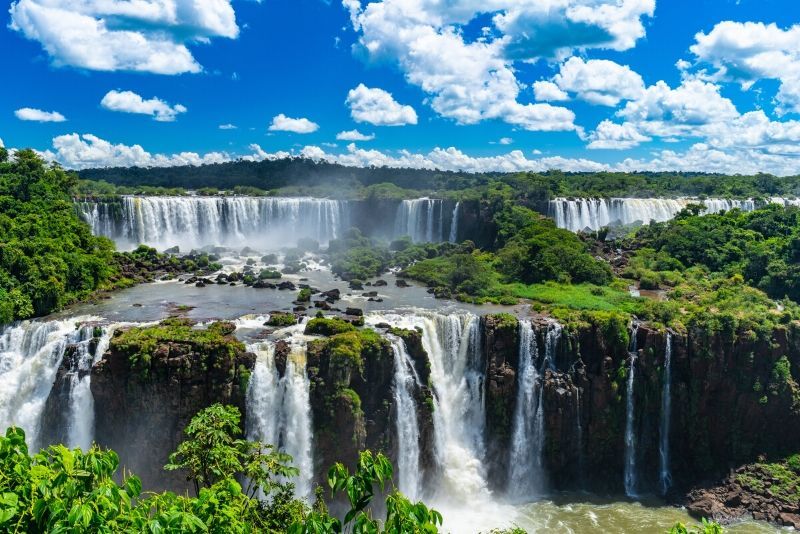 How to get to Iguazu Falls from Buenos Aires?
Argentina is a long and narrow country, so the journey to Iguazu Falls from Buenos Aires can take some time. You must reach Puerto Iguazu, the Argentinian city bordering the falls, by car, bus, plane or a guided tour.
From Buenos Aires to Iguazu Falls by car
Driving from Buenos Aires to Puerto Iguazu provides you with stunning views of Argentina along the way, but it will take you at least 15.5 hours to go just one way. The sheer length of the journey makes it impossible to do in just one day, so plan to stay overnight.
From Buenos Aires to Iguazu Falls by bus
If you aren't a fan of driving that far on your own, you can opt for the bus. Multiple companies operate the nearly 18-hour trip, and the tickets cost AR$17,680 to AR$23,580 (US$150 to US$200). Taking the bus provides you with the same stunning Argentinian views without the hassle of driving for over 15 hours on your own. Since this journey takes even longer than driving, plan an overnight stay.
From Buenos Aires to Iguazu Falls by airplane
The fastest way to reach Puerto Iguazu is by plane. You can either fly out of Ezeiza International Airport (EZE) or Aeroparque Internacional Jorge Newbery (AEP) in Buenos Aires, but you must fly approximately two hours into Cataratas del Iguazu International Airport (IGR). Multiple airlines operate this route, and you can find tickets for anywhere between AR$11,790 and AR$35,370 (US$100 and US$300). It is best to plan in advance to try and save money on your ticket.
Guided tour to Iguazu Falls from Buenos Aires
If you don't want to deal with the logistics, you can book a guided day tour from Buenos Aires to Iguazu Falls. Taking a tour removes the stress of travel planning and helps you sit back and relax.
How much does the entrance ticket to Iguazu Falls cost?
Iguazu Falls sit in the Iguazu National Park in Argentina, and visitors must pay a fee to enter. The price varies based on your country of origin. Most adult non-residents must pay AR$2,800 (US$24) to enter. Argentinian residents must pay AR$610 (US$5), and Mercosur residents must pay AR$1,680 (US$14).
If you want to partake in Walks in the Moon at the park, the rate jumps to AR$7,500 (US$64) for all adults. Your tour typically covers the entrance fee and transportation to the park, but make sure to confirm before booking.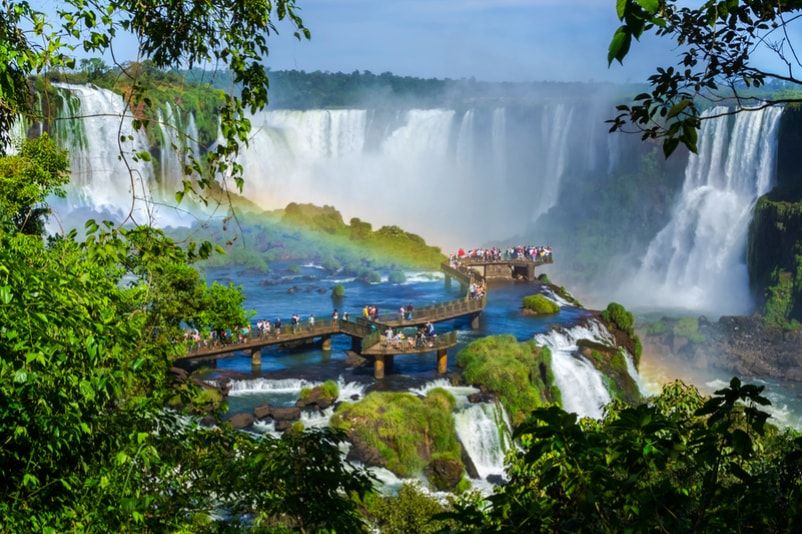 What is the typical itinerary of a day tour to Iguazu Falls from Buenos Aires?
The itinerary varies greatly depending on the type of tour you book. If you book a private tour, you can expect your tour operator to pick you up in Buenos Aires and take you to the airport. If you booked a day tour without airfare, you must make your way to Puerto Iguazu on your own.
Once you arrive in Puerto Iguazu, the tour operator will pick you up at the airport and transport you to the Iguazu National Park in Argentina. You will spend the day exploring the falls by foot and boat. You can also take advantage of the other attractions in the park that are included with your entrance fee. At the end of the day, your tour operator will transport you back to the airport to make the journey to Buenos Aires.
What kinds of tours are available to go to Iguazu Falls?
If you choose to make the jaunt to Iguazu Falls with a tour, there is something for everyone. Tour operators provide a wide variety of options, including private day trips, day trips, day trips with airfare and extended trips.
Private tour to Iguazu Falls from Buenos Aires
Private tours are great options for people traveling in groups who only have one day to visit Iguazu Falls. The price varies based on the number of people in your group and the operator you select. They typically include hotel pickup and drop-off, airfare, a guide and transportation expenses to/from the falls.
Day tour to Iguazu Falls from Buenos Aires
Day tours to Iguazu Falls typically include transportation to and from the airport and a guide to provide you with valuable information about the area. These tours do not include airfare to or from Buenos Aires, so make sure you schedule your flight accordingly.
Multiple day tours to Iguazu Falls from Buenos Aires
Multi-day tours typically take place for three, four or eight days. On the three or four-day trips, you get extra time to see Iguazu Falls and the surrounding areas. On the eight-day tours, you typically visit other parts of Argentina like Buenos Aires and Mendoza.
How much does a tour to Iguazu Falls from Buenos Aires cost?
The cost of a day tour from Buenos Aires to Iguazu Falls varies depending on what the tour includes. Tours without airfare start at US$320, while tours with airfare jump to US$650. You can book a private day trip with airfare for anywhere from US$1,100 to US$1,500. If you want to make the most out of your journey, you can take a longer tour (3, 4, or 8 days) for US$630 to US$3,300.
What will you see and do in Iguazu Falls?
While visiting Puerto Iguazu, the highlight of the day trip is the falls of course! You can spend time walking along the catwalks to get up close and personal, or you can venture out on the boats to see the falls from a different angle.
You can also spend time exploring the rest of the Iguazu National Park after you visit the falls. Your ticket also includes the Visitors Center, Ecological Train, Green Trail, Lower Walk, Upper Walk, Devil's Throat and Macuco Trail.
If one day is not enough to visit the area, you can book an extended tour and have more time to explore. You can even make your way to the Brazil or Paraguay sides, depending on travel requirements.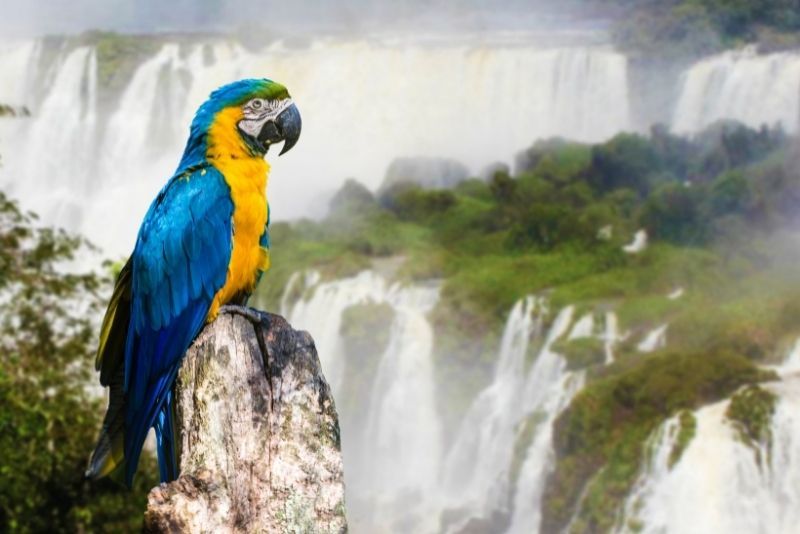 When is Iguazu Falls open over the year?
The Iguazu National Park in Argentina is open 365 days a year. You can see the falls any day you wish!
What are the opening times?
The opening times are subject to change, but the park currently opens for visitors from 8 AM to 6 PM.
When is the best time to visit Iguazu Falls?
The falls flow year-round, but you should schedule your trip to Iguazu Falls based on a variety of factors. The falls have the heaviest water flow during the Southern Hemisphere's summer from December to February. Even though the water flow is heavier, the weather typically is hotter and more humid.
The dry season lasts from March to early June. This time of the year is known for sunshine, less humidity, less rain and more moderate temperatures. You can also find the same conditions from August to early October, just with a bit cooler temperatures.
You can't go wrong when planning your visit, but March to early June and August to early October provide the best overall experience when visiting the falls.
Are there any tours to Iguazu Falls from other cities in Argentina?
Yes, there are other tours departing from several other cities in Argentina:
Travel tips
Prepare to get wet! Bring waterproof clothing, shoes, and covers for your devices. You should also pack a change of clothes to have a dry journey back to Buenos Aires.
Bring lots of sunscreen.
If your schedule allows, plan for a multi-day trip.