Book your Palace of Parliament tickets and embark on an eye-opening tour of the Romanian Parliament in Bucharest — the largest building in Europe and the second largest government building in the world after the Pentagon.
Constructed by Nicolae Ceaușescu, the infamous dictator of Communist Romania — between 1984-1997 — it stands as a sobering, yet fascinating beacon of the country's darkest times. A fever dream of Communist bravado and Neoclassical architecture, this mammoth structure with over 3000 rooms can be seen even from space.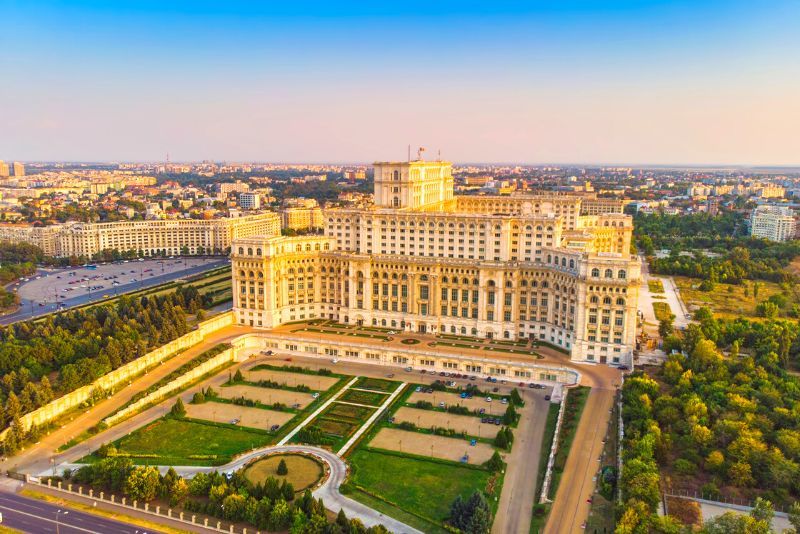 How much do Palace of Parliament tickets cost?
Palace of Parliament tickets vary in cost. While some tours are available in different languages, you can also opt for skip-the-line options that take the stress out of waiting in long queues to enter the palace.
Adults: from €15
Children: from €13
Infants: free
Guided tours: from €18
Who is eligible for discounts?
While Palace of Parliament tickets price varies, some offer discounted rates to certain categories. Similarly, if you're a student between the ages of 18 and 25, you're eligible for discounted tickets. Make sure to carry your valid photo ID in that case.
People with disabilities and their companions have free entry, provided they can show their valid documentation.
What are the best Palace of Parliament tours?
Palace of Parliament guided tours take the stress out of planning your trips. Learn fascinating details and historic facts that you might miss on your own. Most guided tours provide skip-the-line tickets.
Palace of Parliament group tours
Group tours are an exciting way to visit the Palace of Parliament with a larger number of people, helmed by an expert tour guide.
Your guide will narrate captivating — often little-known stories about the Palace that will make your trip more enriching. You will be able to socialize with fellow travelers.
Most guided tours last an hour and include a visit to the famous Dictator's Balcony, which offers a sprawling view of the fountained boulevard. Some even include hotel pickups, while others have a convenient meeting point.
Palace of Parliament private tours
Enjoy one-on-one interaction with an expert tour guide. You can ask questions and receive personal attention to make your experience more fruitful.
Most private tours of Palace of Parliament include the price of admission and offer free cancellations up to 24 hours prior. They also include hotel transfers or have a centralized meeting point for participants.
Are there any Palace of Parliament tickets or tours combined with other attractions?
Combined tours are a pocket-friendly way to see multiple attractions in a short span of one or two days.
Palace of Parliament tickets and Village Museum plus city tour: Visit landmarks like Old Town and Revolution Square in one day — and witness the Romanian village life in the outdoor Village Museum before you sample local cuisines.
Palace of Parliament tickets and Ceausescu Mansion guided tour: Avail 5% off on a guided tour to both landmarks for the price of one.
Is it possible to visit the Palace of Parliament for free?
Provided in English and Spanish, you can enjoy a 'pay what you want' tour that starts with a visit to the historic Palace of Parliament.
It covers other major landmarks, such as Old Town, Stavropoleos Monastery, and Carturesti Carusel. Listen to historically accurate stories about the king who inspired the folklore of Dracula and end your trip near a bustling spot of restaurants and bars.
Should you book Palace of Parliament tickets in advance?
Tickets to Palace of Parliament are available for advance booking, so you can choose your preferred date and time slot.
What will you see inside the Palace of Parliament?
Built by Romanian dictator, Nicolae Ceaușescu, between 1984-1997, the Palace of Parliament is the second largest administrative building in the world and the largest in Europe.
Meet your parliament official guide and tour all three levels of the palace. It stands 84-meters- tall, with a floor area of 365,000 square meters, making it the heaviest building in the world.
The first floor comprises meeting rooms and an opulent ballroom. Marvel at the 500 sparkling chandeliers, more than 1400 mirrors and ceiling lights, embroidered carpets and stunning architecture that adorn this floor.
You will be intrigued to learn that the palace has eight hidden underground levels, including a nuclear bunker — a sobering reminder of the constant threat of nuclear war during those times.
Walk out into the balcony of the second floor and treat your eyes to an awe-inspiring view of Fountains Avenue. End your tour with a visit to the majestic belvedere on the third level.
How to get to the Palace of Parliament?
Located in Sector 5 of Bucharest, the Palace of Parliament is easily accessible by car, bus and metro. You can hop on to metro lines M1 or M3 and get off at the closest station, Izvor. Bus numbers 104, 107, 136, 361 and 783 drop off at walkable distances from the palace.
When is the best time to visit the Palace of Parliament?
The palace remains open from 9 AM to 5 PM every day between the months of March and October. From November to February, it stays open between 10 AM to 4 PM. Sometimes the palace closes for large events, so it's best to double-check the dates that you're planning your visit.
Travel tips
Arrive at the meeting point at least 15-30 minutes in advance for group tours.
Make sure to carry your photo ID as it is mandatory to enter the palace.
Book your Palace of Parliament tickets in advance for best deals.
Wear comfortable footwear as most tours involve a lot of walking.