Luxembourg city is a UNESCO World Heritage Site, and as you stroll around the charming streets, you'll see why. The architecture here dates back centuries, giving an instant flavor of Europe's alluring history.
All the major tourist sites are conveniently close together in this small capital city, which makes a day trip to Luxembourg from Brussels such a breeze. Here's how you can make it happen.
How to get to Luxembourg from Brussels?
Luxembourg city is in the south of the country, just a few hours away from Brussels in Belgium. You can visit independently or join a guided tour.
From Brussels to Luxembourg by car
The journey to Luxembourg from Brussels by car is 124 miles and takes around three hours. The route is straightforward to navigate, using the E411, N4, and N15 highways.
Just bear in mind you will have to find parking on arrival, which isn't always easy in a capital city.
From Brussels to Luxembourg by train
Want to travel independently? Then hop on a direct train between Brussels and Luxembourg and enjoy the ride.
There are several daily departures, and the trip takes 3-4 hours depending on which service you use.
Guided tour to Luxembourg from Brussels
Full-day organized tours are the most hassle-free way of visiting Luxembourg on a day trip from Brussels.
Some offer hotel pick-ups for a super smooth experience, while others will collect you from a convenient location in the city center.
What is the typical itinerary of a day tour to Luxembourg from Brussels?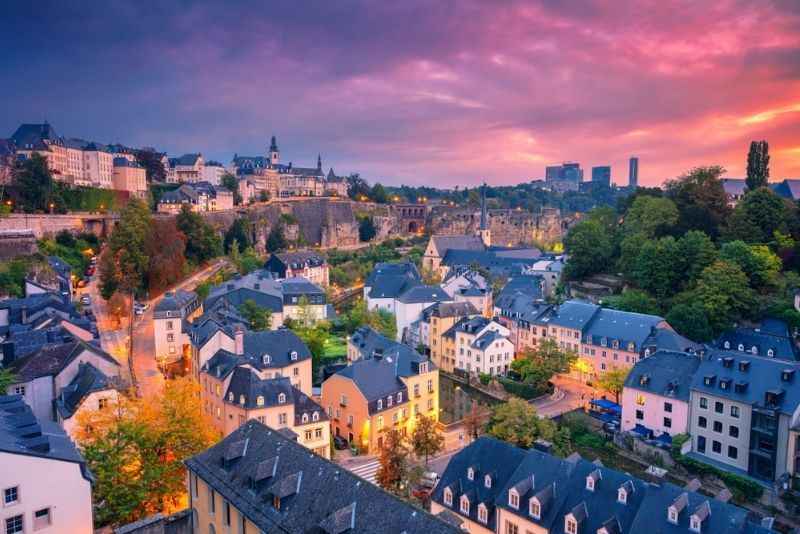 Your Luxembourg day trip begins after breakfast, with a transfer from your hotel in Brussels or a pre-arranged departure point.
The road trip lasts around three hours so sit back and enjoy the scenery as you head south into Luxembourg. Travel is by bus, minivan, or luxury car depending on your tour.
On arrival, you will have time to explore the sites at leisure or take a guided tour if this is included. Some trips then continue to the historical city of Dinant.
At the end of the day, you will be driven back to Brussels in time for dinner.
What kind of tours are available to go to Luxembourg?
There are several types of excursions to Luxembourg from Brussels. Here are the major players:
Guided tour to Luxembourg from Brussels
This bus tour is the way to go if you want to discover the main sights of Luxembourg on a budget. Shared transfers keep the cost down, and you'll have plenty of time to check out the landmarks independently when you arrive.
These tours depart from near Brussels Central Station.
Guided day trip to Luxembourg with Dinant from Brussels
This epic full-day tour to Luxembourg from Brussels also takes in the historical city of Dinant. You will enjoy a scenic drive through the Ardennes region, with free time to explore both cities at leisure.
Transfers from Brussels are included, some from your hotel, others from a central pick-up point.
Private shuttle transfer without guide to Luxembourg from Brussels
A private jaunt to Luxembourg from Brussels allows you to travel in style by luxury car. This exclusive transfer takes you into the heart of the city and is available from Brussels airport too.
Private tour to Luxembourg and Dinant from Brussels
Avoid the crowds on this exclusive day trip to Luxembourg from Brussels, with a bonus stop in Dinant.
You will visit the major landmarks with your personal guide and have free time for exploring too. Private transfers mean your itinerary is customizable.
Guided tour to Luxembourg plus the Ardennes Battlefields from Brussels
This tour not only takes in Luxembourg, it also visits the site of the Battle of the Bulge in the Ardennes. You will see McAuliffe Square, discover the Bastogne War Museum, and pay your respects at the American Cemetery. There will be time to explore the medieval town of Durbuy too.
Both shared and private tours are available.
How much does a tour to Luxembourg from Brussels cost?
A guided day trip to Luxembourg from Brussels by bus costs €49 per person, including a guide. Discounts to attractions and restaurants are sometimes available.
Prices start at €61 for the day tour that also includes Dinant. Some include hotel pick-ups.
The private shuttle transfer between Brussels and Luxembourg by luxury car is €214 one way.
A private day tour to Luxembourg from Brussels costs €666, including a guide and water.
Excursions to Luxembourg and the Ardennes Battlefields are €85 per person with a guide and entry to the War Museum. Private tours are €577 and include hotel pick-ups.
What will you see and do in Luxembourg?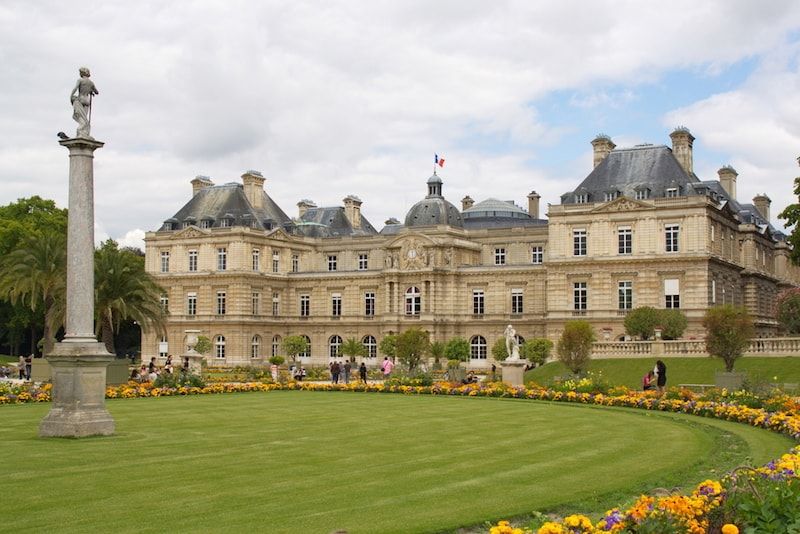 The charming city of Luxembourg is packed full of historical landmarks, giving a real insight into Europe's ancient heritage. Here are the places that you shouldn't miss:
The Old Town
Wandering around the ancient streets of Luxembourg's Old Town is an absolute pleasure, with historic buildings and cobbled alleyways everywhere you turn.
The views of the river and traditional stone bridges are stunning, and you can see the remains of the old city walls and former fortress.
Notre-Dame Cathedral
This 17th-century cathedral will be the highlight of your Luxembourg day trip from Brussels. A former Jesuit church, Notre-Dame is resplendent with Baroque and Renaissance architecture, as well as plenty of photographic Gothic twists.
Check out the 19th-century stained glass windows and bronze gates too.
The Royal Palace of the Grand Duke
Hidden in the heart of the Old Town, the Ducal Palace is the official residence of the Grand Duke of Luxembourg and the royal family. It's a stunning building, with ornate façades in the Renaissance style.
You can take a guided tour behind the scenes and explore the interior during the summer.
Place d'Armes
The Place d'Armes is the buzzing heart of the historical center, with cafés, restaurants, and shops all vying for your attention. It's pedestrianized, so is a great place to hang out and soak up the atmosphere.
Once used for military parades by King Louis XIV, the square now hosts Christmas markets and open-air summer concerts.
When is the best time to visit Luxembourg?
As with all European cities, Luxembourg can be enjoyed at any time of year. It's warmest during summer, but if you prefer to steer clear of the tourist hordes, come in spring or fall instead.
Winters are cold, but the streets are quieter, which makes this a great time for a day tour to Luxembourg from Brussels.
Travel tips
Book your day trip to Luxembourg from Brussels in advance as tickets can sell out. Make reservations online so you can find the cheapest prices.
Wear comfortable shoes as there will be lots of walking around the old city streets.
You will be able to purchase lunch at one of the restaurants or cafés in Luxembourg – ask your guide for recommendations.
Carry a bottle of water with you as sightseeing can be thirsty work.
Take a spare camera battery in case you run out of juice during the tour.