Bodrum is a well-known vacation destination in southern Turkey. While the city has many fascinating attractions, it's best known for its extraordinary coastline.
Boat tours from Bodrum discover a plethora of its most popular tourist spots, as well as several hidden gems. You'll be able to swim and snorkel in the famously clear Aegean Sea, unwind on the deck and learn about ancient ruins.
Whether you are a keen sightseer or are seeking a peaceful day floating on the water, there's a Bodrum boat excursion for you.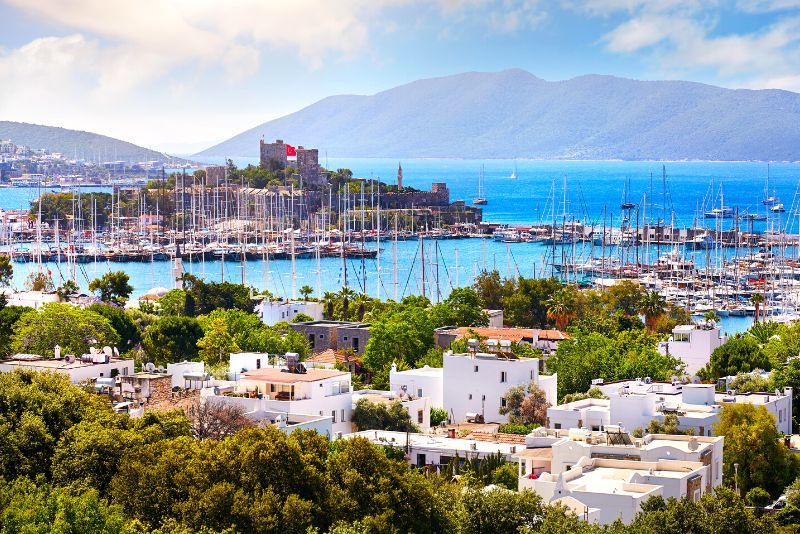 What are the most popular boat tours from Bodrum?
There are many different types of boat tours to choose from, depending on where you want to go on your outdoor adventure from Bodrum.
Full-day Orak Island boat trip from Bodrum
This boat tour from Bodrum slowly travels towards Orak Island — an uninhabited isle known for its olive groves and remarkably blue seas. On the way, you'll stop to swim in the enticing waters of the Aegean Sea.
Once you reach Orak Island, you'll have free time to discover its sandy shores, before returning to your boat for a delicious lunch on board. En route back to Bodrum, you'll stop to explore several snorkeling spots which are teeming with colorful fish and thriving coral reefs.
Dalyan River cruise with sea turtle watching
This boat tour winds its way down the historic and scenic Dalyan River and stops to bathe in Dalyan's thermal pools and mud baths. After relaxing in the healing mud, you'll continue towards the Mediterranean Sea, pausing to marvel at the enchanting Lycian rock tombs that line the river.
Once you reach Iztuzu Beach, you'll have free time to spot one of the resident turtles that travel to the bay in order to breed.
Pirate boat cruise from Bodrum
If you want to experience life as a swashbuckling scoundrel, take a boat trip from Bodrum on a pirate ship. You'll explore Black Island, Camel Beach and Aquarium Bay, all while feeling like the toughest buccaneer in the ocean.
7-Night Turkish coast cruise from Bodrum
This week-long boat cruise from Bodrum travels along the Turkish Coast and stops at many ancient sites, and natural wonders. Some of the places you'll visit include Orak Island, Cokertme and the Seven Islands. You'll explore Byzantine monasteries, hike through pine forests and snorkel in Turkey's unspoiled waters.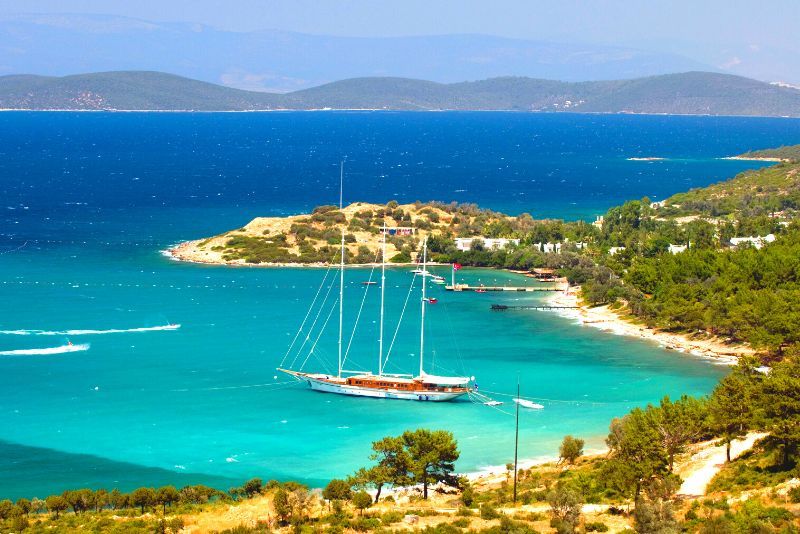 How much do boat tours from Bodrum cost?
Boat excursions from Bodrum are extremely affordable and you'll pay between US$20 and US$30 for a sailing trip to Orak Island.
River cruises in Dalyan cost between US$50 and US$100. Those that are more costly take place in small groups to enable a more personal experience.
Pirate boat tours from Bodrum range from US$20 to US$50. Those on the higher end of this price range tend to include unlimited alcoholic and non-alcoholic beverages.
7-night sailing tours cost approximately US$400 and include all accommodation and meals for the week.
Which places are seen/visited with a boat tour from Bodrum?
Lycian Rock Tombs
The Lycian Rock Tombs date back to between 500 BC and 300 BC. They served as a resting place for the highest members of society who were buried with their most opulent possessions.
What makes the tombs such an unusual sight to behold is their location. Carved into cliffs, the six Lycian Rock Tombs are a fascinating sight that makes drifting down the river a captivating experience for all.
Kos
Located just 20 kilometers off the coast of Bodrum, the Greek island of Kos is easily accessible from this area of Turkey. Kos is known to be the birthplace of Hippocrates — the father of modern medicine — who was born in 460 BC.
Alongside its flawless stretches of sand, the island is home to several historic monuments from a variety of time periods. These include the Hellenistic Gymnasium and two Ottoman mosques that were built in the 18th century.
Black Island
Black Island was originally named "Arkonnesos" by the Ancient Greeks who called it home. The island has historical ties to the great Siege of Halicarnassus and fell under Ottoman occupation in the 16th century. However, these days it is a place for visitors to unwind and relax in nature.
What brings tourists to Black Island is the mineral springs that experience water temperatures of 35 degrees Celsius and are located within a cave.
Iztuzu Beach
Iztuzu Beach stretches over 4 kilometers long and boasts warm, golden sands that give way to transparent seas. Also referred to as "Turtle Beach," Iztuzu's main attraction is the loggerhead turtles that choose the sands as their breeding ground.
The sea creatures make their way to shore between May and October each year where they lay close to 100 eggs, which are buried up to half a meter underground.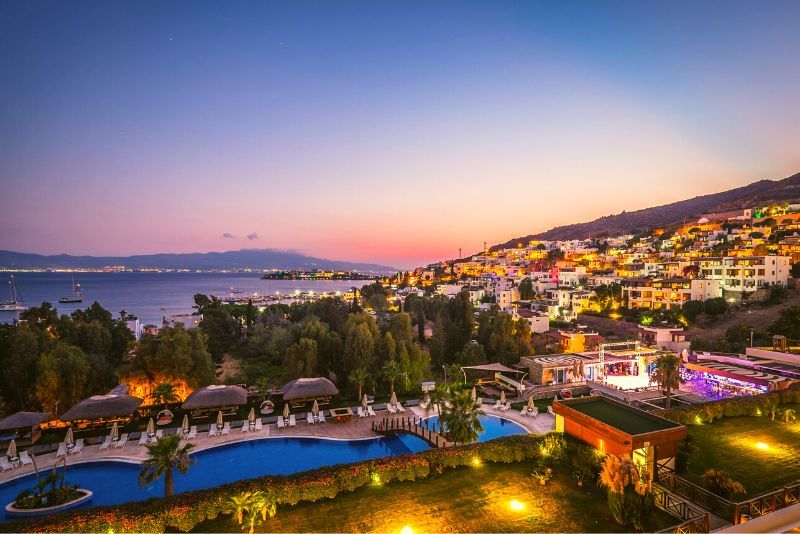 How long does a boat trip last?
Most boat tours from Bodrum last between six and eight hours. This gives you plenty of time to enjoy several swimming spots and discover the islands that surround the bay.
Dalyan River cruises tend to last approximately 14 hours as they visit many sites along the way including Iztuzu Beach.
You can also choose to take a multi-day boat tour from Bodrum which lasts either seven or eight days.
Where do boat tours leave from?
Bodrum boat tours usually meet at Halikarnas Harbor where they depart from. In some cases, your tour provider may operate a hotel pickup and drop-off service, although this is less common.
When is the best time for a boat trip from Bodrum?
Boat trips from Bodrum are best experienced during the shoulder months of May and October. During this time, the temperatures are between 25 and 30 degrees Celsius and there are fewer tourists around. You can expect cruises around Bodrum to last all day, and they are best enjoyed at any point on your vacation.
Which other outdoor activities can be done in Bodrum?
Travel tips
Make sure to bring your swimwear and beach towel with you on boat tours from Bodrum.
Boat trips are one of the most popular activities around Bodrum. Because of this, you should book your excursion as far in advance as possible.
Bodrum experiences hot and sunny conditions. Make sure you're prepared for the weather with sunscreen, a sun hat and plenty of water.