Bilbao is a bustling industrial port city in northern Spain, recognized for the metallic and curvaceous Guggenheim Museum. It offers a mix of nightlife, daytime activities and boat tours that keep tourists coming back for more.
You can visit on a budget or splurge for luxury when you set sail on a Bilbao boat tour. But, don't forget to indulge in the diverse and delicious seafood options lining the port. After a long day of swimming and snorkeling, treat yourself to a glass of Spanish wine and dinner near the docks.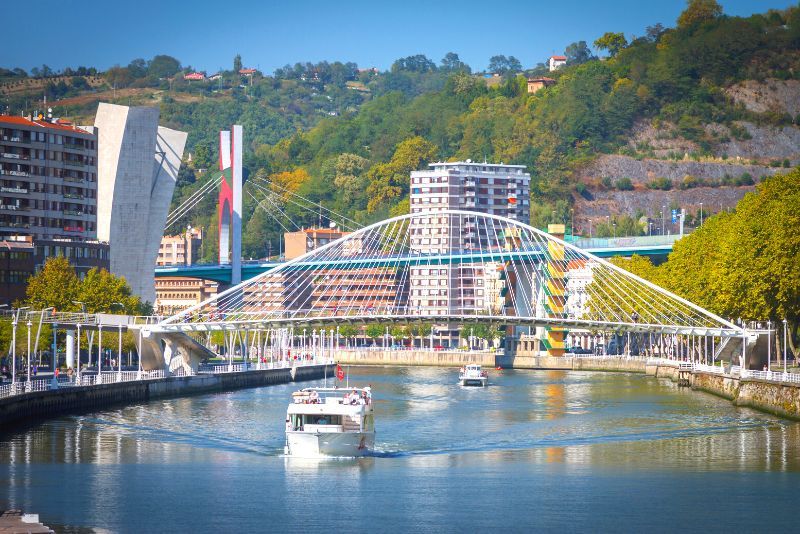 You will find bellow all you need to know about boat tours, one of the most fun outdoor activities in Bilbao.
What are the most popular boat tours in Bilbao?
The most popular boat tours in Bilbao last 5 hours. Choose between a Bilbao river cruise or taking to the open water with one of many exciting boat tours.
Panoramic boat tour
This tour operates at your own pace. Jump aboard for a 40-minute float out in Abra Bay. From here, the boat will dock at Portugalete, Getxo, and Santurtzi. You can jump off and explore each town as long as you'd like, returning to the next boat when you're ready.
Boat and walking tour in Bilbao
This hybrid tour takes tourists on a stroll around Bilbao's most popular attractions with a bilingual tour guide.
First, you'll cruise down the estuary to see architectural giants, such as the University of Deusto from the water. Then, you will join a group for a guided walking tour in Bilbao. Finish the tour on a full stomach with tapas and a drink.
Boat rental
Some boat rental companies may require a license, while others teach you in 15 minutes and get you on the water. You'll be captaining your own vessel for up to an hour (depending on your preferences) and will be able to navigate wherever the wind takes you.
Luxury Basque Town private tour
This tour is fully customizable to your desires, and you can choose any sight within 50 miles of town and set sail. Private luxury tours last up to 8 hours, allowing you to visit amazing locations like the Old Port of Algorta, Urdaibai Biosphere Reserve, Vizcaya Hanging Bridge, Getxo, San Juan de Gaztelugatxe, or Castillo de Butrón.
The tour includes free pickup and drop-off at your hotel.
Urdaibai Coast boat trip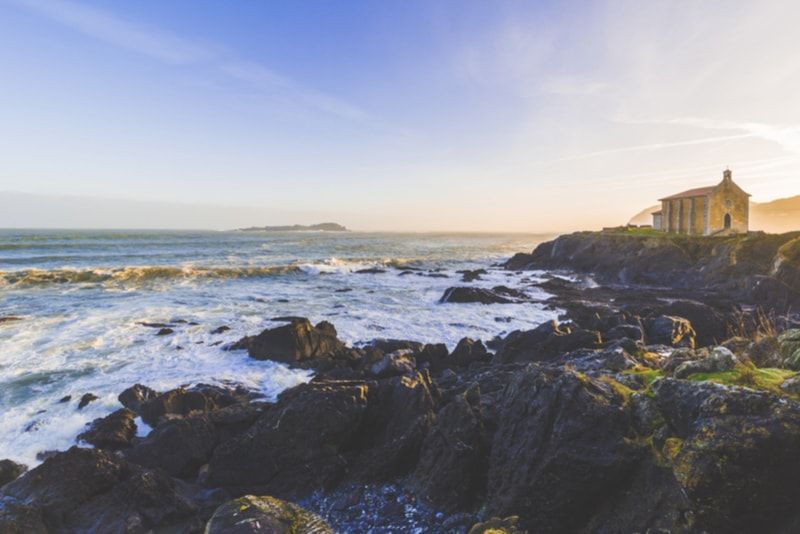 Experience the breathtaking views of the Urdaibai Coast from a boat, while you indulge in views of the picturesque villages of Elantxobe and Mundaka from afar.
Listen closely to the tour guide, as they tell you all about the mysterious Spanish enigmas, known as Iamias. Legend says they still inhabit Izaro Island, lurking nearby the sea caverns.
How much do boat tours in Bilbao cost?
Bilbao is more affordable than other Spanish cities, so expect cheaper prices on popular tours.
Boat and walking tours start from €120 per person, and the price includes tapas and a drink.
Panoramic boat tours start from €6 per person, and the boat ticket is valid for 24 hours.
Boat rentals are about €40 an hour.
Fully-customizable private tours start at €600 per person.
Boat trips to Urdaibai Coast range from €90 to €150 per person, depending on group size.

Which places are seen and visited with a boat tour in Bilbao?
Bilbao has an estuary running through the center of the city,  and plenty of boat tours transporting guests along the river. From here, you can catch all the famous Bilbao sites with a river cruise.
If you're looking to get out of the city, take a sea cruise to visit these popular attractions.
Portugalete
Portugalete is accessible via hop-on-hop-off panoramic boat tours. Well-known for its Vizcaya Bridge, Portugalete upholds its medieval aesthetic with a mix of modern, innovative technology.
Getxo
Getxo is a world-famous gastronomy center, specializing in seafood and traditional Basque cuisine. Hop off the boat tour for lunch here — your taste buds will thank you! When you customize your own private, luxury coastal tour with a captain, you can explore some Basque towns such as Getxo, where you can find the Old Port of Algorta and the Vizcaya Hanging Bridge.
Santurtzi
Santurtzi is best known for its iron and steel production and design. This town's must-try food is the grilled sardines.
San Juan de Gaztelugatxe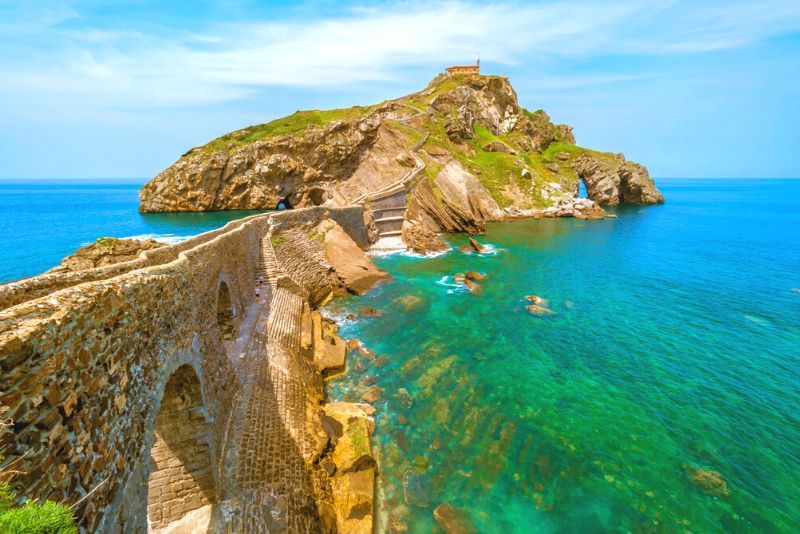 Gaztelugatxe is site for "Game of Throne" lovers, known to the show's fans as "Dragonstone." Here, Daenerys Targaryen camped out to scheme against her rivals up in the castle on the sea. Take a hike to the top lookout point in an hour and a half.
Urdaibai Coast
A cruise from Bermeo along the majestic Urdaibai Coast will allow you to check out the legendary Izaro Island and Cabo Ogono caves, which are clouded by mystery.
How long does a boat trip last?
Most of the Bilbao boat tours are up to 2 hours long. The private customizable boat tours are full-day adventures. The hop-on-hop-off panoramic tour tickets are good for the full day. All the other boat cruises last around 3 hours or less.
Where do boat tours leave from?
Bilbao boat and walking tours will leave from various docks, including Plaza Pío Baroja Pier, Puerto Viejo pier or Portugalete dock, depending on the itinerary.
If you're cruising out on Abra Bay, meet at the Portugalete dock. If you're staying inside the city, head to Plaza Pío Baroja Pier.
Other tours, such as coastal cruises or private tours, have their own set meeting points. For the San Juan de Gaztelugatxe or Urdabai coast tours, meet at the Puerto Viejo pier.
Ask your tour guide directly if they offer hotel pickup. Private tours include pickup and drop-off in the price, but many others do not offer this service.
When is the best time for a boat trip in Bilbao?
The best seasons for a boat trip in Bilbao are summer and fall. There's a small risk of cloudy weather in late autumn, so keep this in mind if you're chasing sunny skies.
Although August is a peak time to travel to Bilbao, expect tour rates to be more expensive than in other months. You'll need to arrange all hotels and boat tours in advance because they get booked up quickly.
Which other water activities can be done in Bilbao?
Travel tips
Stay hydrated. Plan ahead. These tours get booked weeks out. Rates are more expensive in August.
Wear comfortable shoes for the walking tours. You can change into sandals when you board the boat.
Wear sunglasses and sunscreen to keep you protected from hot and harmful UV rays.