The dynamic Basque city of Bilbao presents an intriguing fusion of modernist culture and historic splendor to the curious traveler. It's a place where state-of-the-art museums sit side by side with Gothic cathedrals. The cuisine is special too, and pintxo bar hopping is a favorite local pastime.
On a free walking tour in Bilbao you will be able to take it all in with a knowledgeable guide by your side.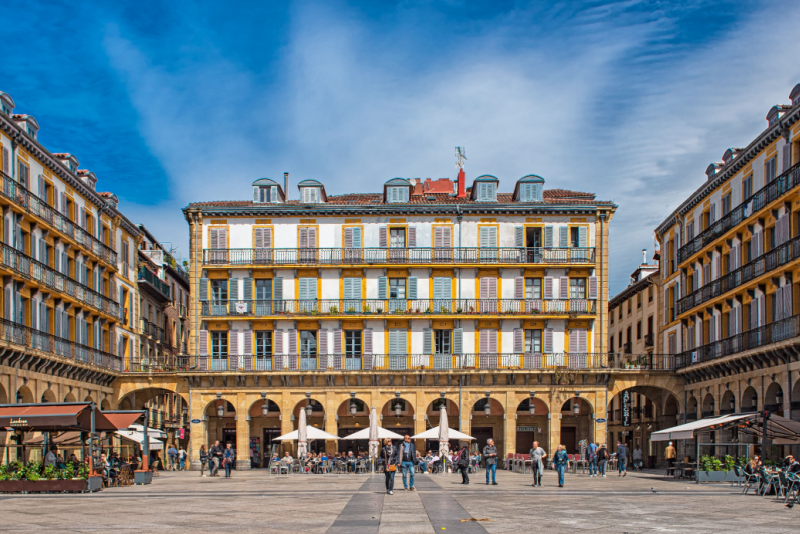 Free walking tours are a great way to start exploring a city. Here's all you need to know about booking these fun sightseeing excursions in Bilbao.
How do free walking tours in Bilbao work?
There are several free tours in Bilbao, and they've become a popular way to get to know the city. There's no set price for the tours, which encourages the guides to work hard and give you an experience to remember.
After the walk, it's up to you how much you want to tip your guide. Just pay what you think it was worth. There's no reservation fee either, you just need to take some cash with you on the day.
How much should you tip for a free walking tour in Bilbao?
When it comes to tipping your guide, you choose how much you want to give. Typically, most people on free walking tours in Bilbao pay between €10 and €15 per person.
Some give less, while others offer up to €50 if they've really enjoyed themselves. So, if you've had a great time, consider rewarding your guide appropriately for their time and effort.
What are the best free walking tours in Bilbao?
Bilbao is blessed with several different types of free walking tours. Many have a distinct theme, to help you decide which is right for you.
Historical center free walking tours
Historical free walking tours in Bilbao are the most popular. They give you a glimpse into the city's past and take you to all the major landmarks in the old town.
A few have a specific focus, like the Spanish Civil War or bridge architecture. Most, however, follow this itinerary.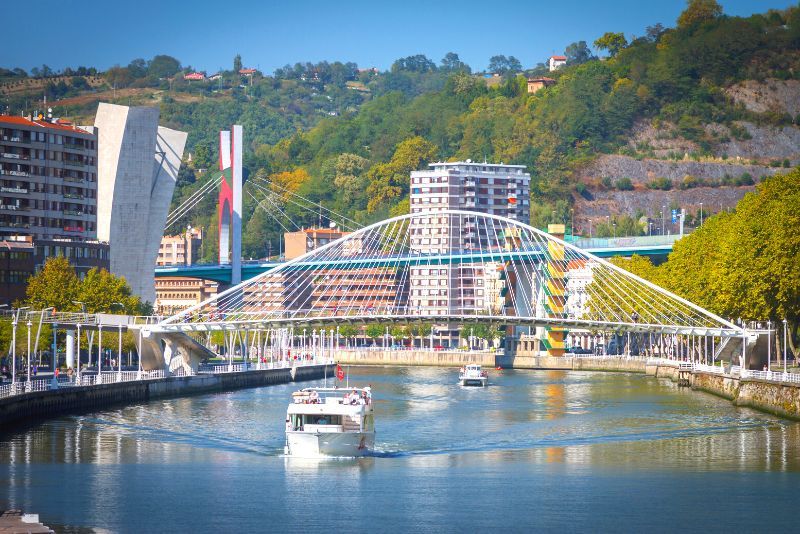 Itinerary
You'll meet your guide in the heart of the historic center, most likely in La Plaza Arriaga. After a short briefing and a look at the Arriaga Theater, it's time to explore.
First up is the El Arenal Church of San Nicolás, which is one of the prettiest Baroque buildings in town.  For more monumental architecture, the Plaza Nueva is just a few steps away. The splendid Neoclassical design will have you reaching for your camera.
Next, you'll visit the famous Begoña stairs in Plaza de Miguel de Unamuno, which lead up to a 16th-century basilica. You needn't climb the 311 steps if you'd rather admire from below!
Continue your adventures in the Seven Streets district. This is Bilbao's medieval nucleus, with all the palaces, squares, and fountains you could wish for. It's here that you'll find the Cathedral of Santiago, which is the oldest building in the city.
Finally, you'll stroll along the banks of the Nervión River to visit the largest covered market in Europe – the Mercado de la Ribera. The tour ends at Estación de la Concordia, a beautiful train station, and one of the prettiest modernist structures in the country.
Modernist Bilbao free walking tours
Bilbao is known for its striking avant-garde architecture, which can be easily enjoyed on these modern walking tours.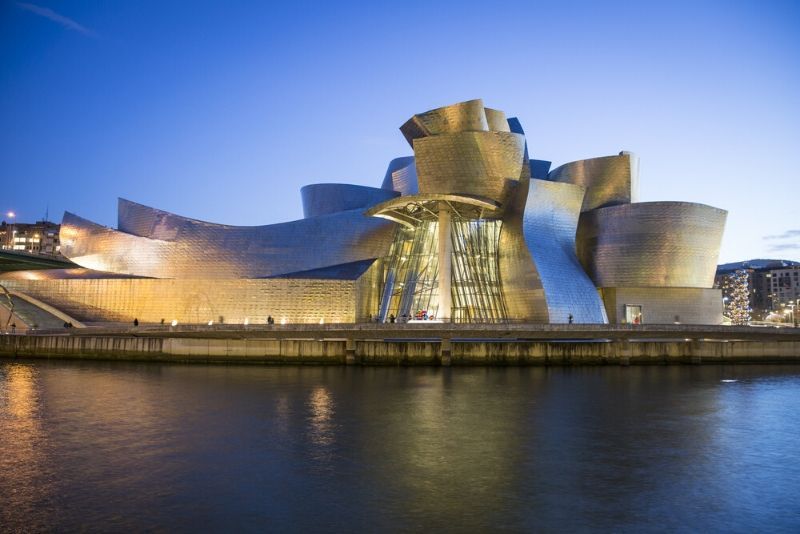 Itinerary
Where better to start your tour of contemporary Bilbao than beside the giant puppy statue in front of the Guggenheim Museum. There's time to take selfies before heading into the new town for some arty exploration.
The first stop is Plaza Euskadi, where the famous Iberdrola Tower dominates the skyline. It's the tallest building in northern Spain!
The nearby Museum of Fine Arts and the designer Zubi-Zuri Bridge are up next, which both make impressive photo subjects. Next, enjoy a stroll to the Plaza Moyúa to see the Chavarri Palace and Carlton Hotel.
Other tour highlights include the modern Campos Elyseos Antzokia Theater and the eclectic Palace of the Provincial Council of Bizkaia. These grand buildings are seen as emblems of the city, with the latter being used as a filming location on several occasions.
Take a moment to admire the stained-glass windows of the Abando Indalecio Prieto station. Then finish the tour at the foot of the Bailen skyscraper, one of Bilbao's most famous contemporary landmarks.
Bilbao Old and New free walking tours
These free walking tours in Bilbao show you the best of both worlds, with visits to historical districts as well as modernist monuments. You'll see some of the city highlights and get an insight into just what makes Bilbao tick.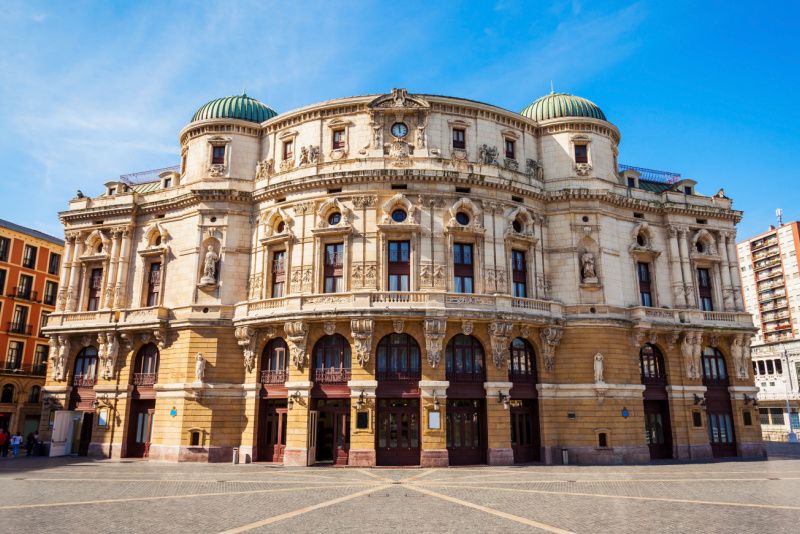 Itinerary
After meeting your guide outside the magnificent Arriaga Theater, you'll begin your tour to see where classic and contemporary worlds collide. You'll be visiting some off-the-beaten-track spots as well as taking in some icons.
The elegant neighborhood of Abando is the city's cultural heart, with everything from ancient buildings to boutique-lined boulevards. It's here you'll find the famous Guggenheim Museum. Make a note to return later to admire the famous modern art inside.
Pop into the bohemian neighborhood of Bilbao la Vieja, and visit San Francisco, an emigrant district with a gritty, yet hip vibe.
Then wander by the Azkuna Zentroa, a contemporary arts center that has become a modernist icon of Bilbao. You'll also stop by the Plaza Moyúa, a central hub in the heart of Gran Vía, and the famous Elysian Fields Theater.
Before finishing the tour, check out the stylish Zubi-Zuri Bridge, and the imposing Iberdrola Tower skyscraper.
Bilbao Food walking tours
Set your taste buds ablaze on a fun food walking tour in Bilbao. You'll be getting to know the city through its stomach, discovering the flavors and ingredients that make Basque cuisine so unique.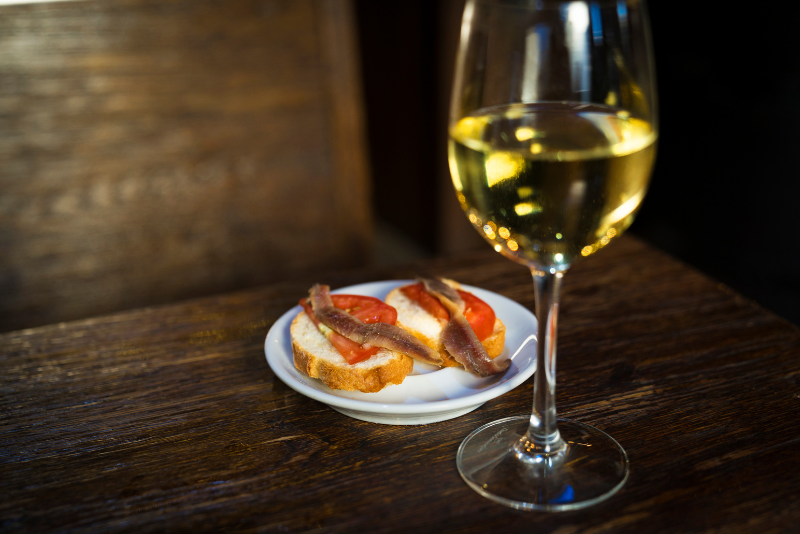 Itinerary
Meet your foodie guide outside the Guggenheim Museum and get ready for a gastronomic adventure.
You'll be learning about the history of Bilbao, as well as sampling some of the most iconic food in town. Discover the traditions of Bilbao food culture as you pop into pintxo bars and cafes in the heart of the historic center.
Start off in Heros Street, where hipster bars and buzzing restaurants set the scene for some serious tastings. Maybe you'll try bacalao pil-pil, an iconic Basque dish made of fried cod and garlic. Or perhaps you'll dig into some tasty stuffed spider crab known as txangurro.
Stop at La Ribera Market to savor the scents of Bilbao's finest produce. You'll find everything from cured meats and squid to oranges and wine here - it's a real feast for the senses.
Moving on to Ledesma Street, it's time for bar snacks – known as pintxos - and a glass of red to wash them all down. These tapas-style treats are typically small slices of bread topped with lashings of cheese, ham, and pepper. Yum!
In which languages are free walking tours in Bilbao operated?
The guides that run these Bilbao walking tours are often multi-lingual so you will often have a choice of languages. There are several options for excursions in English and Spanish.
Some tours are also available in Italian, Greek, and Euskara (the local Basque language).
Where do free walking tours in Bilbao start?
Most of the historical free tours in Bilbao begin in Arriaga Plaza, beside the theater. The combined modernist and historical excursions usually depart from here too. Alternatively, some excursions start at the Plaza de Don Federico Moyúa, the Unamuno Square, or the entrance to the Ribera Market. Some tours also kick off from outside the Church of San Nicolás.
The favorite meeting point for many modernist tours and also the food tour is the puppy statue at the Guggenheim Museum. A few contemporary architecture tours prefer to begin in El Arenal, by the Church of San Nicolás.
How long do free walking tours in Bilbao last?
Free walking tours in Bilbao last between 1.5 and 2.5 hours, with the majority taking a couple of hours. There are a lot of excursions to choose from, with options for tours during mornings, afternoons, and evenings.
When is the best time to join a free walking tour in Bilbao?
We recommend taking a morning tour when the streets are quieter and cooler. Evening tours are also a great choice when temperatures have dropped once again.
As there are so many free tours in Bilbao, why not book more than one? Start with a historical-themed jaunt, then move on to something a bit different like the food or modernist tours.
Schedule the excursion at the start of your trip so that your first foray into the unknown is with a guide.
Should Bilbao free walking tours be booked online?
It's advisable to book free walking tours in Bilbao in advance, to ensure you don't miss out. These excursions are popular, so time is of the essence.
We recommend organizing a tour for your first day in Bilbao, to help get oriented. It also takes away the hassle of having to find something to do as soon as you arrive at an unfamiliar destination.
Booking online is a convenient way of getting your vacation off to a great start.
Reservations are free
Credit cards aren't needed
It's free to cancel
You'll have a confirmed spot on the tour