A UNESCO World Heritage site, Antigua Guatemala, more commonly known as Antigua or la Antigua, is a city located in the Guatemalan highlands and surrounded by three volcanoes. It is well-known for its preserved Spanish Baroque-influenced architecture and the ruins of colonial churches.
A free walking tour in Antigua Guatemala, through this historical town, will give you an overview of its Mayan, colonial and modern history.
You will find below all you need to know about free walking tours, one of the best options for sightseeing tours in Antigua Guatemala.
How do free walking tours in Antigua Guatemala work?
A number of different free walking tours are available for visitors to Antigua Guatemala. With a free walking tour, the price is not set up front but is decided by you as the traveler. You can tip your guide directly on a "pay-as-you-wish" basis at the end of your tour.
There are free walking tours that need a minimum number of participants to operate, and tours can fill up quickly, so we recommend that you make your booking online in advance. No fee is charged to make your booking. Make sure to bring cash on the day to tip your guide.
How much should you tip for a free walking tour in Antigua Guatemala?
There is no set rate for tipping your guide after your tour, although there is a typical range.
Most people choose to tip between US$10 and US$15 per person, while some tourists will choose to tip US$5 or as much as US$50.
When deciding on how much to tip, consider what you thought of the tour — whether or not your guide was friendly and informative, and invested a lot of effort into giving you a good experience.
What are the best free walking tours in Antigua Guatemala?
Different types of free walking tours are available in Antigua Guatemala. You can choose between a walking tour that will give you a good introduction to the town or you can choose a tour that focuses on something specific like art, architecture or the surrounding areas.
Free walking tours of the city of Antigua Guatemala
As you walk through the city, your guide will point out many buildings of significance and talk to you about the history of the city. From its Mayan heritage to the natural disasters that have shaped Antigua Guatemala, you will learn how the city has become the well-preserved place it is today.
Itinerary
Free walking tours in Antigua Guatemala typically begin at the Fountain of the Sirens. Built in 1738 and inspired by the Neptune Fountain in Bologna, Italy, this remarkable fountain has been restored to its original beauty and stands in the center of the Plaza Mayor.
From here, you will pass under the Portal de las Panteras, a corridor of colonial-era arches, before moving on to the Palace of the Captain Generals. You will learn about the damage caused to this city by the Santa Marta earthquake of 1773.
The colonial-time buildings of City Hall, Cathedral of Santiago de Guatemala and the old University of San Carlos are next on the itinerary.
The next part of the tour includes seeing the Baroque and Solomonic details of the Church of San Pedro, and the Tanque la Uníon, an emblematic public washing space.
Before visiting a local craft market, you will have the chance to admire the ruins of the Santa Clara Convent and note the façade of the Mesoamerican Jade museum. The guide will explain why the importance of this precious stone in Guatemala.
There are several different walking tours whose itineraries may differ slightly from this.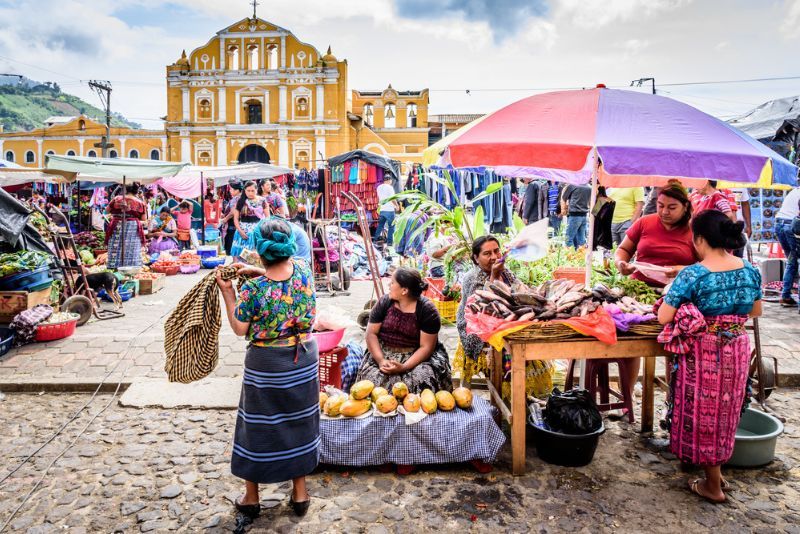 Free local craft tour in the villages surrounding Antigua Guatemala
With your guide, you will glimpse the surrounding of Antigua Guatemala and learn about the history of this cocoa-producing area. Traveling by bus before walking through the villages on the tour, you will get to know about the rich history and heritage of Guatemala from Mayan times until today.
Itinerary
You will start your tour at the Iglesia de la Merced Antigua Guatemala, before traveling to San Juan del Obispo by "Chicken Bus," paying your own bus fare.
Here, you will learn about the history and production of cocoa and take an artisanal winery tour. Entry fees, wine tastings and tours en route are at your own cost.
The next stop on the tour is San Pedro las Huertas with its ultra-baroque church and water tank, the largest in Antigua Guatemala. You will also participate in an artisanal jade tour, where you will hear about the importance of Jade to the Mayan civilization.
At the end of the tour, you will travel by bus back to your starting point.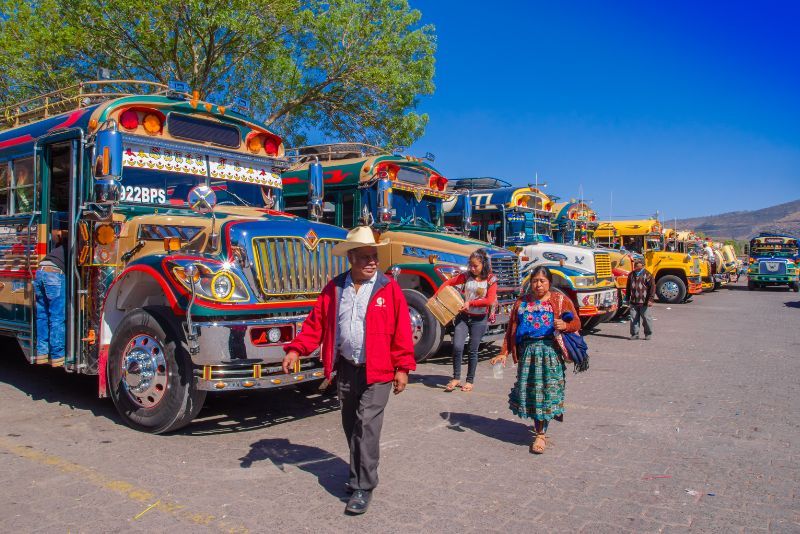 A night tour of Antigua Guatemala
If you are looking to see a different side of the city, you might enjoy a night tour in Antigua Guatemala.
This free walking tour does not take place during the rainy months of August and September, and it needs at least four participants to confirm.
Itinerary
Meeting with your group at the Company of Jesus, two blocks from the Plaza Mayor, you will begin your walk to La Merced, the street of the arch.
Walking through dimly lit streets, you pass sites such as El Barrio de San Francisco, Tanque la Uníon and Hermano Pedro Hospital.
Finally, you will head towards Plaza Mayor to admire the Fountain of the Sirens.
For those wanting to end the tour with food and drink, the tour will continue to Cerveceria 14 to enjoy locally prepared cuisine and craft beers. Food and drinks are at your own expense.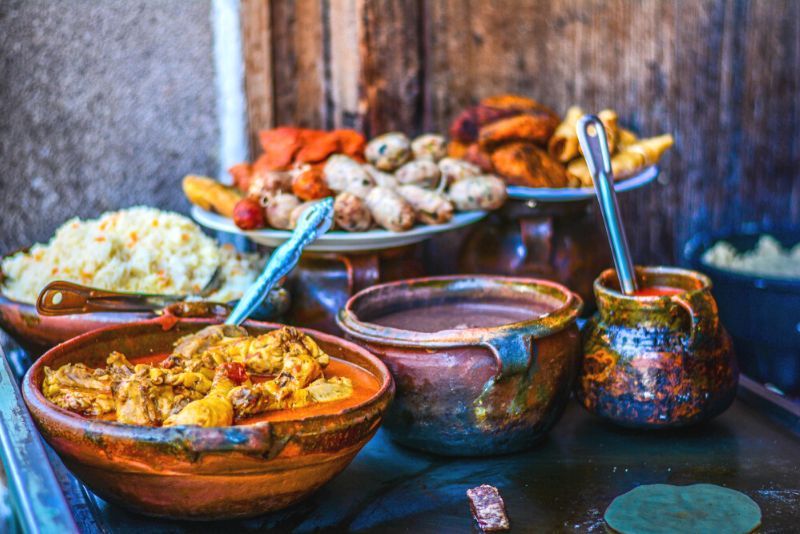 Free hiking tour near Antigua Guatemala
If you are an active person and would like to experience hiking the slopes of the Agua volcano, then this free tour may be ideal for you.
Itinerary
You will meet your group at the Union Tank and catch a bus at your own expense to a town 4 kilometers from Antigua Guatemala.
This hiking tour will allow you to connect with nature, while hearing more about the history of the area and its indigenous inhabitants. Tour guides will share stories that have been passed down through generations of their family, as the tradition of oral storytelling.
Wear comfortable hiking shoes and bring adequate water and snacks for this tour.
In which languages are free walking tours in Antigua Guatemala operated?
Most free walking tours in Antigua Guatemala are operated in English and Spanish, although a few tour operators only speak Spanish.
Some guides also offer tours in French and Italian. Most of the guides are multilingual, and your tour group may include visitors speaking a different language.
The languages spoken by your guide should be clearly specified in your tour description.
Where do free walking tours in Antigua Guatemala start?
Almost all of the free walking tours in Antigua Guatemala begin in the city center, close to Plaza Mayor, the central city park. The Merced Church, Fountain of the Sirens and the Union Tank are all popular meeting points for tours. Guides will generally wear an item of clothing that makes them easily recognizable.
For walking tours that include villages outside of the city, free hiking tours and jogging tours, you may have to meet your group close to a public transport point such as a bus stop.
If you are staying in the city center, you will be able to walk to your meeting point..
How long do free walking tours in Antigua Guatemala last?
A typical walking excursion in Antigua Guatemala takes 2-3 hours, although some tours are slightly shorter or longer than this. After your walking tour, you will still have time to explore the city at your leisure or enter some of the sites you have been shown.
When is the best time to join a free walking tour in Antigua Guatemala?
Book your free walking tour in Antigua Guatemala for the first morning of your stay. This provides you with an orientation of the city and leaves the afternoon free for exploring.
Once you have had your tour, you are able to plan which parts of the city you would like to explore further.
With its subtropical highland climate, the temperature in this region is moderate throughout the year. However, May to October is the rainy season, and some activities may be affected by the weather. Some tours do not take place in the wettest months,  August and September.
If you are an active person, the free walking, hiking and jogging tours can take place later in your stay.
Should Antigua Guatemala free walking tours be booked online?
Book your free walking tours in Antigua Guatemala online and in advance, as they may be fully booked fast during peak season. You will know the details of your itinerary in advance and possible entrance fees or other costs you may need to pay.
It is also important for tours that need a minimum number of participants to operate. Online bookings allow guides to know how many participants to expect so that they can properly plan and prepare.
Booking online is fast, easy and convenient. There are no upfront payments or booking fees, and you are not charged if you choose to cancel.