The scenic coastal city of Antalya in Turkey is a luxury yacht-filled harbor with charming hotels and restaurants. This Mediterranean region is known as the Turquoise Coast for its blue-green water, perfect for exploring by boat.
On a boat trip from Antalya, you will be immersed in both natural beauty and history as you'll see cascading waterfalls and famous monuments like Hadrian's Gate.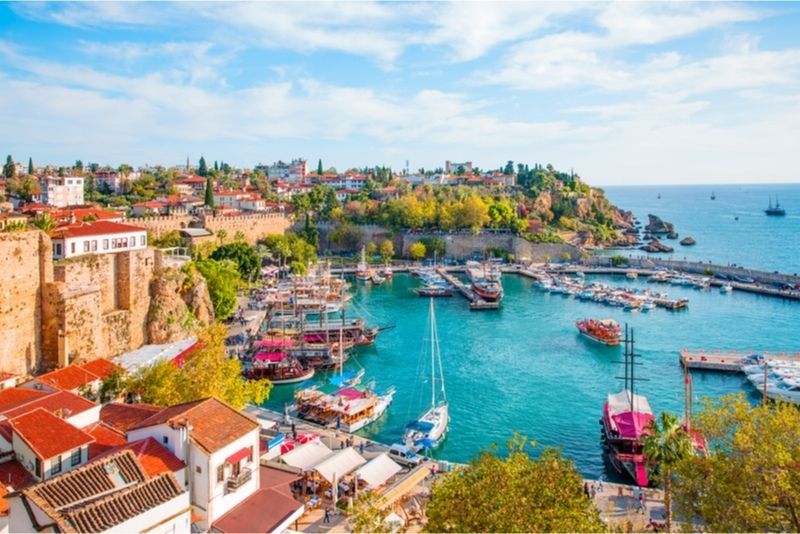 You will find below all you need to know about boat tours, one of the most fun outdoor activities in Antalya.
What are the most popular boat tours in Antalya?
There are many different boat excursions to choose from in Antalya, all offering fantastic views of the Mediterranean. There is something for everyone on the Turquoise Coast whether you'd like to stay closer to shore or venture out to sea.
Antalya City boat tour plus Duden Waterfalls
On this boat tour of Antalya, you'll have the opportunity to explore the ancient city of Kaleici with attractions like Hadrian's Gate, Kesik Minare, the old city walls, and the Clock Tower.
You'll later board a boat charter out to Duden Waterfalls, where you can explore a natural cave covered by the 15-meter cascade. Some excursions also include visits to other natural waterfalls as well as stops at boutiques, art galleries and museums along the way.
Green Canyon boat tour
If you're looking to fully immerse yourself in nature, opt for a Green Canyon boat tour from Antalya.
On this trip, you'll cruise through the vivid emerald green lake between rocky mountains while surrounded by mother nature's splendor. You'll have plenty of time to swim on this excursion, while also taking breaks to enjoy the views of the surrounding woodlands.
Kekova Sunken City boat tour
Choose a Kekova Sunken City boat tour for a day filled with adventure in Atalya. On this excursion, you'll board a glass-bottom boat to sail through the turquoise water to the ruins of a sunken city.
You'll have the chance to swim through coves and bays before visiting a beautiful castle overlooking the Mediterranean. You'll dine on a delicious local restaurant and indulge in a dessert of traditional ice cream from the region.
Suluada Bay boat tour
The waters of Suluada Bay off the coast of Antalya are stunning in color and clarity and are considered the "Maldives of Turkey." Choose a boat tour of Suluada Island for a 2.5-hour journey from the mainland where you'll cruise by caves and dramatic rocky cliffs.
You'll swim with sea turtles and sunbathe in the Mediterranean sun while enjoying the beauty of the Turkish coast.
Kemer traditional boat tour
Take a traditional Turkish boat ride along the coastline of Antalya to experience life as an ancient citizen of the lush region.
Dive into the crystal clear waters or opt for a snorkeling experience to investigate the vibrant sea life. Explore the Aquarium and Phaselis Coves before enjoying a classic BBQ lunch onboard.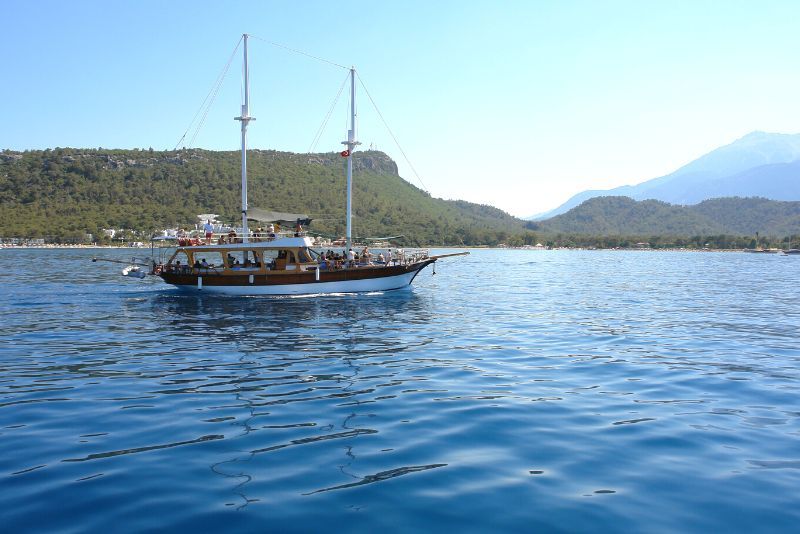 How much do boat tours in Antalya cost?
There are many options for boat tours in Antalya at every price point, so choose based on your preferred sightseeing destinations.
For a simple boat trip that explores the ancient city and includes the Duden Waterfalls, expect to pay between $35 and $65 per person. Those on the higher side usually include a Tunektepe cable car ride as well.
You can budget around $40 per participant for either a boat trip to Suluada Island or a tour that cruises to Kemer.
If you're looking to peruse the breathtaking Green Canyon, tickets will cost between $45 and $50 per person. A boat tour of the Kekova Sunken City will run between $35 and $75 per person, depending on the other stops included.
Private boat tours from Antalya vary in price due to the length of the excursion and the points of interest. A full-day trip that includes stops at the Sunken City and Kekova Island will cost about $500 for a group of six, whereas a private luxury yacht that includes food and drink will cost around $1500 for up to 12 people.
Which places are seen/visited with a boat tour from Antalya?
Duden Waterfalls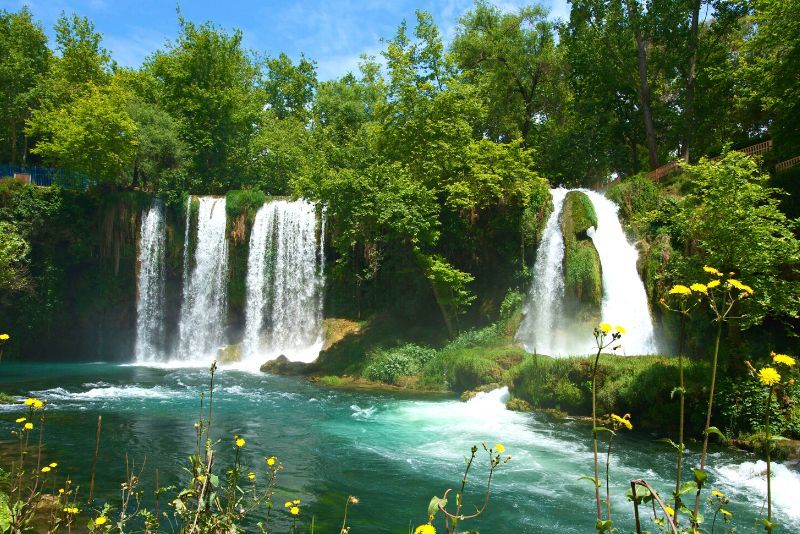 The Duden National Park is home to the famous cluster of waterfalls complete with hidden natural caves. The waterfalls in the region reach between 15 and 30 meters providing spectacular views along the coast of Antalya.
The Sunken City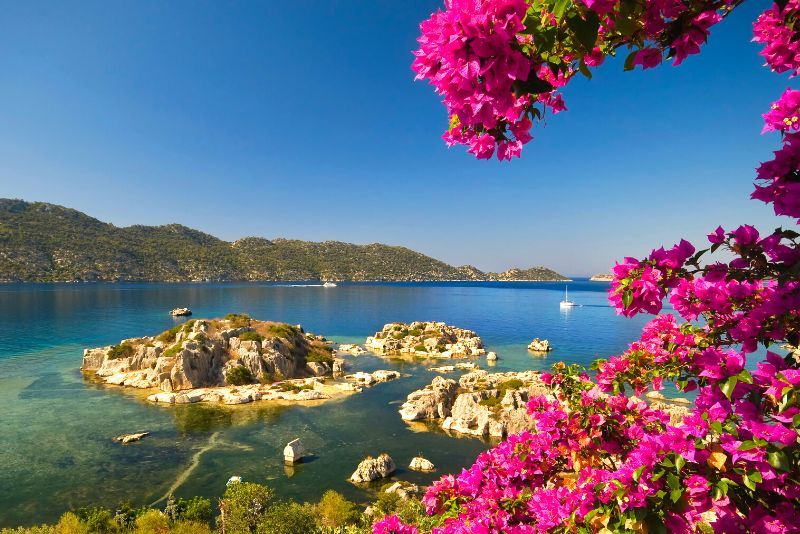 The Sunken City of Dolichiste, also known as Kekova Adasi, was once an ancient Lycian city that now lies partially submerged. Dolichiste thrived as a trading port of the Mediterranean but faced destruction due to earthquakes and rising sea levels.
Now the area can be explored both on foot and by swimming through the once-thriving Roman civilization.
Green Canyon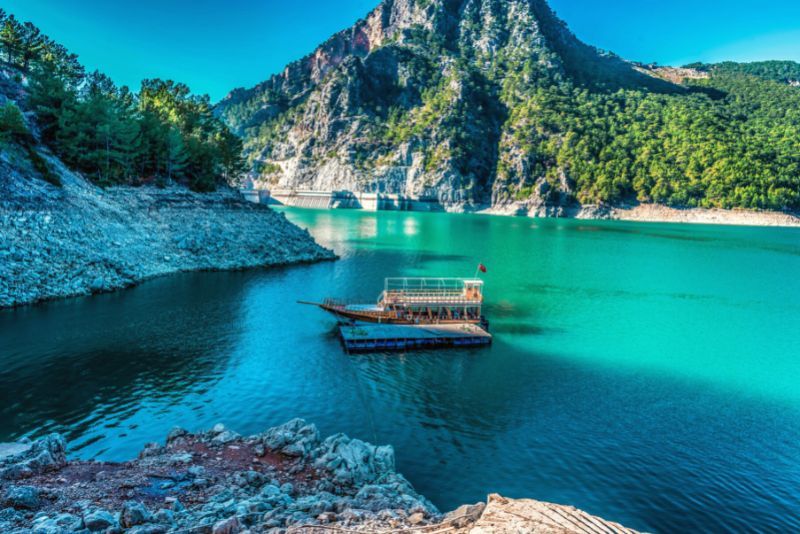 The Green Canyon is an emerald waterway set between two massive rocky cliffs in Antalya. A jaw-dropping lush mountain range and lush tropical forest provide the backdrop for the beautiful natural phenomenon.
The lake is the perfect place to take a dip in the bright blue water and take a boat ride to admire the stunning scenery.
Phaselis Ancient City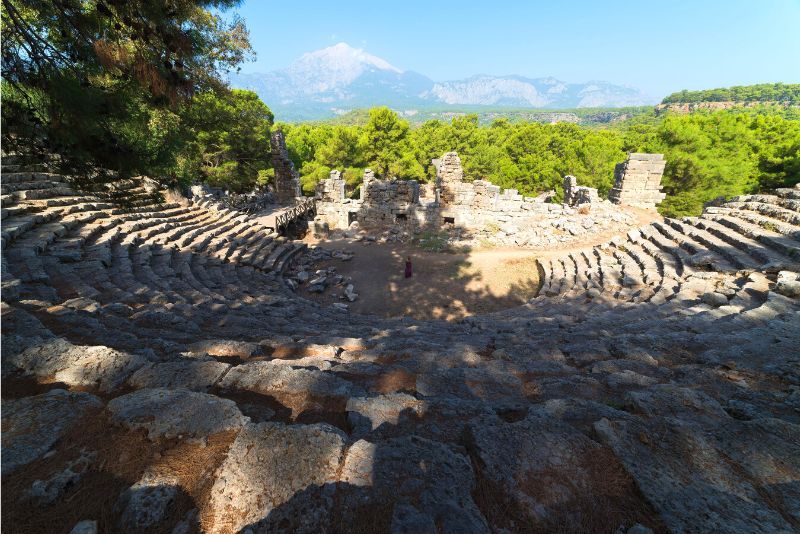 The ruins of the ancient city of Phaselis can be found in the Kemer district of Antalya surrounded by a lush forest. The 2600-year-old remains were once the home of a major Lycian trading port and are still preserved to this day.
The city ruins date back to the Byzantine Empire and contains Roman baths, a theater and a basilica just feet away from the Mediterranean beach.
How long does a boat trip to Antalya last?
Most boat tours of Antalya will run for a full day, though there are a few options for half-day excursions. Longer boat rides typically include at least one meal.
Some private tours offer a full-day plus overnight option where you will sleep onboard before heading to your drop-off point.
Where do boat tours in Antalya leave from?
You will typically meet your guide in one of the metropolitan areas of Antalya before heading by air-conditioned vehicle to the port. From there, you will board your charter to begin the tour.
Trips to Suluada Bay will require you to meet at Adrasan Port, whereas those that include Kekova Island may ask that you meet at Ucagiz Port. Private excursions will allow you to either be picked up at your hotel or from a pre-selected meeting point.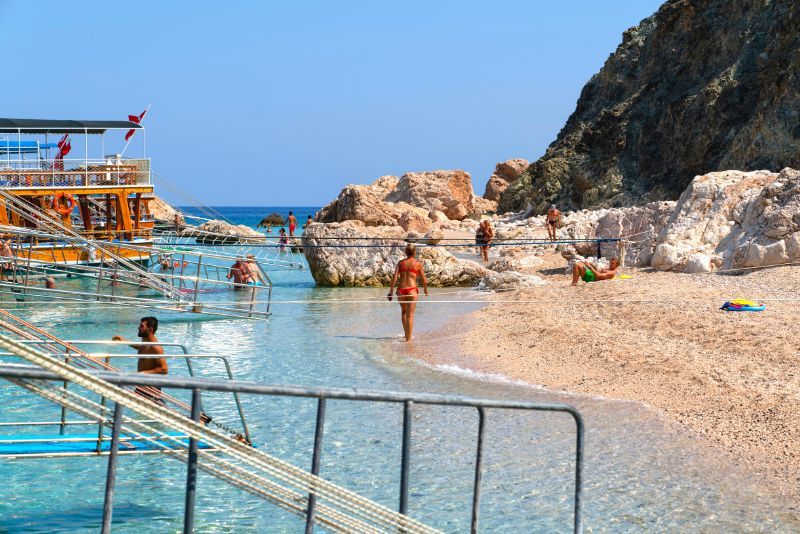 When is the best time for a boat trip from Antalya?
Late Spring through early Fall is the best time to visit Antalya with temperatures remaining warm and mild. June through September prove to be the hottest months with the most tourists.
To avoid large crowds, visit the Mediterranean region in the winter, but beware of cooler temperatures and occasional snow.
The best time of day to take a boat tour of Antalya is in the morning so you have hours to enjoy the sunshine. Most day trips begin around 8 AM, leaving you ample time for swimming, sunbathing and sightseeing.
Some boat tours last overnight, allowing for a sunset dinner and views of the ancient city at dark.
Which other water activities can be done in Antalya?
Travel Tips
Boat tours call for hours of swimming, snorkeling and other water activities so make sure to bring a bathing suit.
Most excursions will require you to be in the sunshine for several hours so apply sunscreen before boarding.
The coast of Antalya is filled with fascinating history and unbelievable views so pack a camera to snap photos along the way.