The city of Agadir is a jewel along the southern Atlantic coast of Morocco. It is  a charming resort destination with sprawling golf courses, wide crescent beaches and a breezy promenade teeming with cafes and restaurants.
Experience boat tours in Agadir to soak in its picturesque coastline and views while avoiding the crowds. Enjoy a traditional Moroccan lunch, seafood BBQ and unforgettable camel rides.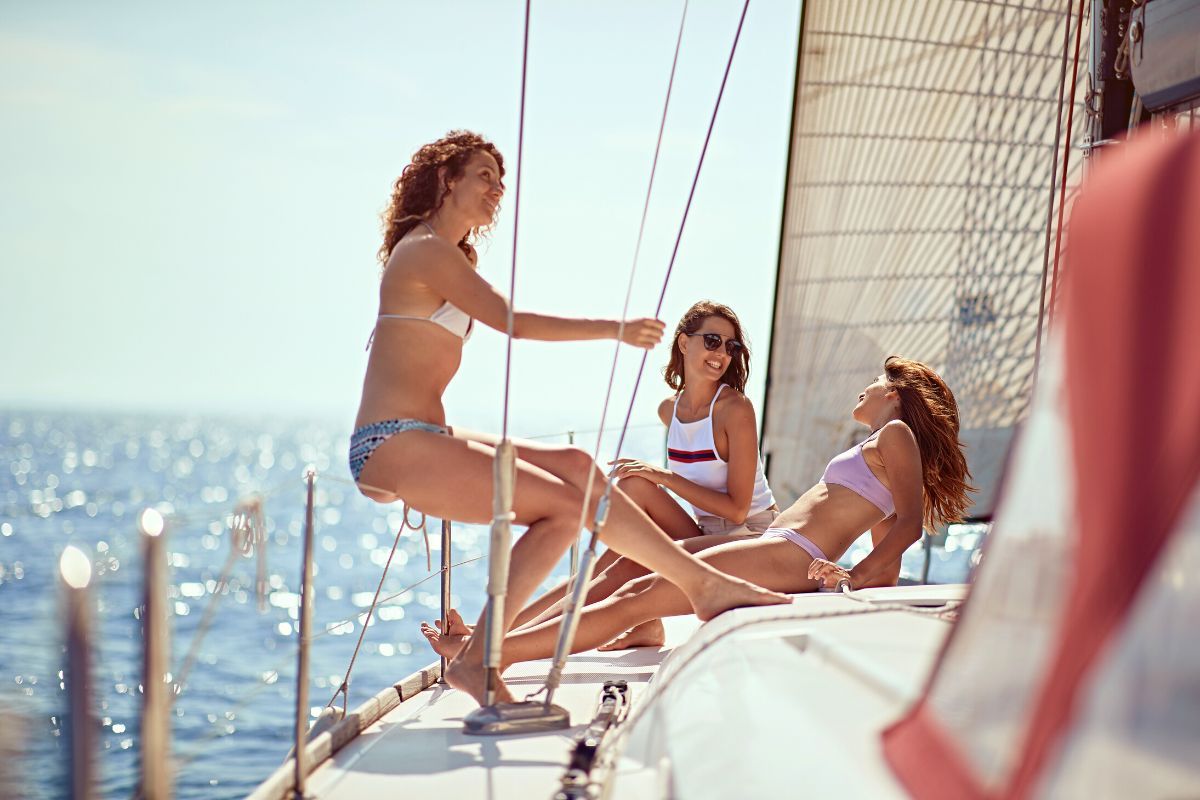 You will find below all you need to know about boat tours, one of the most fascinating outdoor activities in Agadir.
What are the most popular boat tours in Agadir?
Embark on a scenic Mediterranean adventure of stunning landscapes, leisurely fishing, swimming and watching local fishermen bringing in their catch.
Boat tours in Agadir with BBQ and fishing
Offering round-trip transport from your accommodation to the boat harbor, these tours are designed to make your experience as hassle-free as possible. Savor the breathtaking Atlantic coastline, try your hand at fishing with equipment provided onboard, dip into the turquoise blue waters and enjoy a sumptuous Moroccan BBQ lunch of fresh fish and salad.
Boat tours in Agadir with camel riding
As part of your boat tour, you will stop for a camel riding and meet a friendly and lovable dromedary. Take a ride across the countryside of lush eucalyptus forests and the lapping River Souss. Explore the village of Aghroud Bensergao and, if you're lucky, witness flocks of migratory birds like flamingos circling the sky. Hotel transfers are included.
Private boat tours in Agadir
Tailored specifically to suit your preferences and wishlists, these tours allow one-on-one interactions with your guide. Get a private pickup and drop-off and enjoy the tour at your own convenient pace. Most tours offer a guide for groups of maximum 10 people. They last from 30 minutes to an hour.
Private tour in luxury yachts
Gaze at the sun-kissed Mediterranean coastline from your private yacht tour, which includes comfortable bedrooms for indoor relaxation. Enjoy fishing and swimming with equipment, life vests and swimming suits provided onboard. The staff is very friendly and highly trained and makes sure that your experience is a memorable one.
Half-day boat tours in Agadir
Most half-day tours span a total of 5to 6 hours with pickup and drop-off services. Many stop at Kasbah of Agadir Oufella — a mammoth fortress built by Sultan Mohammed Ech-Cheikh in 1540. Overlooking the city, it offers some of the most panoramic sunset views. Other halts include Talborjt Mosque — the largest in Agadir and Souk El Had — a thriving marketplace full of aromatic spices, traditional rugs, musical instruments and handicrafts. A live tour guide accompanies you throughout for an enriching experience.
How much do boat tours in Agadir cost?
Boat tours in Agadir start with €22 per person, offering a private 1-hour luxury boat excursion with bedrooms.
Group tours go up to €180, including an 8-hour boat ride with camel riding, quad-biking-ATV and hammam spa.
Boat tours with breakfast, lunch or BBQ range from €50 to €160.
Which places are seen and visited with boat trips in Agadir?
Agadir's Atlantic coast
Shaped like a wide crescent, Agadir's Atlantic coast is blessed with warm sunshine for as many as 300 days. The northern part of the coastline bustles with tourists and fishing activities, while the south is quieter, offering unexplored stretches and secret coves. Its calming waters are perfect for swimming and fishing.
Agadir Beach
Agadir Beach is the heart of the city. Engulfed by rustling palm trees, this 10-kilometer stretch of golden sand is a haven for water sports enthusiasts. You can go water skiing, surfing, boating and quad-biking. If you're looking for a more relaxed time, you can grab a sun-lounger or find shade under a parasol.
Agadir Marina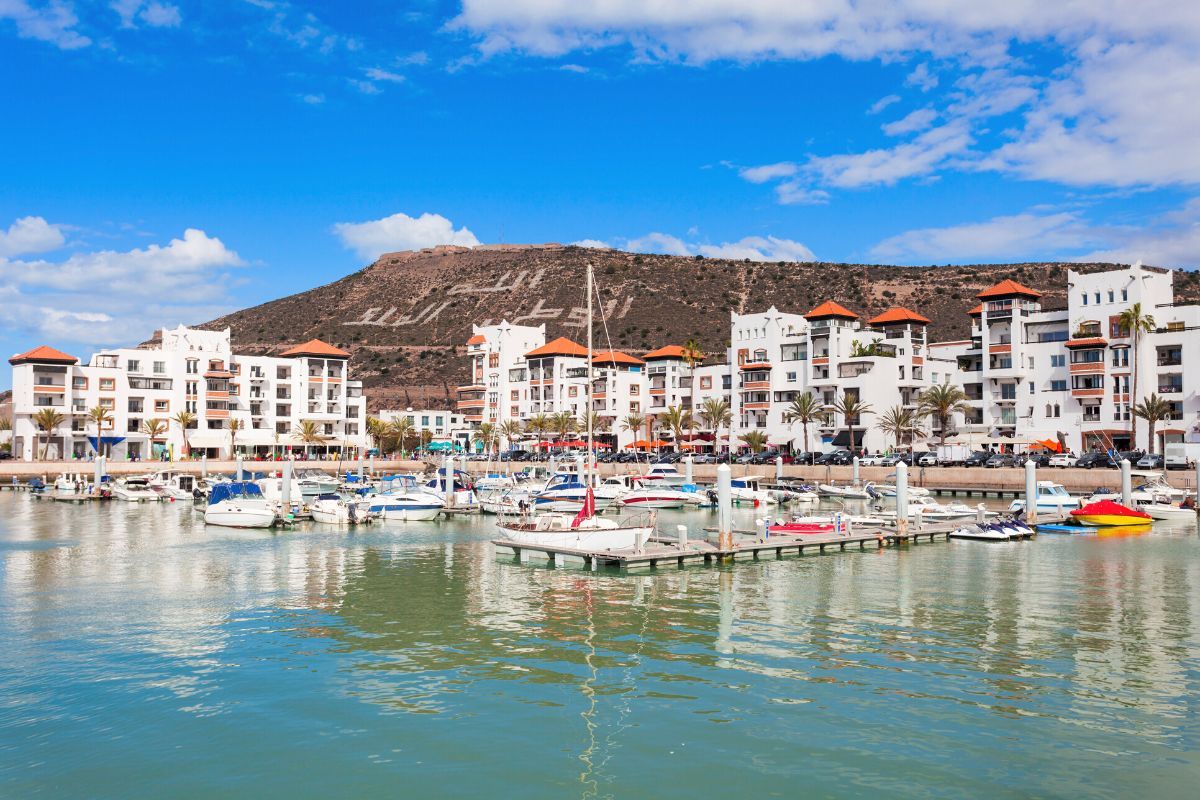 A beacon of luxury, Marina d'Agadir is one of the most popular destinations for tourists. You can gaze at luxury yachts and boats of Morocco's crème-de-la-crème that are moored here. The marina is surrounded by expensive apartments, manicured gardens, trendy stores, restaurants and cafes.
Atlas Mountains
Take a break from the hustle and bustle of city life and discover the peaceful scenery of the Atlas Mountains. Boasting lush eucalyptus and argan forests, the views you see are sublime. Explore the rustic countryside and get a glimpse into the lifestyles and cultures of local villagers.
Kasbah Mountain
Perched on a hill, Kasbah mountain is236 meters above sea level, this iconic fortress dates back to the 16th Century. Overlooking the bay of Agadir, it's a highly coveted place to watch the sunset over the sea. The fortress was heavily damaged by the earthquake of 1960, and only the ramparts were partially restored.
How long do boat tours in Agadir last?
While all boat trips in Agadir are different, many tours last half a day, around five to eight hours.  The duration is sufficient to enjoy sea views and often have a meal included. Private tours are shorter, from 30 minutes to one hour.
Where do boat tours in Agadir leave from?
Many tours offer pickup services and often start from Agadir Marina.
When is the best time to take boat trips in Agadir?
Thanks to its subtropical arid climate, Agadir is blessed with sunshine almost all year round. The best time to visit is in the months of spring and autumn when the weather is most pleasant. Summers from June to August can get hot and dry. If you happen to be in the city around that time, you can sign up for sunset boat tours, including BBQ dinners.
Which other outdoor activities can be done in Agadir?
Travel tips
Plan your boat excursions in Agadir in advance for the best deal.
Don't forget to carry a swimsuit and sunscreen.
Remember to get your camera to capture the beauty of the region.
Boat tours in Agadir are subject to favorable conditions.