The Phi Phi Islands in Thailand are some of the most visually striking islands in the region. Situated between the large island of Phuket and the Straits of Malacca, these six islands are a popular tourist destination made famous by the 2000 film "The Beach."
The Phi Phi Islands day trips from Phuket are definitely worthwhile, allowing you to witness an abundance of corals and marine life, part of the Hat Nopparat Thara-Ko Phi Phi National Park.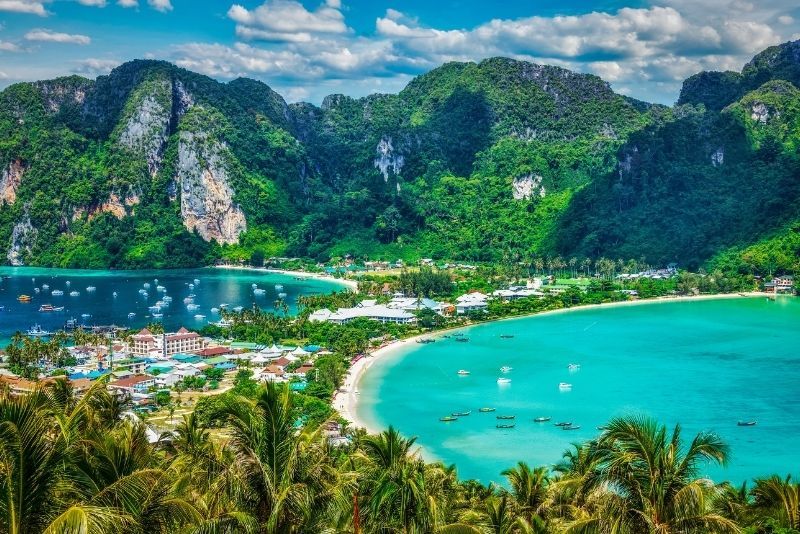 You will find below all you need to know about Phi Phi Islands, one of the most fascinating destinations for day trips from Phuket.
How to get to Phi Phi Islands from Phuket?
Phi Phi Islands are located over 40 kilometers southeast of Phuket.
From Phuket to Phi Phi Islands by ferry/speedboat transfer
Twice daily ferries transport passengers between Phuket and the Phi Phi Islands. This journey takes approximately 2 hours. Speedboat transfers operate around four times per day and take about an hour.
Small group guided tours to Phi Phi Islands from Phuket
You can opt to join a small-group guided speedboat tour of the Phi Phi Islands. These full-day tours depart early in the morning and return in the afternoon.
Private tours to Phi Phi Islands from Phuket
Private full-day speed boat tours of the Phi Phi Islands depart from Phuket daily and provide you and your group with a more personalized tour of the region.
What is the typical itinerary of a day tour to Phi Phi Islands from Phuket?
Most tours to Phi Phi Islands start with a collection from your hotel in Phuket. Alternatively, you will meet your guide at the Royal Phuket Marina.
Ferries from Phuket depart from Rassada Pier, Port Phuket or Rawai Pier, and usually arrive at Phi Phi Don.
Sunrise can be especially beautiful in this area, and many tours start early so that you can experience the sunrise while on the water or on one of the islands' many beaches.
Spend the day traveling between the islands seeing popular sites, and having opportunities to swim, snorkel and sunbathe.
On a boat tour to Phi Phi Islands, you may be served lunch onboard, a picnic snack lunch, or a meal at one of the resorts on the islands.
Upon arriving back at the pier in Phuket, you will either be transferred back to your hotel or allowed to make your own way from the drop-off point. Don't forget to consult your tour operator for pickup and drop-off details.
What kinds of tours are available to go to Phi Phi Islands?
Boat tours are the perfect way to make the most of your day trip to the Phi Phi Islands. Whether you choose a small group tour or prefer a private excursion, a boat tour will allow you to see many of the idyllic islands.
You can also choose to take a ferry to the largest of the Phi Phi Islands, and spend the day exploring at your leisure.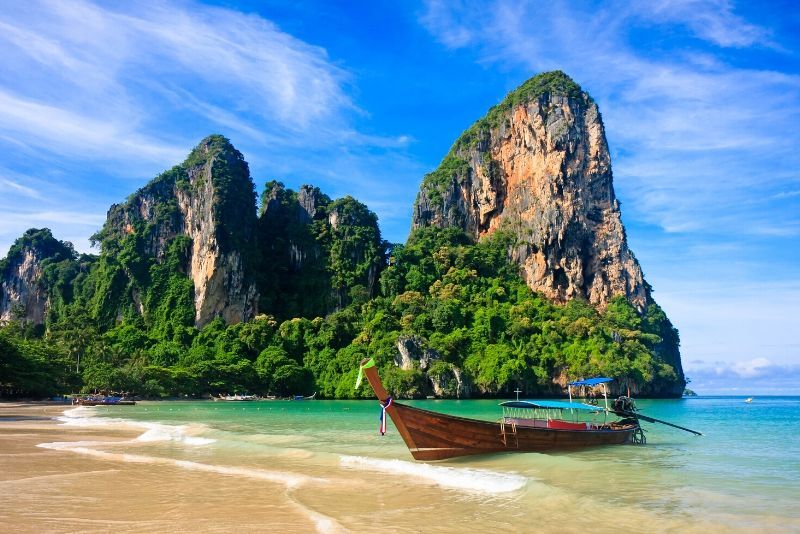 Ferry or speedboat transfer without a guide to Phi Phi Islands from Phuket
Depending on the ferry or speedboat service you book, you will either make your own way to the ferry departure point or be collected from your hotel by scheduled transfer. Your hotel may also offer a shuttle service to the pier. You are transferred by ferry or speedboat across the Andaman Sea to dock at Tonsai Pier.
Guided small group day tours on the Phi Phi Islands from Phuket
Small group tours on Phi Phi Islands and its surrounding waters are a great way of experiencing the beaches, scenery and marine environment — in the company of a knowledgeable guide.
Private guided boat or speedboat tour to Phi Phi Islands from Phuket
If you prefer to have exclusive use of a boat, a private boat tour to Phi Phi Islands gives you the flexibility of visiting the parts of the islands that appeal to you the most. You will have time to snorkel, swim and sunbathe, and can choose to visit the most popular tourist spots or keep to the quieter parts of the region.
Snorkeling day trip to Phi Phi Islands from Phuket
If you would like snorkeling to be your primary activity, you have the option of signing up for a snorkeling trip to the Phi Phi Islands, under the guidance of an experienced guide or crew.
Phi Phi and Khai Islands boat tour from Phuket
You can combine your trip to the Phi Phi Islands from Phuket with a tour of the neighboring Khai Islands on a single boat tour.
How much does a tour to Phi Phi Islands from Phuket cost?
Ferry tours from Phuket to Phi Phi Islands start at US$20 for a standard single ticket or US$40 for a first-class one-way trip. If you book a return ticket upfront, expect to pay around US$60 per person. Speedboat transfers start at US$30 for a one-way single ticket.
Guided small group day tours can start at as little as US$20 per person, but you may have to cover costs such as beach fees and nature reserve fees. Tours including these fees cost from US$40 per person. Tours that include lunch and drinks start at US$90 per participant.
Private excursions give you exclusive use of your boat. For groups of up to 10 passengers, you will pay around $1,000 for your whole group. This includes lunch, snorkeling equipment, private transfers from your hotel, and your boat captain and crew. Alcoholic drinks and tips are excluded.
Snorkeling day trips in a small group start at US$70 per person. To do this type of trip on a private basis, you will pay about US$500 per person, with a minimum of two participants required.
For boat trips that include the Phi Phi and Khai Islands, expect to pay from US$50 per person. Private tour prices begin at around US$1,100 for two people. The maximum charge for a group of 12 will be US$1,700. This tour includes lunch and snacks, entrance fees, travel insurance, and snorkeling equipment. Tips and alcoholic beverages are excluded.
What are the highlights of a Phi Phi Islands day trip from Phuket?
Phi Phi Viewpoint
The Phi Phi View Point at Phi Phi Don is a 20- to 30-minute walk from the pier and provides you with a view of Phi Phi Lei, Tonsai Village and Loh Dalum bays.
Maya Bay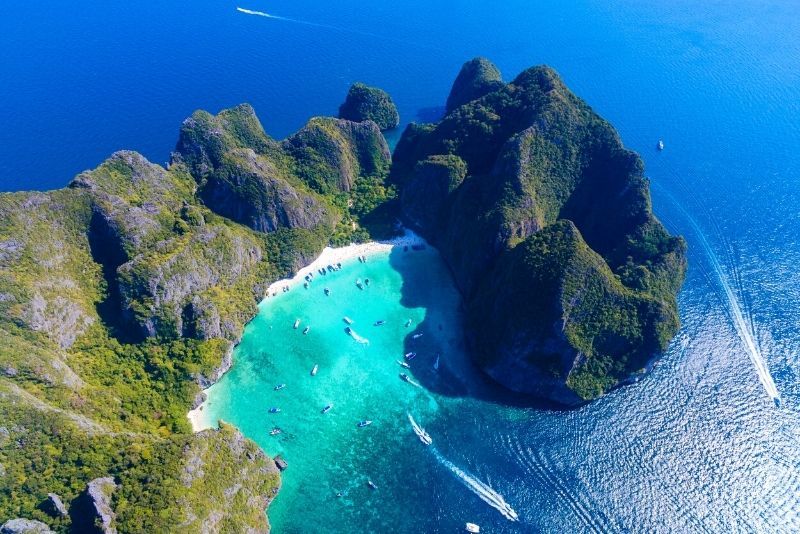 Maya Bay is most famous for being the filming location of "The Beach." This captivating shore is surrounded by karst cliffs. The beaches and surrounding areas have been rehabilitated after damage caused by over-tourism, and access to this area is now controlled and monitored.
Monkey Beach
You will have a chance to see the macaque monkey troops that call this area home from your boat on this public beach. Expect to see monkeys running along the shore, hanging and swinging on the trees, or perhaps stealing your food.
Viking Cave
Viking Cave is the site where the special bird's nests are used to make Bird's Nest Soup. These caves are guarded to protect the nests from looters. This is also a prime snorkeling site.
Bamboo Beach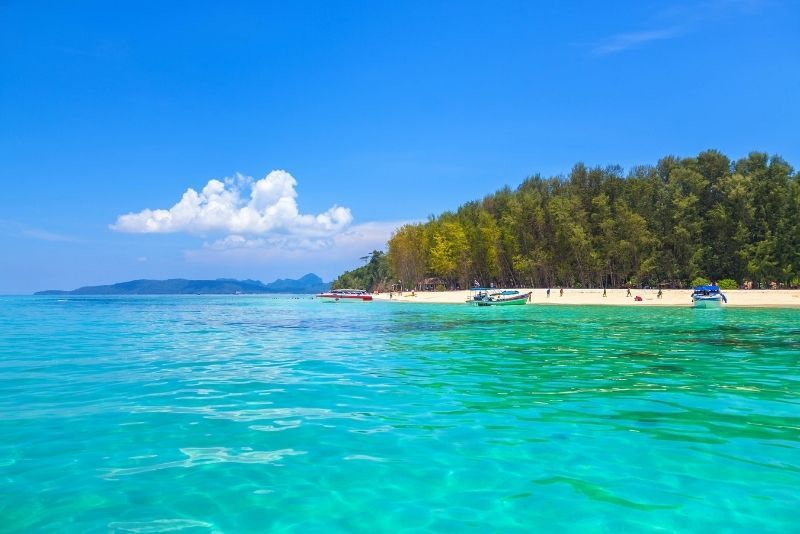 Situated on the Bamboo Island, this beach offers a secluded chance to relax in the shade of a palm tree. Try snorkeling to admire the coral reefs surrounding the island, enjoy swimming in the clear water and sunbathe on its wide coral sand shore.
When is the best time to visit Phi Phi Islands?
It is best to visit Phi Phi Islands between the months of November and April, when the humidity is the lowest.
Temperatures are high throughout the year, and there may be occasional rain showers.
Are there any tours to Phi Phi Islands from other cities in Thailand?
Yes, there are tours departing from other cities in Thailand:
Travel tips
Pack sunscreen and a hat to avoid sunburns.
Drink plenty of water to prevent dehydration.
Take sea-sickness tablets if you are prone to motion sickness.
Early morning and late afternoon are the best times to take scenic photographs.
A waterproof camera housing will allow you to take photos while snorkeling.