Phang Nga Bay is a national park situated in the south of Thailand and is often considered one of the country's most breathtaking natural wonders. The bay is characterized by its dramatic limestone cliffs, tranquil waters and lush vegetation.
You can take a day trip to Phang Nga Bay from Phuket in order to walk in the footsteps of James Bond. Alternatively, you can snorkel through its clear waters and be dazzled by the marine life that thrives in its turquoise depths.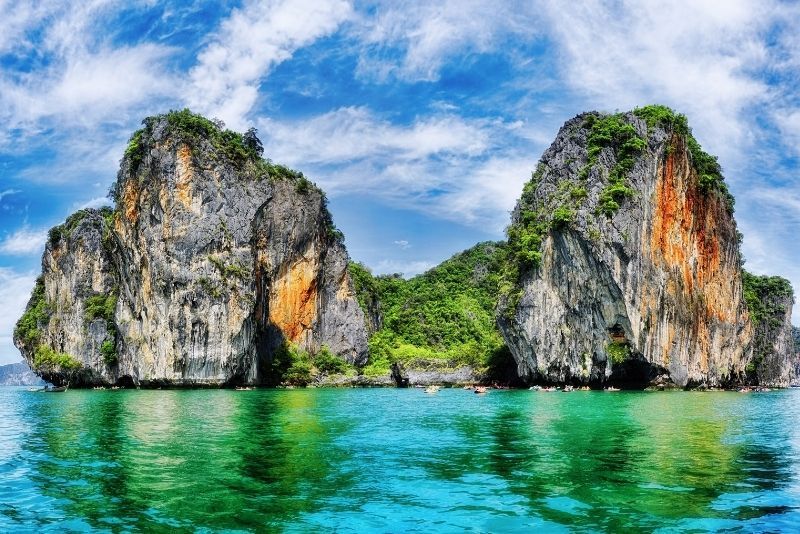 You will find below everything you need to know about Phang Nga Bay, one of the best destinations for day trips from Phuket.
How to get to Phang Nga Bay from Phuket?
Phang Nga Bay is located between the island of Phuket and the mainland of southern Thailand. It covers over 400 square kilometers and is situated in the Strait of Malacca. It is a quick jaunt to Phang Nga Bay from neighboring Phuket by boat.
Guided tour to Phang Nga Bay from Phuket
The easiest way to make the journey to Phang Nga Bay is by organizing a day tour. You can choose which time of day you want to explore the national park, and there are a plethora of day trips on offer. Each one offers a slightly different itinerary but all visit the most renowned sites, such as James Bond Island.
To ensure you have a hassle-free experience, most tours will offer a hotel pickup service and generally last around eight hours. If you have less time to spare, you can arrange a Phang Nga Bay day tour that lasts between 4 and 5 hours.
How much does the entrance ticket to Phang Nga Bay cost?
Adults: THB300 (US$8)
Children (aged 3-14): THB150 (US$4)
Children under 3: Free
What is the typical itinerary of a day tour to Phang Nga Bay from Phuket?
Generally, Phang Nga Bay day tours encompass an abundance of fascinating and visually stunning sites along the way, including islands, mangrove forests, and floating villages.
You'll begin your excursion with a hotel pickup and travel to the beach where your boat departs. Once you've boarded your vessel, you'll head towards your first stop of the day — the world-famous James Bond Island.
Here, towering limestone formations jut out of the sea, covered in vibrant greenery, which perfectly offsets the azure waters below.
The island became a prime tourist hotspot after the release of the James Bond movie "The Man With the Golden Gun" in 1974. As you travel toward James Bond Island, you may stop to peek inside exquisite stalactite caves.
Continuing on, you'll jump into a canoe and paddle your way along the calm blue seas. You'll duck into caves, weave through mangrove forests and pass by the floating village of Panyee, where you may stop to learn about traditional life.
There is the opportunity to cool off from the sizzling heat of Thailand by jumping in the Strait of Malacca. You can do this from a variety of islands including Nok Island and Lawa Island.
You'll experience the aromatic spices and mouth-watering flavors of Thai cuisine before ending your Phang Nga Bay day trip back in Phuket.
What kinds of tours are available to go to Phang Nga Bay?
There are several ways to see Phang Nga Bay, including through the orange haze of sunset or from the seat of a jet ski.
Day trips to Phang Nga Bay plus James Bond Island from Phuket
This Phang Nga Bay day trip allows you to marvel at the striking landscapes of southern Thailand. You'll leave Phuket early in the morning, in order to reach James Bond Island before hordes of tourists flock to the spot.
From there, you'll participate in a canoeing tour of the coast, which features floating villages and other-worldly caves. The sparkling waters are enticing and you'll have the opportunity to take a dip before a traditional Thai lunch is served amidst coconut trees.
Sunset cruise to Phang Nga Bay plus Koh Panyee from Phuket
This boat tour begins mid-afternoon and travels to Koh Panak Cave, which is brimming with stalactite formations.
You'll visit the celebrated James Bond Island, which has been on tourists' radar since its appearance in "The Man With the Golden Gun" in the 1970s.
Continuing along the picturesque coastline, you'll watch the sun set fire to the waters over Phang Nga Bay with dazzling orange and pink hues.
Jet ski tour to Phang Nga Bay from Phuket
If you wish to raise your adrenaline, choose a thrilling jet ski day tour to Phang Nga Bay. You'll zoom through the waters and visit several of the area's most iconic islands, including Monkey Island, and Coconut Island. You'll jump off your jet ski at Naka Island, where you'll devour a Thai feast, before continuing your thrilling excursion.
How much does a tour to Phang Nga Bay from Phuket cost?
If you wish to take a sunset excursion to Phang Nga Bay, you'll pay around US$90 for a tour that lasts 4.5 hours.
Day trips to Phang Nga Bay and James Bond Island cost between US$100, and US$130. Generally, they include breakfast and lunch, as well as canoe rental.
Alternatively, thrill-seekers can enjoy a jet ski tour for around US$190. This cost covers up to two people on one jet ski.
While some tours include the national park fee in their overall price, others don't. Check whether you'll be expected to pay this entrance fee on top of your tour, before booking.
What will you see and do on a Phang Nga Bay day trip from Phuket?
James Bond Island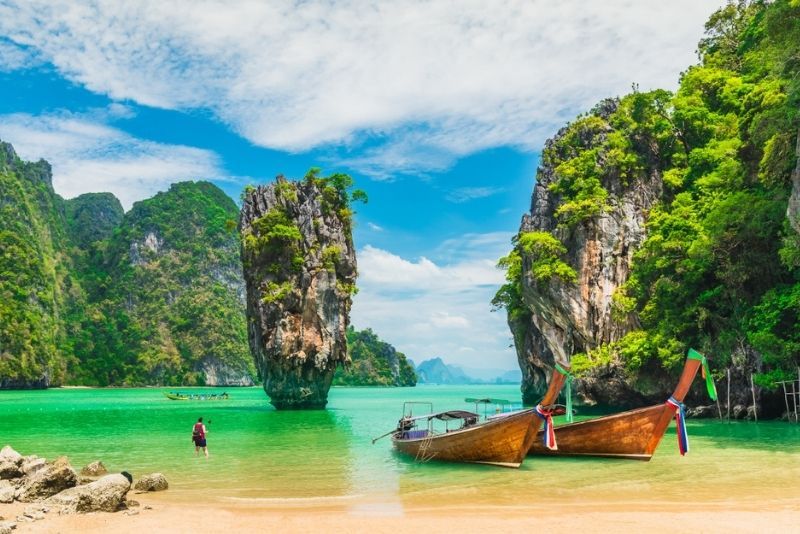 While you've probably heard of the popular James Bond Island, you may be unaware that this picturesque hotspot is formed of two islets. These islands — Khao Phing Kan and Ko Tapu — are renowned for their colossal limestone formations, and small caves that make them fascinating to all visitors.
Koh Tapu means "nail" in Thai, which references a local legend. As the tale goes, a local fisherman caught fish every day from the island until all he caught was a nail. He threw the nail back into the water but caught it again. In frustration, the fisherman threw the nail, which hit the ground and caused the island's rock formation.
Koh Panyee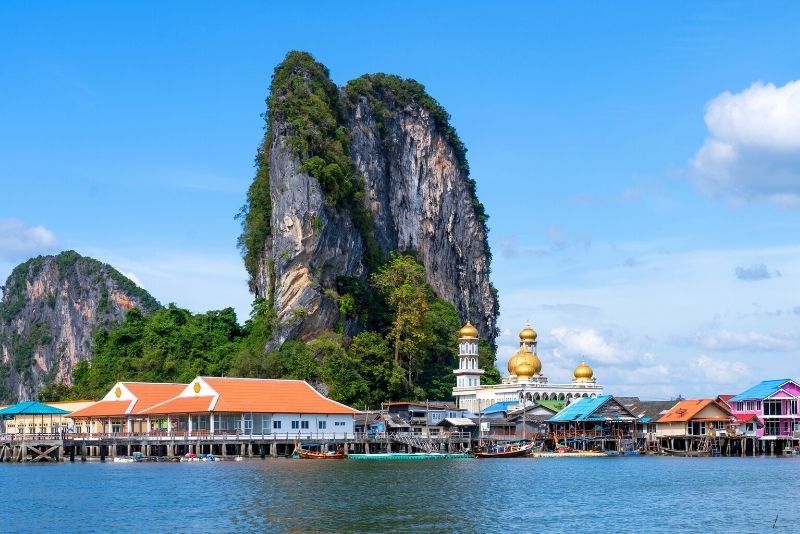 Koh Panyee is home to a floating Muslim village that stands on stilts in the sea. There are 360 families that form the township, which totals over 1,600 people, who make their living through fishing and tourism. The original settlers sailed from Indonesia to find a home in the 19th century and chose Koh Panyee because of its abundance of fish.
Despite the unlikelihood of this village thriving on top of the water, there is plenty of infrastructure on Koh Panyee. This includes a mosque, a school and a football pitch.
Koh Hong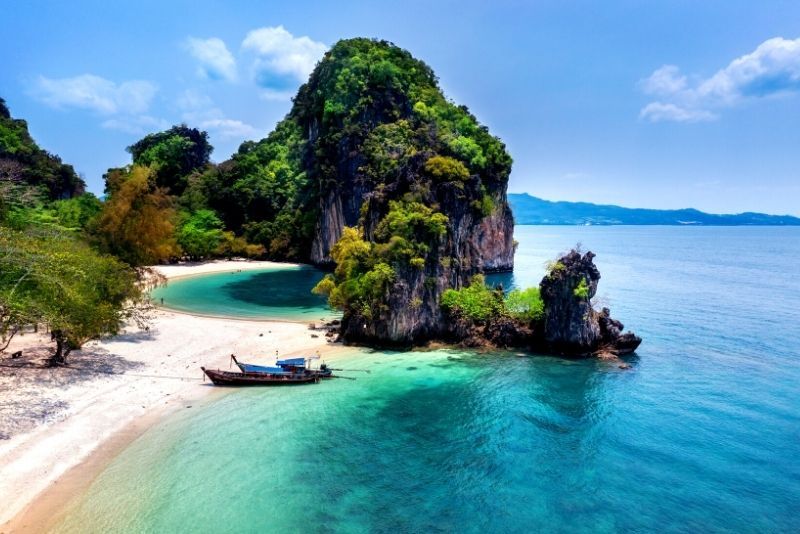 Koh Hong is a Thai island within the Phang Nga Bay region, on which the only inhabitants are gibbons, lizards and several species of birds.
The main stretch of sand — Pilae Beach — is often regarded as one of the most spectacular beaches in Thailand. It has vibrant turquoise waters filled with an abundance of colorful fish, and spectacular limestone formations that have greenery sprouting out of every crevice.
If marine life is what you're traveling to Phang Nga Bay for, you won't be disappointed by Hong Lagoon, which houses many species of tropical fish.
When is Phang Nga Bay open over the year?
Phang Nga Bay is open between Oct. 15 and May 15 every year. However, the national park closes for the duration of the year, from Oct. 16 to May 14, as this is the rainy season.
When is the best time to visit Phang Nga Bay?
You can enjoy taking a day trip to Phang Nga Bay at any point during the dry season, from October to May. During this time, you can expect the weather to reach high temperatures of around 34 degrees Celsius. You'll also find the seas to be calm and mild, with water temperatures ranging from 27 to 30 degrees Celsius.
Are there any tours to Phang Nga Bay from other cities in Thailand?
Yes, there are tours departing from other cities in Thailand:
Travel tips
If your tour doesn't include the entrance fee to the national park, ensure you have enough cash on you to cover this.
It's very easy to get sunburned while on the water. Make sure you're protected with reef-safe sunscreen, a sun hat and plenty of water.
Most day trips provide lunch. If you have any dietary requirements or allergies, inform your tour provider upon booking.
Wear swimwear on your day tour to Phang Nga Bay, as there are plenty of opportunities for swimming.