Book your next great day trip from Phuket to James Bond Island, also known as Khao Phing Kan, situated in the northeast of Phuket and close to the 20-meter tall islet of Ko Ta Pu.
These islands are two steep limestone forest-covered towers and are a part of the Ao Phang Nga National Park. Visitors to the islands have the chance to purchase souvenirs along the sandy beach.
Khai Island can be visited on its own or combined with a tour of the Panyee island floating village or other Khai archipelago Islands.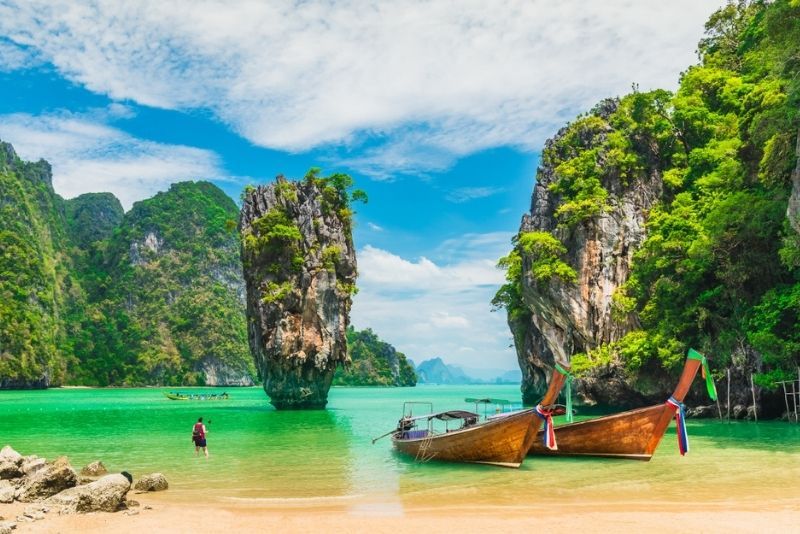 You will find below all you need to know about James Bond Island, one of the most fascinating destinations for day trips from Phuket.
How to get to James Bond Island from Phuket?
James Bond Island is located about 25 kilometers northeast of Phuket and is only accessible by boat.
Guided tours to James Bond Island from Phuket
You can book one of several full-day boat tours to visit this memorable site. Speedboat tours are the most common, but longboat or ferry tours are also available.
What is the typical itinerary of a day tour to James Bond Island from Phuket?
Your tour will begin with a morning collection from your hotel or accommodation. After a safety briefing, you will depart the marina and sail into Phang Nga Bay.
Together with James Bond Island, you may explore sites such as the Koh Panak cave, Hong Island, the floating village of Ko Panyee, Naka Noi Island and Ice Cream Cave. Depending on your tour operator, you may be able to canoe, kayak, or jet ski.
Most tours serve lunch either onboard or at Ko Panyee village, while some tours include dinner too.
Upon arriving back at the marina, you will be driven back to your hotel or other accommodation in Phuket.
What kinds of tours are available to go to James Bond Island?
James Bond Island tour from Phuket with sea canoeing
This full-day boat tour from Phuket begins with a pickup from your hotel. Exploring Phang Nga Bay, you will visit the fishing village of Ko Panyee and canoe around James Bond Island. The tour ends with a drop-off at your hotel. Lunch, snacks, insurance and national park fees are all included in this tour.
James Bond Island boat tour from Phuket with kayaking
You can choose an excursion to James Bond Island and Phang Nga Bay by speedboat, longtail boat or ferry tour. Kayak into the lagoons and caves of Panak and Hong Island and enjoy lunch aboard your boat.
For a more intimate experience, select the James Bond Island speedboat tour option, guaranteeing that you will be in a small group.
Premium speedboat trip to James Bond Island from Phuket
With a buffet lunch in Ko Panyee village, this premium tour visits Phang Nga Bay and its sights which include James Bond Island. Jet skiing is available at an extra cost while at Naka Noi beach. This tour includes round-trip transfers to your hotel.
Private James Bond Island boat tour from Phuket
Private boat tours to James Bons Island for up to six people give you the opportunity to have a full-day to explore and the surrounding areas at your leisure. Lunch and snacks, water, canoeing, park fees and a return hotel transfer are included.
Luxury sunset boat tour to James Bond Island from Phuket
This full-day tour takes in the highlights of Phang Nga Bay, including James Bond Island. A buffet lunch and dinner are served on board the vessel. Enjoy the views of the setting sun before heading back to the marina for your transfer back to your hotel. Meals, soft drinks, water activities and entrance fees are included on this tour.
Luxury catamaran cruise to James Bond Island from Phuket
The spacious passion catamaran is a relaxing excursion if you want to spend the day sailing to James Bond Island, Hong Island and Lawa Island. Hotel transfers, non-alcoholic drinks, lunch, dinner, park fees, water activities and travel insurance are all included on this tour.
How much does a tour to James Bond Island from Phuket cost?
A day trip from Phuket on a longboat, ferry boat or speedboat can cost around US$40 per person, depending on which transport option you choose.
A day trip to James Bond Island from Phuket by premium speedboat includes national park fees and costs from US$80 per person.
A James Bond Island luxury sunset tour from Phuket includes both lunch and dinner, and the cost per person is around US$145.
A luxury catamaran trip from Phuket to James Bond Island costs US$135 per person.
Most of the tours from Phuket to James Bond Island include return hotel transfers, lunch and entrance fees to the national park. Alcoholic drinks and tips are usually excluded, and extra expenses, such as the use of jet skis on the applicable tours, come at an extra cost.
What will you see and do on a James Bond Island day trip from Phuket?
The Khai Islands are uninhabited and can easily be walked in about 30 minutes each. The islands have shallow, calm water, as well as abundant coral reefs.
Khao Phing Kan and Ko Ta Pu
James Bond Island or Khao Phing Kan, and its accompanying islet Ko Ta Pu are part of the filming locations of the James Bond film "The Man with the Golden Gun." These dramatic limestone karst towers are situated in the Ao Phang Nga National Park. Consisting of two steep, forest-covered islands that can be seen from the deck of your boat or up closer with a canoe.
Hong Island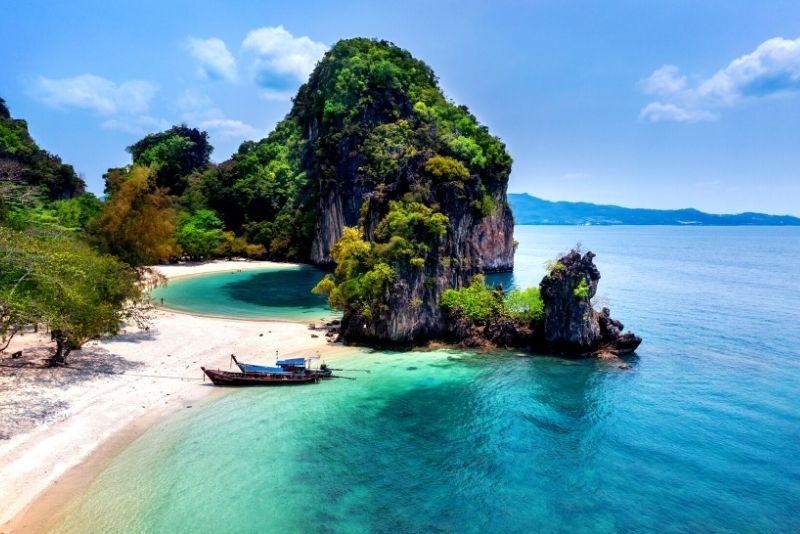 Hong Island or Koh Hong is not far from James Bond Island and is known for its impressive limestone formations. These formations and its powdery white beaches, make it a beautiful and photo-worthy site.
Panak Island
Panak Island is one of the bigger islands in Ao Nang Bay. On the island, you can explore caves, as well as the local flora and fauna. The waters are calm and great for canoeing and swimming.
Ko Panyee Village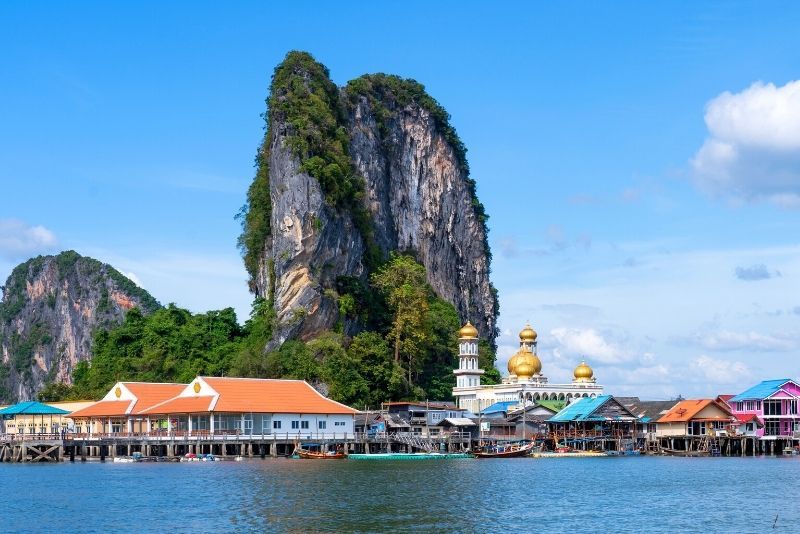 Appearing to float, Ko Panyi is a fishing village built on stilts by Malay fishermen. The population of the village descends from two seafaring Muslim families from Java.
Ice Cream Cave
Located northeast of Ko Phanak Island, Ko Nat or Ice Cream Cave is a 120-meter-long cave with a single sub-horizontal gallery ending at an open-air lagoon, hence its name.
When is the best time to visit James Bond Island?
December through March is the best time of the year to visit James Bond Island, as the humidity is at its lowest. For a mesmerizing sightseeing and photography experience, mornings between 8 AM and 10 AM are the best time to visit the island.
Are there any tours to James Bond Islands from other cities in Thailand?
Yes, there are tours departing from other cities in Thailand:
Travel tips
Full-day tours to James Bond Island may not be suitable if you are pregnant or have existing health problems.
Bring cash or your credit card to purchase drinks and souvenirs, and to pay for gratuities.
Sunscreen and a hat are essential to avoid sunburns.
Early morning is the best time of day for photographing the James Bond Islands.
Advise the tour operator if you have any special food requirements.