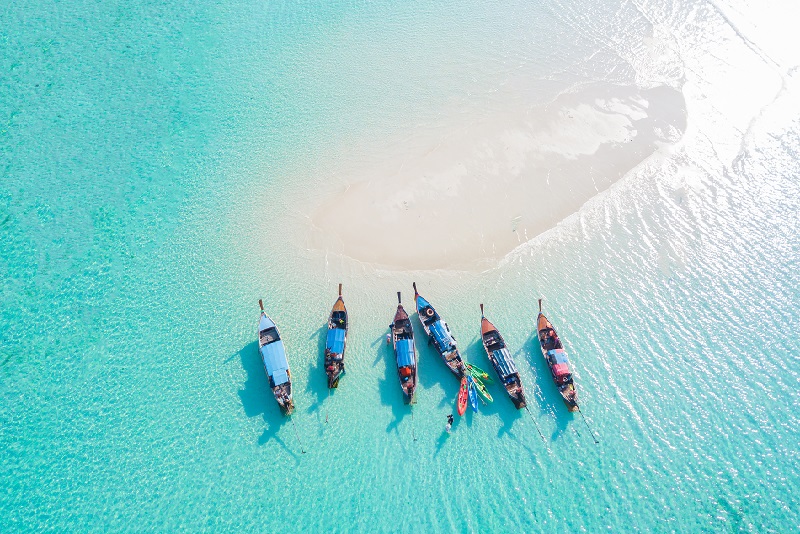 Are you looking for the best boat tours in Phuket? Then you've headed to the right place!
In this post, you will learn:
Just like a treasure, the highly popular Thai island sits on the Andaman Sea, surrounded by several lesser-known gems waiting to be discovered.
Phuket is an incredible destination. Its white-sand beaches, beautiful palm trees, delicious food and welcoming locals make up a lot of people's dream. Many beautiful islands can be visited around Phuket.
Don't fee like reading ahead? Click here to book a Phuket boat tour right now.
Where do Phuket boat tours start?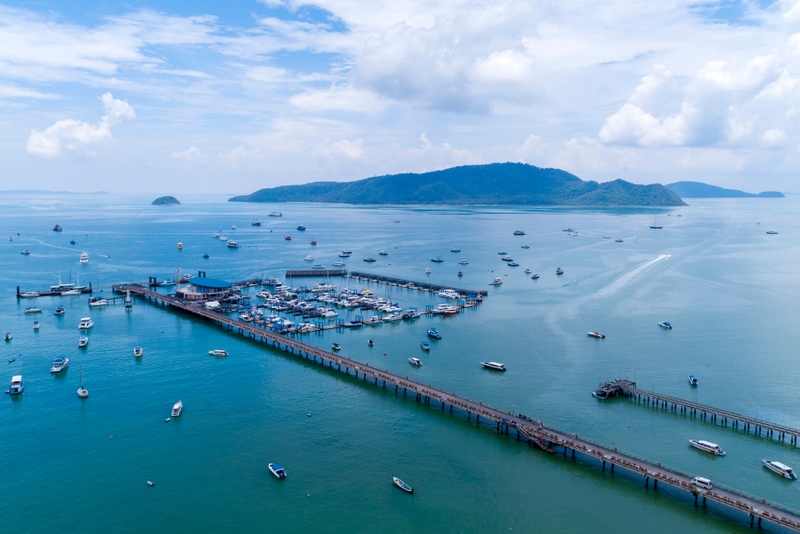 Most Phuket boat tours depart from Ao Chalong Pier. Boat tours going to Phi Phi Islands, Koh Lanta, Coral Island, Koh Racha and Maiton depart from this southern portion of Phuket.
Others usually depart from Bang Rong Pier, which is located in the North. For example, the boat tours going to Koh Yao Islands start from there.
When is the best time to experience a boat tour in Phuket?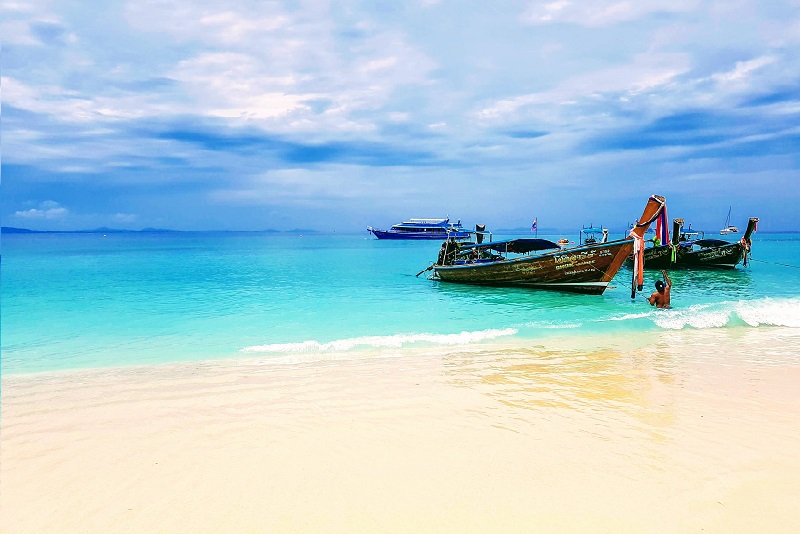 Thailand has three seasons: cool, hot and wet (the Monsoon season).
The Monsoon season, which you want to avoid as it rains a lot, occurs at a different date every year but it's usually from June through October.
The cool and hot seasons respectively last from November through February and March through June. That's when the weather is ideal for enjoying any water activities or, of course, sunbathing! Make sure to book your Phuket boat trip during that time.
What are the most famous islands to visit near Phuket?
1. Phi Phi Islands – Koh Phi Phi Don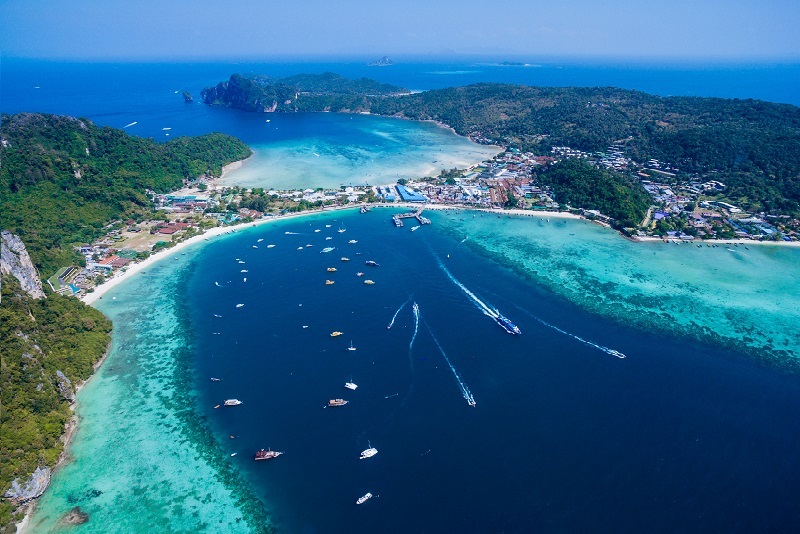 Phi Phi Islands are an archipelago comprising of small six islands. They're most famous for their beautiful limestone cliffs, fine sandy beaches, crystal clear water and overall stunning scenery.
Koh Phi Phi Don is probably the most famous island near Phuket. There are many boat tours departing every day every day. A 2-hour boat ride is needed to reach the archipelago from Phuket.
2. Phi Phi Islands – Koh Phi Phi Leh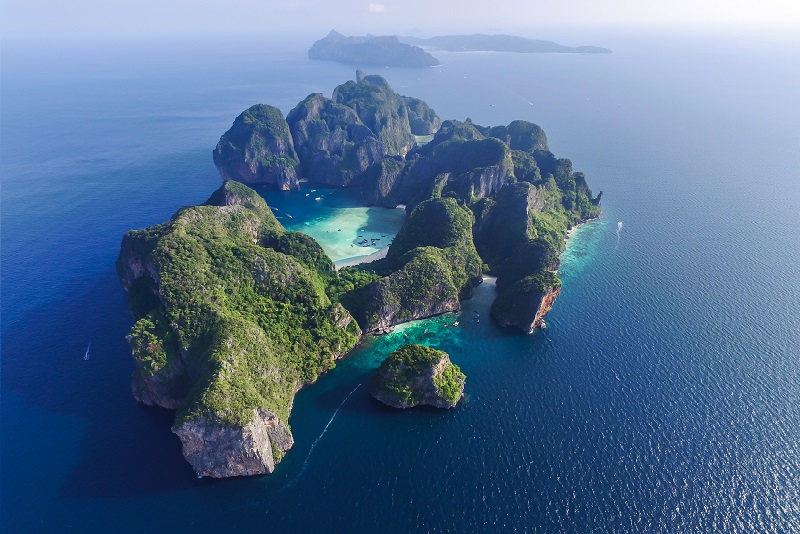 The island of Koh Phi Phi Leah is recognized worldwide, and it is visited by many tourists each day. Maya Bay is the most famous sight of the island – it has been the cinematographic set of the movie The Beach, with Leonardo Di Caprio.
Monkey Beach is another famous beach of Koh Phi Phi Leh. As its name indicate, is known for its famous furry inhabitants! Just like Maya Bay, it's a popular spot to snorkel. If you are looking for diving lessons, then head to Laem Tong Beach.
The small six islands of Phi Phi Islands are located just 35 kilometers east of Phuket. Generally, boat tours include stops in multiple islands and the tours last between 7 to up to 10 hours.
3. James Bond Island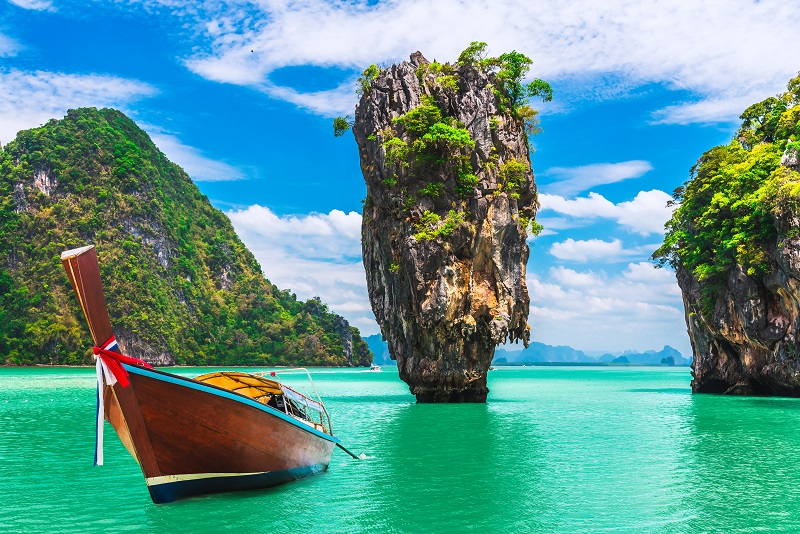 James Bond Island, whose real name is Khao Phing Kan, is the most famous island in the Phang Nga Bay area. It has been nicknamed James Bond Island because that's where The Man with the Golden Gun movie was filmed. Ever since, the island has been highly popular among tourists and popular activities there include snorkeling and sea cave kayaking.
James Bond Island is within Phang Nga Bay which is located 35 kilometers northeast of Phuket. That's roughly a 2-hour boat ride from Phuket.
Speedboats and cruises connect Phuket to James Bond Island. Some tours also include kayak or canoe rentals to discover the hidden caves nearby.
4. Koh Panyee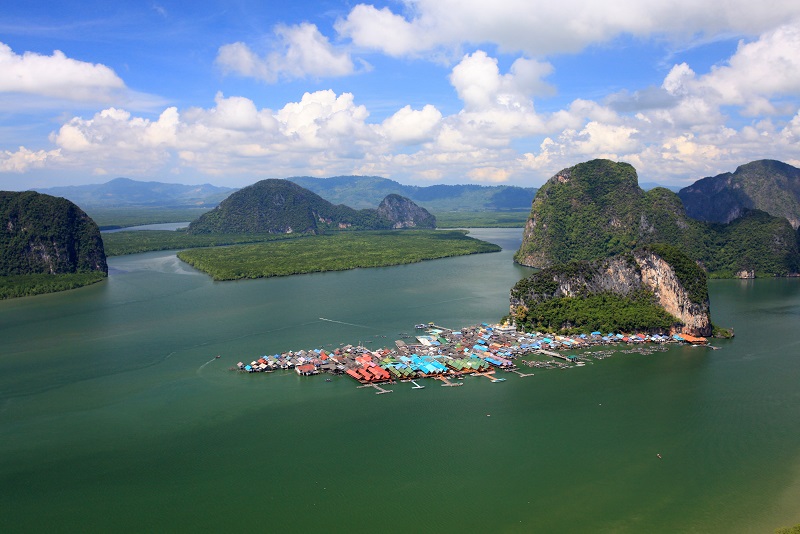 Koh Panyee is another popular spot in Phang Nga Bay. It is a Muslim fishing village known for its excellent seafood restaurants and welcoming locals! It has become one of Phang Nga Bay's main attraction with tourists praising it for being the best lunch stop.
Koh Panyee is also Phang Nga Bay and it takes roughly a 2-hour boat ride to be reached from Phuket.
Koh Panyee is usually featured on most Phang Nga Bay tours. Those include stops in several spots, which explains why prices might be high; but you'll discover so much more than Koh Panyee!
5. Racha Islands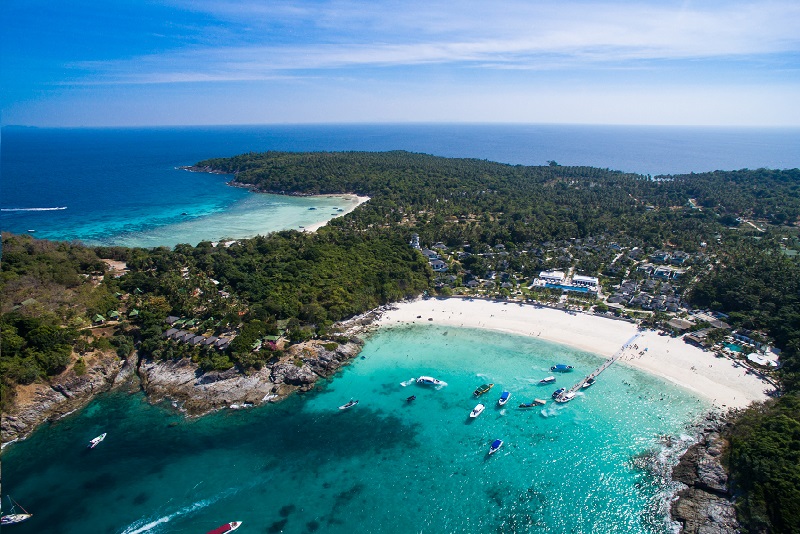 Racha Islands is an archipelago which consists of two twin islands: Koh Racha Yai (meaning "big") and Koh Racha Noi (meaning "small").
Koh Racha Noi is entirely inhabited and has nonexistent tourist infrastructures. If experienced in diving, then opt for Koh Noi as it has great depths and strong currents.
Koh Racha Yai, however, is more touristic. It has magnificent white sand beaches with emerald water. The whole area is ideal to discover snorkeling and swim in warm, clear water. It also has several resorts to stop by and relax in, among which the famous villa-style resort The Racha.
Racha Islands are located 20 kilometers south of Phuket, roughly a 45-minute boat ride from Phuket. You can reach Racha Islands by speedboat, catamaran or yacht, with price ranging between $35 and $90.
6. Coral Island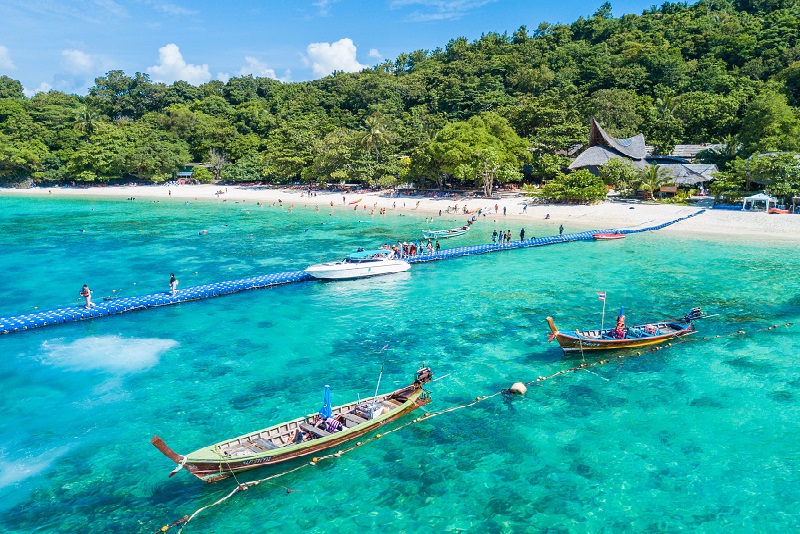 Coral Island is locally known as Koh Hae. It's the perfect getaway destination for people looking to snorkel. Snorkeling in the highly popular Banana Beach (which is located right after a jungle) and Long Beach is a must, as the fauna underwater is absolutely astounding: parrot-fishes, trumpet fishes, butterflyfishes and many more await to be seen!
Coral Island is located just 10 kilometers south of Phuket. By boat, it takes about 30 minutes from Phuket.
7. Maiton Island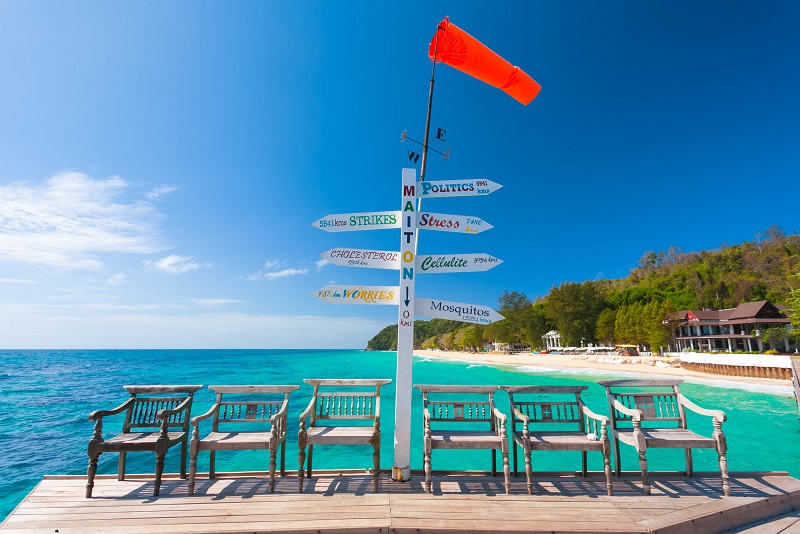 Maiton is a stunning tropical island with golden sand, crystal clear water and magnificent palm trees. It is, of course, possible to snorkel and dive in its waters, but the area is most known for dolphin watching. Also, the island is of rare beauty and because it is private-owned, nature has been very well preserved.
Maiton is located 10 kilometers south of Phuket. It can take between 30 to 45 minutes to reach the islands.
8. Koh Lanta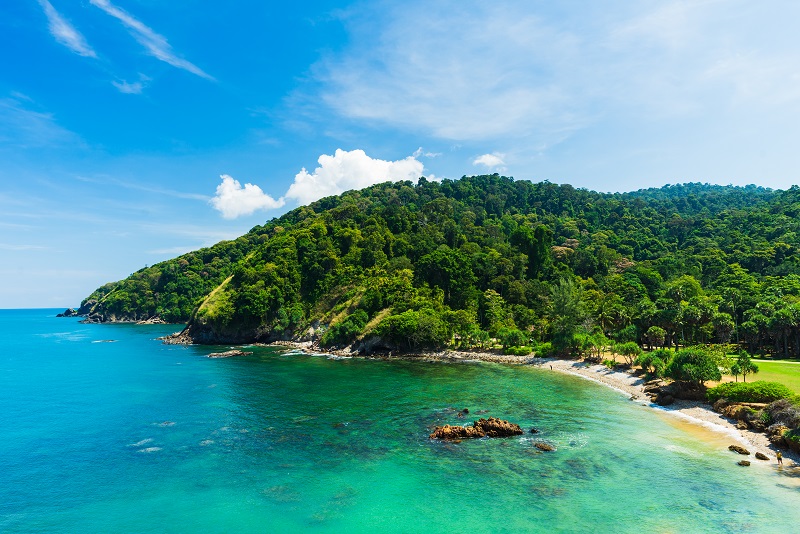 Koh Lanta is the perfect compromise for people who don't like destinations that are too touristic nor too wild. Indeed, the island is so big that even in high seasons, it's easy to find empty beaches. A godsend!
The area comprises of a long coastline, with an extended stretch of beaches and a massive jungle right behind. Popular activities here include scuba diving and snorkeling. Also, book an island tour to discover all the secrets of incredible sceneries!
Koh Lanta is located quite far from Phuket, about 78 kilometers southeast of Phuket. Therefore, it is not the best destination for a day trip, but we recommend to spend a night at least. The express ferry takes about 4 hours from Phuket.
9. Railay Beach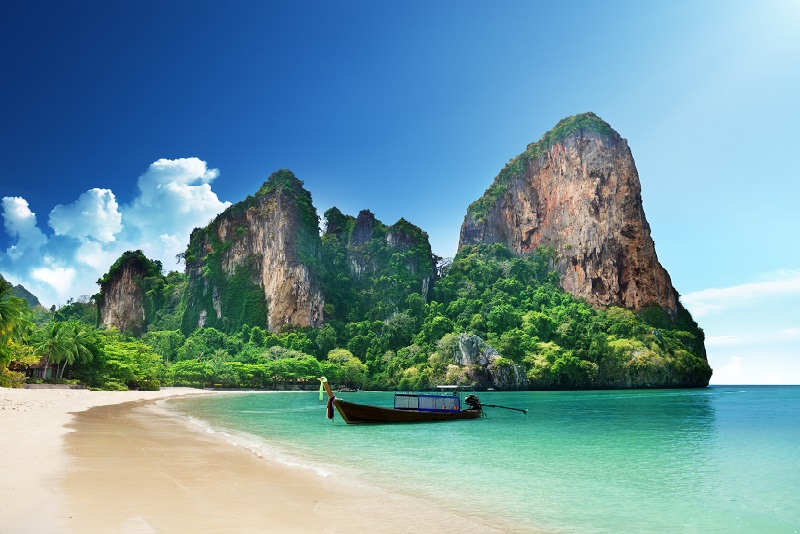 Railay Beach is located on a peninsula in the Krabi province. It's not an island since it's attached to mainland Thailand. However, the tall limestone cliffs that surround it make it impossible for it to be connected with any roads and it is only accessible by boat. Thus, you will enjoy an island vibe.
The area is most famous for rock climbing, kayaking and of course, scuba diving.
Railay Beach is located about 50 kilometers east of Phuket in the Krabi region and it can be reached by speedboat.
10. Koh Hong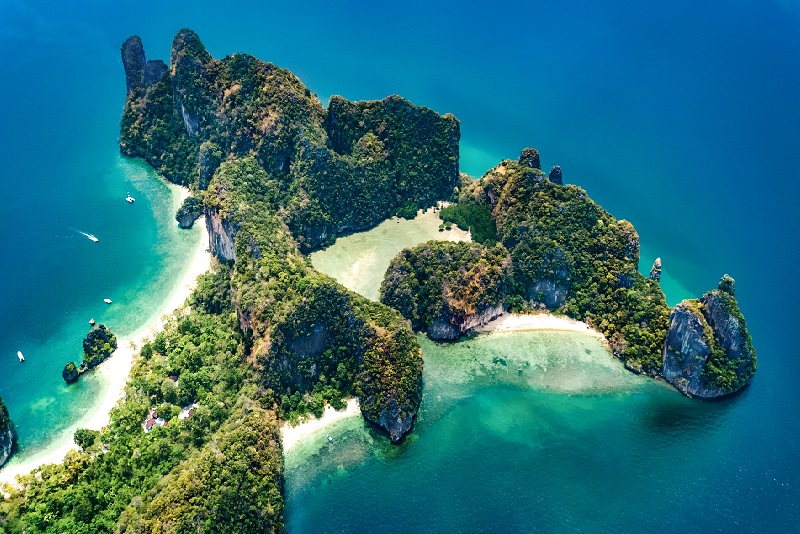 Koh Hong Island is a small island with several beautiful white sand beaches and turquoise water. A paradisiac scenery! The area is comparable to Maya Bay, except it is way less crowded.
The island's most famous spot is probably Hong Lagoon. Surrounded by mangroves, the Lagoon is a wonderful place to kayak around.
Koh Hong is located 35 kilometers east of Phuket, about 1-hour boat ride from Phuket.
11. Similan Islands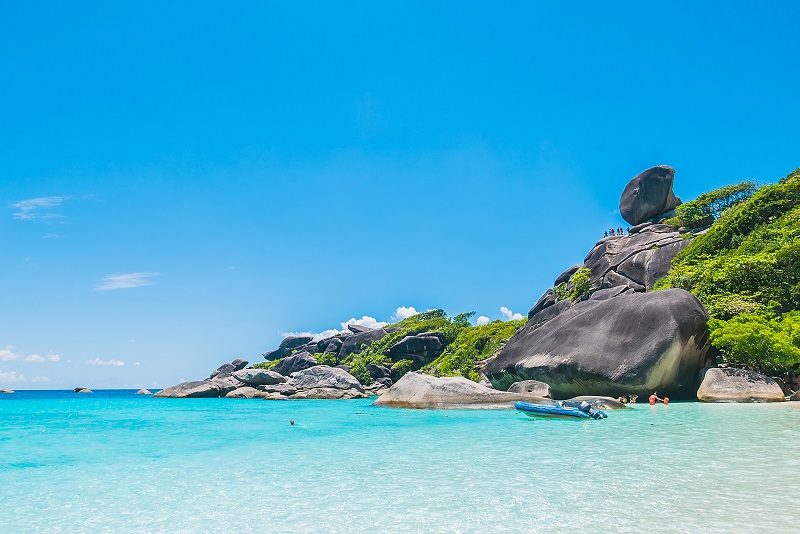 Similan Islands are a group of 9 islands in the Adaman Sea. The archipelago is known for its magnificent scenery: long white coral, sand beaches and crystal blue waters will make your eyes sprinkle with joy.
Similan Islands have been rated as one of the best diving spots in the whole world!
Similan Islands are located approximately 90 kilometers northwest of Phuket and it takes about 1 and half hour to be reached from Phuket by speedboat. The boat tours mostly leave from the northern part of Phuket.
12. Surin Islands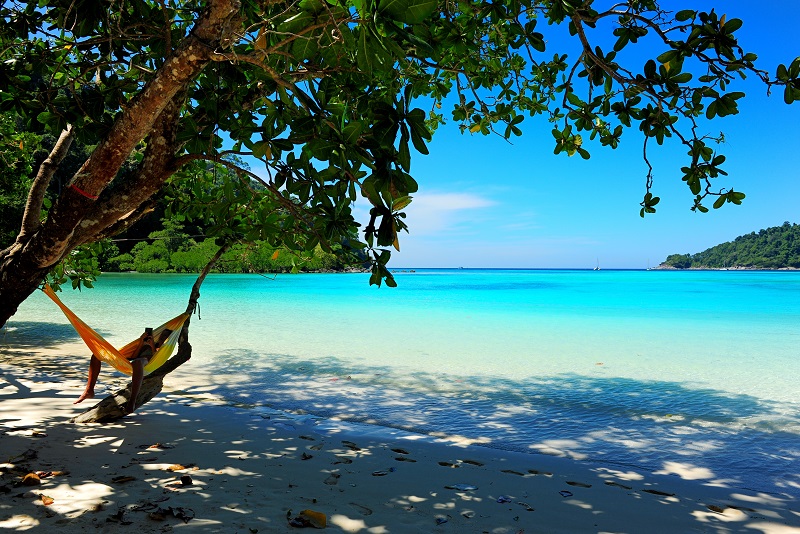 Surin Island is most famous for being a great spot for diving, snorkeling, hiking and fishing!
Start by heading to Pansea Beach with its beautiful white sand. It is a remote beach in the northern part of Surin Islands which could make the perfect getaway for couples. Then, if visiting in November, watch an elephant parade during the Elephant Round-up festival. Do not miss the Ban Buthom Basketry Village where beautiful handmade baskets whose fabrication technique is ancestral will be available to shop.
Surin Islands are located approximately 150 kilometers northwest of Phuket, but they can still be reached with a day trip from Phuket, leaving early in the morning. Being farther away from Phuket, Surin Islands are less packed with tourists.
13. Koh Jum/Koh Pu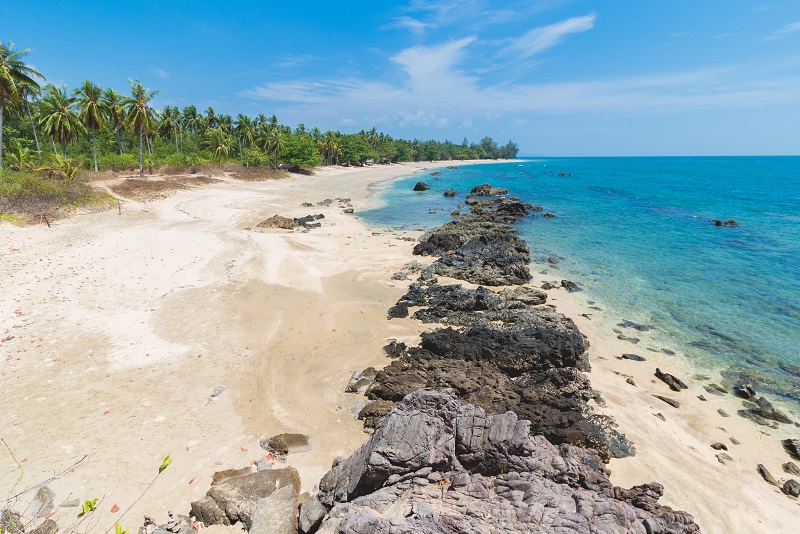 Koh Jum (also known as Koh Puh in the northern part) is an island located in Thailand's west coast. The area isn't very touristy, which makes it a destination of choice for connoisseurs! Sunbathing, diving, snorkeling, hiking and even motorbiking, the possibilities there are endless!
Koh Jum has a total of 9 beaches to explore: Banyan Bay, Coconut Beach, North Beach, Tin Rai Beach, Magic Beach, Ao Si Beach, Golden Pearl Beach, Freedom Beach and finally, Freedom Beach. A great tip, if the adventurous kind, would be to rent a scooter to explore them all!
Koh Jum/Koh Puh is located approximately 70 kilometers east of Phuket. It's roughly a one hour and 30 minutes boat ride from Phuket.
14. Koh Yao Noi and Koh Yao Yai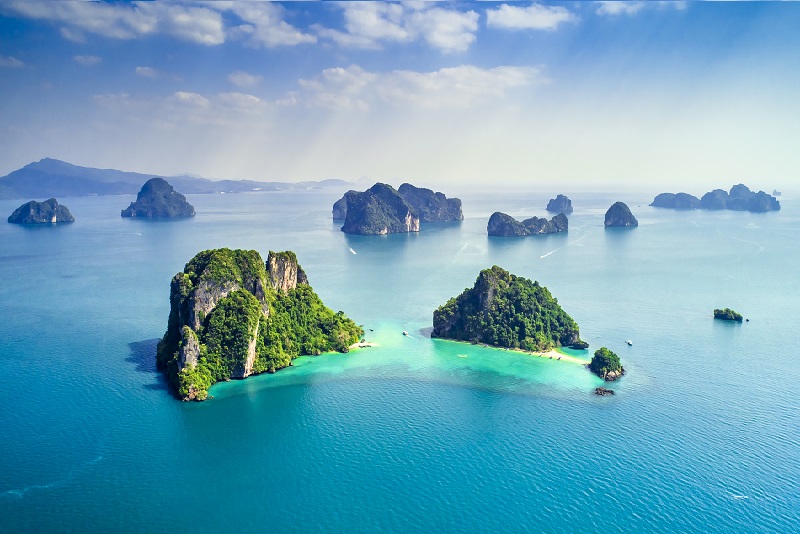 Koh Yao Noi and Koh Yao Yai are two islands located right in the middle of Phang Nga Bay. It is way less crowded than Phuket and should be a nice getaway! While Koh Yao Noi is starting to develop, Koh Yao Yai remains a haven of peace. The islands are ideal for kayaking, hiking, snorkeling, swimming and most interestingly, agricultural demonstrations.
Koh Yao Noi and Koh Yao Yai are located approximately 20km northeast of Phuket. It is roughly a one-hour ride from Phuket depending on the boat taken and from where it is taken.
15. Coconut Island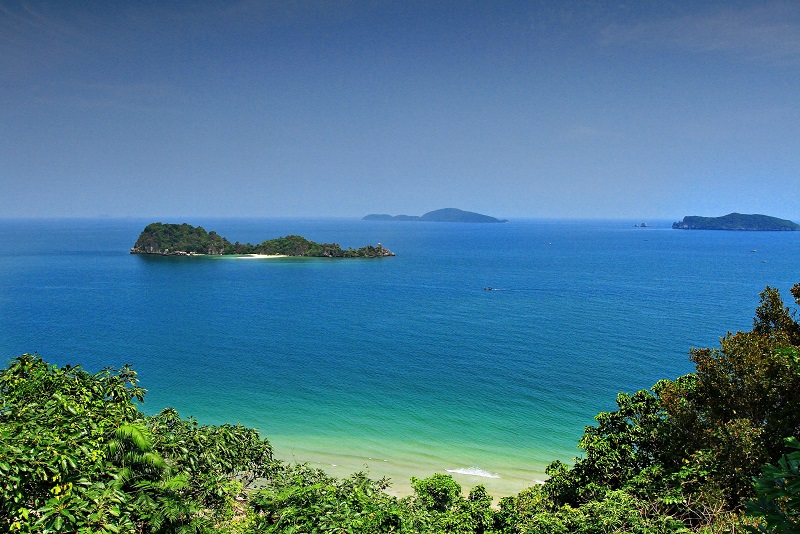 Coconut Island, also known as Koh Maphrao, is a small isle of only 500 residents. It is not a very touristy destination and, except for private generators, there isn't even electricity. The island is mostly beach and jungle with long-tailed macaques.
The place is thus not touristic at all and will appeal if it's wished to get a glimpse of authentic local life. Indeed, it's a real blast from the past as it seems the modern world has spared this. The contrast between Coconut Island and Phuket is just flagrant!
Coconut Island is probably the shortest boat tour from Phuket. Located just 500 meters east of Phuket, it's roughly a 5-minute boat ride.
Is it safe to join a boat tour from Phuket?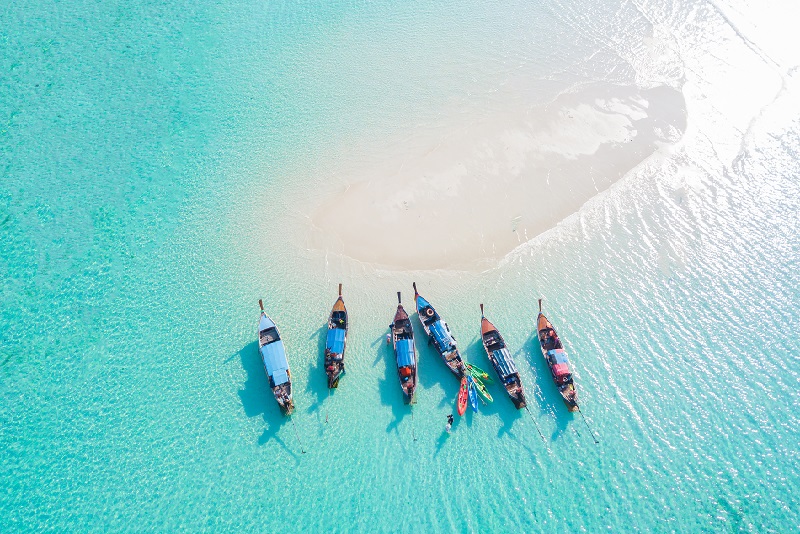 In Phuket, there is a huge number of companies offering boat tours.
But, there is not much control over the quality of the offering. Competition pushes prices down and there are a lot of companies offering cheap boat tours without providing the right quality and maintenance of the boats. Sometimes, they also employ not skilled boat drivers.
The result is that accidents have happened in the past.
booking a boat tour with a trusted company is very recommended. We strongly suggest to read reviews online and carefully pick the right boat tour from a safe tour operator.
How to book Phuket boat tours online?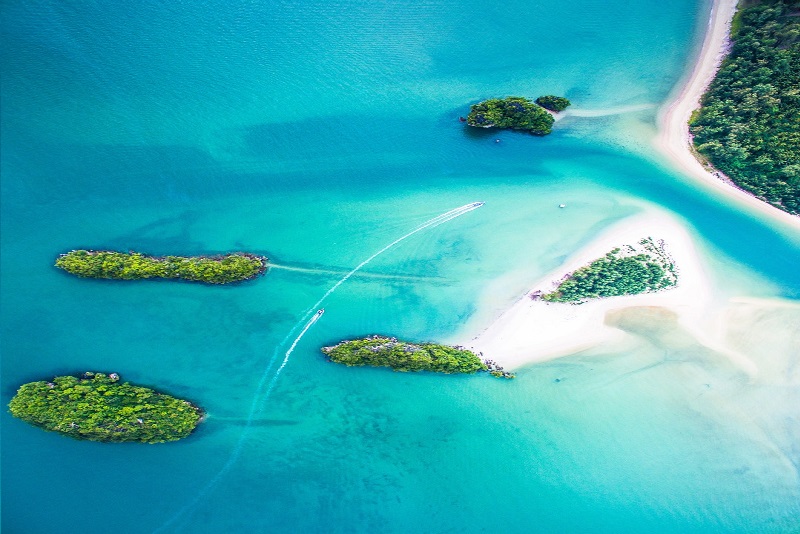 There are several great travel websites selling boat tours from Phuket, such as Viator or Getyourguide.
These companies work only with trusted local tour operators and offer customer service in several languages.
Make sure to compare all the diffferent boat tour deals and read carefully the reviews.
Travel tips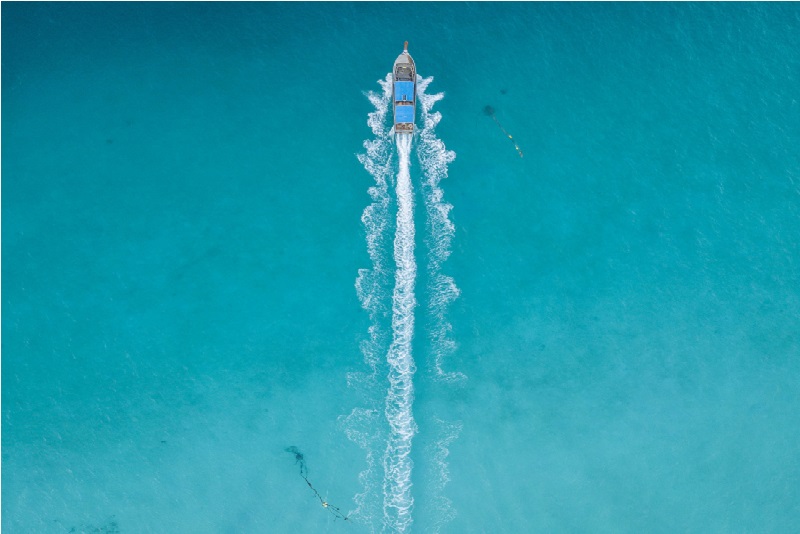 Don't forget your sunscreen! Buy it in your home country since Thai sunscreen gets increasingly expensive in tourist areas and it contains bleach (locals don't enjoy getting tan).
Don't forget mosquitoes' repellent! Again, Thailand has a tropical climate, which means the heat is very humid. You are eventually going to encounter some mosquitoes. If mosquitoes are a nuisance in your home country, those in Thailand can carry various diseases. Make sure to drench yourself in repellent.
Book online! To avoid getting scammed with inflated prices on-site, always book online. Not only will you be able to compare prices and benefit from discounts, but you'll also be able to travel completely safe!
Always have local currency on you! The Thai baht (THB) is the local currency and exchange booths and ATMs can be found in any tourist area. But keep in mind that while the use of credit card is getting increasingly common, some shops or restaurants still only accept cash!
Avoid dodgy street food stalls! Thai food is tasty and part of your trip will inevitably include spicy shrimp soup, red curry and fried noodles. However, if a place doesn't seem hygienic, then do as you would in your own country and avoid it!
Carry a rain jacket – just in case! Keep in mind that even during cool and hot seasons (respectively from November through February and March through June), rain can unexpectedly occur! Thailand has a tropical climate with a monsoon season characterized by heavy rains. While locals are used to it, you might not!
Try island hopping! If you're short on time and want to make most of your Thai experience, then we advise you to opt for that travel format. Phuket and its surroundings have a lot to offer and yes, it's within your reach!