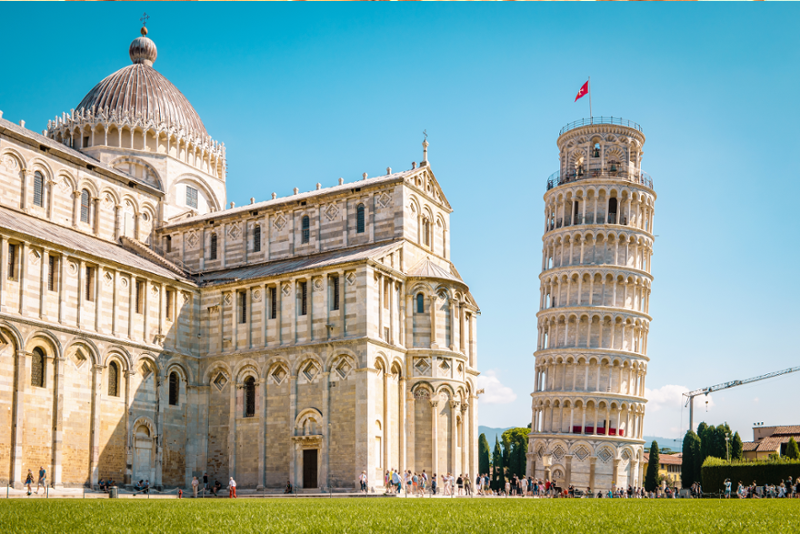 Want to know how to get your Leaning Tower of Pisa tickets online? Find out all about how much they cost, how to skip the line, who are eligible for discounts, if guided tours are worth it and some useful travel tips!
Updated information about the reopening of the Tower of Pisa after COVID-19 closure
We are happy to announce that the Tower of Pisa and the other monuments in the Square of Miracles have fully reopened on the 1st of May 2021.
All visitors are required to follow the safety measures to reduce the spreading of the virus Covid-19: face masks and social distancing are required for all duration of the visit.
The number of visitors allowed inside each section of the Monumental Complex is limited. Online reservation is available and recommended for all kind of tickets (explained below). The prices of the tickets have not changed.
On this page, you will find a comprehensive guide to getting tickets for the Leaning Tower of Pisa, including:
Don't feel like reading ahead? Click on the following link if you wish to book Leaning Tower of Pisa tickets right now.
How much do Leaning Tower of Pisa tickets cost?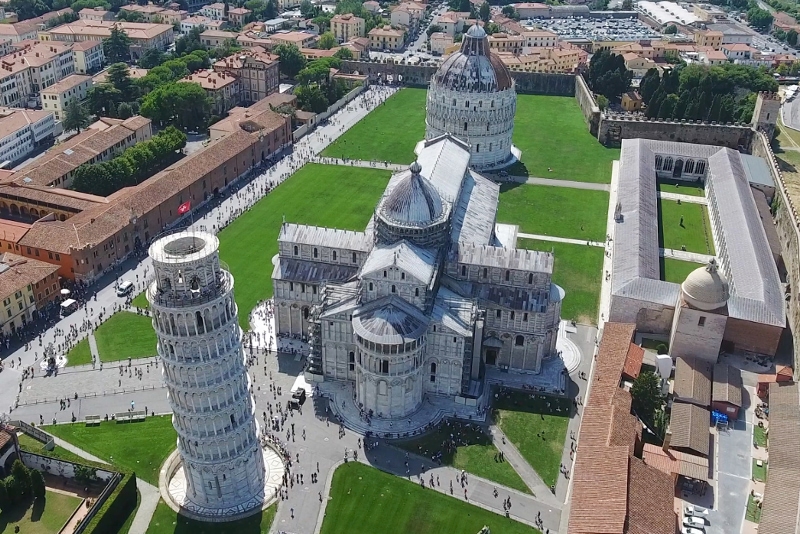 Before booking your tickets, you should know that there is more than the Tower of Pisa to visit. When tourists book a trip to the Leaning Tower of Pisa, many don't realize that there's a lot more to see than just the tower although that is the highlight.
Piazza del Duomo in Pisa: a single square, four monuments that someone called Miracles.
The first building in the background is the Baptistry which is the largest in Italy and has sevoted to Saint John the Baptist. It is 55 meters high and was built in the middle of the 12th Century.
You will find in the center of the square the Cathedral of Santa Maria Assunta, also named the Duomo di Pisa. It is considered an architectural masterpiece and is highly recommended to visit.
Along the side of the Duomo stands the Camposanto. It was founded in 1277 to accommodate the graves that until then were scattered all around the Cathedral.
In the foreground stands the famous and infamous Leaning Tower of Pisa. It is considered part of the Cathedral since it is a bell tower.
Finally, there are also two museums to visit. The Opera del Duomo Museum (literally the "Museum of Cathedral Works") displays and illustrates the art of Pisa, and in particular its mediaeval sculptures. Visitors may also head to the Sinopie Museum and admire preparatory drawings by several artists from the 14th centuries that worked for years decorating the walls of the Camposanto.
Tickets price:
Leaning Tower of Pisa standard ticket costs €18 for a 30-minute visit.
Buying on-site means lining up for a long time, so you're better off buying online. Web-based tickets are limited though, so book early. Visitors access the tower in small groups every half hour, so your ticket will have a set time slot. If you miss it, you'll have to buy a new ticket.
Baptistery, Camposanto, Sinopie Museum and the Opera del Duomo Museum cost €5 (visiting 1 of them), €7 (visiting 2 monuments), €8 (visiting 3 monuments) or €9 (visiting 4 monuments).
The Cathedral is free of charge.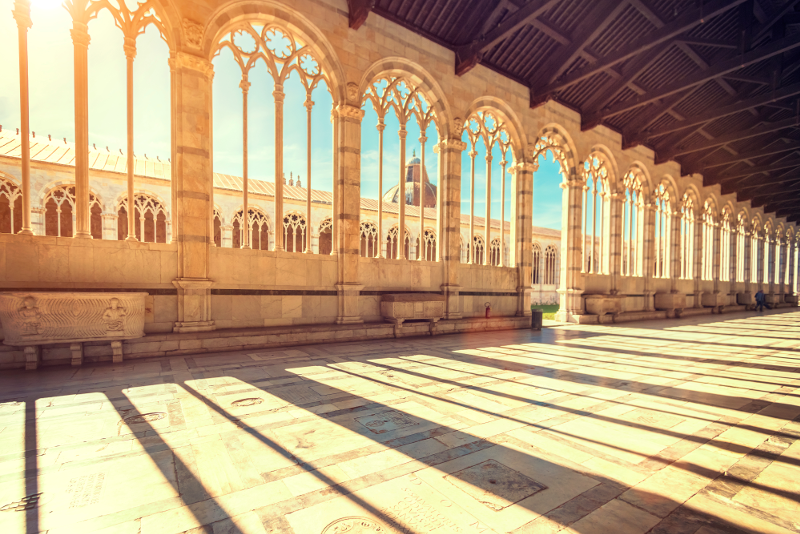 Who are eligible for discounts?
For the Leaning Tower
Discounted tickets are not available for the Tower. All visitors must pay full price to visit the tower, including kids. Admission is free only for disabled visitors with their helper.
For the Cathedral
Admission to the Cathedral is free. If you purchase any ticket you get a free pass to visit the Cathedral, not subjected to a fixed time.
For the Baptistery, Camposanto, Sinopie Museum, Opera del Duomo Museum
Admission is free only for disabled visitors with their helper and for visitors under the age of 11 of years old.
How do you book Leaning Tower of Pisa tickets? How do you skip the line?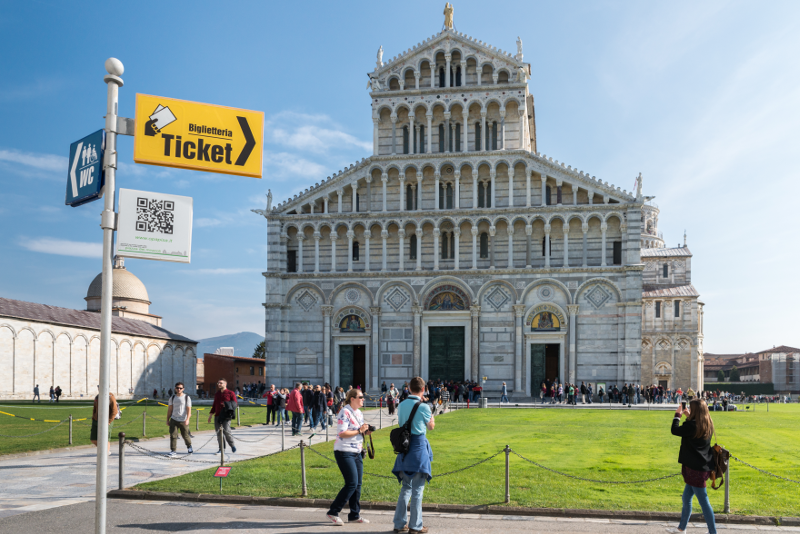 It's possible to buy tickets onsite. But because there's such a long line, it won't guarantee you access. To be sure you can visit the tower (and skip the queue), buy your tickets online. You can book up to 20 days in advance, using the Tower of Pisa's official website.
Alternatively, you can buy your ticket through online travel agencies like Musement, Getyourguide, or Viator. Compare prices before booking as discounts are sometimes available
Are there any Leaning Tower of Pisa guided tours? Are they worth it?
Some travelers prefer to discover sites on their own, but guided tours offer tons of benefit. You might get a hotel pick-up and drop-off as part of your package. Tours are often discounted, so you save money. And because you'll be visiting different sites in a single trip, you'll save time too. You get to bypass the boring bits and catch all the best parts of the venue. Plus, you can ask personalised questions, communicating in your language of choice.
What will you see?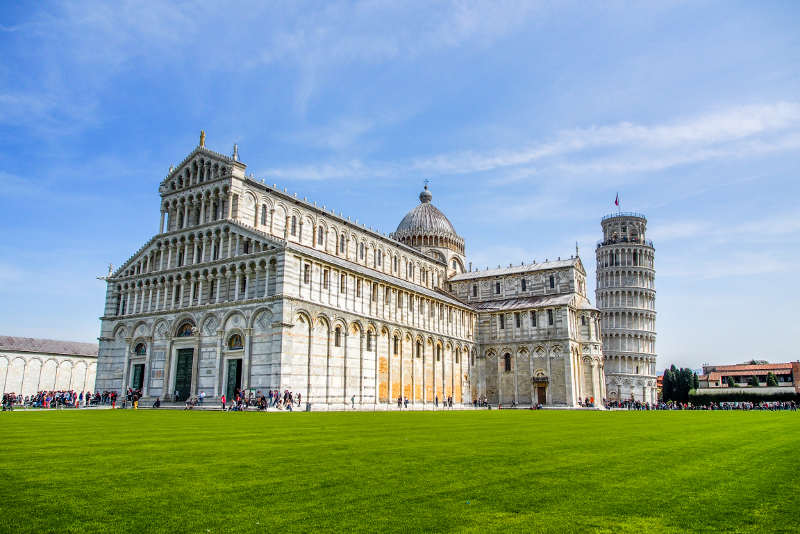 The city of Pisa got its name in 600BC, and the word 'pisa' is thought to mean 'marshy land' in Greek. The whole town is somewhat swampy, and there are other sinking towers in the town, though the Leaning Tower is the most famous one. Within the bell tower's compound, the baptistery and the cathedral are slowly sinking too. The tower took about 400 years to finish, with lots of breaks between. Some of those building breaks were over a hundred years long.
Not many people know the Leaning Tower of Pisa is actually a bell tower, and that many other sites within the city are sinking. After all, Pisa is a sea-port town built on swampy soils. Over the years, the tower has undergone intense (and pricy) restoration. These repairs are believed to have bought the tower two more centuries of stability, improving the lean 5.5º to just under 4º, and cutting the tilt by almost half a metre.
Today, when you visit the tower, you climb its nearly 300 steps over 7 floors, topped by the bell chamber. You can then enjoy a spectacular view of the city – and of the hundreds of visitors in their 'holding the tower' poses. A few tourists get creative, trying to 'kick' the tower or 'carry it on the backs' through forced perspective photography. While you're on the site, you can visit the other three attractions that form the Square of Miracles: the baptistery, cathedral, and cemetery.
Are Leaning Tower of Pisa tickets included in any attractions city passes?
Having a city pass allows you to visit multiple venues at a discounted price. When you're visiting the Leaning Tower of Pisa, your best bet is:
Tuscany City Pass – You can choose coverage for Pisa, Florence, or Siena. The one-day Pisa Pass includes a skip-the-ticket to the Leaning Tower, a reserved parking slot at the tower, 20% discounts on selected attraction, a hop-on-hop-off bus tour ticket, and two-way train transfer from your accommodation.
Cruise Ship Pass – This gives you permission to leave the boat (with a guide) and visit the Leaning Tower, as well as other Tuscan attractions. The pass includes some free exploring time, but is largely regimented with bus tours and walking guides. It includes a scheduled ride back to the cruise ship.
What is the best time to visit the Leaning Tower of Pisa? How can you avoid the crowd?
Tickets to the tower all have a set time slot, especially if you buy them online. If you buy your ticket at the entrance, there's no guarantee you can climb the tower, though you can still take photos and view the outer parts of the tower. Every time slot has a set number of tickets, and this varies. Early morning is a good option as you will be avoiding the group tours. At midday, many visitors are off looking for lunch, so take that slot to avoid crowds. There are also exclusive night visits at certain times of year, so that's another good tactic.
What are the Leaning Tower of Pisa opening hours?
Opening times vary, depending on the season and other factors. They can also be changed without notice. That said, opening hours are typically:
Open: 9 am (on special days, it can open as early as 8:30 am)
Close: 8 pm (on special days, it closes as late as 10 pm)
Travel tips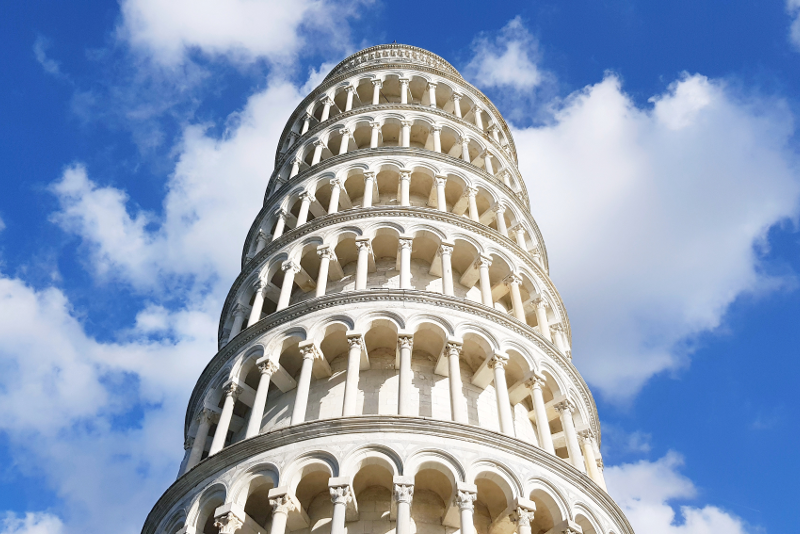 Wear flat walking shoes with a good grip. You'll be climbing hundreds of old stairs and some of them are pretty worn out. The staircase is sometimes slippery and uneven.
If you have heart problems, vascular conditions, or muscular challenges, you might want to skip climbing the tower. Check with your doctor first.
Be punctual. If you miss your time slot, you'll have a long wait time before the next available one.
Limit your luggage – you'll have to leave all your stuff in a locker anyway. For the cathedral and baptistery, maximum luggage dimensions are 20 x 30 x 38 cm.
The staircases are steep and narrow, so walk carefully and be prepared if you're claustrophobic.
Have a high-energy snack while you wait – it's not easy scaling 300 steps in one go.
Note that kids under 8 years aren't allowed in the tower, and anyone under 18 needs adult supervision to be allowed onto the steps.
If you choose to visit the cathedral, keep in mind it's an active church site, so please be quiet, dress appropriately, respect worshippers, use an audio-guide to avoid disrupting prayers, and no photography during mass.