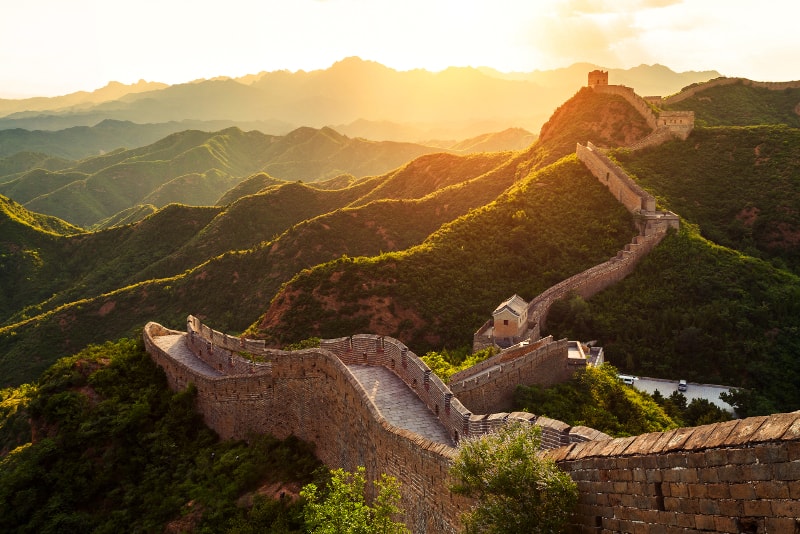 Wondering which of the many Great Wall of China Tours from Beijing is the best for you? On this page, you will find a comprehensive guide to the Great Wall of China Tours from Beijing.
Would you like to witness China's most magnificent engineering and must-see site? The Great Wall traces 21,196 kilometers of China's territory and is considered a World Heritage Site by UNESCO – well, I wouldn't be surprised.
The Great Wall of China is divided into many sections, all accessible from Beijing. The most popular and crowded parts of the Great Wall of China are closer to Beijing, while the most hidden parts are more difficult to be reached, but they can be visited as well. Scroll down to read in more detail about the sections of the wall that are open to be visited.
As you may know, countless companies offer tours, day trips, and transport to get there and back. Take some minutes to decide which section to visit and compare the deals of many tour providers. Consider booking a tour with an English speaking guide who can provide you with so much information. I'm sure the experience would be more enriching.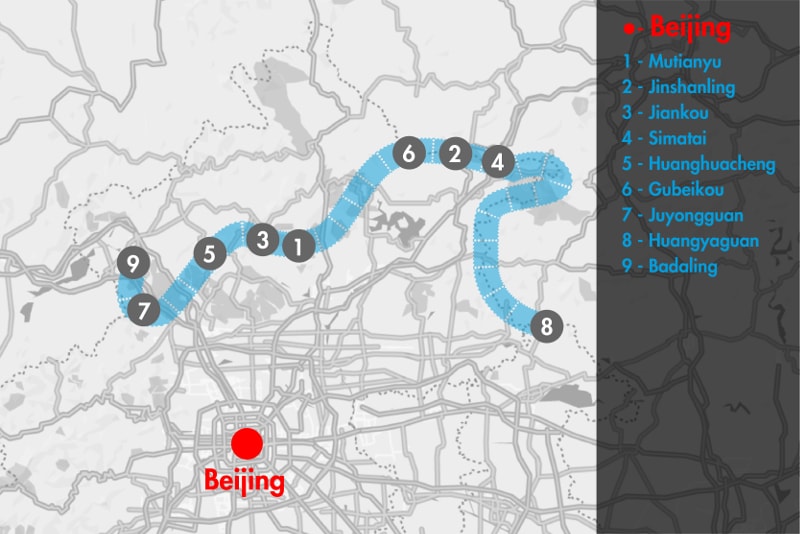 Which Great Wall of China section should I pick?
The Great Wall of China is vast and you may have your doubts about which is the best section to visit. It all depends on your energy, time and interests – nobody likes to visit places that are packed with tourists or going up and down steep steps. I suggest you read some information about each section and it'll be easier to decide! However, you can also check all the tours available:
Here's a list below of the nine best-recommended sections:
1. Mutianyu – one of the most popular & kids friendly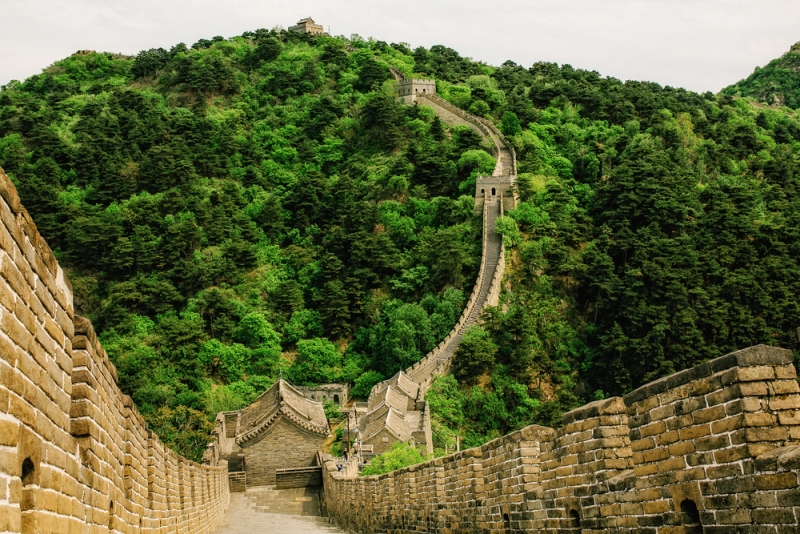 Mutianyu is considered the greatest fully restored Great Wall section and the most child-friendly. This section of wall connects the Jiankou Great Wall section in the east and the Baima Pass section in the west. Mutianyu Great Wall section is 73 km north of central Beijing, about one and a half hours' drive. Forget about public transportation from Beijing to this section of the Great Wall, there's a lot of hassle and there's always that language barrier that may confuse. But there are private bus companies operating the transport between Beijing and Mutianyu section. You can find several deals (starting from 13$) on TourScanner.
If you prefer trying with public transportation, you can catch the 916 bus from Dongzhimen bus station until the final stop and either rent a minivan or catch a taxi from there.
Another option is booking a tour with a licensed tour operator. You will get the benefit of having an English speaking guide who can lead the visit and tell you about the history of the Great Wall. This is probably the best solution to visit the Great Wall of China.
2. Jinshanling – half restored, half wild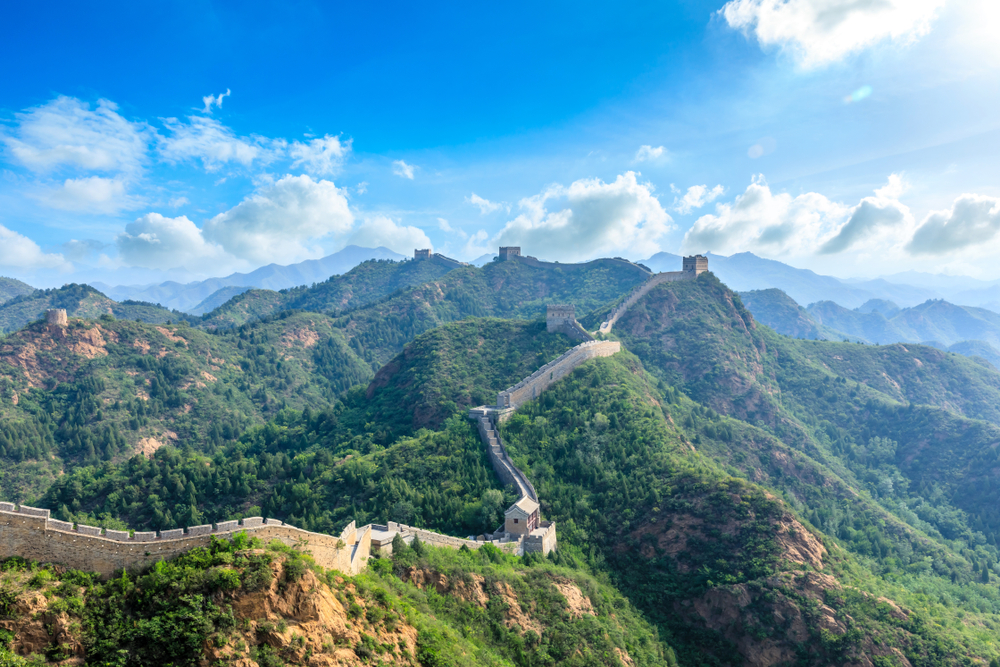 Renowned for being the most popular hiking route to Simatai, Jinshanling is recognized for being half restored and half wild. Jinshanling is also the most beautiful section of the Great Wall with mesmerizing views of the wall roller coasting up and down.
You can drive there for 2-3 hours (154 kilometers) from Beijing and spend the whole day there. There is also the option of public transport, a direct bus from Wangjing West Station or a bus from Wangjing West Station to Jinshanling Resting Area. Another option is booking a tour to Jinshaling from Beijing. Tours sometimes include hiking trails reaching Simatai, another section of the Great Wall next to Jinshaling. 
3. Jiankou – totally wild, the most challenging steep section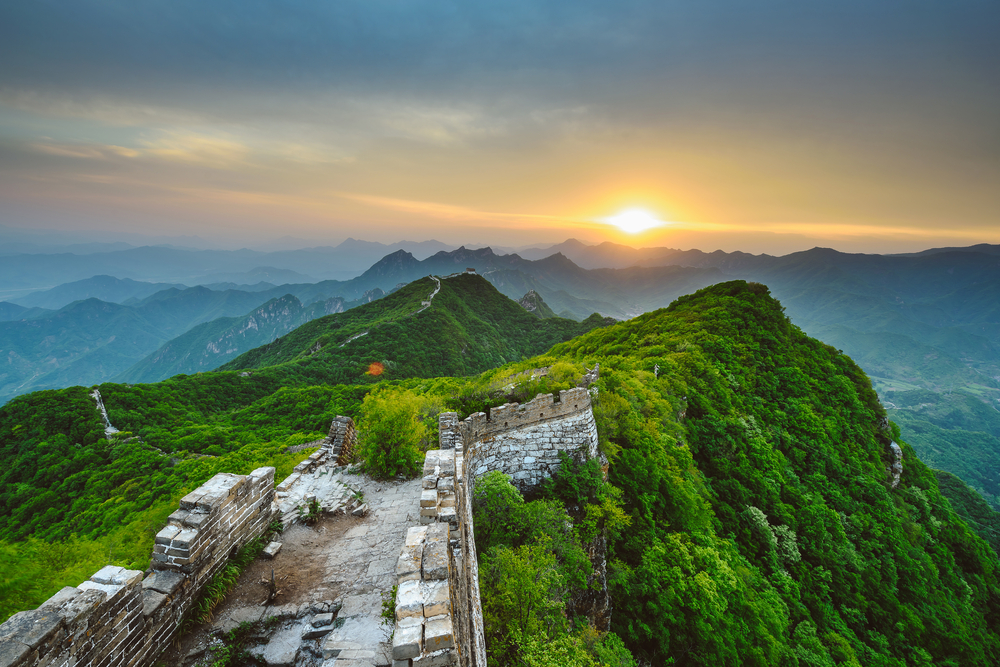 If you are up for more serious hiking, then Jiankou is the one for you. What's unique about Jiankou is its complete authenticity, wilderness and untouched walls. It takes approximately 5 hours to complete a distance of 10 km. Highly recommended for experienced mountain hikers. Not only them but also photographers love to visit this section as it has many beautiful spots worth visiting: The Nine-Eye Tower, The Beijing Knot, and The Sky Stair. Many places worth capturing with your camera and you will also be rewarded with the beauty of sunrises and sunsets.
A tour to visit Jiankou typically last 8 hours. There are also options which include multiple sections of the wall.
4. Simatai – the only section opened for night tours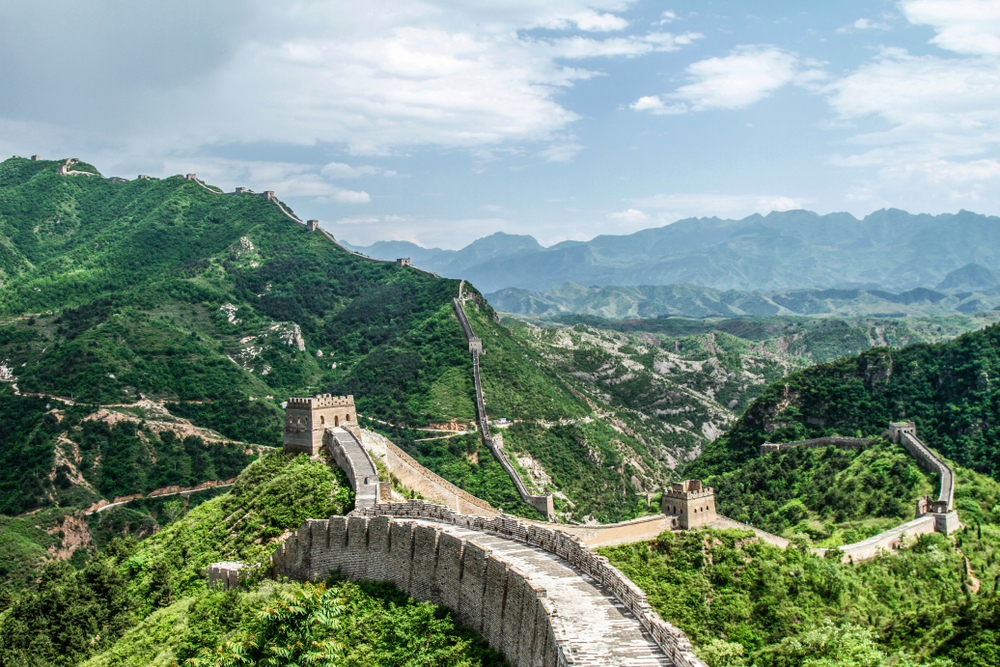 Simatai is considered the most authentic part of the Wall for being the original construction and there is a possibility of visiting at night time. Simatai section stretches around 5.5 km to the Jinshanling Great Wall section in the west part. It also enables access to the part of Gubeikou, stated to be an important passage of military significance on the way to the capital city of Beijing.
It takes 2-3 hours drive from Beijing to Simatai. You can visit this section at night as well, enjoying a suggestive view of the view. There are also interesting combo options to visit Simatai Great Wall and Gubei Water town. Gubei water town was serving as the checkpoint for the traveller passing the wall.
5. Huanghuacheng – unique wall and water scenery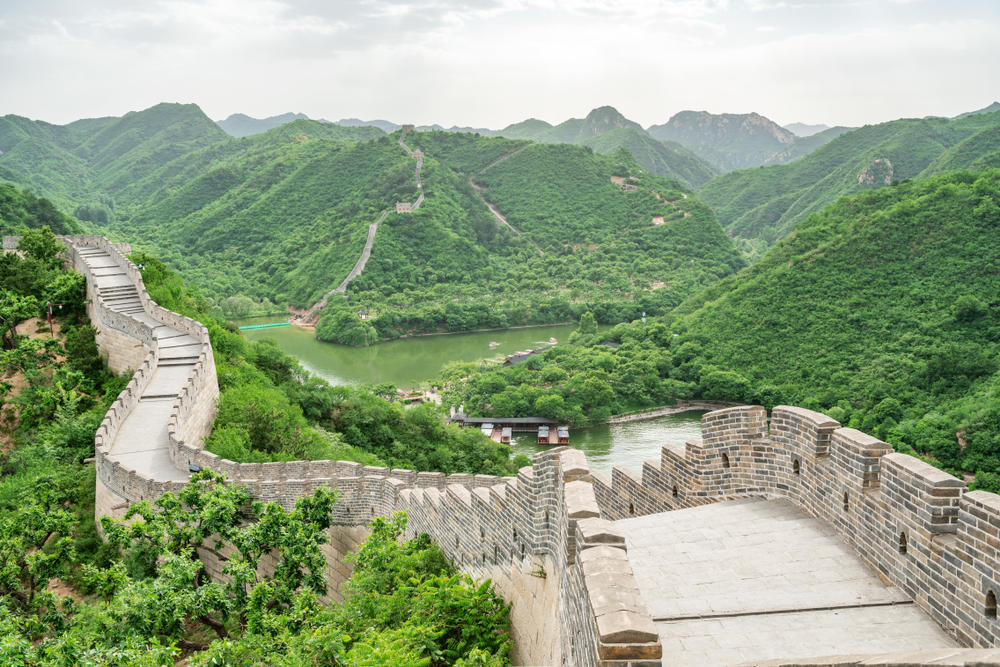 Huanghuacheng Great Wall is highly differentiated for having a unique wall and water scenery combined. You can do many activities here like hiking, camping or taking a boat on the lake to appreciate the Great Wall surrounded by the mountains. The Huanghuacheng Great Wall is unique for having some parts of the wall in the water which makes it even more characteristic than the other sections of the Great Wall.
Huanghuacheng Great Wall is located one hour and a half drive from Beijing. Instead, to get there by bus, you need to go to Dongzhimen from Beijing downtown, by bus lines n. 24, 106, 107, 123, 132, 206, or subway line 2 or 13. After that take the bus 916 from Dongzhimen to Huairou Town and then catch a bus under the name of "Huairou Waterside Great Wall" that takes you directly to Huanghuacheng.
If you would prefer to book a tour take a look at the options on TourScanner to compare prices and see which one catches your interest.
6. Gubeikou – wild wall and an ancient battle site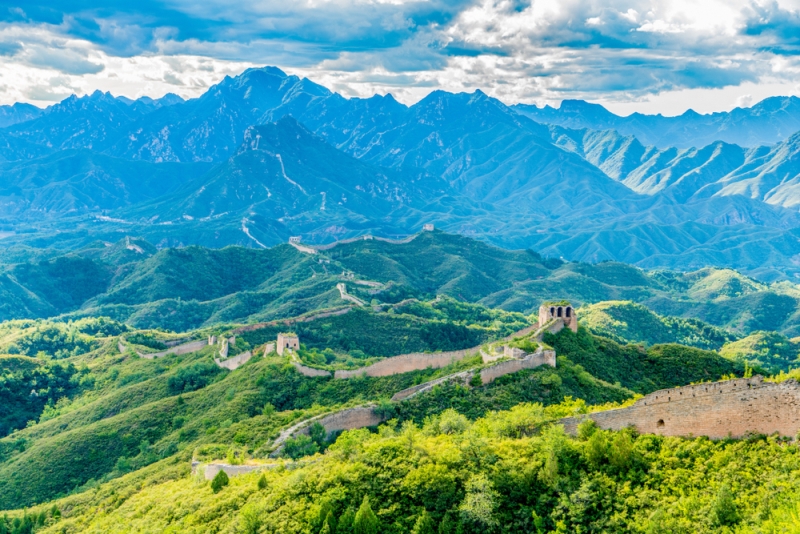 Gubeikou section is also another wild part of the Great Wall; it still holds its original bricks and stones and is still well preserved and unrestored. Gubeikou Great Wall protected an important pass to Beijing from northern Mongol areas.
Just two hour's drive from Beijing and you would have to make your way there. There is no available direct transport from Beijing to Gubeikou. You can combine some bus routes, taking bus 980 from Dongzhimen Station to Miyun Station and then catching bus 25 to Gubeikou.
As for the other sections, tours are departing daily from Beijing to Gubeikou. Some options include hiking trails from Gubeikou to Jinshanling or 2-days and 3-days trip with overnight included. Tours always include an English speaking guide, and there are both private and group tours. 
7. Juyongguan – one of the greatest Great Wall forts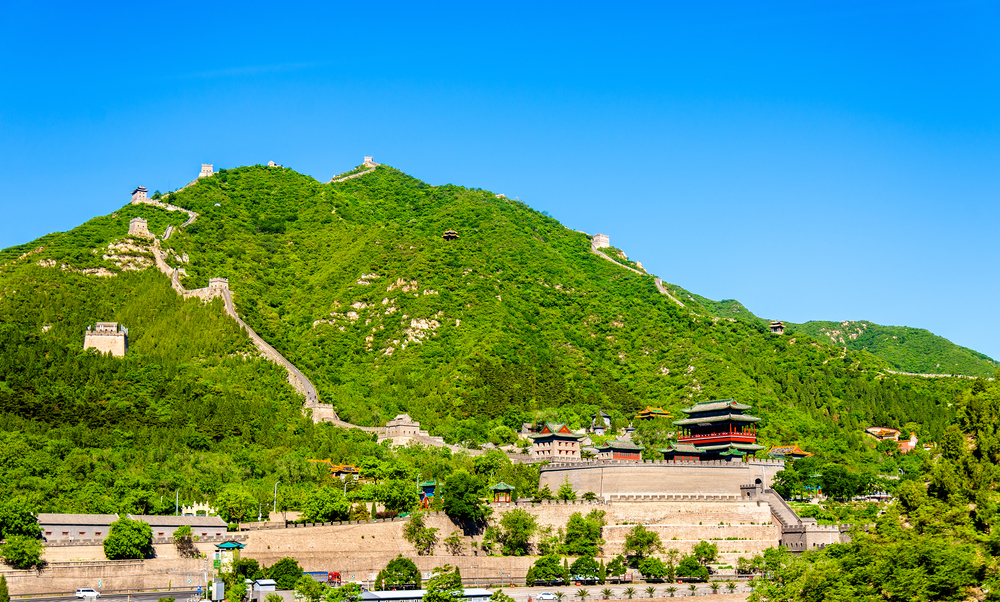 The Juyongguan Great Wall (Juyong Pass) was considered one of the three most important passes in the whole Great Wall where big battles took place. There are several ancient buildings behind the wall. The section can be visited by hiking in a closed loop on top of the wall. A part of this section is quite steep. 
You can reach Juyong by car in about an hour and 20 minutes from Beijing. This section can also be reached by bus: take bus number 345, get off at Shahe and then catch bus 68 that takes you directly to Juyong Pass.
Whether you would like a group tour or private tour, there are many tours to visit the Juyongguan section. A private tour is always a good idea to get a more personalized experience of the Great Wall of China.
8. Huangyaguan – an annual Great Wall marathon race site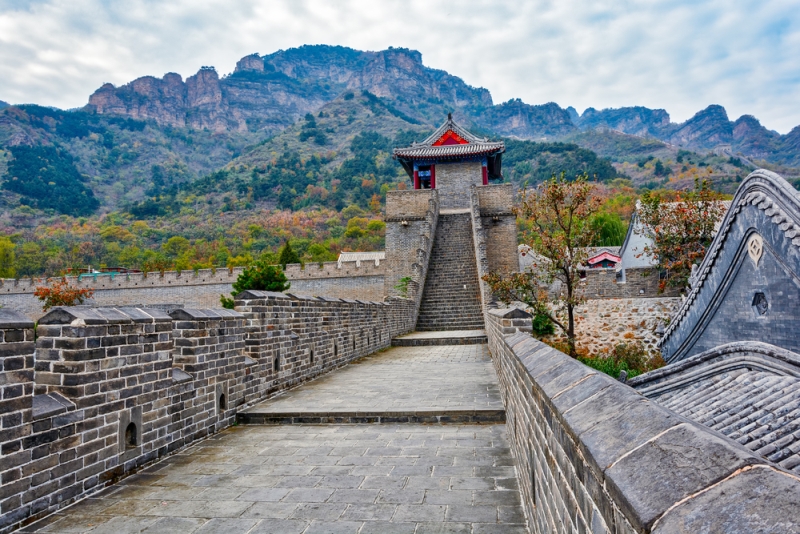 Huangyaguan is where the Great Wall Marathon is held each May. Also, a perfect choice where you can appreciate the views.
It takes a 3 hour's drive to get to Huangyaguan from Beijing or take a bus at Beijing  Sihui Long Distance Bus Station or Tianjin Hebei Bus Station to Jixian.
If you're interested in exploring this section of the Great Wall, there are many private or group tours from which you can compare prices on TourScanner.
9. Badaling – the most popular section among Chinese tourists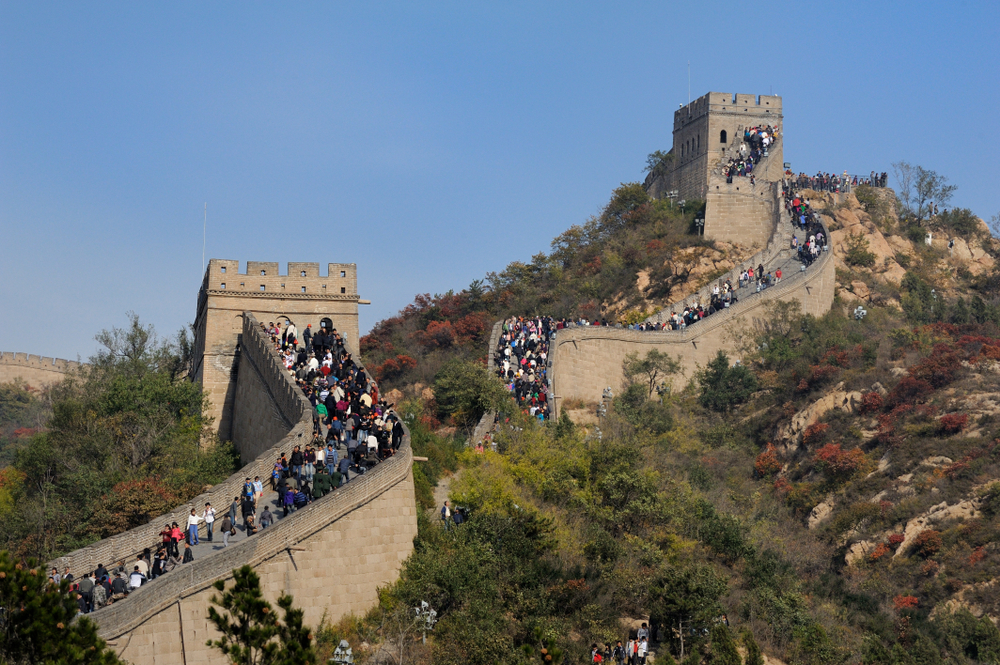 Badaling is the most representative and impressive section of the Great Wall. It has many facilities, including a circular-screen cinema, Great Wall Museum, shopping and dining facilities, as well as barrier-free access for the disabled.
Take a 2 hour's drive from Beijing to spend half a day at the most popular section of the Great Wall among Chinese tourists. If you prefer going to Badaling by public transport, catch bus 877 that takes you directly from Deshengmen to Badaling Great Wall section. If you don't want to take crowded public transport, there are direct coaches to Badaling from Beijing Tourist Hub.
Our advice is to avoid Badaling section as it is always crowded and packed with tourists. If you would prefer a more quiet and relaxed experience check other parts on the Great Wall. But if you are interested in visiting the Ming Tombs, Badaling can be a good option, since many tours include both places.
How much do Great Wall of China Tours from Beijing cost?
As you can see the Great Wall of China has many sections to choose from, all very different to each other depending on whether you would like a more relaxed stroll along the wall, a challenging experience hiking up and down the steep stairs, or an excellent historical lesson provided by a tour guide, and so on.
Group tours are always a good option also, prices are around $75 to $140 and they always include a wide range of activities such as visiting the forbidden city, the summer palace or they offer activities to do within the Great Walls.
Private tours are more expensive in general. However, the price depends strongly on the size of the group: the price per person is lower for a large group than for a small group. The price per person ranges between 100$ and 400$. 
Should I book a private tour, a group tour, or get there by myself?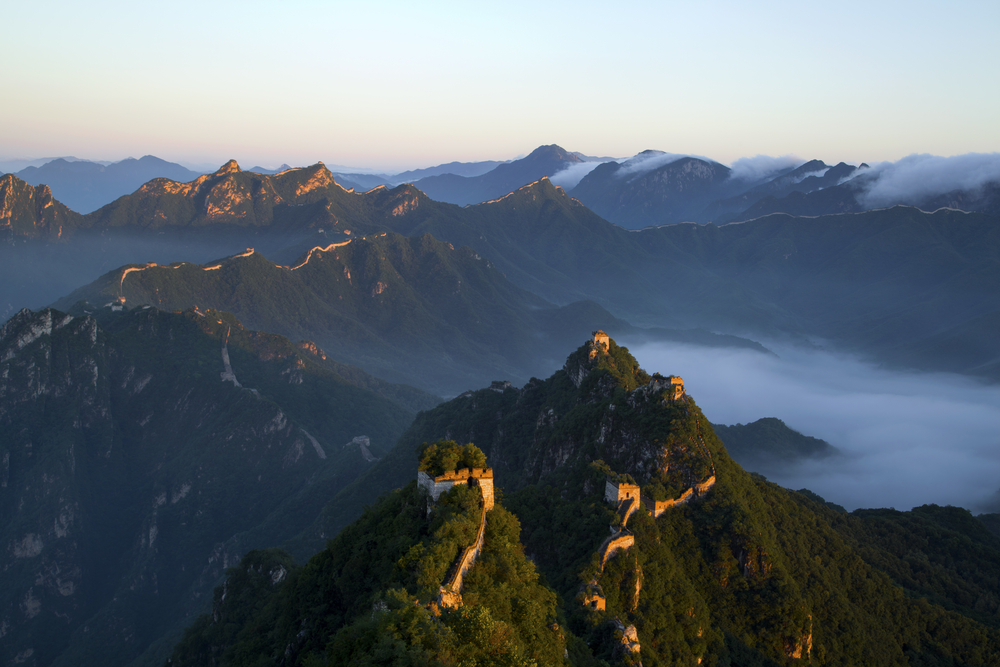 First of all you should decide whether going to the Great Wall by yourself or booking a tour. The main problem in the northern part of China is that very few people speak English and all the directions are in Chinese. Therefore, it can be easy to get lost trying to catch public buses. 
A tour reduces the problem of the language barrier and it offers a more relaxing experience. 
Regarding the decision between private or group tour, there are always advantages and disadvantages that weigh up and down your decision.
Traveling in a group is always perfect for budget travelers, as the price is considerably lower. But on the downside, sometimes, having too many people in a group forces you to follow them, and no one likes to be in a rush while soaking in the views from the Great Wall. If you prefer to pay a little bit more and have a more individualized experience, then a private tour is for you. They offer more services such as hotel pick up, full attention to any question you may have, customization of the itinerary, overnight stays, etc. 
What is the best time to visit the Great Wall of China?
The Great Wall of China is open almost all year round; anyhow you would want to choose the right time to go there. The ideal months for visiting the Great Wall are spring, early summer and autumn. You would want to avoid summer heat and crowds or winter freezing conditions. During springtime the green plants and flowers make the Great Wall look mesmerizing. Fall is the best season for hiking due to cold weather and the combination of colors of the plants is spectacular.
What can I do there besides hiking?
The most popular thing to do in the Great Wall is hiking but don't miss out on the other stuff! You can enjoy a night walk at Simatai Great Wall section which is the only section lit up at night or enjoy a picnic with astonishing views from Mutianyu Great Wall section. Or camping on the Wild Great Wall at Jiankou section during the autumn if you're an autumn lover, run along the Huangyaguan section with runners from all over the world. If you are looking for a more exciting activity, then take a roller coaster cart down from the Great Wall at Mutianyu section. You certainly will not get bored at the Great Wall of China!
Any combos including Great Wall of China Tours from Beijing?
Hundreds of day trips and tours offer not only a visit to the Great Wall, but other very famous places outside Beijing, such as the Ming Tombs or Gubei Water town, or attractions inside Beijing, such as the Forbidden City or the Summer Palace. Take a look at the deals on TourScanner where you can compare many tour options to find your perfect combination which includes all these attractions.
Share it on Pinterest 🙂