Fueled by booze, neon, and lavish casinos — they don't call it the Gambling Capital of the World for no reason, after all — Las Vegas is a city that's famed for its 24-hour party atmosphere. But what many first-time visitors (and even some locals) don't realize is that there's a whole lot more to Sin City than boisterous clubs, glitzy magic shows, and beer on tap.
In fact, thanks to its proximity to some of the most stunning natural scenery in the United States, with a rich mobster history to boot, and countless other fascinating haunts centered around famous TV shows and enviable rooftop pools, Las Vegas makes for the perfect base to explore the surprising tourism diversity that Nevada has to offer.
And while you could easily spend your entire vacation in Vegas and never get bored, hopping around world-class nightclubs and cruising along in party busses (both of which are highly recommended to try at least once!), sometimes it's nice to take a break from the hustle and bustle of The Strip and see what else this great state has to offer.
Luckily, there are plenty of bus tours available that will take you to all of the best spots, both in and outside of Las Vegas. So if you're looking for a way to see as much as possible on your trip, from the mobster history to the Pawn Stars shop and the Hoover Dam, read on for our list of the ten best Las Vegas bus tours!
1 – Hop-on-Hop-Off Big Bus Tour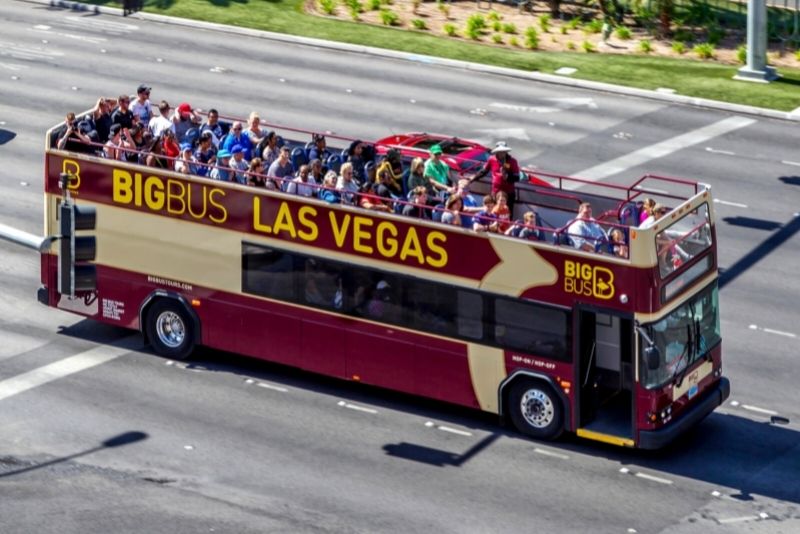 Offering a highlight reel of the city's most iconic landmarks — along the Strip all the way to Downtown (and beyond) — the Hop-on-Hop-off Big Bus is one of the best ways to see Las Vegas when short on time on energy.
In all honestly, you don't even need to be short on time either; thanks to its convenience and budget-friendly varied ticketing system, it proves a great way to check off the main Sin City casinos, museums, and attractions that dot its bustling streets even if you're in town for a week or more.
What's more, the open-top double-deckers offer some of the best views of The Strip and beyond, perfect for snapping postcard-perfect selfies (or just enjoying the ride), while the audio narration (which is available in multiple languages) provides an educational glimpse into the world-famous hotels and landmarks as you cruise past them on your double-decker bus — choose from an open-air seat on the rooftop deck, or keep cool with the air-conditioned lower level.
Ride by world-famous hotels like The Venetian and Caesars Palace, watch the fountains at Bellagio dance in time to the music, and get snap-happy at the Welcome to Las Vegas sign. And when you work up an appetite exploring Downtown, simply hop off at one of the many stops near some of the best eats in town.
By day, the Big Bus provides a sublime panorama of Las Vegas' main haunts. By night, it shows off a different side of town, the Sin City-esque side.
As the streets come to life, illuminated by the dazzling neon lights synonymous with this iconic desert city, the Big Bus becomes a party on wheels, with an Adults-Only Night Tour included drinks at certain stops, with DJs spinning tunes, and a host of risqué stories and naughty jokes told along the way.
For a night tour the whole family can enjoy, opt for the regular 'Night Tour', or, if you're planning on venturing out a little later, the 'Late Night Tour' has got you covered.
2 – Comedy Bus Tour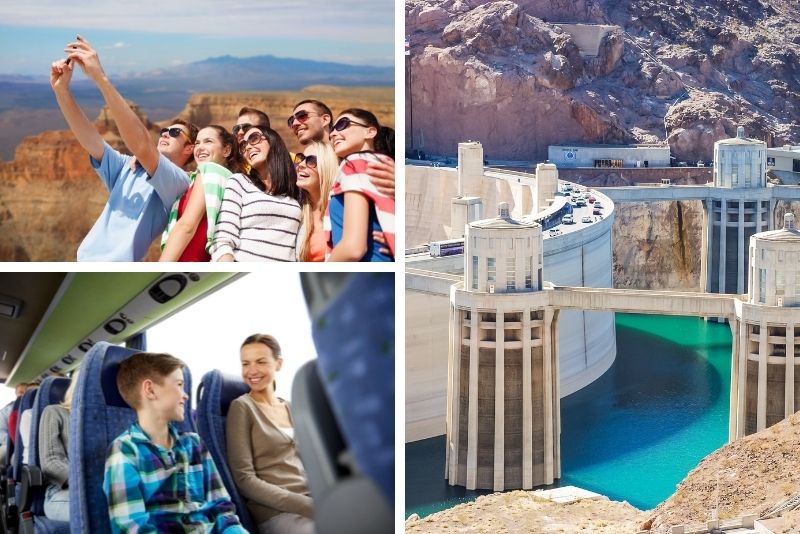 Fusing all of the best elements of a Las Vegas bus tour with the added bonus of some much-needed, side-splitting laughs, the Comedy Bus is one part tour, one part stand-up comedy show!
Famous for their hilariously witty guides who offer up a mix of improv, impromptu jokes, and crowd interaction as you cruise past all the main Vegas sights along the Strip en route to its two main destinations, this is one tour that's bound to have you in stitches from beginning to end.
The beloved tour, which has been running since the early 2000s and has transported over a million snap-happy visitors since, offers pick up from a sleuth of hotels along the Strip and Downtown before making its way to either the Hoover Dam or the Grand Canyon.
On fun-filled adventures to the former — one of the greatest feats of human engineering when it was completed back in the 1930s — you'll get to learn all about how the dam generates hydroelectric power as you take in sweeping views of the desert landscape, Lake Mead, and the sweeping desert landscapes.
And, besides the time allocated to learning about and exploring the 726-foot-tall dam, the side-splitting adventure also includes photo stops at both the "Welcome to Fabulous Las Vegas" sign and the Hoover Dam Bypass Bridge, guided tours of the generator room and power plant at the dam itself, and an exclusive, insightful, and joke-filled 45-minute 'walk on the top' adventure which meanders – as you might guess- across the upper section of the intimidating structure.
Meanwhile, trips to the Grand Canyon — just as popular and just as funny — see you marvel at one of America's most-visited natural wonders and a UNESCO World Heritage Site; a 277-mile long canyon that was carved out over millions of years by the Colorado River.
Heading to the closest section — the West Rim — you'll have the chance to visit Eagle Point and Guano Point for killer panoramic views, before digging into a delicious BBQ lunch with the Grand Canyon as your backdrop, before making your way back to The Strip for some post-tour R&R.
Both options include hot sit-down breakfast at a local restaurant, as well as a dedicated driver to complement the trained comedian guide!
3 – Pawn Stars VIP Bus Tour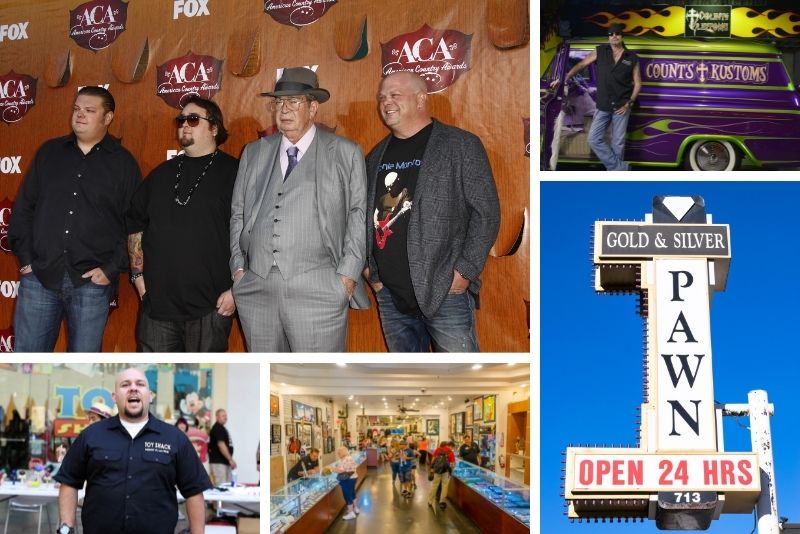 A History Channel show made famous for its knick-knacks, family-run business shenanigans, and ever-surprising treasures brought in by locals, 'Pawn Stars' takes viewers behind-the-scenes of one of America's most famous pawn shops, the Gold & Silver Pawn Shop in Las Vegas.
While the shop is open 24/7 to browse, pawn, buy or sell, fans of the show can now take the experience one step further and take a VIP tour of the shop onboard a luxury coach, complete with air-conditioning, reclining leather seats, and — most importantly — plenty of photo opportunities!
The three-to-four-hour tour kicks off with complimentary pick-up from the Strip (usually at Treasure Island or Tropicana depending on your preferred tour) before making its way to a sleuth of underrated Vegas museums and institutions.
Petrolheads, rejoice because the tour typically starts at the automobile restoration and customization company, Count's Kustoms, home to none other than the History Channel's show Counting Cars. From there, after admiring the workshop and owner Danny's very own astonishing car collection (with classic supercars like the Lamborghini Countach, a Cadillac hearse limo, and hot rods to boot), you'll meander over to the Shelby American Collection — home of a handful of rare, fast, and pristinely-maintained Shelbys.
But wait, there's more. Depending on the tour, you could also stop into WelderUp, made famous by the Hit TV Show 'Vegas Rat Rods'; the new Allegiant Stadium; The Toy Shack, where you'll discover a gold mine of collectibles like vintage Hot Wheels and Transformers; the antique and collectible sports haven that is Ultimate Sports Cards & Memorabilia, and Rick Harrison's Roll'n Smoke BBQ & Tavern for when those hunger pangs strike.
Of course, there's no forgetting the main event: the Gold & Silver Pawn Shop itself, where you'll get an exclusive peek behind the scenes of the show and, who knows, maybe even meet one of the Harrison family themselves!
With a professional guide, a souvenir gift, and transport in between all of the locations included with the price of the ticket, it's a no-brainer bus tour if you're looking to learn more about the area's unique businesses that have taken to the silver screen.
4 – Vegas See The Lights Night Bus Tour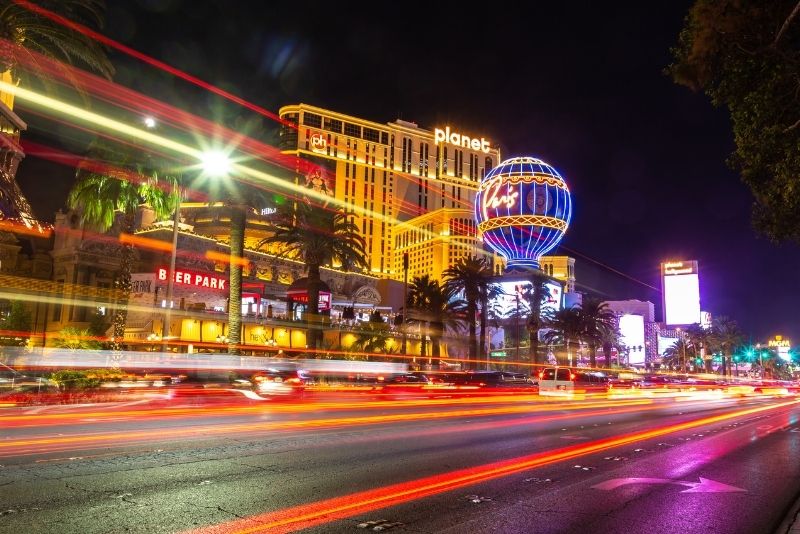 As we all know, this Mojave Desert resort city knows how to party by day. But, once dusk hits and the bright, neon lights — and the real party animals — come out to play, Vegas takes a very different, debaucherous turn, with free-flowing drinks, raucous clubs, and wild shows aplenty.
The best way to take it all in without blowing your budget (or your liver) is on one of the many night bus tours available. These are ideal for first-time visitors looking to explore The Strip's main attractions while getting their bearings, as well as those who want to hit up multiple tourist locations in one evening without spending a fortune on cabs or Ubers.
Departing at 8pm and operated by OnBoard Tours, this particular night bus tour — the Vegas See The Lights! tour — merges all the convenience of a bus tour with the in-depth stories and hidden gems of walking tours, taking the best bits of both worlds to create the perfect evening out with an extremely efficient format.
As you make your way down The Strip from Bally's bus entrance on Flamingo (the starting point), your guide will regale you with tales of Vegas' mobster history and the stories behind some of its most iconic hotels and casinos, from the Bellagio and its dancing fountains to the Treasure Island pirate show and, of course, the infamous Caesars Palace.
Stopping off along the way, you'll be blessed with chances to view postcarded locales like the Mirage Volcano, The "Welcome to Las Vegas" sign, the Luxor Infinity Light Beam, New York-New York's Statue of Liberty all lit up, the Fremont Street Experience, and the romantic lights of the Eiffel Tower, not to mention the world's largest golden nugget and world's largest chandelier!
Hot tip: since you'll be walking around at several stops, wear comfortable walking shoes
5 – Day Party Bus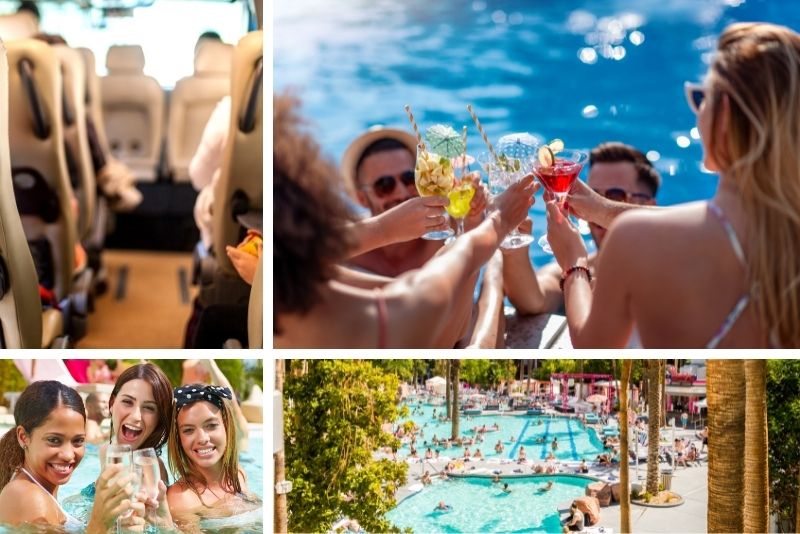 Seeing the rowdy party atmosphere from afar, as part of a bus tour that meanders down the Strip is one thing. But joining that action and becoming a part of it yourself is an entirely different (and much more fun) beast.
Enter the aptly-named Party Bus Tour, perfect for those who want to get their Sin City party on in style — we're talkin' free-flowing beer and shots out the wazoo, DJs spinning tunes, and a pool party setting that's as fun as it is refreshing on those sizzling hot summer days (just don't forget the sunscreen).
It's no secret that Sin City knows how to throw a heck of a good pool party; from the Garden of the Gods at Caesars Palace to the Encore Beach Club, Stadium Swim, Wet Republic, or the Cabana Bar at the Wynn, there's no shortage of places to cool off and let loose. So, why not experience the rowdy joy of a summer pool party first-hand, and let someone else figure out all the logistics?
Guaranteed to be chock-full of like-minded socialites who love meeting new people, striking up conversations, and doing so with a drink (or three) in hand, these Las Vegas bus tours are ideal for anyone who wants to let their hair down, have some fun, and see the very best that Vegas' party scene has to offer — without worrying about transport and with the chance to see several different impressive venues in the space of one day.
Even the transport is a wild time, with party busses complete with lounge-style plush seats, pumpin' music, a party host who'll run icebreaker games and help you get to know your fellow thirsty travelers, and, of course, ice-cold drinks with every passing mile.
And, best of all, since you'll be part of a guided tour, you're granted the enviable perk of not having to wait in line or pay for cover charges! With complimentary drinks onboard the party bus and special drinks discounts at the venues included too, the ticket price quickly justifies itself.
Just remember: what happens on the party bus, stays on the party bus…
6 – Night Party Bus Tour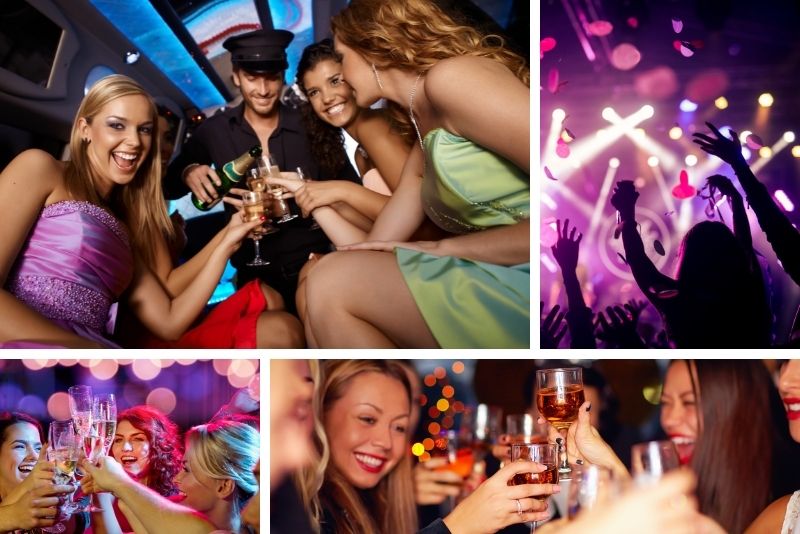 That daytime pool party crawl we just spoke of? Simply a warm-up. If you're after the real Las Vegas party experience, you need to come out and play at night.
Enter the Night Party Bus Tour, an aptly-named evening extravaganza that'll have you hopping from one hot spot to another in style, slinging back shots, meeting new friends, and admiring the incredible illuminated Strip along the way. From world-renowned DJs dropping beats at some of the city's most exclusive clubs to open bars VIP drink specials at even more venues, this is one Las Vegas bus tour that knows how to do it right.
Depending on which tour you choose (there are several different companies, each wild and wonderful in their own right, just stopping at different venues — Supreme Club Tours, M&E Luxury Tours, and Club Crawl Company, to name but a few), expect to start off with a bang (or rather, a drink) on the lush party bus with beats and beers to boot before making your way to a handful of the swanky Strip nightclubs including Gold Spike, Omnia, Therapy, and more.
Depending on who's playing and what time you're visiting, you might find yourself at Tao, Hakkasan, Chateau, Marquee, Light, Jewel, Foundation Room, or On The Record as well — it's all planned in advance by the operators to ensure, no matter what's happening in town, you get a heavy dose of Sin City party action!
Just to highlight a couple of the infamous dancefloors, Hakkasan regularly features famous house and techno names (the likes of Tiesto, Calvin Harris, and Steve Aoki have graced the stage in the past); Omnia, the crown jewel of Caesars Palace, is a plush and opulent tri-level club that boasts 75,000 total square feet and state-of-the-art sound and projection systems; Jewel at Aria is an intimate and uber-stylish venue with high prices to match (although cheaper thanks to your tour discounts!); and Foundation Room — exclusive for those who know how to find it (hint: look up) in the Mandalay Bay Resort & Casino — offers stunning views of the Strip from its lofty perch.
If you're looking for a taste of Vegas' most luxurious nightlife, without having to spend a fortune or queue for hours on end, then a Night Party Bus Tour is absolutely the way to go. Best of all, the ticket not only includes entry to all of the designated clubs (and transport in between them), but also expedited entry and skip-the-line VIP status.
Read more about fun things to do in Las Vegas at night
7 – Vegas Mob Tour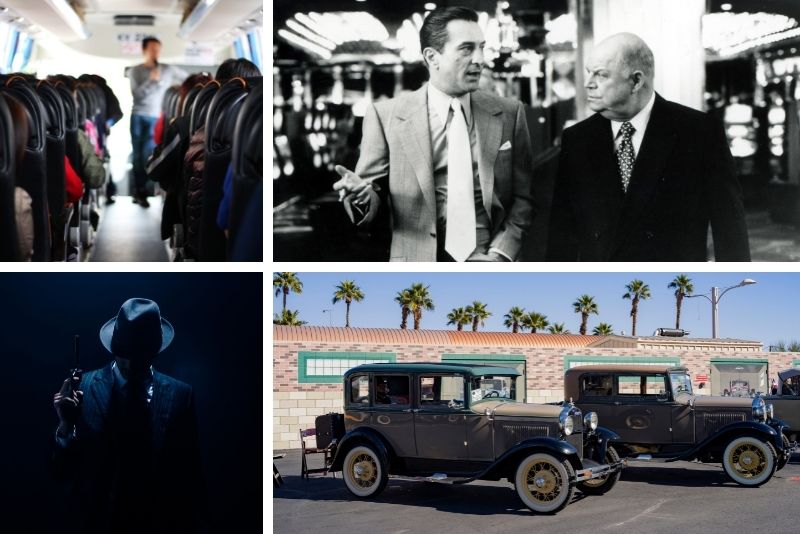 Far more than just a rowdy desert oasis full of bright lights, beer on tap, and boisterous partygoers, Las Vegas sports a rich and decorated history, built on the back of some of the most notorious gangsters and mobsters to ever walk this earth — a little-known checkered past that's as murky as it is fascinating.
And, what better way to explore that history than on a Mob Tour? These Mafia-themed bus tours will take you back in time, recounting tales of Vegas' storied bygone decades as you ride around town in an old-school vehicle, learning all about the former hoons who called Sin City home.
You'll learn about the real-life Goodfellas who ruled the city during its formative years — guys with names like Tony Spilotro, Meyer Lansky, Benjamin "Bugsy" Siegel, and Frank "Lefty" Rosenthal — as well as see some of the sights made famous by Hollywood blockbusters over the years like Martin Scorsese's classic film Casino (1995).
Skirting through locations that once witnessed mob assassinations, violent burglaries, car bombings, and a sleuth of underworld activities, your guide will regale you with tales of some of history's most ruthless criminals while leading you down winding alleyways and pointing out famous landmarks, all while you enjoy the air-conditioned comfort of your tour bus.
A must for any gangster aficionado or budding historian, a Mob Tour is one of the most unique and interesting ways to see Las Vegas — just be sure to take plenty of photos! Once you've checked off all of the main attractions — those which served as criminal hotspots from the 1940s to the mob's Vegas heydey in the 1980s — you'll be treated to a delicious pizza as you hear a handful more stories to round out the tour.
Hot tip: if you want to level-up your experience, the Vegas Mob Tour also offers an Untouchables Experience that slaps on a gourmet dining experience — as lavish as the mobsters treated themselves back in the day — as well as the exciting and educational Rat Pack is Back live show.
And, of course, if this tickles your fancy, then be sure to also check out the infamous Mob Museum, a Vegas staple that showcases the city's dark and gritty past in all its gory glory.
8 – Las Vegas Fun Bus Tour
With a name like "Las Vegas Fun Bus," you know that this is one tour that's not going to take itself too seriously. In fact, it's downright unpretentious and good-natured, perfect for those who want a lighthearted journey around town with an endless supply of booze to boot; learning a thing or two, catching world-famous Strip landmarks, and meeting friends along the way, without having to sacrifice any of the excitement or fun.
Billed as an open-air party bus complete with stripper poles (yes, really), neon lights, music, and plenty of drinks, the Las Vegas Fun Bus is like a nightclub on wheels — and it's all yours for the duration of your tour! This means that you can let loose and have some serious fun while seeing all of the best sights that Sin City has to offer.
With three different options to choose from: the Nightclub Tour, Pool Tour, and Booze Cruise, there's a little something for everyone on the Las Vegas Fun Bus. No matter which tour you choose, you're in for an unforgettable experience as you zip around town in style, sipping on cocktails and taking in the amazing sights of the world-famous Las Vegas Strip.
On the Nightclub Tour, dress to party and be prepared for an 8pm departure (typically from the Flamingo). From there, it's a non-stop party as you head to some of the most popular hotspots on the Strip, like Tao Nightclub, Light, Omnia, and more. With VIP access and drink specials all night long, this is one nightclub crawl that you definitely don't want to miss! Running Thursday through Sunday, it's a wise way to welcome a wild weekend if you can't be bothered organizing logistics or waiting in line!
For all you sun-seekers, the Pool Tour is a daytime event that typically starts in the afternoon, combining all the fun of the party bus with 4 hours worth of stops at the likes of Daylight, Elia Beach Club, Go Pool, Liquid, and the Sapphire Day Club. Perfect for toasty Vegas days (of which there's no shortage), you'll enjoy waived cover charges and exclusive drink specials so that you can beat the heat in style.
If cruising down The Strip while sipping cocktails and taking in all of the sites sounds like your idea of a good time, and you prefer a little more sightseeing rather than clubbing, then look no further than the third option: the Booze Cruise. As you drive past sites like the Welcome to Las Vegas sign and the Freemont Street Experience (drink in hand, obviously), you'll have the chance to snap a few touristy photos before jumping back on the bus to let the party host kickstart some games and play some tunes!
9 – Hoover Dam Bus Tour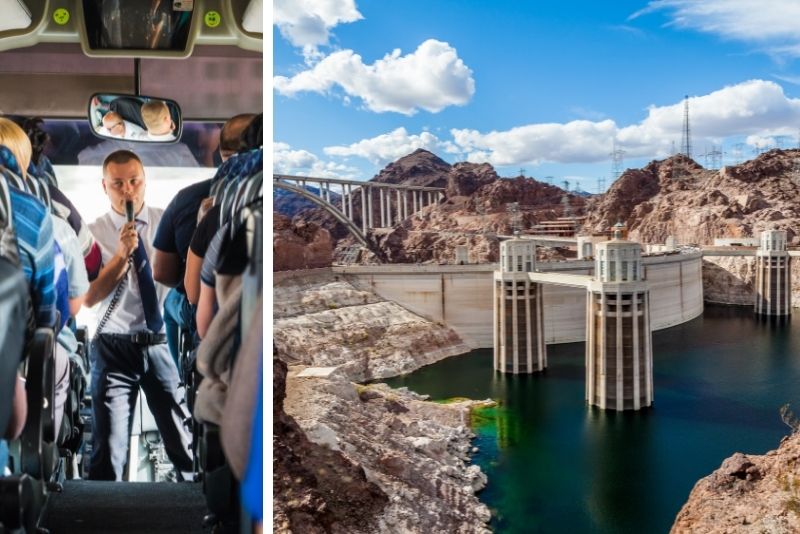 A colossus of a structure, a feat of early 20th-century engineering, and one which has impressed tourists (and locals) for generations, the Hoover Dam is a quintessential day trip for anyone making the journey out to Las Vegas — not to mention a breath of fresh air from the chaos and noise of the Strip.
Being such a popular attraction — welcoming over 7 million visitors year after year (making it the most-visited dam on the planet) — there's no shortage of tour options to choose from, meaning that there's something to suit every budget and schedule. For those looking to tick off a few of the area's must-see locations, a range of companies also offer combination tours that stop at the dam en route to the famed Grand Canyon. Of course, being just 30 miles southeast of Las Vegas, it's easy and more common to visit solo as well.
Either way, a bus excursion takes you on an exciting journey through Nevada's stunning desert landscapes before arriving at the dam itself, where you'll have ample time to explore and take photos. Once you're there, you'll be able to learn all about this marvel of civil engineering, unpack its history, and hear about its controversial (and dangerous) construction in the 1930s.
With a knowledgeable guide on board your bus, you'll be able to ask any questions that you may have and get some expert insights into one of America's most impressive landmarks. As well as the dam itself, the tour also includes a stop at the Mike O'Callaghan–Pat Tillman Memorial Bridge, which offers stunning views of both the dam and the Colorado River which twists its way below.
10 – Grand Canyon Bus Tour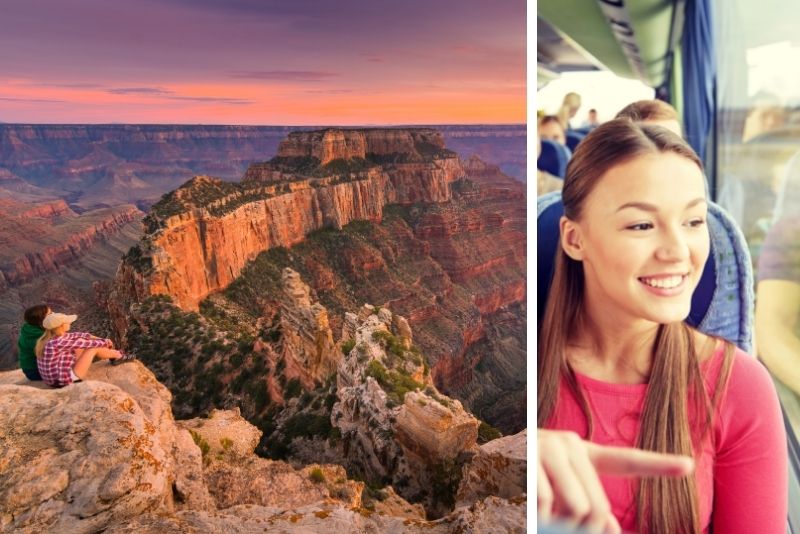 Certainly one of the best Las Vegas bus tours, if only for the UNESCO-listed destination, adventures to the Grand Canyon not only leave the bright lights of the Strip behind for an unforgettable day trip into one of nature's most impressive spectacles, they leave guests starstruck by day's end too.
Spanning over 277 miles, the Grand Canyon is one of the largest and most diverse canyons in the world, with more than 18 different ecosystems found within it. From desert to forest, and plateaus to buttes, a visit will introduce you to a landscape that's constantly changing as you explore its depths.
While there are several ways to experience this natural wonder (hiking, biking, rafting, etc.), taking an escorted bus tour is undoubtedly one of the easiest (and most comfortable) options. With departures throughout the day from Las Vegas hotels, many companies offer inclusive packages which include entrance fees, lunch, and specialist guides who will bring the canyon's history and geology vividly to life.
Given that the West Rim is only around a two-and-a-half-hour drive from Vegas, this is one destination that can easily be visited as part of a combo tour or on your own, making it perfect for all kinds of travelers. And with so many different companies and tours to choose from, add additional add-ons like scenic helicopter flights, dramatic walks on the horseshoe-shaped Grand Canyon Skywalk (which stands ominously 4,000 feet above the canyon floor), or rafting trips down the Colorado River, you're in for the time of your life no matter your itinerary.
If you've got the time, and a little extra cash sitting in the kitty, take advantage of the opportunity and embark on an even greater adventure, driving a couple of hours further to the coveted South Rim.
Thanks to its distance from the city, you can expect far fewer crowds and a whole lot more elbow room to take in one of nature's most jaw-dropping creations, often stopping at the National Geographic Visitors Center along the way where an IMAX theater introduces you to the history and layout of this natural wonder. Once at the Rim, you'll be greeted with killer views from Grandview Point, Bright Angel Point, and Mather Point (to name but a few), with the option to join in on adreniline-pumping jeep adventures or birds-eye flights.
Final thoughts
So there you have it: ten of the very best Las Vegas bus tours for visitors and locals alike. With so much to see and do in Sin City, sometimes getting out of the city and exploring what's on offer beyond what's reachable by foot is just what the doctor ordered.
From Sin City classics like an open-aired jaunt down the Strip to a Hoover Dam tour to once-in-a-lifetime adventures like a trip down to the Grand Canyon, there's something for everyone when it comes to exploring Nevada (and even nearby Arizona, if you make it that far) by bus.
If you're looking for a break from casino hopping and clubbing (or you actually do want to go clubbing, but want to see as many of the world-famous Las Vegas attractions as possible in one evening), each and every one of these tours will leave you with some unforgettable memories (and probably a few new friends too).
So what are you waiting for? Book your seats now! We hope you've enjoyed our selection, and if you have any other suggestions, feel free to leave them in the comments below! Don't forget to check out the best Las Vegas museums, most romantic Vegas activities for couples, and a comprehensive list of the best tourist attractions in Las Vegas!
As always, happy travels.