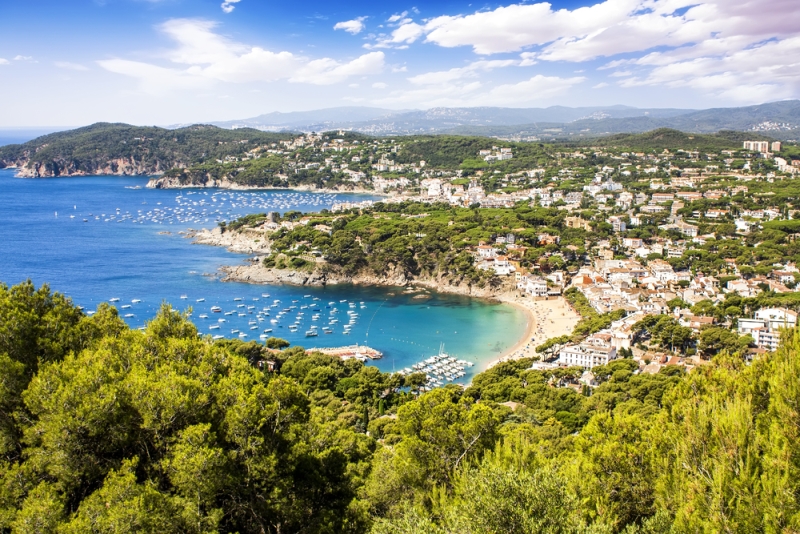 Are you looking for the best day trips from Barcelona? While the Catalan city is a beautiful place, full of entertainment and culture, taking time out to explore nearby areas can unearth lots of new gems. From Costa Brava to Collserola, there is so much to do and see. That's why we've listed 43 awesome day trips that you can do from Barcelona. 
1 – Girona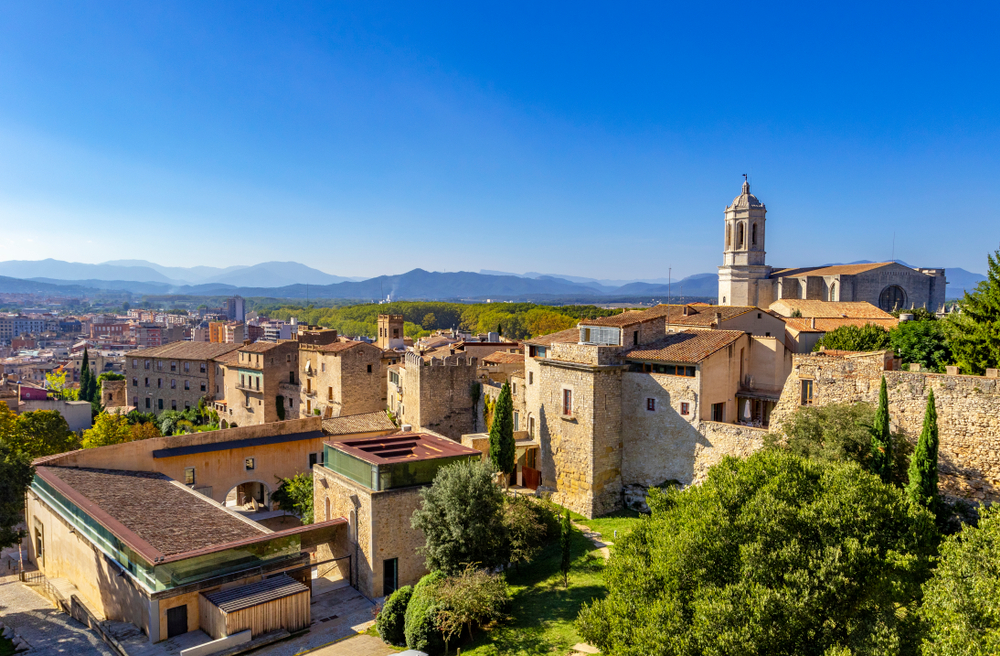 The medieval city of Girona is located in the Catalonia region. It's one of the great day trips from Barcelona for those who want to immerse themselves even deeper into the local culture. Travel Barcelona and familiarise yourself with the heart of Girona. Wander the cobbled streets and explore places like El Call, the famous Jewish quarter. 
2 – Costa Brava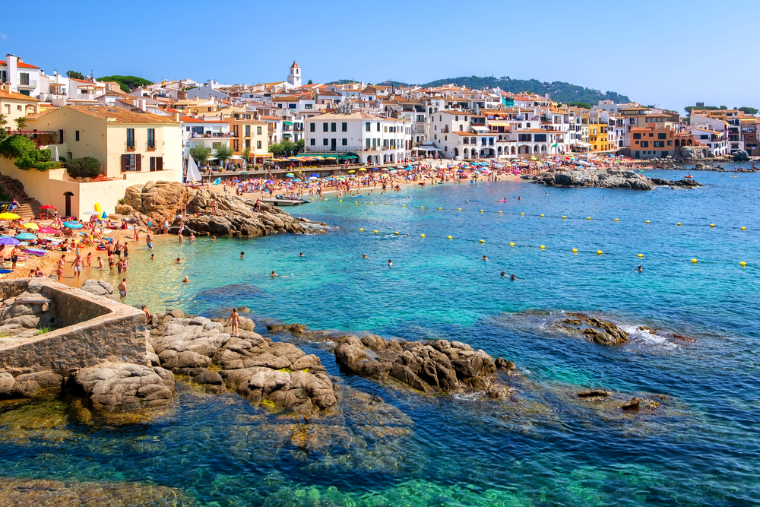 The coastal region of Costa brava is ideal for a spot of snorkeling and kayaking, thanks to its crystal clear waters. Start your day with a trip to an idyllic beach, where you can embark on your adventure. Reach secluded and rocky caves by kayak, before taking a dip into the sparkling waters for a spot of snorkeling. There is so much on offer in Costa Brava.
Check out our selection of fun things to do in Costa Brava.
3 – Sitges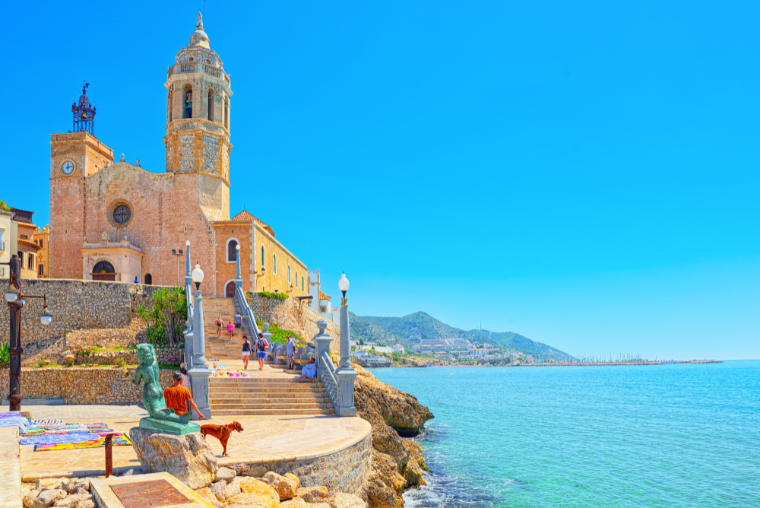 If rich history, picturesque beaches, and shopping excite you, then experience even more than Barcelona has to offer with a visit to Sitges. On this day trip from Barcelona, stop off at the former Roman stronghold of Tarragona on the way. Once you're in Sitges, visit the Cau Ferrat Museum, the Iglesia de San Bartolomé y Santa Tecla, and unwind at one of the quaint beaches. 
4 – Andorra la Vella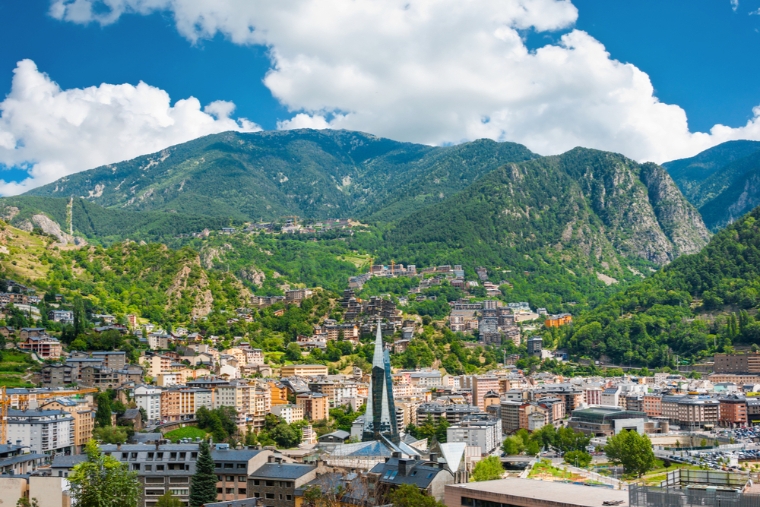 Who says you need to root yourself to one country when taking day trips from Barcelona? Why not expand your horizons with a trip to the country of Andorra? Andorra la Vella is the capital of Andorra and is located in the Pyrenees mountains. Enjoy stunning views of the mountains, and landmarks such as Casa de la Vall, Església de Santa Coloma, and Plaça del Poble. 
5 – Cardona & the Salt Mountain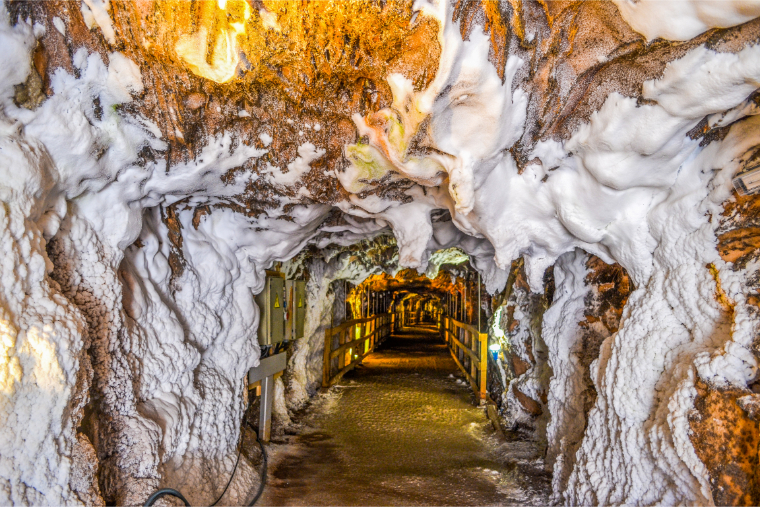 Journey to the Cardona and Salt Mountain to witness crystalline caverns of the most important salt deposits in the world. When you're finished with the Salt Mountain, embark on the medieval village of Cardona. Here you can walk around admiring local sights, such as its majestic castle. 
6 – Montserrat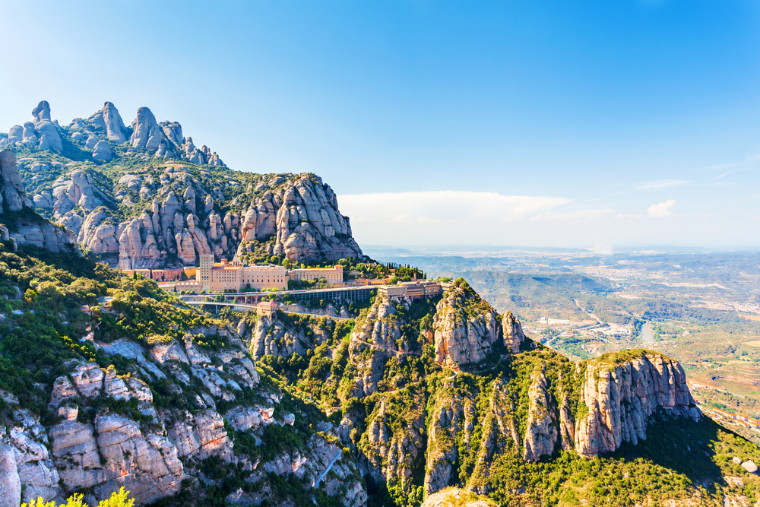 Explore the Montserrat mountains, which are part of the Catalan Pre-Coastal Range. Take in sweeping views of the adjacent areas, and explore the Montserrat monastery. Why not get a train to the foot of the mountain, before boarding a cog-wheel train that ascends over 4,000 ft to the top and goes straight into the monastery?
7 – La Garrotxa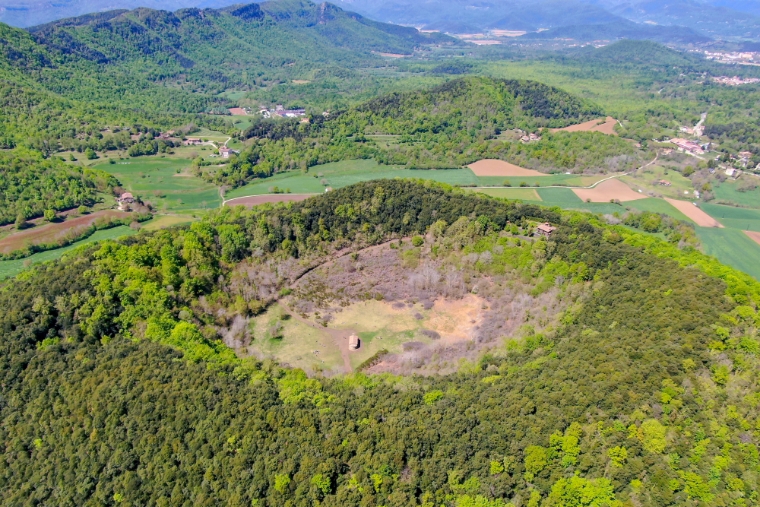 Experience the natural beauty of the Catalonia region on one of the best day trips from Barcelona. From medieval monuments in Besalu to the natural delights of the La Garrotxa volcanic area, this is an experience not to be missed. Enjoy the historic town of Santa Pau, beech forests in Fageda d'en Jorda, and hike to the crater of the Santa Margarita volcano. 
8 – Figueres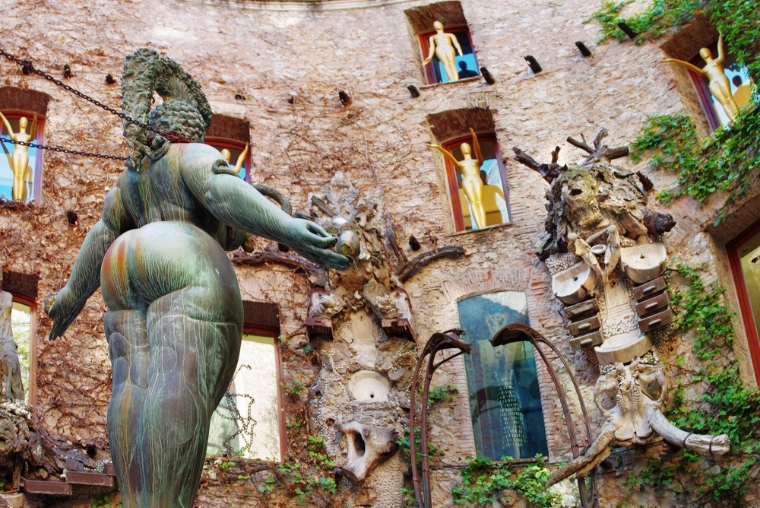 Located in the province of Girona, Figueres is known for its cultural heritage. Immerse yourself in the artistic world of Salvador Dali by visiting his birthplace and home. Next, stop off at the Dali Theatre and Museum to see the largest collection of works by Dali. Make the most of your Figueres experience by combining it a trip to nearby Girona. See two of Spain's iconic areas in the same day. 
9 – Vic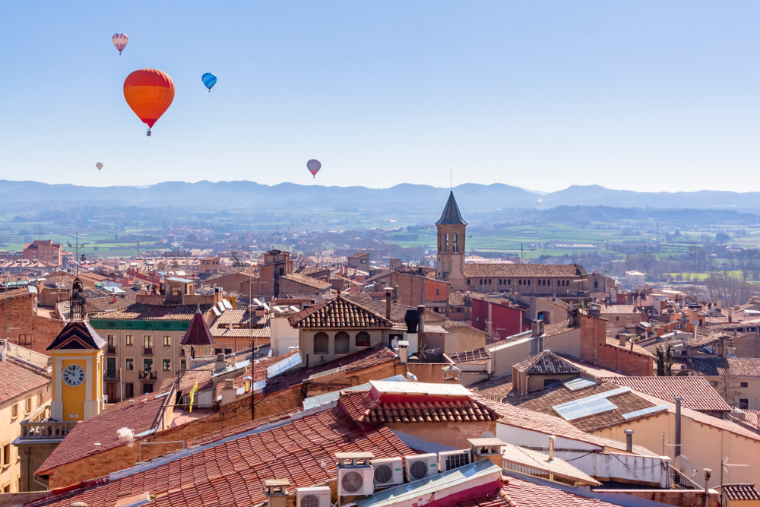 There's no need to stay grounded during your day trips from Barcelona. Enjoy a balloon ride that takes you over the Barcelona province of Vic. Or, if you want to get more up close and personal, head to the town directly and see Plaza Mayor, Vic Cathedral, Roman Temple of Vic, and more.     
10 – Pals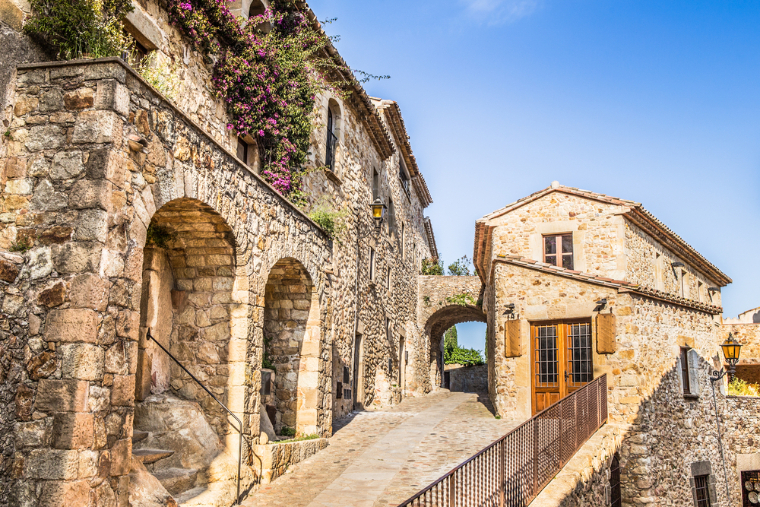 Pals is a 10th-century village inland from Barcelona. Famous for its gothic church, it makes for a relaxed day trip from Barcelona. Make sure you check out the clock tower of the old castle, curtain walls, and quaint houses. Your camera will be overdrive as you take snap after snap of Pal's beauty. 
11 – Calella de Palafrugell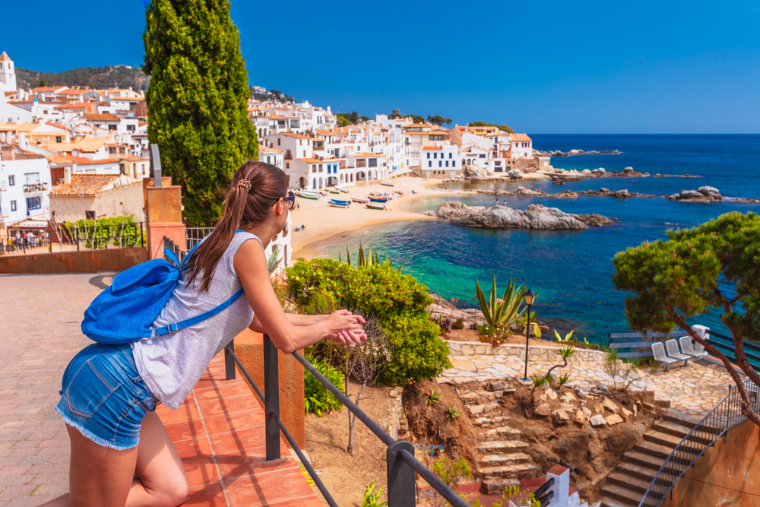 Pack your swimwear and get ready for an excursion from Barcelona that involves dipping your toes and taking a splash in crystal clear waters. Part of the Costa Brava, Calella de Palafrugell is one of the coastal towns and is a municipality of Palafrugell. Combine this trip with other parts of the Costa Brava and Girona, blending beach vibes with cultural sights – all to the backdrop of a professional tour guide. 
12 – Delta de L'Ebre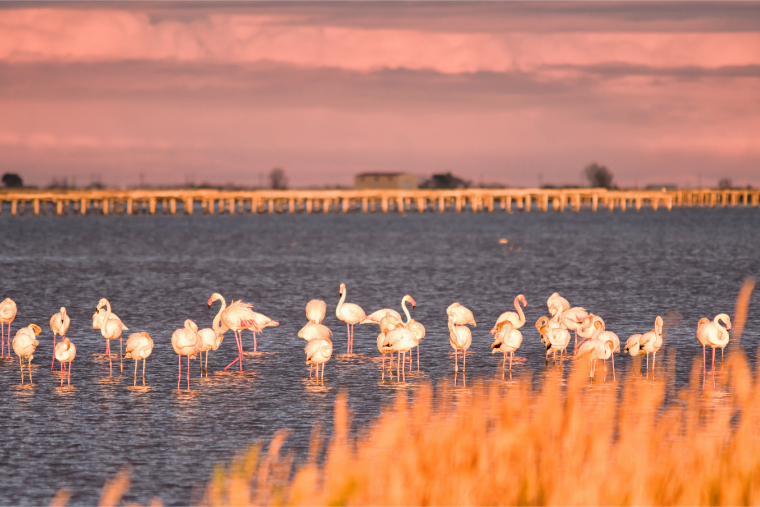 Whether taking the train or going by car, a trip from Barcelona to Delta de L'Ebre should be near the top of your list when it comes adventures. In the delta region of the Ebro River in southern Catalonia, Delta de L'Ebre is a natural landmark and is home to plenty of flora and fauna. Make sure to stop off at the Ebro Delta Natural Park, which is a Spanish national treasure.
13 – Platja Fonda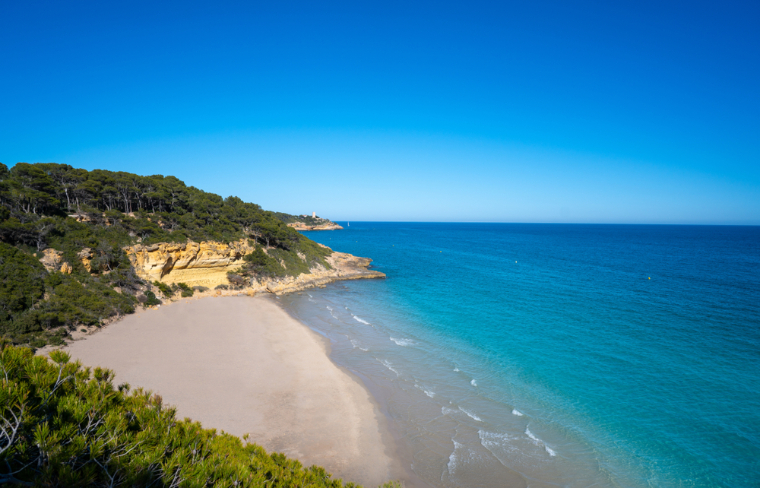 Platja Fonda (also known as Cala Fonda) is a unique cove in Begur that's well worth your time. Journey down a long set of steps before discovering this secluded natural spot that is filled with unspoiled nature. As one of the most peaceful coves in Begur, escape from the everyday bustle and enjoy dark sands and clear waters.
14 – Tossa de Mar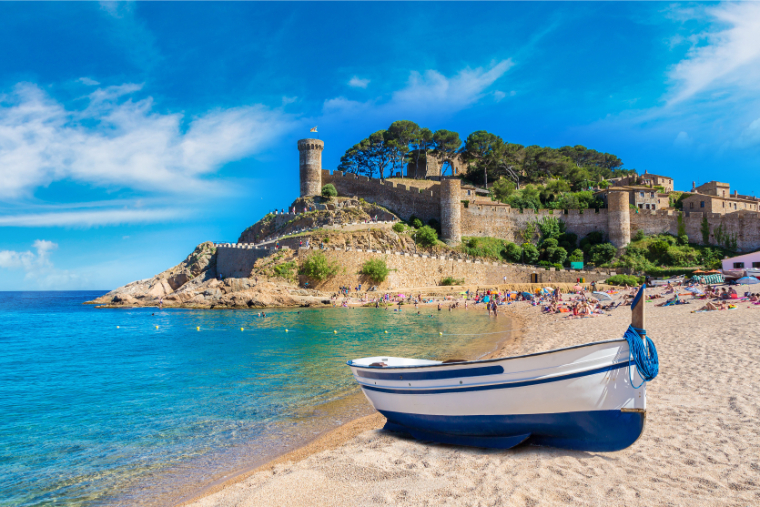 Tossa de Mar sits on Catalonia's Girona coast (Costa Brava) and is often referred to as a medieval wonder of the world. What was once an off-the-beaten-path location is now a popular tourist destination, thanks to its idyllic beaches and charming archaeological structures that include churches, museums and castles. 
15 – PortAventura Park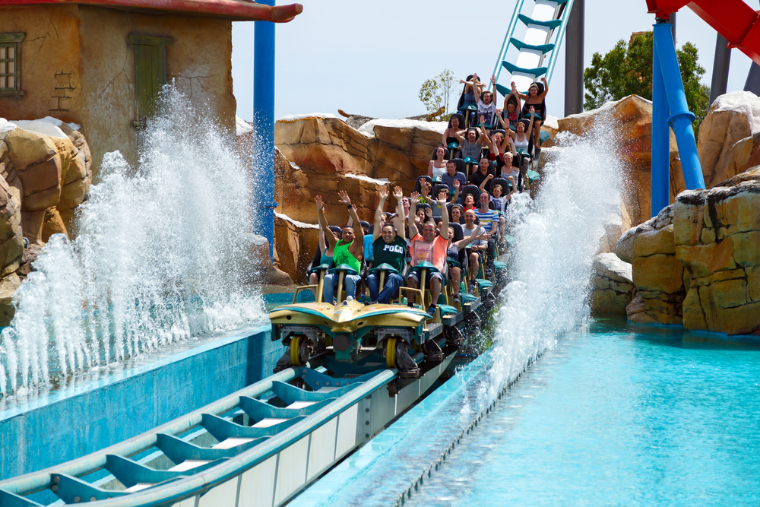 Sure, dreamy beaches, fascinating sights, and quaint towns have the ability to capture the imagination. But sometimes you just want to let loose with some good old fashioned fun. Enter PortAventura Park, which is an entertainment resort and one of the most iconic theme parks in Europe. From zany rides to fun shows, and everything in between, a day trip to PortAventura Park is a fun-filled day for the whole family. 
16 – Besalu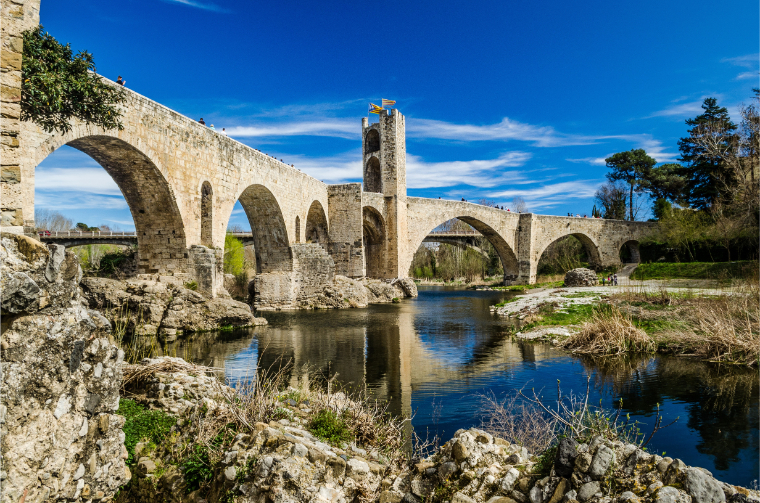 Take a guided tour to the medieval town of Besalu and combine it with a visit to the Dali Museum. When in Besalu, stop off for some traditional Spanish cuisine at one of the local restaurants. After lunch, learn all about the history of the area – including its Roman past and how it came to prominence in the middle ages. 
17 – Sant Pol de Mar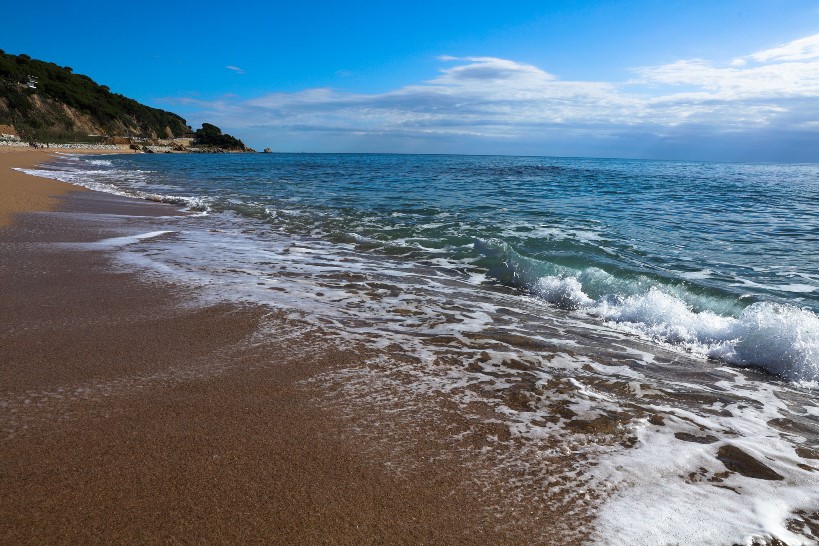 Getaway from the busy beaches of Barcelona and head to Sant Pol de Mar, a selection of quiet beaches that are easily accessible by train. Chill out on the lush sands, stroll the local area, and grab a bite to eat before heading back to Barcelona after enjoying this relaxing day trip. 
18 – Vall de Núria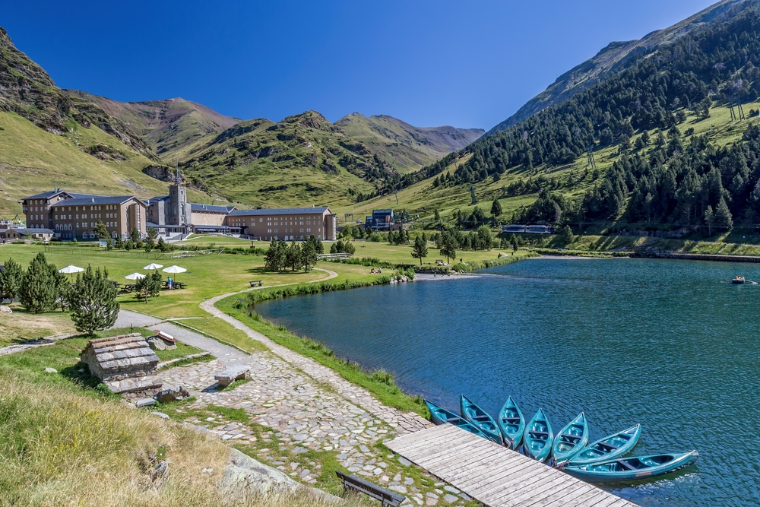 Barcelona is known for its hot climate and picture-perfect beaches. A trip to Vall de Nuria in the Pyrenees, however, will present you with a very different experience. Take in spectacular landscapes of snow-covered mountains before heading to the Roman Catholic shrine, Sanctuary of the Virgin Núria.
19 – Begur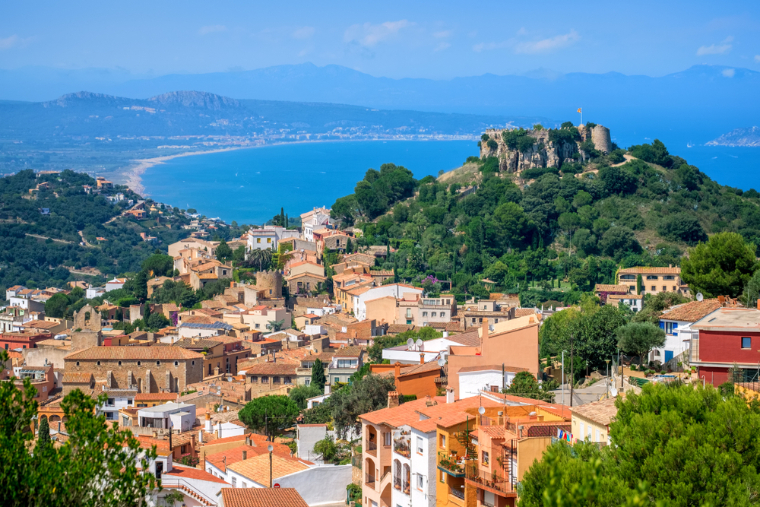 Described as a "little treasure" in the Costa Brava, Begur is filled with spectacular beaches and crystal-clear waters. A 90-minute drive from Barcelona, Begur is a slice of paradise with its boutique shops, pristine beaches, and tantalizing local restaurants. Make sure that Begur is one of your stops when visiting the Costa Brava 
20 – Cadaques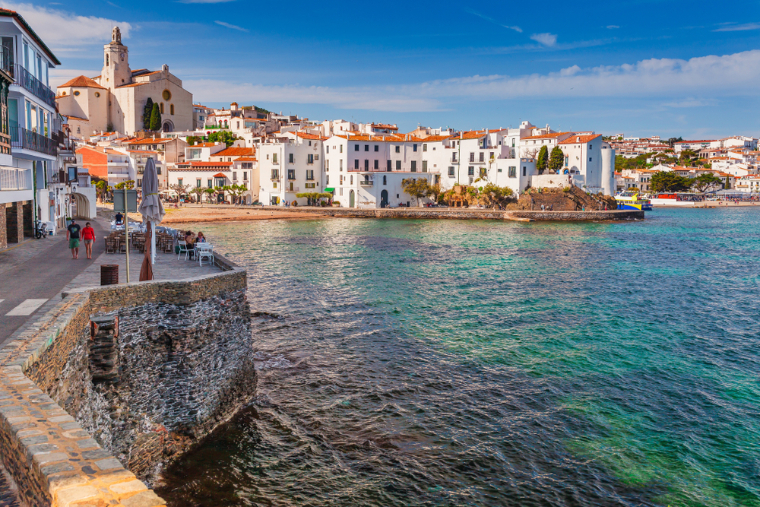 A visit to Cadaques should be on the cards during your Barcelona break. Cadaques is the easternmost point of Spain, set around a remote bay in Costa Brava. A charming waterfront – that looks like it should be a scene in a movie – forms part of one of the most unspoilt villages on the Mediterranean. 
21 – Tibidabo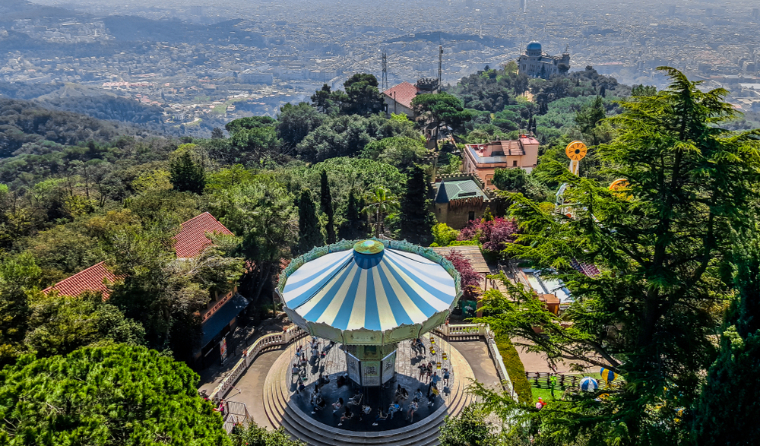 The tallest mountain in Serra de Collserola, Tibidabo overlooks Barcelona and offers views over the surrounding coastline. There is also a local theme park that features traditional rides and panoramic views. A short train ride from the center of Barcelona gets you to Tibidabo, where you can then spend the day having fun tallest mountain in the Serra de Collserola.
22- Premià de Mar
Set off on a day trip from Barcelona to Premia de Mar, a popular tourist town that was once a sleepy fishing village. Just 20km from Barcelona, a trip to Premia de Mar will see you enjoy a long sandy beach, and a varied style of buildings in the town center that include neoclassical, modernista, and simply eclectic designs.   
23 – Colònia Güell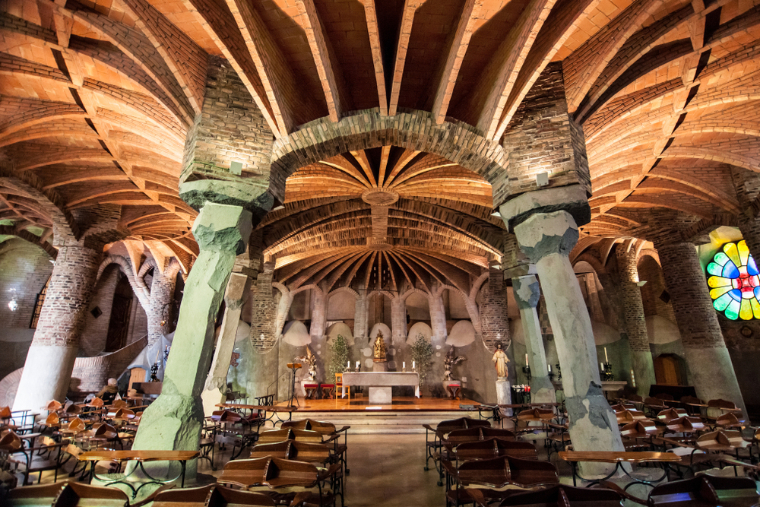 Antoni Gaudí is one of the most famous architects in the world, and his work is widely seen throughout the Catalonia region. Colònia Güell is perhaps one of his most intriguing projects and makes for a great Barcelona day trip. Constructed in 1882 by Gaudi, Colònia Güell is a workers' village where Gaudi's crypt lays today. Visit the crypt, and see a striking church that was built by the architect but never completed.
24 – Aiguablava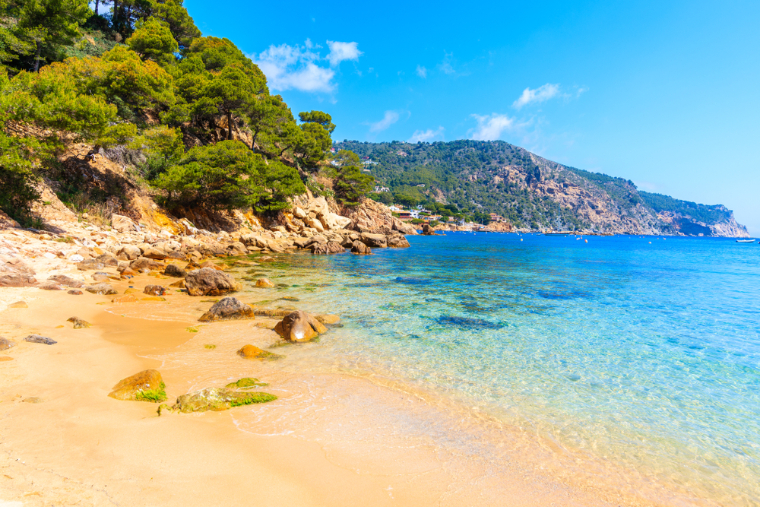 Aiguablava is a small bay in Begur on the Costa Brava. Whether combining your Barcelona day trip with a tour of Begur and the rest of the Costa Brava, or you just want to catch some rays in this quaint cove, Aiguablava offers turquoise waters and unique surrounding landscapes. Make it your own little slice of paradise. 
25 – Tamariu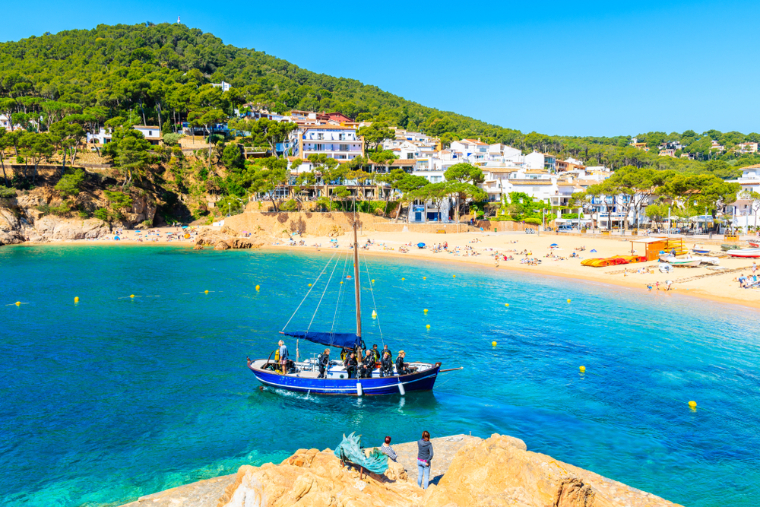 One of the Costa Brava's best beaches, combine Tamariu with an excursion to Palafrugell in the province of Girona so that you can make the most out of the coastal region in northeastern Catalonia. Originally a small fishing village, Tamariu has retained plenty of its charm and features a south-facing bay in picturesque settings. 
26 – La Roca Shopping Village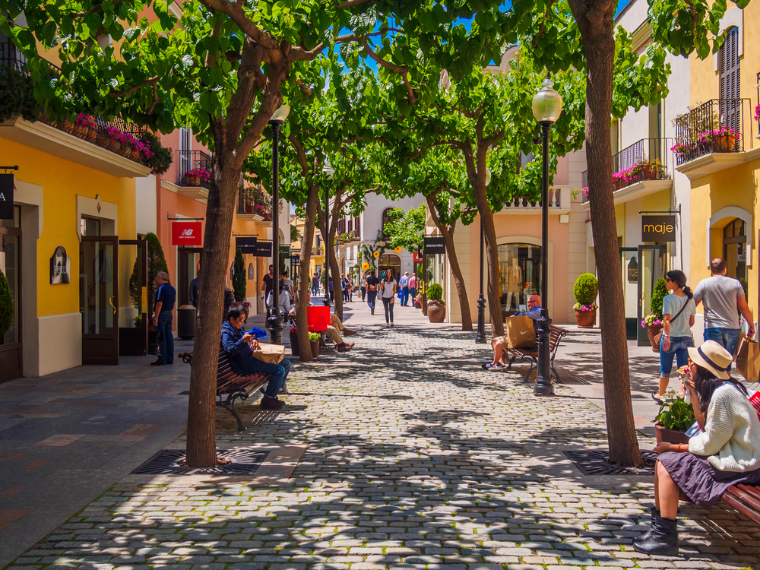 Take a break from the beach and spend a day with some retail therapy. La Roca Shopping Village is just 40 minutes from Barcelona and features more than 140 fashion boutiques. Shop 'til you drop in designer stores with up to 60% off the recommended retail price.  
27 – Baga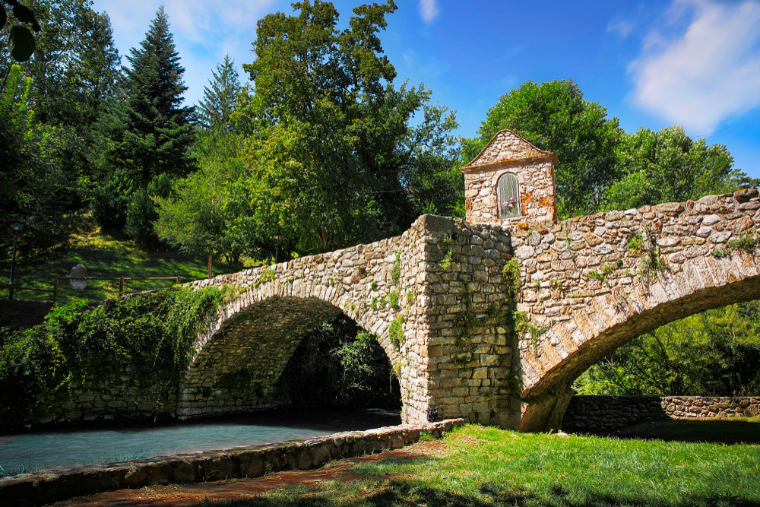 Combine your visit to Andorra with a trip to the city Baga, a mountainous city and capital of Alt Berguedà. Baga is just 20-odd miles from Andorra and features plenty of medieval marvels. Visit the historic church, take in the rustic stone walls, and enjoy everything this historic town has to offer. 
28 – Priorat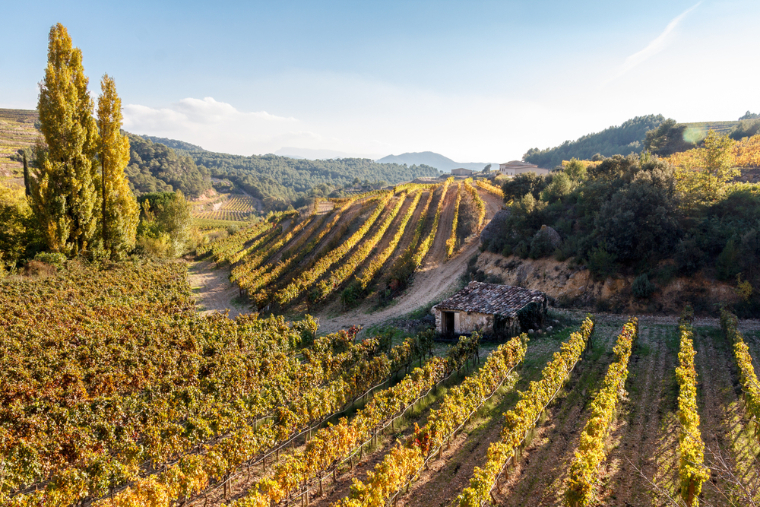 If wine tasting is high on your agenda, you can't go wrong with a wine-tasting session or two. This wine region features unique land with hidden hollows and fresh ravines. Sample local Catalan foods as well as a selection of wineries. Learn about how the wines are made and become a connoisseur in winemaking. 
29 – Siurana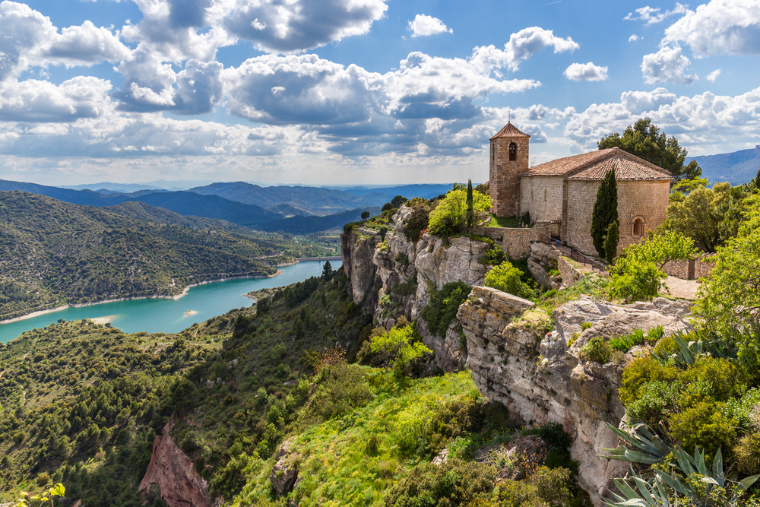 Siurana is a picturesque village perched on the side of a cliff. It's popular with rock climbers, though you don't need to be an expert on the rocks to enjoy Siurana's wonders. You can explore the area in its entirety in just one hour. You might even want to combine a Siurana tour with a jaunt to other nearby areas such as other parts of Tarragona. Learn about fascinating history of this area, which was the last Saracen Muslim stronghold in Catalonia. 
30 – Lloret de Mar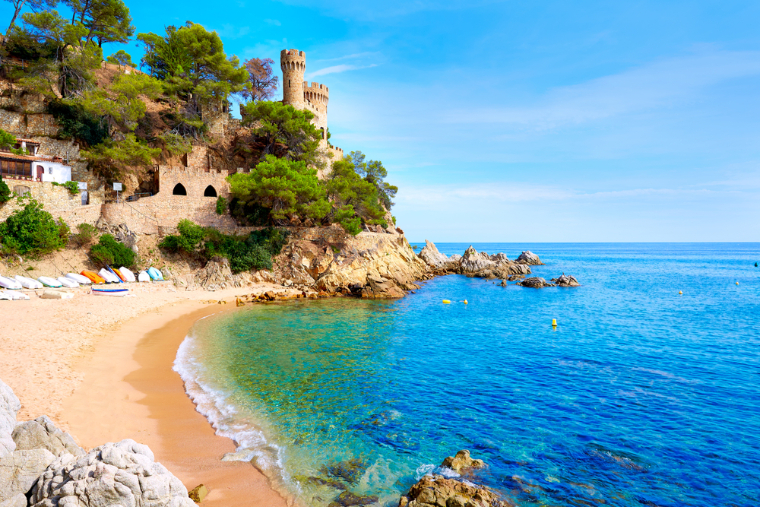 Party vibes are in full effect in Lloret de Mar, a coastal town in Costa Brava known for its vibrancy and Mediterranean beaches. Away from the nightlife, there is Water World, a water theme park; Santa Clotilde Gardens, a waterside garden with sculptures; and the Modernism architecture of the church of St. Roma. Make a half-day trip, or stay for the entire day and party into the night. 
31 – Cami dels Bons Homes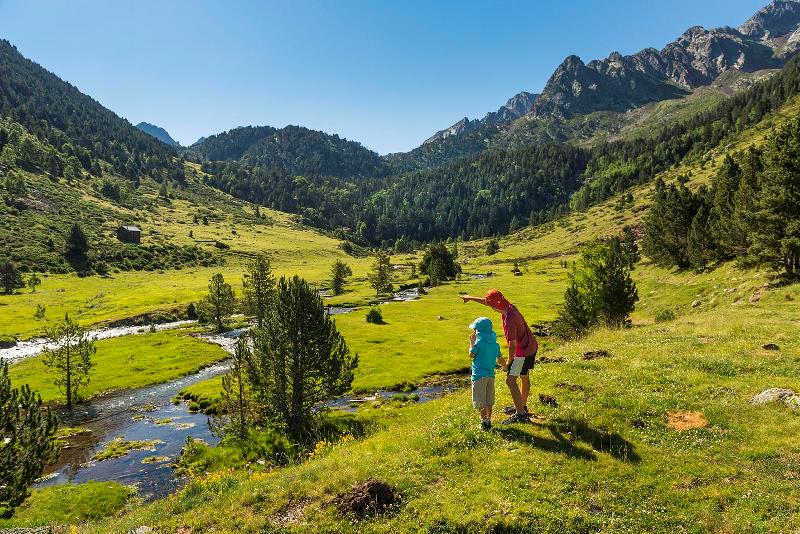 Get back to nature with a hike in Cami dels Bons Homes. Experience long, winding paths, local nature – including deer – and plenty of scenic sights that include the beautiful mountains of the Catalonia region. The paths on the hike are known as Cami dels Bons Homes, or, The Path of the Good Men, which is a homage to the migratory routes used by the Cathars upon their exile from France. 
32 – Cova Meravelles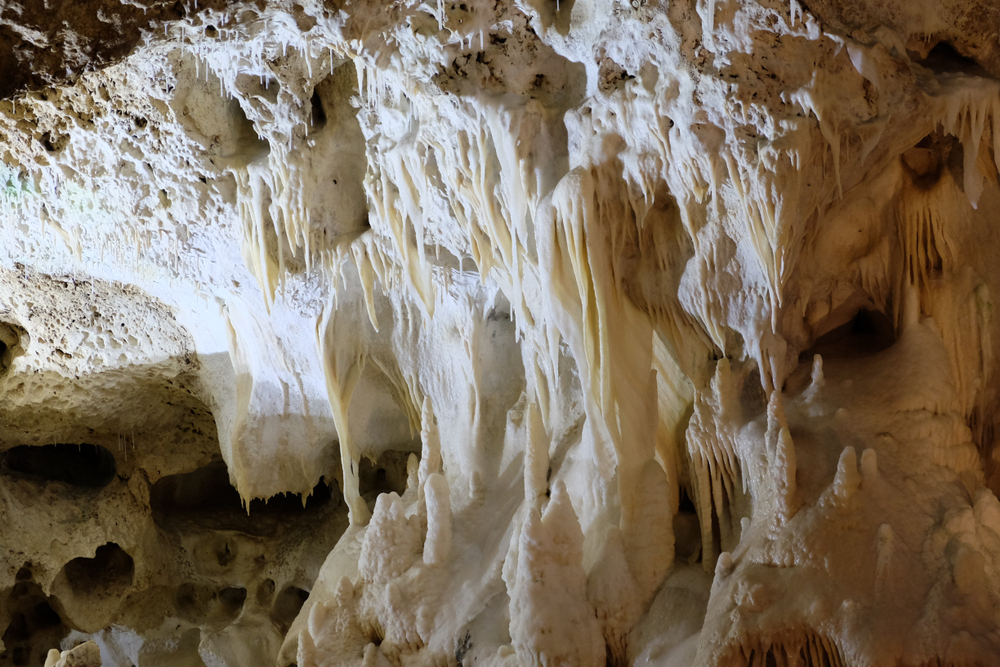 If you're taking a day trip from Barcelona to Tarragona, explore the Cova Meravelles, a collection of coves that date back to ancient times. Jump on a boat and explore the coves, then head to the local area of Benifallet for a spot of lunch before going back to the big city of Barcelona. 
33 – L'Escala and Sant Marti d'Empuries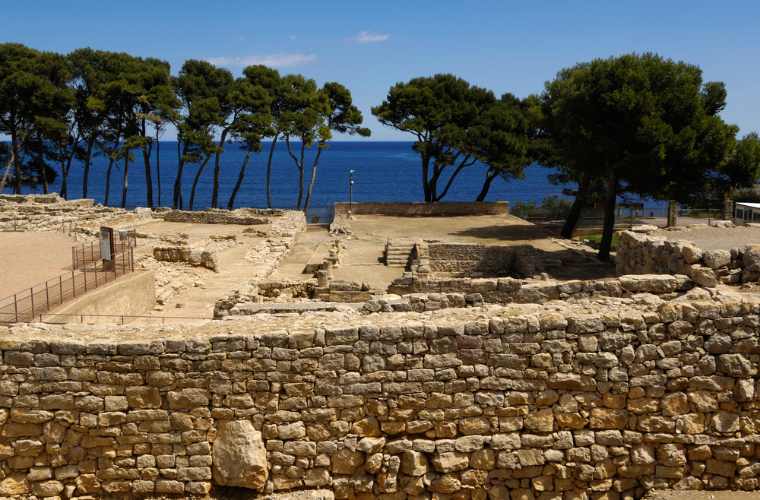 Located next to the ruins of Empuries, L'Escala and Sant Marti d'Empuries ex ancient Greek establishment that was established as far back as the 6th century BC. Enjoy the Ruïnes d'Empúries, the excavated ancient city that overlooks the sea; and a selection of local beaches, such as El Portitxol, Moll Grec, and Playa El Riuet. 
34 – Roses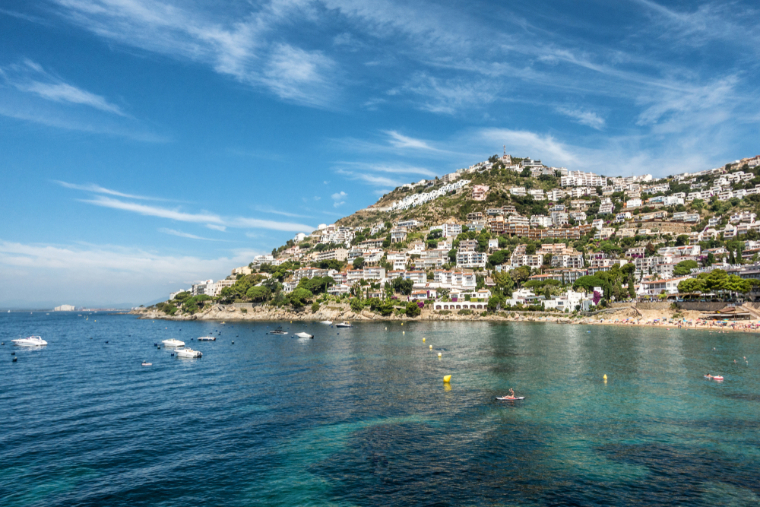 Roses, also known as Rosas, is a city in the comarca de l'Alt Emporia, in the Girona province. It's 170km north of Barcelona and 45km from the French border. The city's history dates back as far as the 4th century and today has a population of more than 20,000. There are sandy beaches, vineyards, and beautiful white buildings that represent a slice of paradise. The lighthouse is a must-see – it was constructed in 1884, and features a neoclassical style. 
35 – Empuriabrava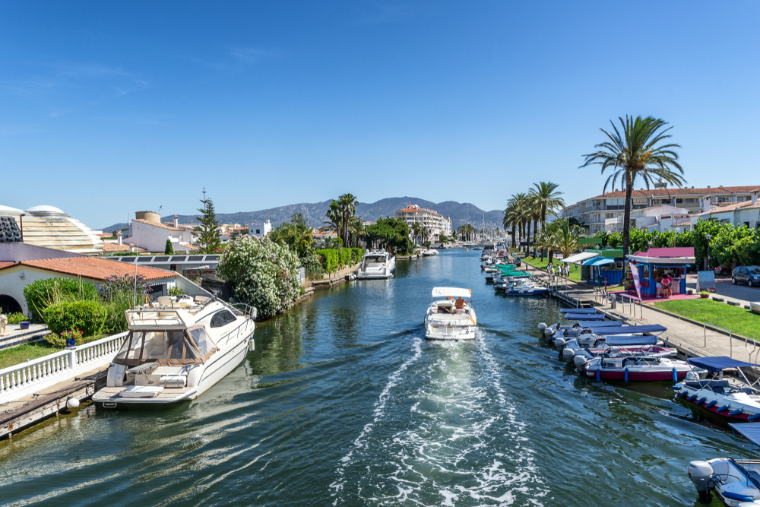 Originally built as a swamp, today Empuriabrava is a thriving tourist community in the Gulf of Roses. The town features more than 40 miles of canals and is surrounded by the Natural Park of the Aiguamolls de l'Empordà. It's the largest residential marina in Europe and has plenty of natural beauty. 
36 – Solsona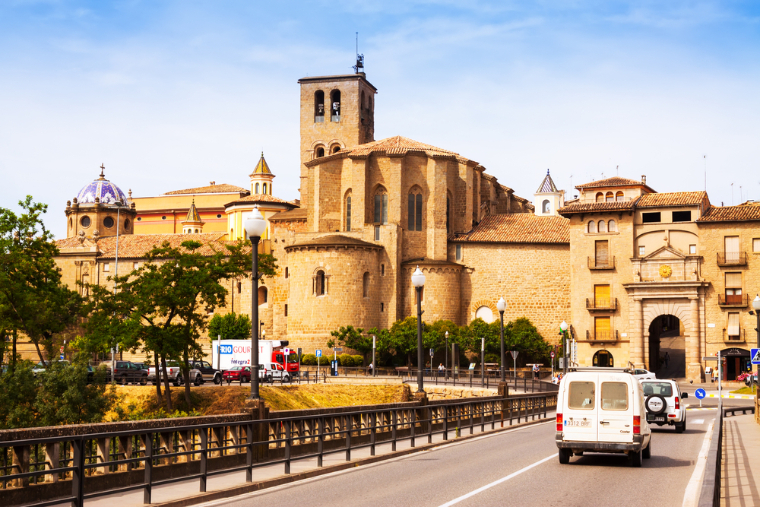 Discover the ruined ramparts and take in the tranquillity of the city in Solsona. Discovered in 1593, Solsona features a circular underground structure, known as the Ice Wall. The main square often features celebrations and carnivals, and the 14th century Vall Fred Tower. A day trip from Barcelona to Solsona will see you enjoying the quaint cafes and local markets as you wander at your own leisure. 
37 – Peratallada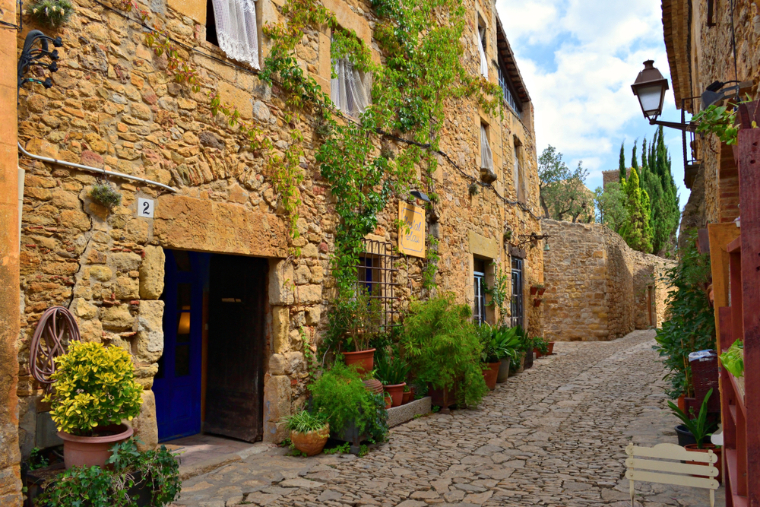 Combine days trips from Barcelona to Girona, Pals and Peratallada, the latter being one of Catalonia's prettiest villages. The village is carved of stone and features a surrounding moat. Wander a maze of narrow streets, and take plenty of pictures of historic towers from between the 11th – 14th century.  
38 – Els Hostalets d'en Bas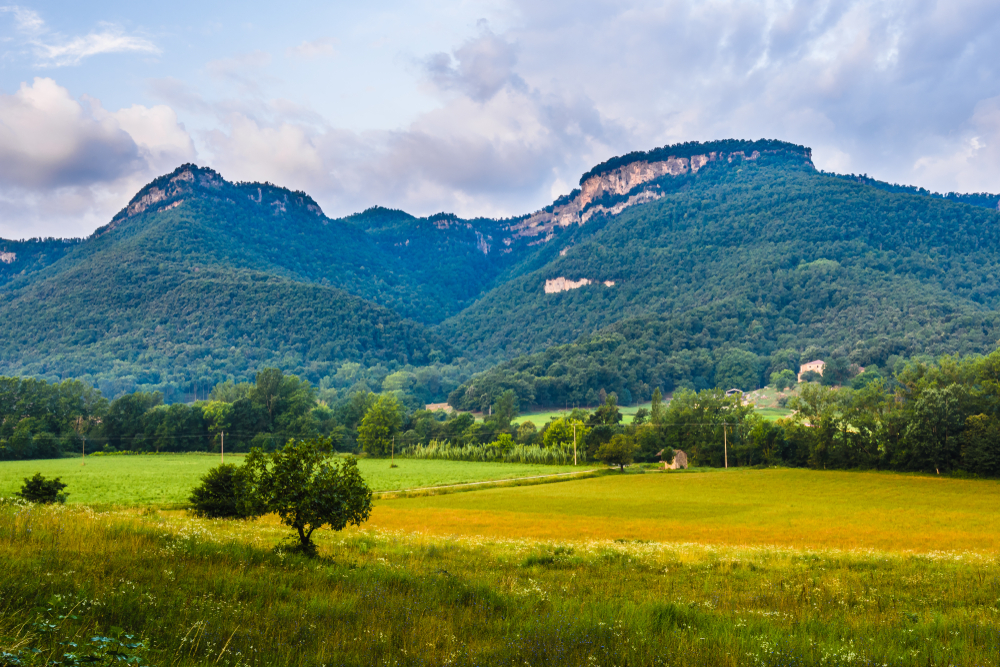 Els Hostalets d'en Bas is an 18th-century municipality in Vall d'en Bas, 100km from Barcelona. Known as a picturesque Catalonian town, Els Hostalets d'en Bas provides the opportunity for pleasant walks to the backdrop of cute buildings and mountainous backgrounds. Travel by bus, train or car, with journey times taking between 1hr30m and 2hrs. 
39 – Castellfollit de la Roca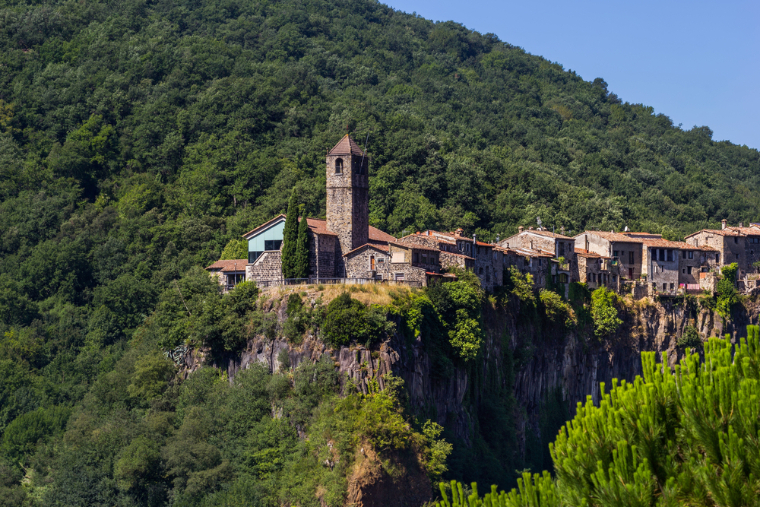 Catalonia has no shortage of beautiful towns, and Castellfollit de la Roca is no exception to the rule. Some of the best day trips from Barcelona will see you find stunning landscapes filled with mystical sights and colours that included the greenest of green settings. Visit the Broken Bridge, before exploring The Sausage Museum and the Museum of the Vietnamese War. With the city of Girona just 47km away, combine your day tour out of Barcelona and see two majestical places at once. 
40 – La Seu d'Urgell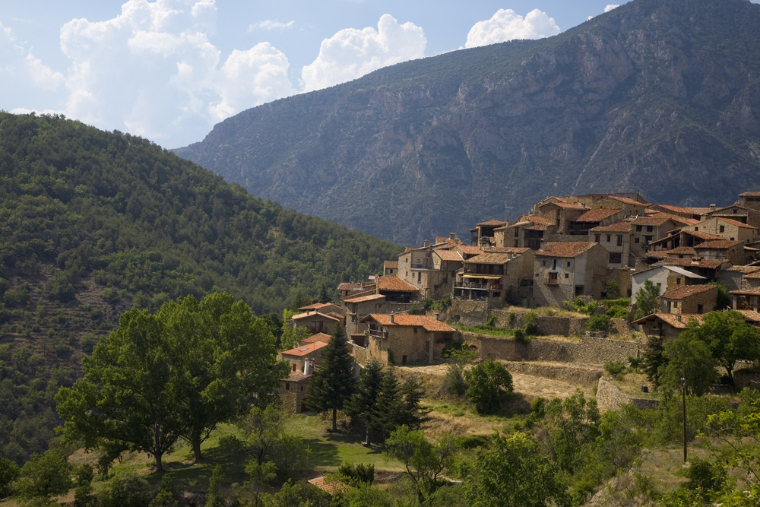 The main link between Pyrenees, Segre, and Andorra, La Seu d'Urgell is a Barcelona day trip that will see you enjoying shopping, restaurants, churches and mountain views. Other features include the Segre River, which flows through the county and Romanesque architecture and includes Cathedral of Santa Maria. Also discover San Serni of Tavèrnoles in Anserall and Sant Climent de Coll Nargó. All three are monuments of national cultural interest. 
41 – Zaragoza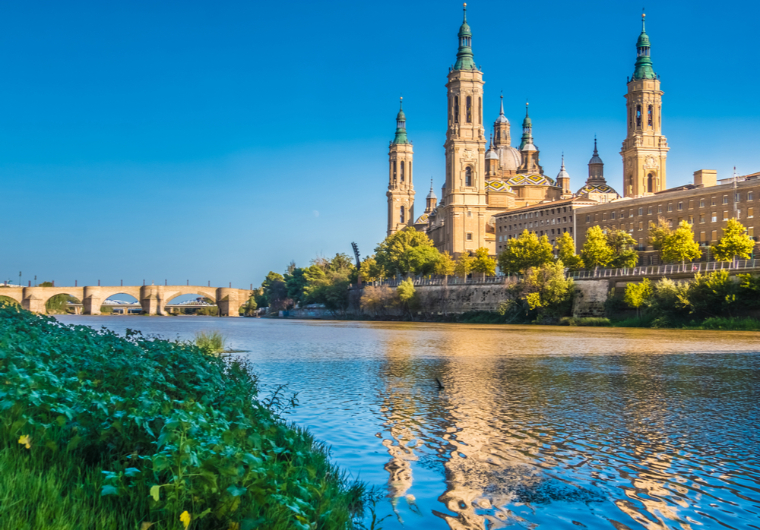 Overlooking the Ebro River, Zaragoza is full of classy architecture, and underground Roman remains. One of the exciting day trips from Barcelona, Spain's 5th-largest city is just over 250km from the capital of the Catalonia region, with trains taking around 1hr20m. The historic centre is almost traffic-free and features the 400m-long Plaza del Pilar, which sits alongside the famous basilica. 
42 – Campdevanol Waterfalls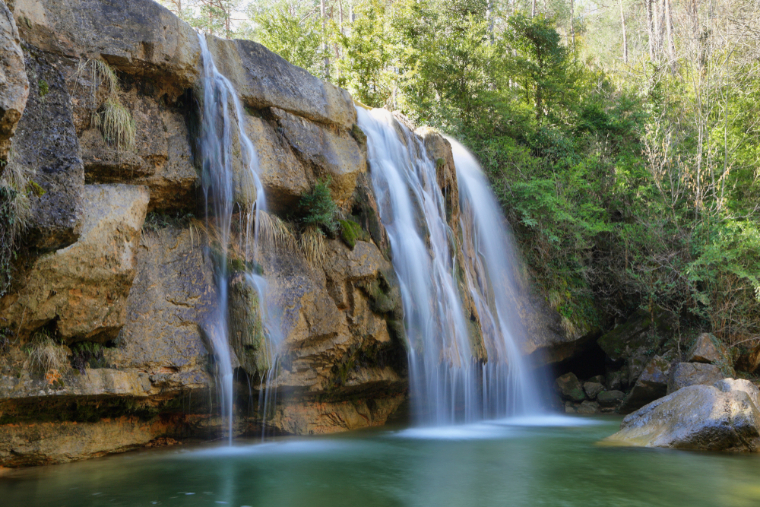 Just a couple of hours away from Barcelona, you will find the Campdevanol Waterfalls – a popular hike with refreshing waterfalls. The 10km hike takes around 3 hours and has 7 waterfalls. Refresh yourself by taking a splash in the waters and feel the waterfall trickle over you. 
43 – Escaladei Carthusian Monastery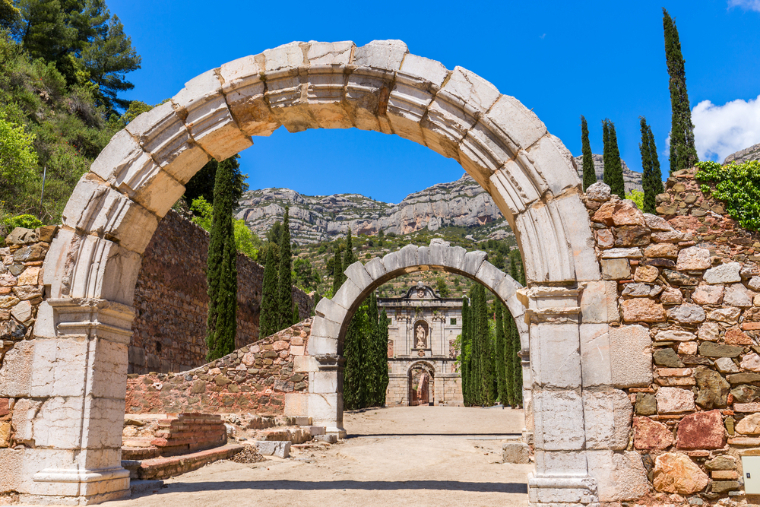 The Charterhouse of Scala Dei was founded in 1194 when King Alphonse I relinquished the lands to the Carthusian Order as part of the need to repopulate the territory. As a result, the order expanded to 3 cloisters and 30 cells. Today, you can explore the Escaladei Carthusian Monastery by walking around the compound and delighting in pretty churches. View Gothic cloister and cloister cells, which have recently been reconstructed. 
We hope that our list has inspired you to visit the places around Barcelona. If you need any further recommendation, please comment below. Enjoy your trip!