Jerusalem is one of the most sacred cities in the world that attracts religious pilgrims, avid history buffs and adventurous tourists alike.
Best known for its myriad of religious monuments that feature in the Bible, Jerusalem is home to harmonious Jewish, Christian, Armenian and Islamic communities.
A day trip to Jerusalem from Tel Aviv will help you gain an insight into some of the oldest and most famous stories on earth. Discover the life and death of Jesus Christ, and admire a range of spectacular ancient architecture.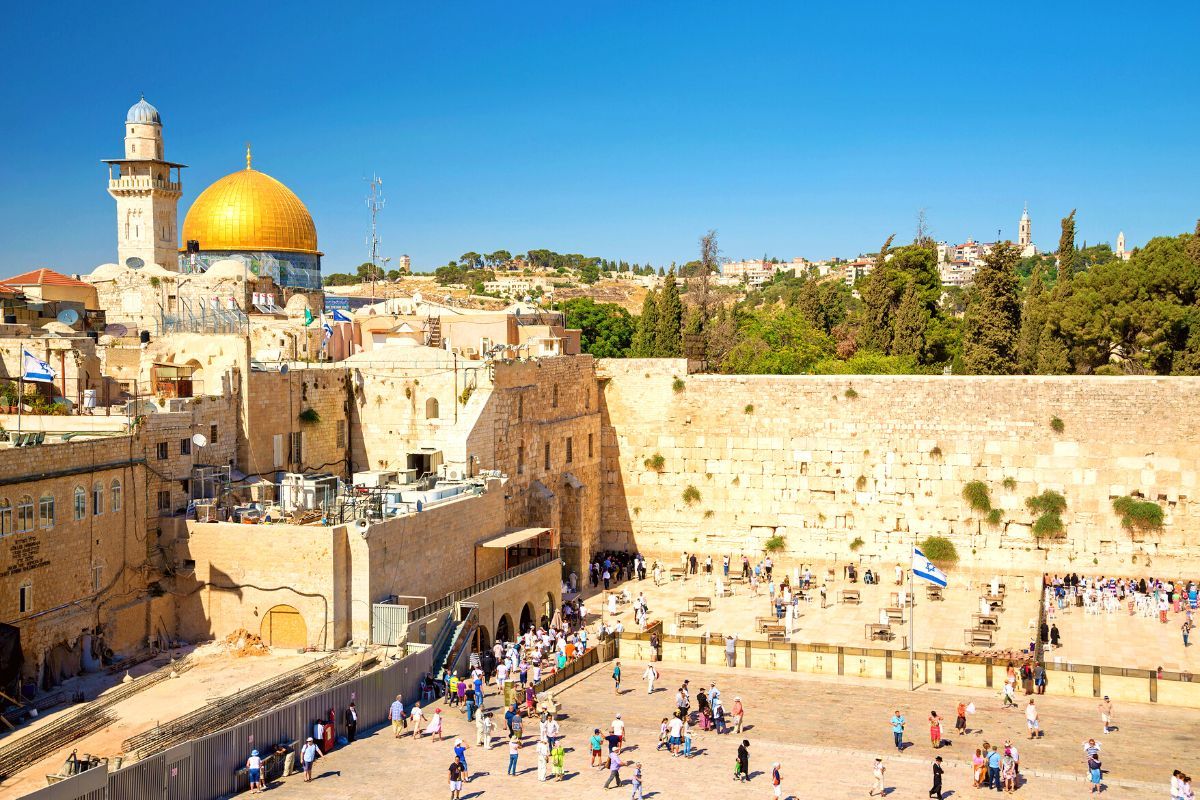 Here's all you need to know about Jerusalem, one of the most exciting day trips from Tel Aviv.
How to get to Jerusalem from Tel Aviv?
Jerusalem is located in the northern stretch of Israel, between the Judean Mountains and the Dead Sea. It is approximately 70 kilometers from Tel Aviv.
From Tel Aviv to Jerusalem by car
The journey to Jerusalem by car from Tel Aviv takes around an hour and follows Route 1 west of the city. You'll follow this highway all the way to the Holy City.
From Tel Aviv to Jerusalem by public transport
You can also catch a direct bus from the Tel Aviv-Savidor train station to the Jerusalem Central bus station. The jaunt to Jerusalem takes approximately 50 minutes and costs less than US$5 per person for a ticket.
Guided tour to Jerusalem from Tel Aviv
Alternatively, you can participate in a guided excursion to Jerusalem. These day trips last around 10 hours, beginning between 6 AM and 9 AM. You'll either meet your guide at a designated spot in the city or enjoy a convenient hotel pickup.
What is the typical itinerary?
After traveling out of the metropolis that is Tel Aviv, most Jerusalem day tours head in the direction of the Mount of Olives. Here, you'll have the perfect opportunity to capture Jerusalem's Old City from above on camera.
From this panoramic viewpoint, you'll wander down into the city, stopping at several monuments associated with Jesus Christ, including Dominus Flevit Church and Gethsemane Garden.
You'll learn about each landmark's Biblical history before entering the Jewish Quarter. Traverse Jerusalem's charming streets, dipping in and out of several famed religious sites, such as the Western Wall.
You'll also wander through the Christian Quarter and may visit the Roman Cardo ruins.
Some Jerusalem day trips wrap up at Golgotha — the somber site of Christ's alleged crucifixion. Alternatively, you may participate in a tour that continues on to other landmarks, such as Bethlehem, the Dead Sea or Masada. After a full day of exploring Israel's highlights, you'll return to Tel Aviv.
What kinds of tours are available?
There are several different types of Jerusalem day trips to choose from, which will please archaeology lovers and God-seekers alike.
Guided tour to Jerusalem from Tel Aviv
Travel the short distance from Tel Aviv to the Holy City — Jerusalem — through the vast deserts of Israel. As you near the city, you'll ascend the Mount of Olives to gain a panoramic view of Jerusalem.
This mountain range is the site of a renowned Jewish cemetery and is known in the Bible as the place where Jesus ascended to heaven.
From your vantage point, you'll have a prime view of the City of David — regarded as the center of Jerusalem during the Bronze and Iron Ages.
Wander down the mount to the Roman Catholic Dominus Flevit Church, which features tombs dating back to the 2nd century B.C.
Reaching the base of the Mount of Olives, you'll happen upon the Christian pilgrimage site of Gethsemane — the garden where Jesus was supposedly arrested.
Step foot into the Jewish Quarter, lined with quaint stone buildings, and feast your eyes upon the Western Wall. Also known as the "Wailing Wall," this structure is one of the holiest sites in the city, where Jews have been praying since the 17th century.
Visit the mighty remains of the Roman Cardo, built by Hadrian in the 6th century, as well as the spot of Jesus' crucifixion — Golgotha.
Private tour to Jerusalem from Tel Aviv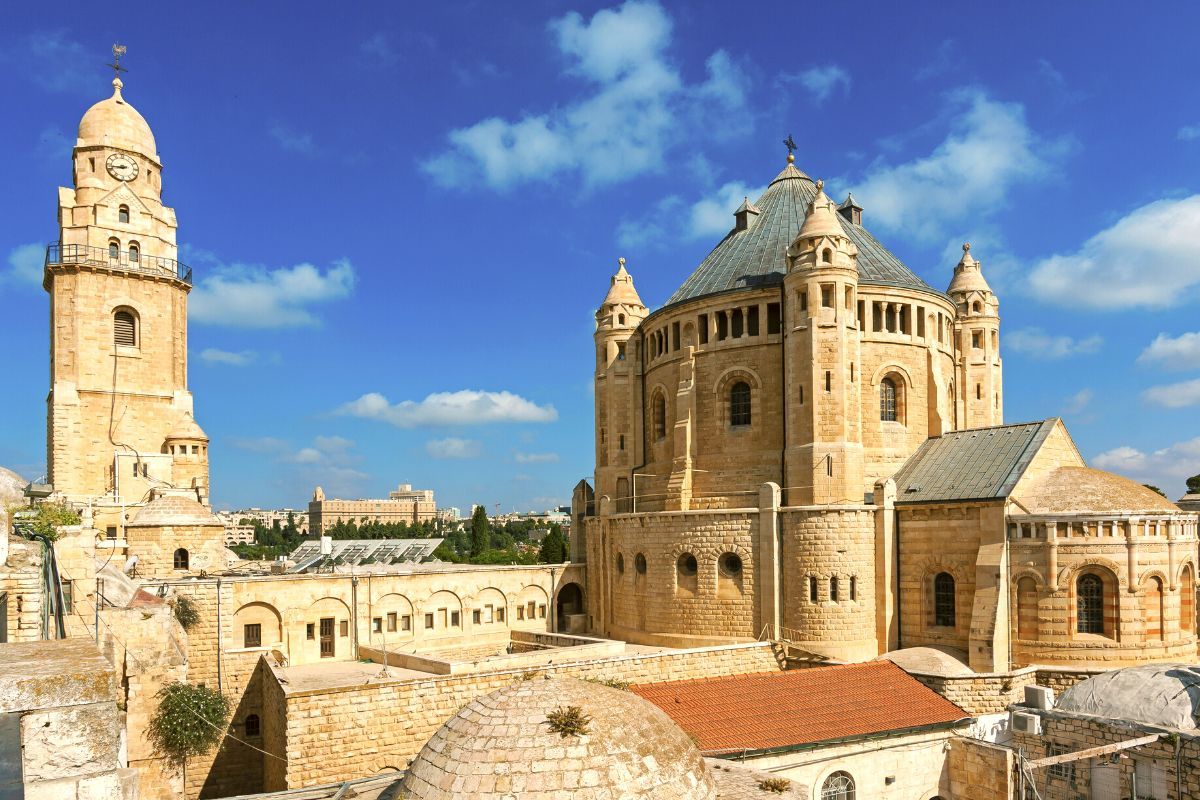 On a private day tour to Jerusalem, you'll benefit from the one-on-one attention of a knowledgeable guide. They can fill you in on the history and Biblical events of each landmark in Jerusalem.
Visit a plethora of the most fascinating monuments in the city, including the Mount of Olives, Dominus Flevit Church and the Church of All Nations. Here, you can see olive trees that have been thriving for thousands of years and may have been touched by Jesus' own hands.
Step inside the Grotto of Gethsemane — the resting spot of Jesus when he was in Jerusalem — and explore the Byzantine site of the Tomb of the Virgin Mary, where Mother Mary is venerated.
Other notable sights on this personalized Jerusalem day trip include the Old City, Jewish Quarter, Zion Gate and Western Wall.
Day trip to Jerusalem plus Bethlehem from Tel Aviv
Begin your day trip in Jerusalem, exploring the picturesque streets of the Old City and Jewish Quarter. As you work your way through the Holy City, you'll experience the Christian Quarter, Western Wall and the Church of Holy Sepulchre.
Continue on to the birthplace of Christ — Bethlehem — where Jesus spent his first night in a manger. Visit the Church of the Nativity — built in the 4th century upon the cave where Jesus is thought to have made his entrance into the world.
Once you've basked in the holy atmosphere of this significant place of worship, you'll travel to the Church of St. Catherine — a UNESCO-listed Franciscan monastery with a complex cave system underneath its floors.
Day tour to Jerusalem plus the Dead Sea from Tel Aviv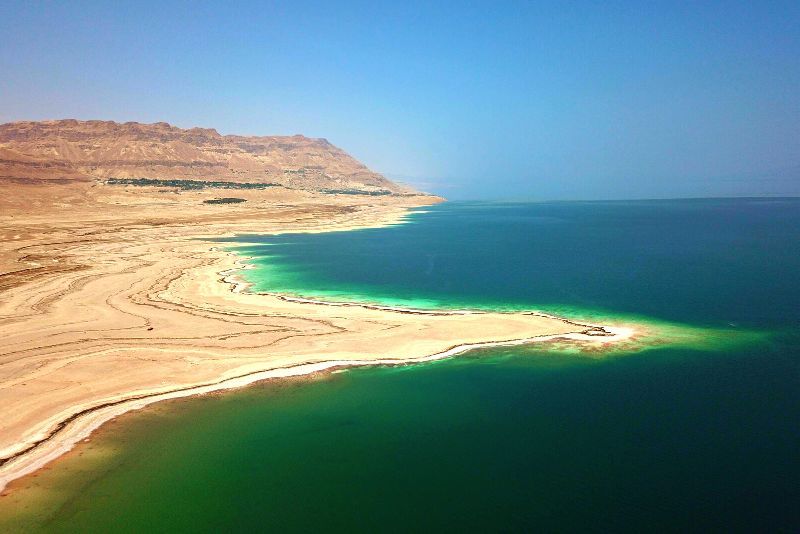 On this Jerusalem day trip, you'll explore the wonders of the Dead Sea. Begin your excursion by admiring the city from above at the viewpoint of Mount Scopus.
Visit the Islamic Dome of the Rock before passing by Gethsemane Garden, where, according to the Bible, Jesus prayed before his arrest. Once you've explored the main highlights of the city, you'll journey through the desertscape to the Dead Sea.
This natural phenomenon has such a high salt content that visitors can float on its surface without any effort. Take a dip in this stretch of water before returning to Tel Aviv where your Jerusalem day tour ends.
2-Day tour to Jerusalem plus Bethlehem and Masada from Tel Aviv
This 2-day trip will enable you to explore more of the rich history behind Israel's most celebrated destinations. On the first day, you'll follow a Biblical journey through the cities of Jerusalem and Bethlehem, walking in the footsteps of Christ as you learn about his birth, life, and death.
After spending the night in Jerusalem, you'll set off toward Masada National Park via the Good Samaritan Museum — home to a wealth of archaeological finds.
You'll have free time to explore the rocky terrain of the national park before visiting the remains of Herod's Palace. End your day trip by slipping into the warm waters of the Dead Sea.
How much does a day trip to Jerusalem from Tel Aviv cost?
The majority of Jerusalem day trips cost between US$90 and US$140 per person. Those that visit the Dead Sea or Bethlehem also fall into this price range.
On a day tour of this nature, you can expect to enjoy the services of a professional guide leading you through key monuments in the city.
Alternatively, those seeking a 2-day experience from Tel Aviv can visit Jerusalem, Bethlehem and Masada. Prices begin at US$450 per person, depending on your preferred accommodation.
They include breakfast, as well as a knowledgeable guide to escort you around the numerous attractions you'll see.
A private Jerusalem day tour costs approximately US$1,200 per group of up to seven participants. Broken down per person, you'll each pay around US$170.
What will you see and do?
Dominus Flevit Church
Located on the Mount of Olives in Jerusalem, the original Dominus Flevit Church is reported to have been so beautiful that it made Jesus weep as he anticipated its destruction.
Several religious monuments have been constructed upon the same ground over the centuries, all of which fell to ruin. The present church was built in the 19th century upon the foundations of these destroyed monuments.
In the 20th century, an ancient necropolis was found on the site, as well as an indigenous tomb. The Dominus Flevit Church is an elaborate example of Christian architecture, with its curved design granting visitors a spectacular view of Jerusalem.
Gethsemane Garden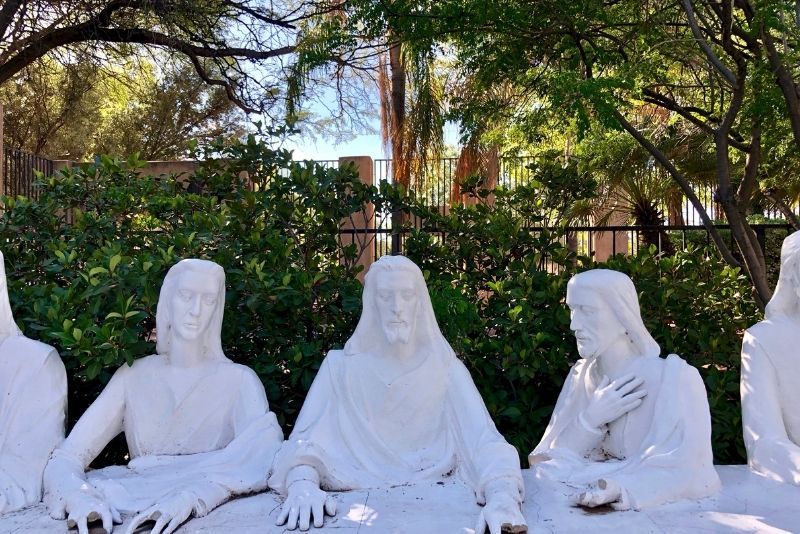 Gethsemane Garden is a holy site that has been associated with the Bible throughout history. According to scripture, Jesus was believed to have entered this garden to pray the night before he was crucified.
During this time of prayer, Jesus is reported to have asked for strength and for his suffering to be taken away, anticipating his death. On this night, Jesus was betrayed by Judas and arrested, before later being crucified.
As such, Gethsemane Garden has long been celebrated as a place of spiritual and religious significance. Throughout the centuries it has symbolized sorrow, faith and hope for the many visitors who travel on a pilgrimage to Jerusalem, seeking forgiveness or holy guidance.
Outside of its religious significance, Gethsemane Garden houses some of the oldest olive trees in existence, which have been estimated to be around 2,000 years old. Visitors can appreciate the stillness of the garden, take a wander through its fascinating selection of trees or pause for a moment of prayer and reflection.
Western Wall
The Western Wall, also known as the Kotel, is an important place for Jewish people all over the world. It is located in Jerusalem's Old City and is a remnant of a temple constructed by King Herod over two thousand years ago.
This all serves as a true testament to the cultural and historical significance it holds. People of all faiths are drawn to this historic site, which has stood tall through wars and invasions since its building began in 19 B.C.
It gains its nickname — the Wailing Wall — from the Jews who openly wept at the destruction of the ancient temple, which served as the center of the Jewish religion.
When is the best time to visit Jerusalem?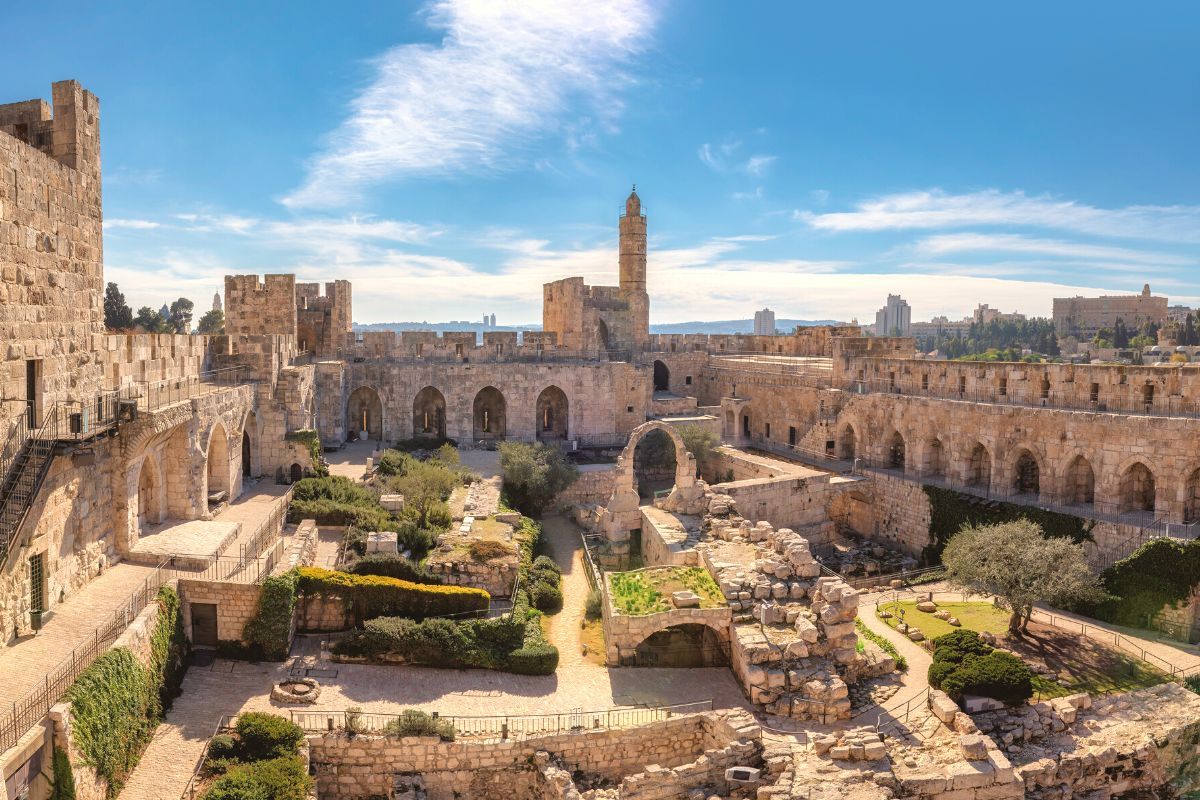 The best time to plan a day trip to Jerusalem is from April to May and September through November. During these months, the weather is warm, averaging between 20 and 25 degrees Celsius.
There are also fewer tourists lining the city, allowing you to have a more spiritual and meaningful experience.
If you wish to experience the celebration of Passover, consider planning your excursion to line up with the annual festival, which takes place every April.
Are there any tours to Jerusalem from other cities in Israel?
Yes, there are tours departing from other cities in Israel:
Travel tips
All visitors to Jerusalem are expected to dress modestly at its vast array of religious sites. This includes concealing your knees and shoulders. Women may be required to wear a head covering at certain sites.
Saturdays are considered as Shabbat for practicing Jews and as such, all shops, and restaurants are closed on this day.
Most Jerusalem day tours include a walking tour. Ensure you wear comfortable shoes to get the most out of your excursion.
Tipping is not mandatory, but is expected in all of Jerusalem's restaurants. Bear this in mind if you're sitting down for lunch in the city and consider tipping between 10%, and 15%.