Day trips to Alcantara offer a one-of-a-kind experience that is often overlooked by visitors. You can expect to mingle with the locals who come to this fascinating slice of Sicilian heaven to cool off during the balmy summer months.
Skirting the iconic Mount Etna volcano, the Alcantara valley is a popular jaunt for hiking enthusiasts, sunbathers, and those looking to regather their energies in the flowing waterfalls.
If any of the above is you, then you'll love embarking on an adventurous day tour to Alcantara from Taormina.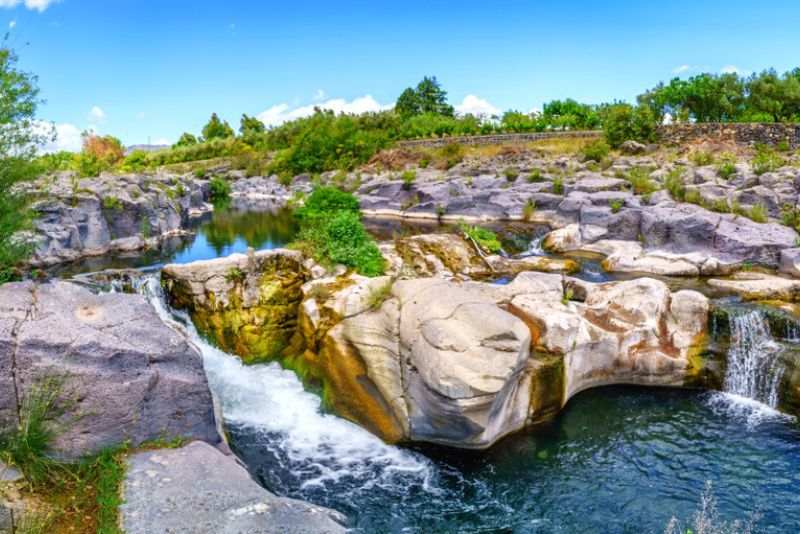 You will find below everything you need to know about Alcantara, a fantastic destination for day trips from Taormina.
How to get to Alcantara from Taormina?
You'll find Alcantara on the east coast of the island of Sicily. This beautiful valley and gorge are around 20km away from Taormina. As such, they make for a popular day trip from the hilltop town.
From Taormina to Alcantara by car
Car rentals or taxi services are available in Taormina for those looking for the fastest route to Alcantara. Getting there by driving is fairly straightforward and will take around 40 minutes, with the majority of the route taking place along the Strada Statale SS185 highway headed towards Francavilla di Sicilia.
The biggest downsides of driving to Alcantara are the cost, as well as the fact that during the peak season roads can get quite crowded and can take up to 1 hour to arrive at the valley and gorge.
From Taormina to Alcantara by bus
You can also travel by public transport but this is more complicated as direct buses from Taormina to Alcantara river park are not available. Nevertheless, traveling by bus is an option for those looking to save pennies and for visitors seeking a scenic journey.
You can reserve a coach from the Taormina Capotaormina station to Motta Camastra Vila Roma. From there, it's a 35-minute walk to Alcantara. Alternatively, you can hail a cab for the last leg of the journey.
Guided tour to Alcantara from Taormina
Organized tours from Taormina are one of the best ways to discover Alcantara. This is a good option for those looking for convenience, where you won't need to worry about planning your trip piece by piece.
With a trusty expert guide in hand, you'll be sure to discover Alcantara's top sights, as well as the secret spots only the locals know about.
How much does the entrance ticket to Alcantara cost?
Below you'll find the ticket prices for a visit to Alcantara gorge below:
Adult: €13
Seniors (65+): €11
Children (6-12): €6
Children (under 6): free
Body rafting: €39
River trekking: €39
What is the typical itinerary of a day tour to Alcantara from Taormina?
An Alcantara day trip from Taormina typically starts with an early morning pickup, either from a central meeting point designated in advance or from your accommodation.
From there, you'll meet your knowledgeable guide before embarking on your adventure in a comfortable air-conditioned mini-bus or coach.
During your journey, you can expect to visit some of the region's most popular attractions, including the immense Mount Etna and the stunning Alcantara gorge natural wonder. Some tours also include a restaurant lunch meal during your excursion.
What kinds of tours are available to go to Alcantara?
There is a range of tours available depending on how long you would like to spend in the region and the number of attractions you want to visit during your trip.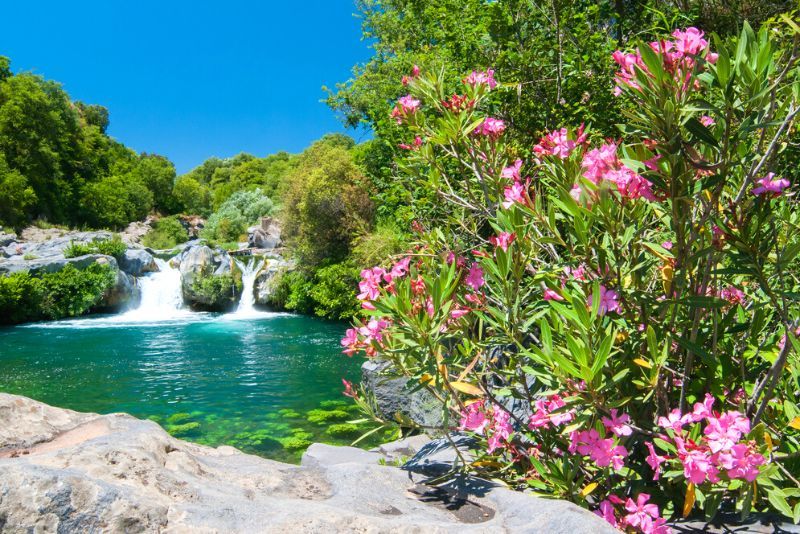 Here are some examples of the types of tours available from Taormina to Alcantara:
Small-group guided tours to Alcantara from Taormina
Guided tours to Alcantara offer the most budget-friendly way to explore the area and ensure that you'll visit all of the region's natural wonders. Tours of this nature typically last a full day, allowing you to have ample time to marvel at the stunning volcanic landscapes.
You can expect to visit Mount Etna – one of the world's most carefully monitored volcanos, along with different corners of the Alcantara River where luscious natural pools and flowing waterfalls await.
This is a small-group excursion, allowing for a more pleasant and relaxed experience among the guests.
Private tour to Alcantara from Taormina
If you're seeking to embark on an adventure of Alcantara in style, then a private tour from Taormina will tick all the right boxes.
From Taormina, you'll cruise in a comfortable, air-conditioned vehicle reserved exclusively for your party. You will enjoy the company of a personal guide who will show you hidden gems of the Alcantara gorges and offer you tips along the way.
Private tours are typically recommended for friends and family but are also an option for couples seeking an intimate experience.
Day trip to Alcantara plus Randazzo from Taormina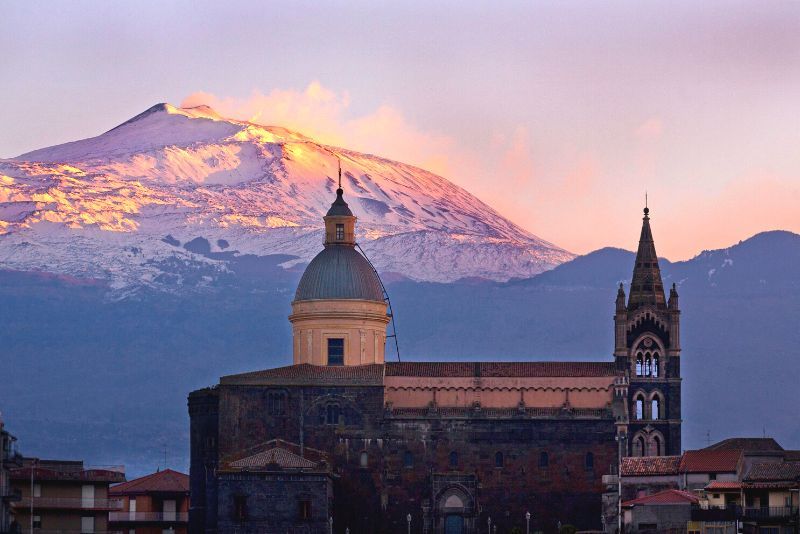 On this excursion, you'll visit the notorious Mount Etna – awarded UNESCO World Heritage status in 2013, as well as the emblematic medieval town of Randazzo and the Alcantara gorges.
You'll marvel at the cathedral composed of Lava stone in Randazzo before venturing up towards the active yet currently dormant volcano. After you've finished sightseeing, you'll pause for a local restaurant meal and savor an Italian wine tasting.
How much does a tour to Alcantara from Taormina cost?
Alcantara tours can start at as little as €45 per person, which often come with a multilingual guide and pickup and drop-off from a central meeting point. Some tours depart from the Bus terminal in Via Pirandello.
The most popular small-group day trips from Taormina cost approximately €95 per person and usually include a full-day guided excursion of Mount Etna and the gorges, round-trip transportation, cave equipment and food tastings.
Private tours of Alcantara start at €170 per participant and include a half-day private tour with an English-speaking expert guide, hotel pickup and drop-off, round-trip transportation by private vehicle and refreshments and snacks.
A day trip to Alcantara plus Randazzo from Taormina costs around €45 per person for a full-day tour and an air-conditioned vehicle and an expert multilingual guide is provided.
What will you see and do on an Alcantara day trip from Taormina?
Alcantara Gorges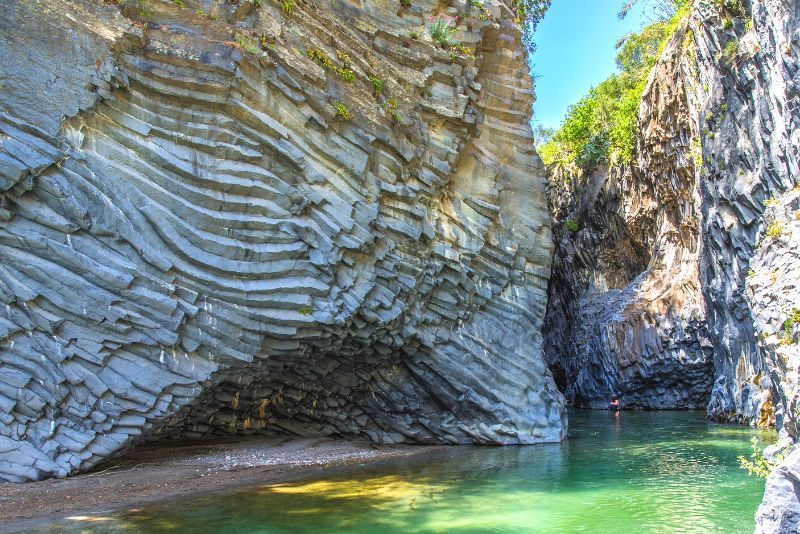 One of Taormina's top attractions, this series of whirling lava gorges and swirling rapids is a pleasant spot on a balmy, summer's day. Visitors come to swim in the cool waters of the river, body raft, canoe, partake on a hiking tour and sunbathe on the rocks.
Some may be put off by the flocks of crowds during the peak season, but if you're with a knowledgeable guide, there are some quieter spots to be found.
Mount Etna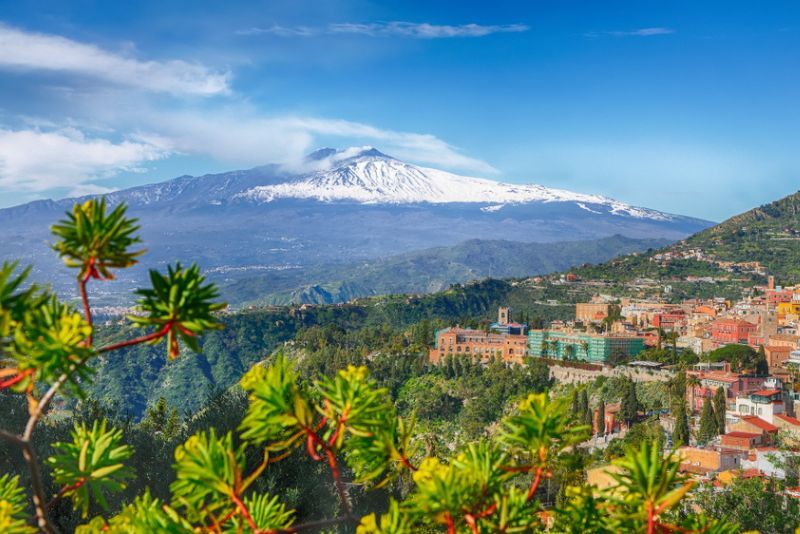 No visit to Alcantara is complete without marveling at one of the world's most famous volcanoes. At more than 3,300 meters high, its Italy's highest mountain on the southern side of the Alps and forms part of the Parco dell Etna National Park.
On a number of guided tours, you can expect to explore Mount Etna's incredible lava caves, as your knowledgeable guide tells you tales of this mythical Italian natural wonder.
Take a ride on the Circumetnea train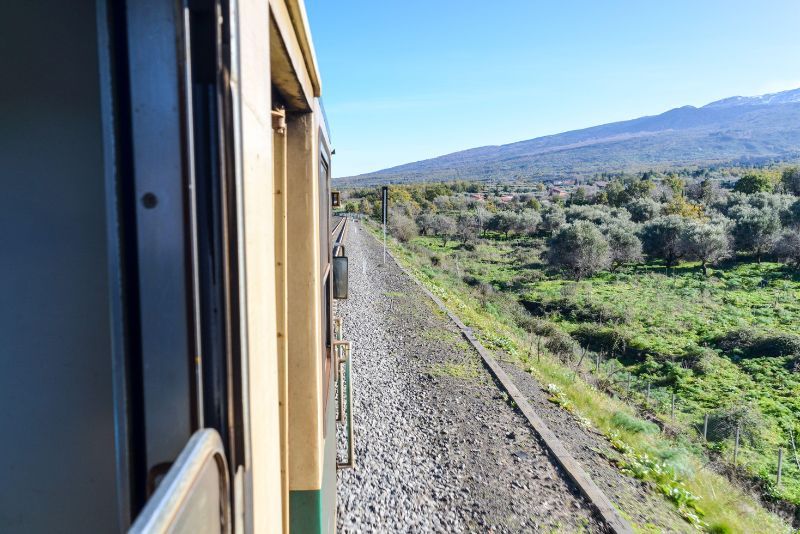 For a once in a lifetime adventure, experience the Circumetnea train – a traditional train that travels along the foot of the Mount Etna volcano before reaching up to Adrano in the south.
It's a worthwhile journey to explore the magnificent volcano, whilst also discovering slices of Sicilian natural countryside heaven along the way.
When is Alcantara open over the year?
The Alcantara river park is open for most of the year, except November to March when the gorges and river are closed. However, it is still possible to explore the valley and the medieval villages dotted along the hills by the river during this time.
What are the opening times?
The Alcantara gorges are open every day from 8 AM until 9 PM.
When is the best time to visit Alcantara?
The summer season is a popular time of the year to visit Alcantara as it's guaranteed that all tours will be in operation. At this time, you'll also have the opportunity to go wild-swimming in the swirling natural pools and majestic waterfalls.
However, if you're looking to avoid some of the peak summer crowds then spring (March to June) is also a pleasant time of the year to visit the gorges and valley where sunshine is common.
Travel tips
Make sure you wear comfortable walking boots for traversing the rugged rock formations.
Ensure that you wrap up in warm clothing if you choose to travel in the cooler months.
Packing swimwear for tours during the summer months is advised.