Stretched across an area of 3,500 square kilometers in the South Pacific Ocean, French Polynesia is a true island paradise with idyllic beaches and a breathtaking landscape. Take the time off to venture into the sea and you will be rewarded.
Below the turquoise surface, there is another world full of life and wonders, awaiting to be explored. Booking a snorkeling tour in French Polynesia must be on every visitor's agenda when visiting this corner of the world.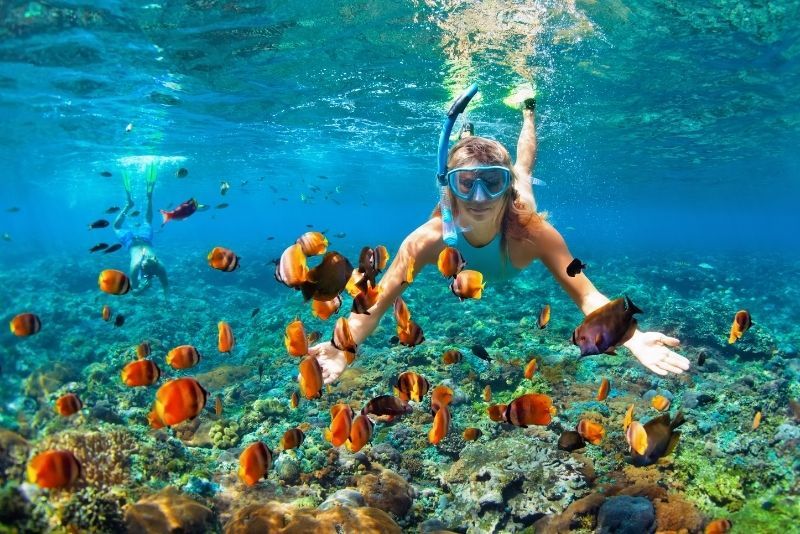 Here is everything you need to know about snorkeling, one of the most captivating and memorable outdoor activities in French Polynesia.
What are the best snorkeling tours in French Polynesia?
Moorea lagoon snorkeling tours
One of the best ways of discovering the wonders of life under the waves is by booking a snorkeling tour in French Polynesia.
After you climb aboard the catamaran, you will head out into the lagoons, where you spend the day snorkeling with all sorts of tropical fish.
In some cases, the snorkeling tours include snacks and drinks (both soft and alcoholic), as well as lunch. When the tour concludes, the tour operator will return to shore and then drive you back to your hotel.
Snorkeling tours with sharks and stingrays
For the more curious, some snorkeling tours may also include the option of swimming with manta rays and sharks.
Don't worry, these fish will cause you no harm, so long as you take the necessary precautions and adhere to the tour guide's instructions.
If you would like an even more thrilling experience to combine your excursion out in the ocean with or even whale and dolphin watching.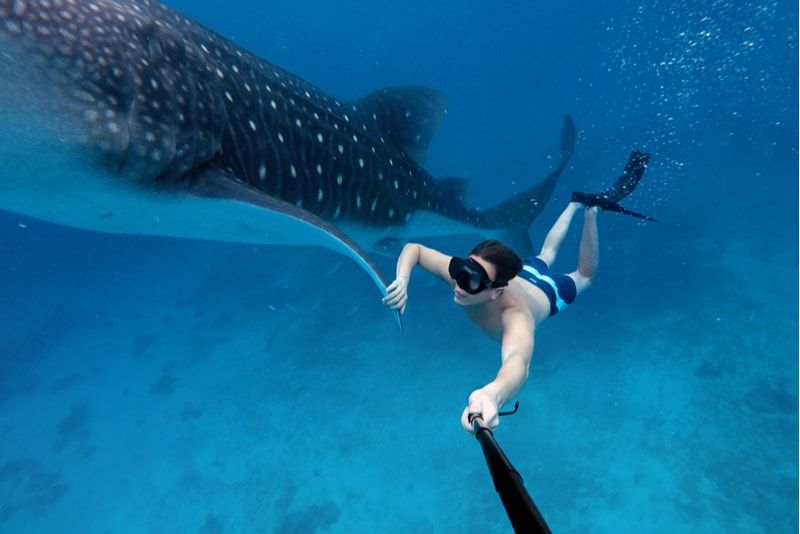 Snorkeling and boat tours
If you would to get a better impression of the waters in French Polynesia, consider booking a snorkeling and boat tour. With the help of your guide, you will explore many impressive spots around the islands.
During your trip out in the sea, you will get to swim and dive to explore the aquatic paradise. These snorkeling and boat tours can either take place on a catamaran or a sail boat.
Private snorkeling tours
For an even more relaxed and laid-back excursion in the French Polynesian lagoons, consider booking a private snorkeling tour. These are ideal if you would like to avoid crowds and would like greater flexibility on your day out at sea.
How much do snorkeling tours in French Polynesia cost?
For a snorkeling tour in French Polynesia, expect to pay between US$40 and US$120 per person. The cost depends on the size of the group, duration, destinations and provision of meal and drinks.
Snorkeling tours that include swimming with manta rays and sharks or whale and dolphin watching can cost between US$80 and US$120 per person.
For a snorkeling tour that also includes a cruise and boat tour, the cost typically ranges from US$100 to US$200 per person. A snorkeling tour that combines a jeep tour in French Polynesia usually costs about US$180 per person.
Private snorkeling tour cost US$250 per person or over US$1,000 per group of six persons. The final price depends on the vessel, the length of the tour, the size of the group, the areas visited and other services provided.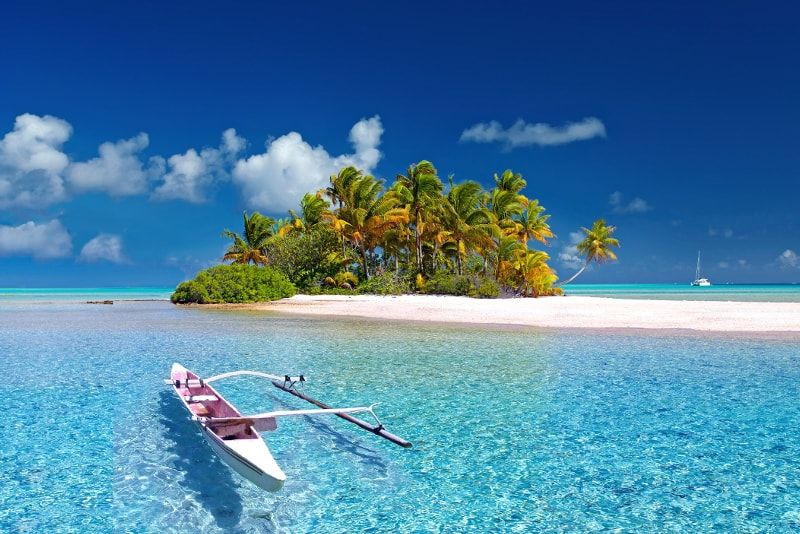 What is included?
The necessary snorkeling equipment is provided on all snorkel tours in French Polynesia. Depending on the tour you book, you may also receive bottled water and snacks. In some cases, you may also have the option for lunch on the boat.
A hotel pickup and drop-off service is often included in the price, and a guide will be provided to ensure the day runs smoothly.
Where does it start?
The departure point of the snorkeling tour in French Polynesia depends on the island that you are visiting.
Snorkeling tours generally offer a pickup service from most hotels, however, in case your accommodation is not covered, you will be informed of a meeting point.
How long does it last?
A snorkeling tour in French Polynesia can last from as little as 2.5 hours to an entire day. The length will depend on the locations that you visit, as well as additional activities that may be included in the tour.
When is the best time for a snorkeling tour in French Polynesia?
The best time for a snorkeling tour in French Polynesia is between April and November, when the water temperature is lower and the visibility is better.
July through August tends to be the busiest period, so for a more relaxed visit, opt to travel before or after these months.
Are there any combos available with snorkeling tours in French Polynesia?
By combining a snorkeling tour with an off-road jeep excursion, you will get a more comprehensive experience in French Polynesia. These tours are split in two parts and usually begin with a drive in the mountains by jeep.
After you have enjoyed the view and explored the countryside, your tour will continue in the afternoon in the sea. As with all snorkeling tours, you will get to swim in the ocean and discover the wonders that lie beneath the waves.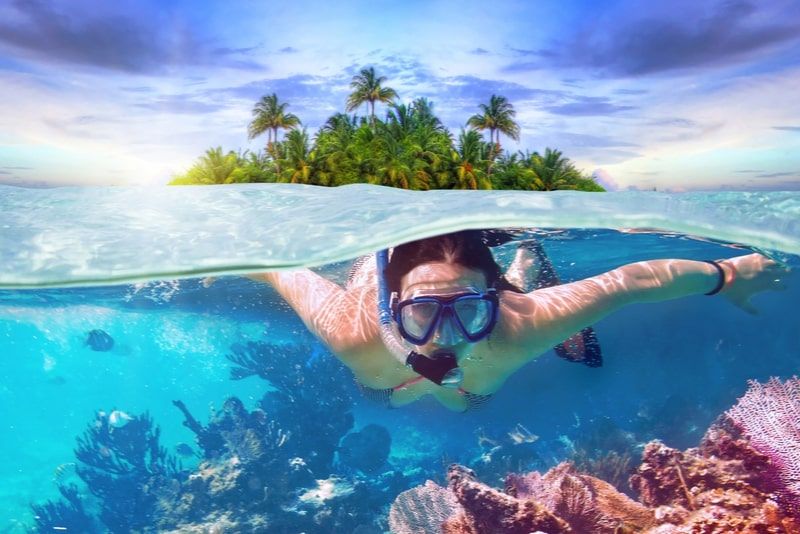 Is it safe?
Snorkeling tours in French Polynesia are safe, provided you have a moderate physical fitness level.
These activities may not be suitable for pregnant women, people with mobility impairments, heart problems or other serious medical conditions.
Are children allowed?
Children are generally allowed on snorkeling tours, but you will need to confirm with your tour provider on specific age restrictions.
What happens in case of bad weather?
By and large, the weather is predictable and reliable during the summer months. In the event, however, that the weather conditions are not favorable, your snorkeling excursion will be rescheduled.
If the new date is not suitable, you may claim a refund.
Which other water activities can be done in French Polynesia?
Travel tips
If your mobile phone claims to be waterproof, test it out before your snorkeling tour.
While on the boat, don't forget to stay hydrated and use sunscreen lotion.
Although snorkeling equipment is provided, towels are not, so don't forget to pack one.
Snorkeling tours are rather popular, so make your booking as soon as possible to avoid disappointment.