A trip to Syracuse isn't complete without going on one of the many boat tours along the beautiful coastline, caves and coves of Ortigia Island.
The island represents the historical center of Syracuse and is renowned for its Greek heritage, elegant piazzas and unique marine grottos. Take to the sparkling Ionian Sea and spend some time on the water during your next trip to Italy.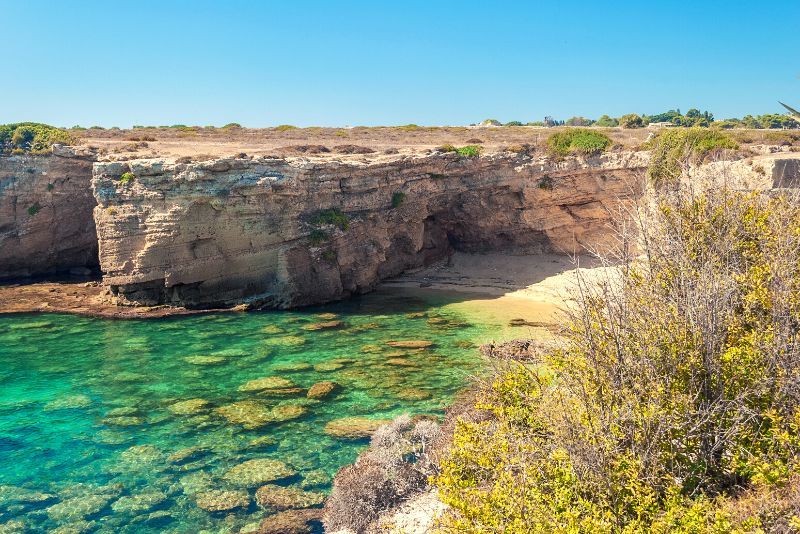 What are the most popular boat tours in Syracuse, Sicily?
Most boat tours in Syracuse include a stop at the stunning marine caves and grottos, which are dotted around the coastline. You can also opt to see historical landmarks from the comfort of the boat, such as the mythical Arethusa Fountain Spring and the imposing Maniace Castle.
Boat tour of Ortigia including sea caves, South Coast and Gulf of Syracuse
Visit the north coast of Syracuse, the stunning sea caves and huge historical port, and discover the beautiful south coast with its crystal clear water. You can swim and enjoy snorkeling at Arenella Beach, among other exciting spots.
Ortigia boat tour with marine grotto
Discover the island of Ortigia and its many historical landmarks. You'll see the Arethusa Fountain and the Maniace Castle, and explore numerous sea caves, including the heart-shaped Cave of Love.
Syracuse and Ortigia sunset cruises with aperitif and platter
Explore the caves and coves of the island, and marvel at the spectacular sunset. Visit the Capuchin Cove, the Coral Caves and the Stalactite Grotto before enjoying a delicious food platter and sipping on a cold glass of Prosecco. You can also swim near Maniace Castle on this tour. Experience Syracuse in comfort and style.
Private walking tour and boat trip in Ortigia
Combine your boat excursion with an interesting walking tour in Ortigia. You'll be accompanied by a knowledgeable guide who will share facts about the history of the island.
An authentic traditional lunch is included, and you'll be able to see Ortigia from the water on a boat tour. Enjoy one of the best boat trips in Syracuse and make your trip to Sicily memorable.
Romantic boat tour in Ortigia by night
If you're looking for romantic boat excursions in Syracuse, this Ortigia night boat tour is the perfect choice. See the area from a different perspective and watch the glittering lights of the town at night. You'll get to enjoy local snacks on board and drinks are available for purchase.
Boat rental without a license in Syracuse, Sicily
Explore the beautiful coastline of Sicily independently with this boat rental service. The vessels are up to 5.50 meters long and can be rented without a license. You'll receive a full safety briefing and will have to pay for the cost of fuel. Of course, the provider will be happy to recommend areas to go for your trip.
Day on a sailing boat in Sicily
If you've always wanted to experience life on a sailboat, this is the perfect opportunity. Sailing in Syracuse through the pristine waters off the shore will be an incredible experience you won't forget. Swimming stops and a traditional lunch are included.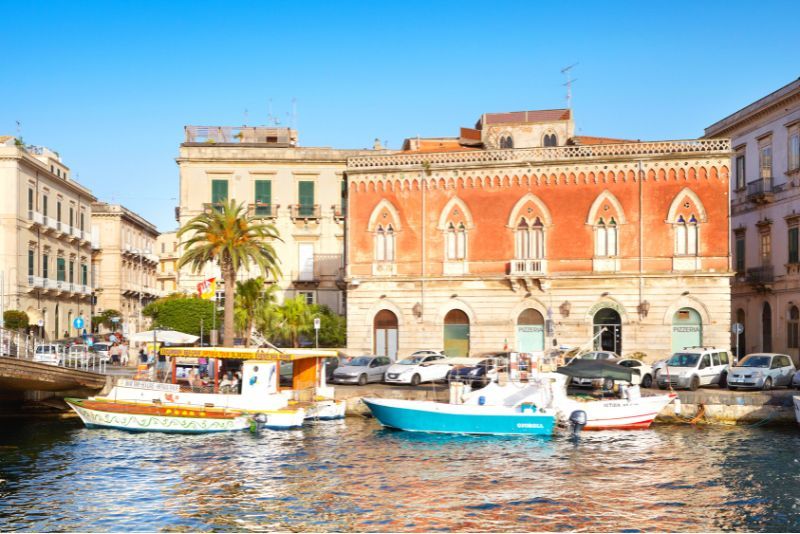 Boat excursions to Ognina from Syracuse
Make the most of your time in Syracuse and spend several days on a boat tour. You'll get to relax on secluded beaches, discover Ognina and go swimming. Snorkeling equipment, fresh fruit, water and fishing gear are all included.
Sailing tour to Plemmirio from Ortigia
Sailing in the waters close to Syracuse is not only fun but also a great way to get to know the stunning coastline. This tour takes its guests to the protected area of Plemmirio, which is known to be exceptionally beautiful. Snacks and an aperitif are included in the tour price.
Fishing experience and boat tour in Syracuse
Whether you've fished before or are new to the sport, these boat excursions are guaranteed to be a fun day out on the water. You'll be helping the crew haul in their nets, learning all about their unique fishing method. At the end of the day, you'll get to enjoy a cold drink as you cruise along the blue waters.
How much do boat tours in Syracuse, Sicily cost?
Shorter boat trips in Syracuse, ranging from 1 to 2 hours, generally cost between €25 and €50. Those including lunch or a drink are priced closer to €50 to €70 per person.
Private boat tours starting in Syracuse cost between €170 and €250, while sailing tours are €400 and more. If you're interested in a fishing tour, expect to pay around €100 per person.
Renting a boat by yourself costs approximately €140.
Which places are seen and visited with a boat tour in Syracuse, Sicily?
The majority of boat excursions in Syracuse spend time in the area around Ortigia. There is a lot to see and do along the surrounding coast, though.
Maniace Castle
This 13th-century castle was built to guard Ortigia's southern coast and is a great place to learn about the history of Syracuse. See this unique landmark from the water and stroll along its ancient walls if you have time.
Fonte Aretusa (Fountain of Arethusa)
This beautiful natural spring on Ortigia is steeped in Greek mythology and is mentioned in many great works of literature. Visiting this magical place during sunset will be especially beautiful.
Cave of Pillirina (Cave of Love)
This amazing coastal cave located south of the island of Ortigia is heart-shaped and a great backdrop for romantic photos. Many local legends are associated with it so ask your tour guide to tell you the story of the cave.
Grotto Della Stalactitti (Stalactite Cave)
Be amazed by the impressive natural beauty of the limestone formations in this must-see cave. Don't forget to pack your camera to snap some photos.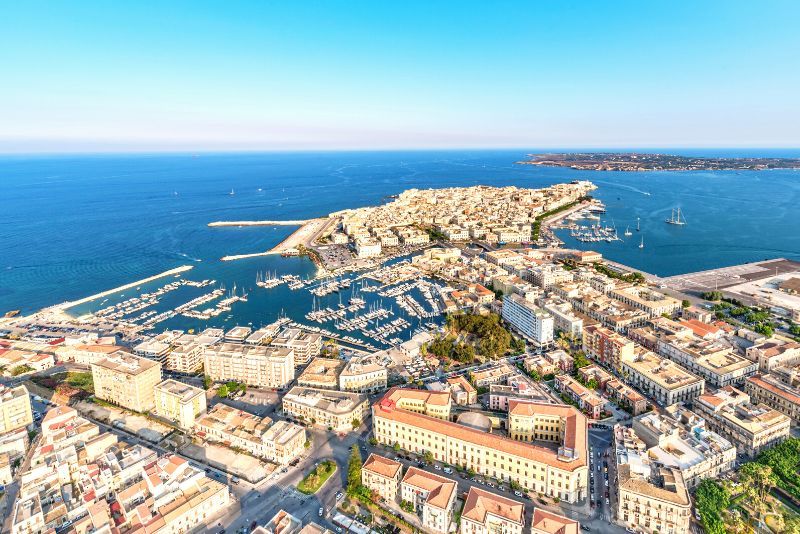 How long does a boat trip last?
Most boat trips in Syracuse last around 1 to 3 hours, but it's possible to arrange a longer trip with a private boat tour.
Sailing experiences and fishing boat tours in Syracuse are slightly longer and close to 3 to 5 hours. There are also multi-day excursions available, but these tend to be rarer.
Where do boat tours leave from?
Most boat tours leave from the Ortigia Island Excursion Office or close to the Yacht Club Lakkios Marina. While some might offer hotel pickup and drop-off, it is not the norm.
You'll generally have to make your own way to the harbor and meet your guide there. If you're staying close by, it's probably easiest to walk here. Alternatively, you can also take a taxi.
When is the best time for a boat trip in Syracuse, Sicily?
Spring and summer are the best times to guarantee good weather and smooth sea conditions in Sicily. The weather will be hot and sunny, and rainfall is rare. However, this is peak travel time in Italy.
Some boat tours in Syracuse may be sold out weeks in advance, so make sure to plan ahead. Others may be unavailable during the winter months. Always check with your operator if you plan on visiting the area between October and April.
If you're unsure what time of day to go on a boat tour in Syracuse, consider joining one of the many sunset cruises. This will be fantastic for taking photos, and the views will be breathtaking. Those interested in snorkeling will find daytime tours more enjoyable.
Which other outdoor activities can be done in Syracuse, Sicily?
Travel tips
Don't forget sunscreen when sailing around Syracuse. The sun is very strong year-round, and you can easily get sunburnt when snorkeling or relaxing on deck. You might want to wear a long-sleeved swimming shirt to protect you from the sun while you are in the water.
Don't forget to pack your swimsuit for boat tours in Syracuse. Almost all of them include opportunities to go swimming in the refreshing waters.
Bring a snack and plenty of water if you're going to be spending all day on a boat. Some tours might supply food, but some don't. Even if there is a lunch stop planned, you might start feeling hungry throughout the day.
Don't forget to pack your action camera if you have one. The underwater world of Syracuse and all of Sicily is stunningly beautiful, and you'll want to take some photos. If you don't have one, you might be able to hire one from the tour operator.
Leave any important valuables like passports, laptops or extra credit cards at home. You're going to be on a boat, and some things get wet. Operators are not responsible for lost or stolen items.
If you have one, bring a dry bag for your things. Anything on the boat might get wet or dropped in the water, so it's better to be safe.
Pack a light rain jacket if visiting during the shoulder season. While it isn't the norm, it can rain in Syracuse, and boat tours might still take place even when the weather is stormy.
Get a waterproof case for your phone, even if it is waterproof. That way, you can avoid losing it, and you can even take it into the water with you.