Sweden has a varied cuisine that champions healthy locally sourced produce as much as it does fast food.
When you think of Swedish gastronomy, you'd be forgiven for envisaging the world-famous IKEA meatballs. While this regional favorite certainly features on a number of food tours, Stockholm's traditional and local cuisine is much more than that – with some dishes dating back hundreds of years.
You'll be introduced to delicious traditional specialties as well as food trends that are today revolutionizing the Swedish culinary palette, including street food and its growing meatless culture.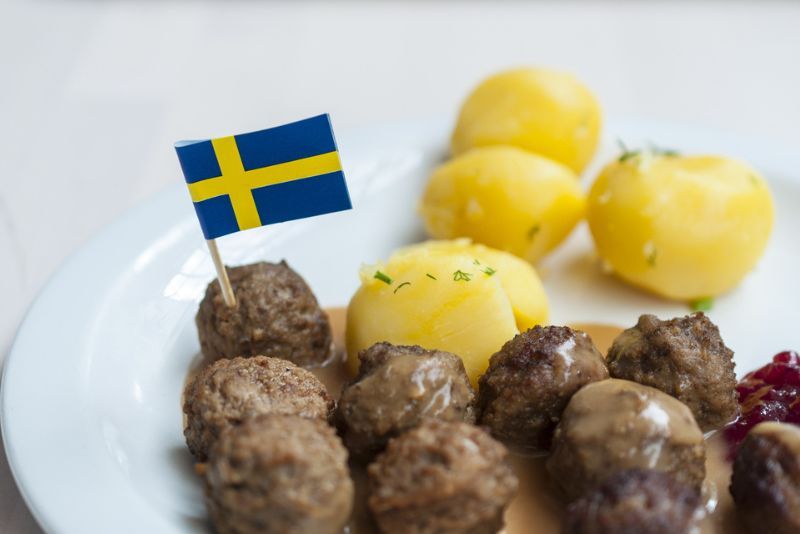 You will find below all you need to know about food experiences in Stockholm.
What are the best food tours in Stockholm?
Stockholm guided Nordic food tour
This half-day tour offers a perfect introduction to Stockholm through its traditional food. You'll start in the cozy confines of the Ostermalmshallen – Stockholm's old market hall, where you'll sample the finest local cheeses and meats.
Heading out of the old market, your knowledgeable guide will then introduce you to Swedish food fusions in the most modern districts of the city, before you sit down for a seafood meal, followed by sweat treats.
Stockholm vegan, vegetarian and raw food tour
Sweden has the third highest percentage of vegans in the world, so if you're vegan, vegetarian or just love plant-based food, then this is the tour for you.
On this guided excursion, you'll discover what Stockholm's revitalizing plant-based food scene is all about as you taste your way around the Sodermalm neighborhood. You can expect to dip into local delis, and cutting-edge restaurants and indulge in contemporary organic fast food.
Stockholm private food tour with a local guide
If you're looking for a more personal and intimate experience, then choose a private culinary tour in Stockholm. You'll have an expert local guide all to yourself who will walk you through central Stockholm as you enjoy food tastings of cheese, smoked salmon, cured meats, fresh bread, and pastries.
You'll also learn all about the city's food culture and discover secret traditional recipes.
Stockholm private sightseeing, culture, food and drinks tour
If you want to combine three experiences in one, then you can't go wrong with this Stockholm private sightseeing, culture, food and drinks tour in Stockholm.
On this 2-hour trip, you'll visit popular social hang-outs, authentic restaurants, and must-see landmarks, as you enjoy food and drink tastings along the way. With a private guide, you'll be able to explore the city at your own pace, where plenty of photo opportunities await.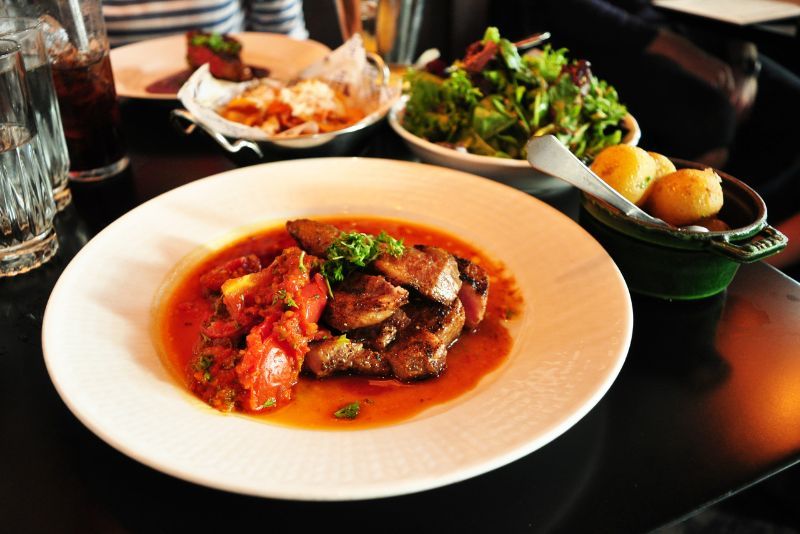 How much do food tours in Stockholm cost?
Food tours in Stockholm vary in price according to the type of trip you choose and the duration of your excursion.
Guided Stockholm Nordic tours start at around €85 per person and food tastings are included.
The Stockholm vegan, vegetarian and raw food tour cost approximately €85 per person and includes food and refreshments.
The private food tour with a local guide costs around €120 per person for a three-hour tour and includes a private and customized experience and six to eight local food tastings.
The Stockholm private sightseeing, culture, food and drinks tour starts at €160 per participant and includes a private local guide.
What is included in a food tour in Stockholm?
On your food tour in Stockholm, you can typically expect all food to be provided. However, this isn't always the case so it's best to check the specific tour you have booked beforehand. You'll usually savor famous local cheese, cured meats, bread, and pastries.
On some tours, you'll also try Swedish seafood, its world-renowned meatballs, and smoked salmon. At the end of your excursion, you can expect to sample Swedish candy and cinnamon rolls.
A number of trips also include other food and refreshments along the way. You'll have a knowledgeable guide accompanying you who will introduce you to the finest eateries in town and inform you about the history and culture of Sweden's wonderful gastronomy.
Where do food tours in Stockholm start?
There are a number of start points for food tours in Stockholm. The historic Ostermalm food hall is a popular meeting point as it is easily accessible to all.
No matter where your trip departs from, you can expect to be communicated in advance about where to meet so that you can arrange your transportation accordingly.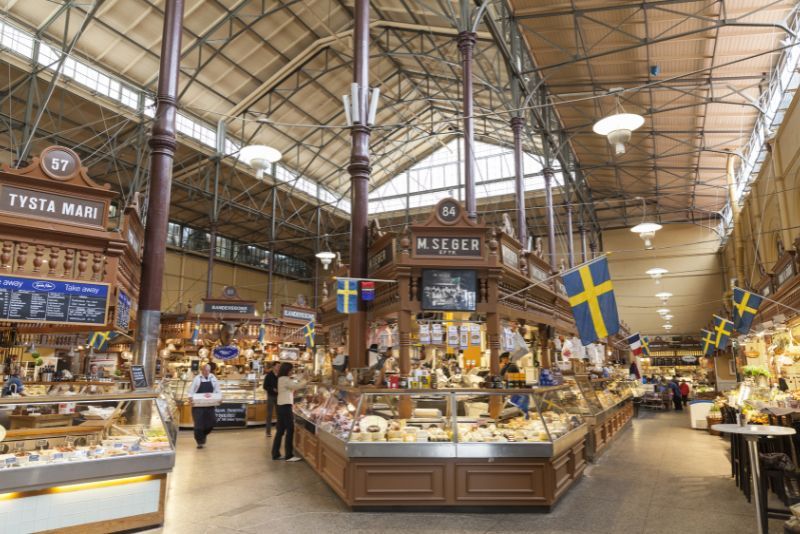 How long do food tours in Stockholm last?
Food tours in the city of Stockholm, including sightseeing, food and drink tastings typically last from 2 to 4 hours, depending on the number of food tastings and locations visited on your tour.
When is the best time for a food tour in Stockholm?
If this is your first trip to Stockholm, then booking your food tour at the start of your holiday is recommended. This way, you'll have the opportunity to visit an array of popular tourist attractions and traditional eateries that will enable you to enjoy the rest of your Swedish gastronomic journey extensively.
Take a food tour during lunch or dinner time as most of the food tastings combine to be the equivalent of a full meal.
Is it safe to take a food tour in Stockholm?
With an expert guide on hand, it is perfectly safe to take a food tour in Stockholm. However, given that many food tours involve strolling along cobblestone streets, food tours are not advisable for those with mobility issues or in a wheelchair.
Travel tips
If you're taking a walking tour, then make sure to wear comfortable shoes and weather-appropriate clothing.
If you're vegetarian or vegan, it's best to inform your guide in advance so that they can make the appropriate adjustments to the menu.
It's best to come on an empty stomach so you can enjoy all of the local delicacies available to your heart's content.