This full-day adventure includes a guided hike through the spectacular Rila Lakes in the Rila National Park. Located near Panichishte, these seven breathtaking glacial lakes are surrounded by deep valleys and high mountain peaks.
Ride the chairlift from Panichishte, hike around the glacial lakes and explore the Rila Monastery on a Seven Lakes day trip from Sofia.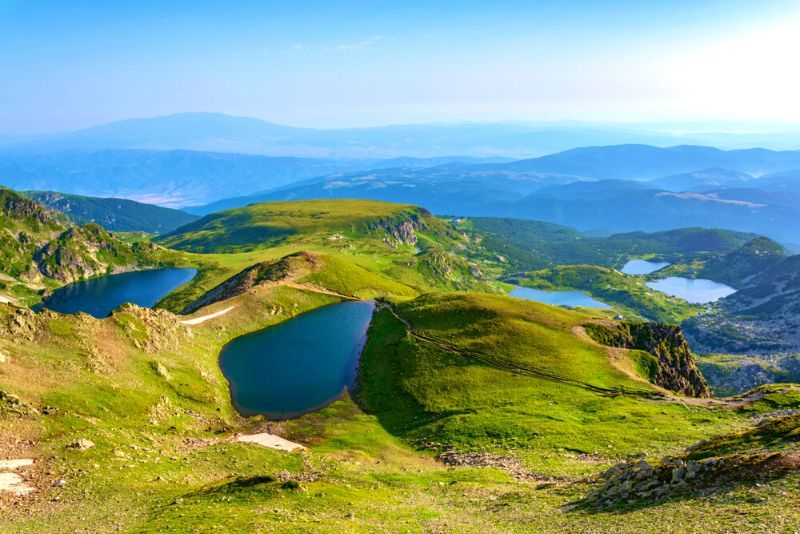 You will find below everything you need to know about visiting Seven Rila Lakes, one of the most fantastic day trips from Sofia.
How to get to Rila Lakes from Sofia
Located 90 minutes drive from Sofia, the Rila Lakes are reached from the resort town, Panichishte. You take a cable car from there to the Seven Rila Lakes Cirque hiking path.
From Sofia to Rila Lakes by car
All three routes are on good roads. The E79 (98,5 kilometers) takes 98 minutes. Route 181 (89 kilometers) takes 2 hours, and Route 182 (105,5 kilometers) takes 126 minutes.
From Sofia to Rila Lakes by bus
Buses depart from Ovcha Kupell station in Sofia to Dupnitsa every 30 minutes, and the 70 kilometer journey takes around 1.5 hours (€4-6). Next, you must take the bus to Sapareva Banya, which takes around 30 minutes.
You can then take the shuttle bus to Panichishte resort. This takes around 30 minutes and costs €8.
Guided tour to Rila Lakes from Sofia
A guided tour to Rila Lakes takes the hassle out of traveling. Most tours include pickup from your hotel, a local guide to show you around and all transportation for the day. Pickup is at a meeting point in Sofia. You're then driven to Panichishte, where you take the chairlift to explore the lakes on a 4 to 5 hour hike.
What is the typical itinerary of a day tour to Rila Lakes from Sofia?
Meet your tour guide at the La Cattedrale Restaurant behind the Saint Alexander Nevski Cathedral. You will depart at 7 AM and make the journey by minivan to Panichishte, which takes approximately 90 minutes.
When you arrive in Panichishte, you will take the chairlift to the Rila Lakes Cirque. You will then hike through the area between 6,800 and 8,200 ft above sea level. The lakes are each named depending on their shape, like the Kidney, the Eye and the Teardrop.
You will have four hours to hike through this spectacular area. What you see will depend on your fitness level, and you can choose between steep gradients or gentle routes. Most visitors see the five lower lakes and omit the two highest ones.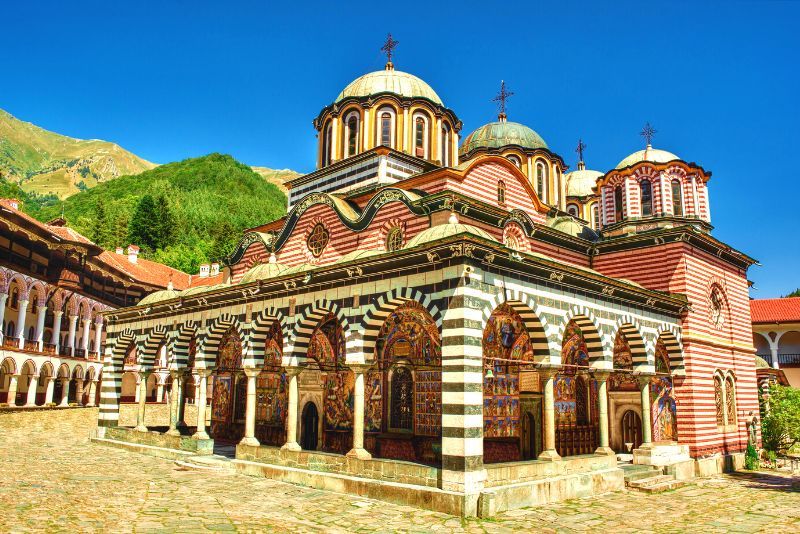 You will then visit the impressive UNESCO-listed Rila Monastery, which is decorated with magnificent frescoes. Enjoy a one-hour guided tour to see some of the monastery's iconic treasures and explore the museum.
You will then return to Sofia by minivan. Drop-off is around 7:30 PM at your starting point, the St. Alexander Nevski Cathedral.
What kinds of tours are available to go to Rila Lakes?
The Rila Lakes are one of Bulgaria's best sights, and there are numerous tour options for visitors wanting to explore the region. Situated in the country's highest mountains, the Rila lakes are named according to their characteristics.
Some tours include a visit to the 10th-century Rila Monastery, a UNESCO listed holy site with impressive frescoes.
Seven Rila Lakes small group guided full day tours
These tours are led by an expert guide and include transport to and from Sofia, a chairlift to the lakes area and a hike around the lakes according to your strength level.
Seven Rila Lakes private guided full day tours
Private group tours are more expensive but offer personalized treatment. These tours include return transfers from Sofia, a chairlift ride to the Rila Lakes Cirque and a hike around the lakes.
Seven Seven Lakes plus Rila Monastery full day tours
This tour includes an expert guide, return transfers from Sofia, a chairlift ride to the Rila Lakes area, a hike around the lakes and a visit to the medieval UNESCO World Heritage Site, Rila Monastery. Meals and drinks are included.
Seven Rila Lakes plus Goritsa Falls & Mineral Springs full day tours
Visit the Rila National Park and hike around the spectacular Seven Lakes. Then visit a spa to refresh its mineral springs before seeing the magnificent Goritsa Falls.
Seven Rila Lakes plus Udini Lakes full day tours
A full-day guided hiking tour to see the Seven Rila Lakes and the mystical Urdini Lakes. Includes an expert guide and a 9-hour hike.
How much does a tour to Rila Lakes from Sofia cost?
Tours from Sofia to Rila Lakes vary, depending on the type of tour.
Full-day guided tours to Seven Rila Lakes cost from €25 to €90, depending on the tour length and group number.  Small group tours are more expensive than those with larger groups.
Private guided tours to Rila Lakes cost from €50 to €110.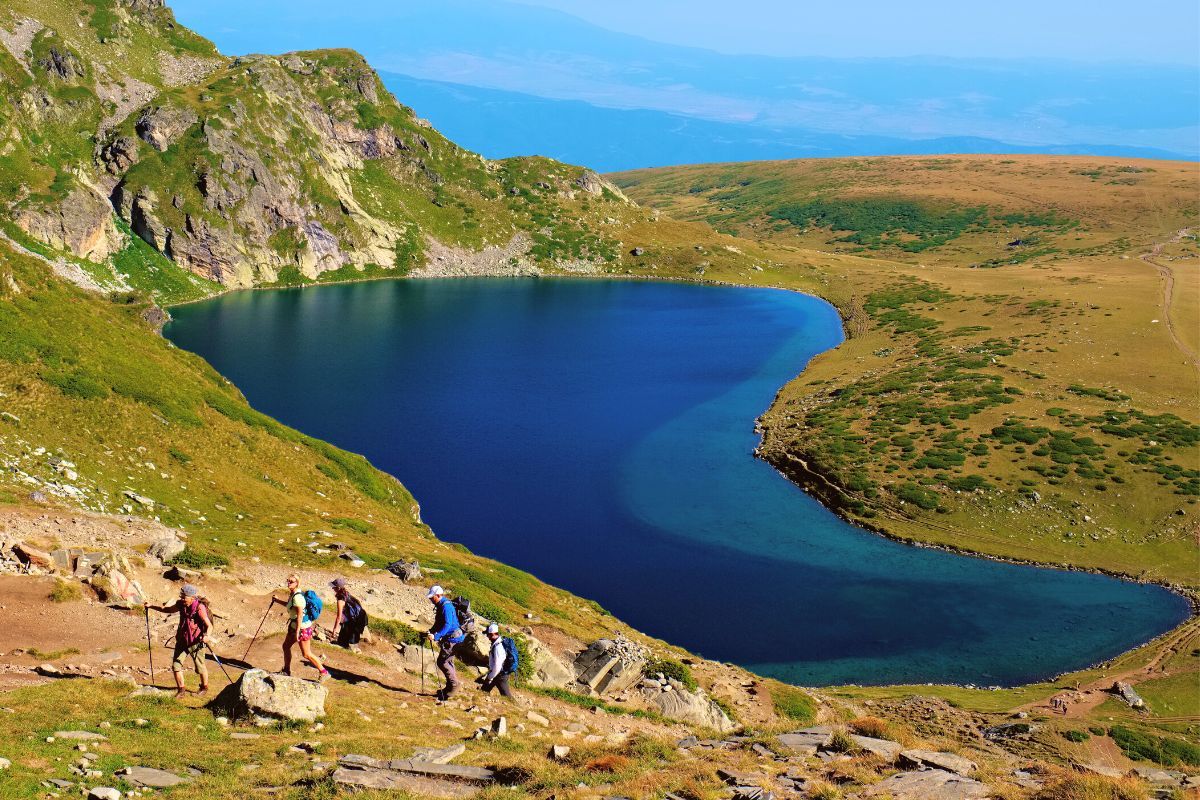 What will you see and do on a Rila Lakes day trip from Sofia?
Rila Lakes are spectacular glacial lakes located in Bulgaria's highest mountain range, the Rila Mountains, in the Rila National Park. One of the country's most breathtaking sights, these seven lakes are named according to their characteristics, for instance, one called the Kidney, and another called the Eye.
Hiking through this spectacular area offers a chance to commune with nature and enjoy the countryside and its extraordinary scenery. To ensure everyone enjoys their hike, there are various routes to explore according to the hiker's skills and abilities.
The most common attraction included in a Seven Rila Lakes tour is the Rila Monastery, a UNESCO World Heritage Site and one of the country's most sacred churches.
The monastery, built in the 10th century, is full of magnificent frescoes. Most visitors enjoy the building's architecture and artwork and visit the museum to learn more about the monastery and its history.
Those who enjoy hiking can visit the Seven Rila Lakes as well as the mystical Udini Lakes on a 9-hour hiking tour. There's also a tour that combines hiking with a refreshing mineral spa experience and a stop at the Goritsa Waterfall.
The chairlift that will take you to the Seven Lakes Cirque is open daily from 9 AM to 4:30 PM.
When is the best time to visit Rila Lakes?
Rila Lakes is a seasonal destination. You can visit in May if you want to see snow on the mountains and enjoy hiking in the cooler weather. Otherwise, visit in the summer or autumn when the average temperature is around 25 degrees Celsius.
The best time to visit is from July to August, when the weather is glorious, and the lakes are spectacular. Autumn (September to November) is another excellent time to visit when the trees are shedding their leaves, and the countryside is at its most colorful.
Travel tips
Food is rarely provided on tours, so it's a good idea to pack lunch and snacks, such as nuts and energy bars, for an extra boost.
In autumn, dress in layers so that you can peel off extra clothing as you get warm. If you hike in summer, a t-shirt and shorts are all you need.
Good walking shoes are essential. Make sure yours are worn-in, comfortable shoes, trainers or boots suitable for a long hike.
Drink lots of water. Water is provided on some tours, but take a bottle with you. One that purifies water is ideal.