From smudging ceremonies to guided meditation, hiking and yoga, a Sedona vortex tour is bound to offer you an otherworldly experience that you will take with you long after you leave this majestic location.
The desert city of Sedona is a haven for those seeking spiritual enlightenment, as well as adventure enthusiasts wanting a thrill amongst the sacred red rock plateaus and vast swathes of pine forest.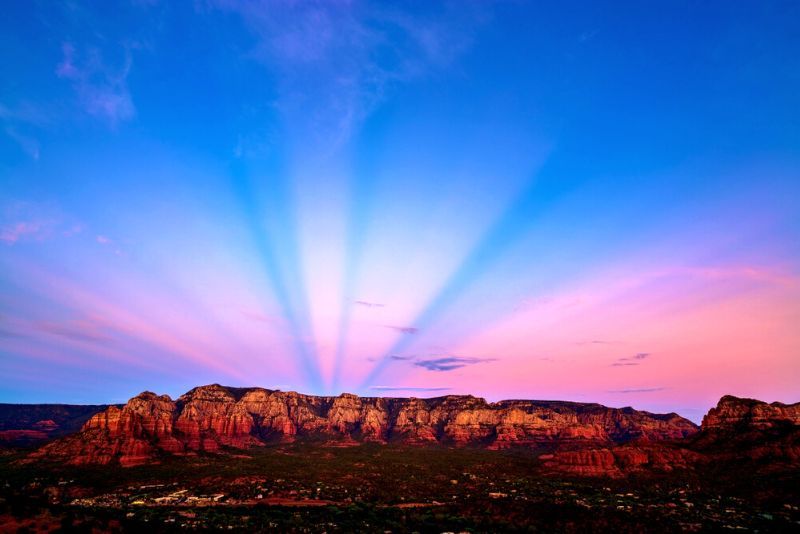 You will find below everything you need to know about vortex tours, one of the best destinations for day trips from Sedona.
What are the best vortex tours in Sedona?
Sedona jeep vortex tour
Take a whirlwind tour of the city's spiritual energy sites on a Sedona vortex jeep tour. Leave the city behind and head off into the desert to discover multiple vortex locations in a rugged 4x4 vehicle.
Learn about the region's spiritual importance from a professional guide and the significance of the vortexes to different cultures. These small-group tours offer an intimate and fun way to discover Sedona's mystical locations with an expert guide.
Small-group and private jeep tours are an option for those looking to cover a lot of territory in a short time. Jeep trips typically last around two and a half hours and come with a designated driver and guide.
Short Sedona spiritual vortex tour with guide
These guided meditative vortex tours take you on a spiritual journey like no other. You'll experience two of the most enthralling vortexes in Sedona, said to be hubs of spiritual energy. Visitors will be treated to a guided meditation session for ultimate relaxation, peace and rejuvenation.
Adventure seekers can opt for a Sedona vortex tour with a hiking excursion. You'll have a customized itinerary perfectly adapted to your style and preferences. Participate in a once-in-a-lifetime Native American smudging ceremony to warm you into the tour. These excursions can be either two or four hours in length.
Sedona wine and vortex tour with host
Experience Sedona's luxurious vineyards in style with TV host Rachel Reenstra. On this wine and vortex tour, you'll seek out the best of what Sedona offers in one tour. What sets this tour apart from the rest is that you can either explore the re-known vortex or go directly to three of Sedona's most famed vineyards.
Start by sipping on mimosas before your very own private transport takes you to the vortex or vineyards, where you'll dine on local specialties such as cheese, meat and a fresh breadboard, and enjoy a wine tasting of locally produced wine.
How much do vortex tours in Sedona cost?
Vortex tours in Sedona vary in price depending on the experience. Small group tours are generally less expensive, whereas private tours cost a little more but offer more privacy and the chance to ask your guide plenty of questions along the way.
A four-hour private Sedona vortex tour costs approximately US$190 and includes a local guide, a private hike, snacks, refreshments and meditation props.
Sedona Vortex jeep tours start around US$100 and include a local guide and driver. For a more intimate experience, a private jeep tour costs around US$150 and includes a driver who will collect and drop you off at your destination of choice.
A Sedona wine and vortex tour costs around US$160 and includes a visit to Sedona's delightful vineyards.
Alternatively, you can enjoy a private guided Sedona vortex tour for around US$300 per person. This includes a trip around Sedona in a comfortable van with your very own personal driver.
What is included in a vortex tour in Sedona?
On a vortex tour in Sedona, you can expect to venture on a journey that will take you to another world. Explore the powerful energy said to radiate from this magical place with a tour of its ethereal red rock formations.
You'll usually visit all three of Sedona's sacred vortexes, or for those wanting something a little different, there are vineyard tours for a taste of Sedona's finest wines.
For those seeking spiritual awakening, many tours come with an outdoor guided meditation session coupled with a custom tour that will enable you to relax, unwind and discover this mesmerizing area at your own pace.
Your tour guide will also tell you about some of the spiritual properties of Sedona and why it has long been considered sacred to an array of cultures. Most tours have two pickup and drop-off points available for your convenience, and refreshments are often included in the guided tours.
Whether you're looking for a calming outdoor activity or a food and wine experience, there are vortex tours from Sedona available for all tastes.
Where do vortex tours in Sedona start?
While pickup and drop-off points will vary depending on what kind of tour you take, two of the most popular pickup points are located in the heart of Sedona's city center.
However, it's also possible for visitors to contact the tour provider for alternative departure spots – so you can enjoy the flexibility of leaving from the most convenient destination.
How long do vortex tours in Sedona last?
You can expect a vortex tour in Sedona to last between one and a half to four hours. You will visit several unusual red rock formations and plateaus and, on some tours,  enjoy meditation opportunities too.
If you're looking for an adrenaline thrill, you can travel the region in a jeep, where you'll have the opportunity to visit several vortex sites and allow your knowledgeable guide to tell you about the tales, folklore and stories of this mystical place. A typical jeep tour lasts around two and a half hours.
When is the best time for a vortex tour in Sedona?
No matter what stage of life you are at, there's never been a better time to take a vortex tour. With this in mind, visiting some vortexes can take longer than others. It's advised to book your tour early in the morning to allow enough time to truly discover this enthralling region at a relaxed and laid-back pace.
Because this is such a unique experience, with much of the tour taking place outdoors, the spring and summer months are popular times to take a vortex tour. However, if you decide to take a vortex tour in October or November, you'll enjoy fewer crowds and milder weather.
Are there any combos available with vortex tours in Sedona?
There are a few Sedona vortex tours that can be combined with other experiences, which can help you to save time and money when visiting the region.
Private Sedona Vortex Spiritual and Scientific Tour
Dive straight into your spiritual and scientific side on this enlightening and enriching tour, led by a trusted guide with years of experience and deep knowledge of the region.
You'll be taken on a journey through some of Sedona's most enchanting sites. Learn and experience the vortex phenomena, be educated about spiritual science and history and take in the magical energy.
Vortex Yoga Hiking: Half day in Sedona
On this tour, you'll embark on a half-day adventure through Sedona's vortex destinations before stopping to unwind for a yoga session merged with a QiGong. If that isn't enough to enlighten your senses, you'll also experience the wonders of a very special chocolate-infused meditation practice.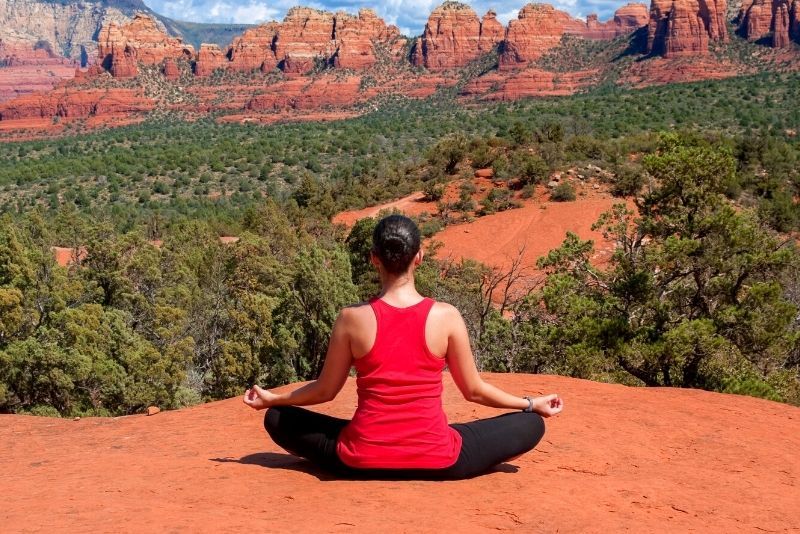 Spiritual Empowerment Reiki Energy Vortex tour
If you want to take your spiritual journey to another level, consider a spiritual empowerment reiki energy vortex tour. You'll be meditating with a reiki master who will guide you to become acquainted with your mind, body and soul synergies and vortices.
This tour lasts for two hours, and visitors can experience this magical site in a whole new realm and enjoy the pleasure of a personalized reading of your vortices, known as "Chakras."
Are children allowed on a vortex tour in Sedona?
The age limit for spiritual vortex tours is usually seven years or older. For those offering a more profound spiritual experience, like the Reiki energy vortex tour, the age limit is 13 and over. Be sure to check the tour details carefully before booking.
Travel tips
Make sure to book in advance as tours can get busy during peak seasons.
Refreshments aren't always included, so bring plenty of water and snacks for the journey.
Wear comfortable clothing and cool fibers during the hot summer months, as well as extra layers if you're taking a vortex tour during the winter.