Fun, colorful Savannah has many allures. Famously spared by Sherman during the Civil War, the city's historic neighborhoods feature awe-inspiring architecture from the 18th and early 19th century. Mossy live oaks shade Savannah's many squares, cemeteries and stately homes.
Along its centuries-old brick streets are lively entertainment districts, with bars, clubs and restaurants housed in buildings over 150 years old. The youthful energy of the town, coupled with lenient drinking laws, makes a pub crawl in Savannah, Georgia, an experience like you'll have in no other American city.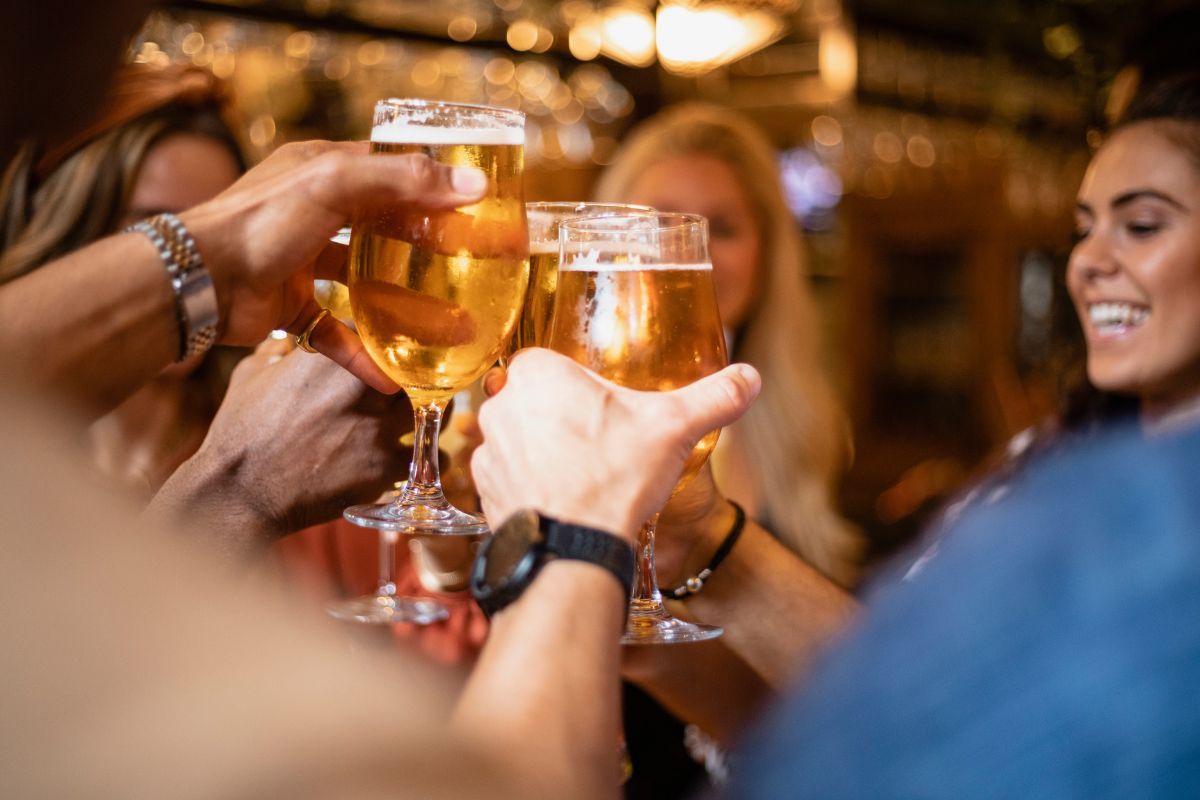 Here's all you need to know about pub crawls, one of the most captivating nightlight experiences in Savannah, Georgia.
What are the best pub crawls in Savannah?
Self-guided pub crawl
With a smartphone and a group of friends, take an app-based tour that's easy on the wallet. Download a scavenger hunt that takes you to the best bars in Savannah. However, you'll need to work together to solve the clues that take you from one pub to the next on a scavenger hunt.
Historic pub crawls
It's been nearly 300 years since European colonists settled in Savannah, soon after bringing enslaved Africans to work their land. Before that, Native Americans made the area their home for centuries. Savannah, having been inhabited by humans for many years, is a hotspot for history lovers.
Join a historian guide for a trip back into Savannah's lesser-known past at pubs found in historic buildings. Carry your drink with you as your guide leads you through the cobbled streets to famed squares, homes and businesses. Among the gems from yesteryear are homes of war heroes, underground railroad havens and inspiring churches.
Pedals Traveler pub crawl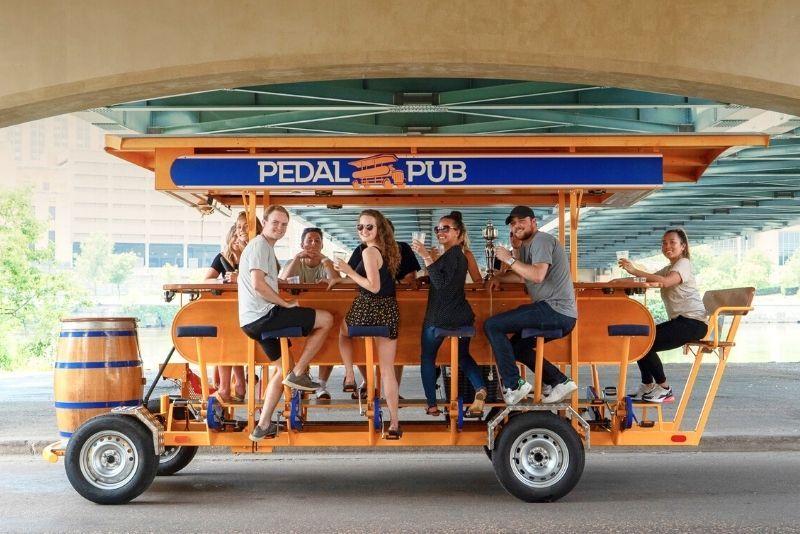 Ideal for an outing with friends, a Pedals Traveler pub crawl allows you and your buddies to make your way from drink to drink on a pedal bus. You and five to 14 others will use your might to travel around Savannah, trying the tastiest beers, wines and cocktails in the city. A guide will lead the trip, helping with navigation and filling you with facts.
Haunted Savannah pub crawls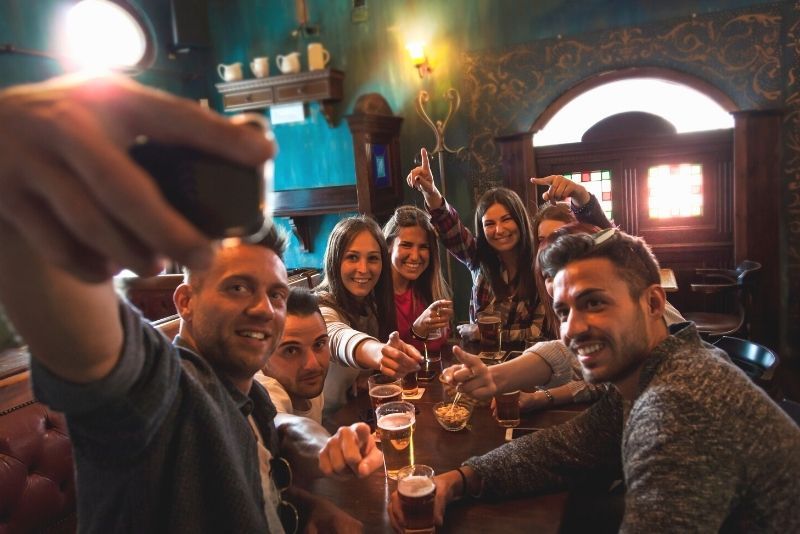 Savannah is notorious for being one of the most haunted American cities. The city's moss-draped trees, looming mansions and many cemeteries create an ambiance that's perfect for hearing tales of the paranormal. A haunted Savannah pub crawl will take you to cemeteries, squares and homes between stops at spooky bars.
Follow your storyteller guide to the most haunted locales in Savannah with a drink in hand. There are scores of spooky sites to explore, many of which will serve you drinks. Hear hair-raising tales of sightings in Tandem Coffee and Spirits, Six Pence and Savannah Taphouse.
Grab a beer at the Moon River Brewing Company before embarking on a tour of the second floor or basement, both known for their otherworldly inhabitants. The early 19th-century space was once a hotel that welcomed many celebrated visitors that may still roam the halls.
Drag queen pub crawls
Plan a fabulous night with a Drag Queen pub crawl. Perfect for bachelorette parties or friends' getaways, meet your guide at the El Rocko Lounge to kick off an evening of thrills. Revel in VIP treatment with skip-the-line access to clubs and all cover fees included.
True crime pub crawls
In addition to the infamous crime that inspired John Berendt's 1994 novel, "Midnight in the Garden of Good and Evil," Savannah has its share of other grizzly killings. Ranging from poisoning to ax murders and beyond, let your guide recreate the bloody scenes for you as you stop at chilling sites and enticing bars.
Which places are visited?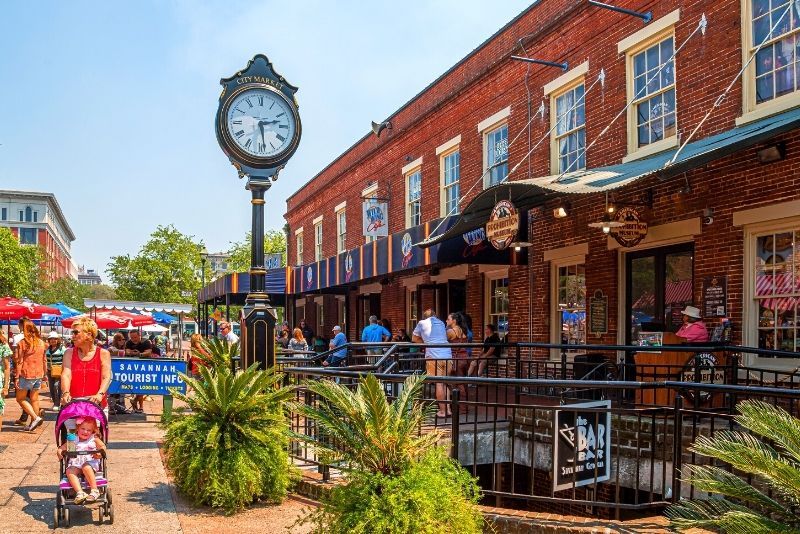 Restaurants and bars
Savannah is Georgia's oldest city, and its wealth of antebellum buildings make fascinating venues for restaurants and bars. Structures from the 1700s harbor hotels with upscale restaurants, a Civil War hospital now serves guests, while a former coal warehouse is an award-winning brewery. Top destinations include Bayou Cafe, Octane Bar and 22 Square Restaurant and Bar.
Historic landmarks
At every turn in Savannah is a noteworthy site. While your pub crawl is certain to stop for drinks in at least one building with a past, your guide will make sure that you don't miss out on other historic highlights. You'll pass by generals' homes, opulent hotels, shaded squares and riverside warehouses that predate the Civil War while hearing their rich backstory.
See Forsyth Park's iconic fountain, haunted Chippewa Square, General Sherman's headquarters, the many sights of River Street and much more.
How much do pub crawls in Savannah cost
Basic Savannah pub crawls cost from US$15 per download for an app-based scavenger hunt to US$35 per person for a group tour with a live guide.
Historic pub crawls cost from US$35 per person to US$55 per person. Historic pub crawls take you to drinking establishments in buildings with a past, as well as other significant locales. Higher-cost tours include the price of drinks.
Pedals Traveler tours cost US$40 per person and provide the use of a "pedal bus" with a guide. Tours also provide you with bottled water and snacks.
Haunted pub crawls cost between US$20 per person and US$35 per person, depending on the duration of the tour and group size. Drag queen-guided pub crawls cost around US$45 per person and include entry to clubs. True crime tours cost US$35 per person.
What is included?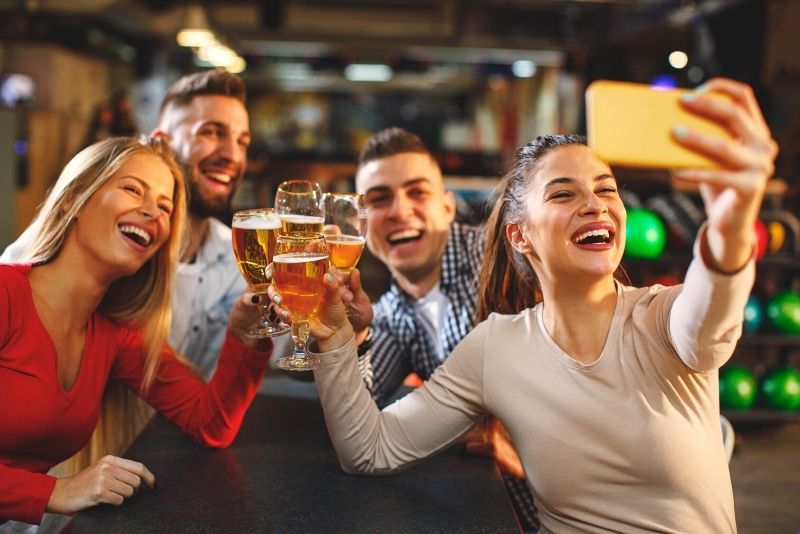 All tours include a guide and host who will usher you to the best watering holes in Savannah while regaling you with tales of the city. Guides pick memorable bars and restaurants with amazing or chilling backstories for you to enjoy while you sip. Most tours do not include the price of drinks. Pedals Traveler tours include water, snacks and an optional helmet.
You will visit 3 to 4 restaurants and bars on your tour, with special attention to the history of the buildings they occupy. Savannah's laws allow you to take your beverages with you as you walk from site to site, allowing you to savor your beverages as long as you'd like.
Where does it start?
Pub Crawls start at designated bars, restaurants and hotels in central Savannah.
How long does it last?
Savannah pub crawls last from 1.5 to 3 hours, depending on the itinerary.
When is the best time for a pub crawl in Savannah?
Any time of year can be great for a pub crawl in Savannah. However, the area experiences the most pleasant weather in March, April, September and October. Tours operate in rain or shine.
Are there any combos available with pub crawls in Savannah?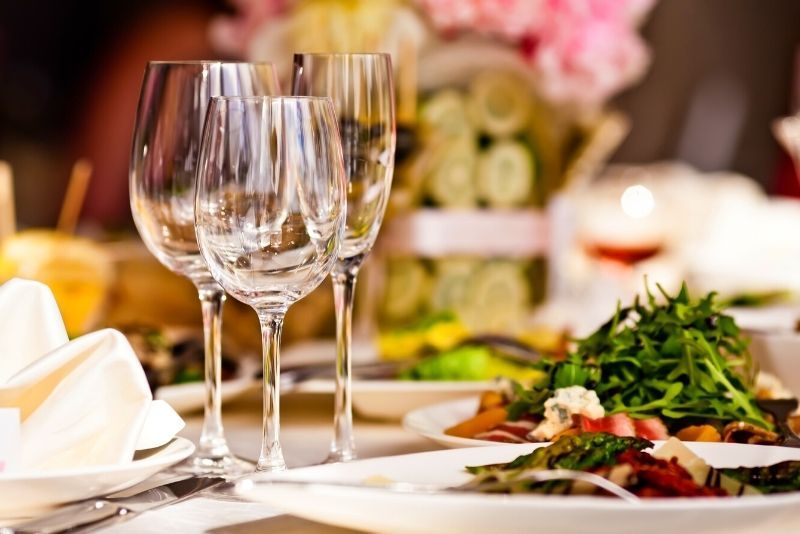 Food, pub and history combo walking tours
Tuck into lowcountry flavors on a tour that offers a meal, drinks and a side of history. On this gastronomic tour, you will sample shrimp and grits, classic barbecue and fried vegetables with a local brew or Savannah's signature Chatham Artillery Punch. Find out how this famed cocktail "saved the city" and other legends that span centuries.  
Are children allowed?
No, children are not allowed to join pub crawls, as they are only available for people aged 21 and up.
Travel tips
Wear shoes that will be comfortable for several hours on your feet.
Tour providers recommend smart casual clothing.
Bring a valid form of ID to avoid disappointment.