Yellowstone National Park is the oldest national park in the United States and attracts millions of visitors every year. The park is home to an incredible diversity of wildlife, including bison, elk, grizzly bears and wolves. Visitors can also enjoy geothermal features, such as geysers and hot springs.
Multi-day trips to Yellowstone from Salt Lake City enable you to explore the national park at your own pace, without worrying about being short on time.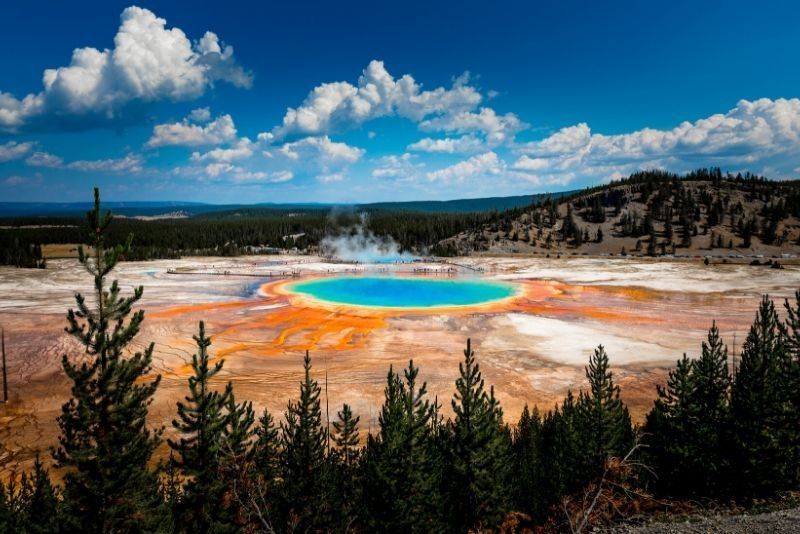 Here's all you need to know about Yellowstone overnight tours, one of the most mesmerizing destinations for multi-day trips from Salt Lake City.
How to get to Yellowstone from Salt Lake City?
Yellowstone is primarily located in the state of Wyoming and stretches into the neighboring states of Idaho, and Montana. Its western gate is approximately 500 kilometers from Salt Lake City.
From Salt Lake City to Yellowstone by car
The journey to Yellowstone takes just under 5 hours. You'll head north out of Salt Lake City and follow the I-15 highway as far as Idaho Falls. From there, you'll use the US-20E to reach the western gate of the national park.
Guided tour to Yellowstone from Salt Lake City
The easiest way to make the jaunt to Yellowstone is through a guided excursion. You'll benefit from a convenient hotel pickup in Salt Lake City and can choose a trip that lasts as little as 3 days or as long as 8 days.
How much does the entrance ticket to Yellowstone cost?
Vehicle entry (seating capacity of 15 or less): US$35
Motorcycle entry: US$30
Individual adult entry on foot, bicycle or skis: US$20
Individual child entry (under 15 years old): Free
Vehicle and motorcycle entry is valid for 7 days from purchase.
You can enjoy free entrance to Yellowstone National Park on 5 occasions throughout the year. These include the birthday of Martin Luther King Junior, the first day of National Park Week, the anniversary of the Great American Outdoors Act, National Public Lands Day and Veterans Day.
What is the typical itinerary of a multi-day tour to Yellowstone from Salt Lake City?
While Yellowstone multi-day trips all differ depending on how long you have to explore, they usually begin with a sightseeing tour of Salt Lake City. As you wander through the capital of Utah, you'll see many fascinating landmarks and monuments, including Temple Square, and the State Capitol building.
You'll spend your first night in the city, or in Idaho Falls — home to the staggering Shoshone Falls, which is taller than Niagara Falls. The next morning, you'll move on to either Yellowstone or Grand Teton National Park.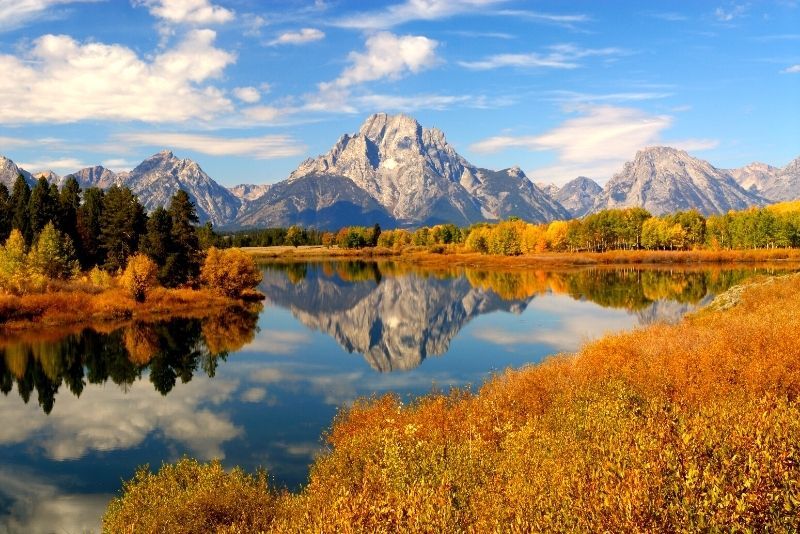 At both of these locations, you'll participate in a plethora of activities, including hiking and wildlife watching. You may have the opportunity to try your hand at white water rafting, and in Yellowstone, you'll see the Old Faithful geyser.
Another iconic sight within Yellowstone National Park is Yellowstone Lake — the largest high-altitude body of water in the U.S. You may also explore Mammoth Hot Springs, which some describe as an inside-out cave.
The number of activities you participate in depends on the length of your Yellowstone multi-day tour. On your return to Salt Lake City, you may visit Lava Hot Springs, where you can relax in balmy waters filled with beneficial minerals.
What kinds of tours are available?
Yellowstone multi-day trips vary in their itinerary, based on how much time you have to spare.
Guided 3-day tour to Yellowstone from Salt Lake City
You'll begin your Yellowstone 3-day trip from Salt Lake City with a guided tour, before a visit to the town of Idaho Falls. You'll check out Jackson Hole — known for its terrific skiing — and spend time exploring the many wonders of Grand Teton National Park.
Moving on, you'll spend a day discovering the most iconic spots in Yellowstone, including its namesake lake and Mammoth Hot Springs. Ending the tour with a bang, you'll have the opportunity to view Yellowstone from above in a thrilling helicopter ride.
4-Day winter tour to Yellowstone plus Grand Teton from Salt Lake City
On the way to Yellowstone on this 4-day tour from Salt Lake City, you'll enjoy the healing waters of the Lava Hot Springs, and discover Antelope Island — located on Salt Lake. You'll stargaze at Big Sky, ride a snowshoe at Old Faithful and watch an ancient geyser erupt.
On your return to Salt Lake City, you'll stop at Grand Teton National Park, which provides a home to thousands of animals during the winter months.
8-Day trip to Yellowstone plus Grand Teton from Salt Lake City
Longer multi-day tours to Yellowstone allow you to participate in a plethora of exciting activities, from a horse-drawn wagon cookout to a tranquil cruise of Lake Jenny.
In both Grand Teton and Yellowstone, you'll discover roaring waterfalls, spot migrating wildlife, and hike to scenic spots. You'll learn about bears and wolves at a nearby wildlife park, as well as enjoy rafting, and exploring a geyser basin.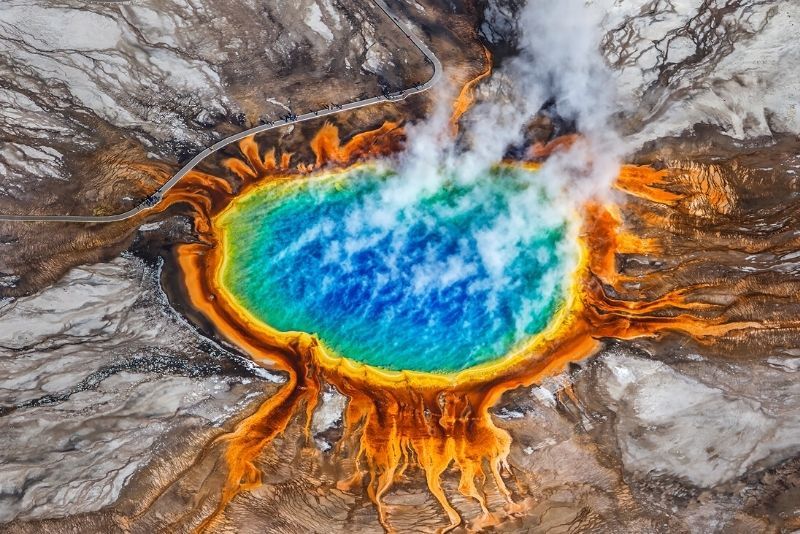 How much does it cost?
Tours that last 4 days vary significantly in price. You can choose a Yellowstone multi-day tour that costs US$800 per person and includes accommodation in tents. If you prefer to stay in a hotel, you can expect to pay between US$2,000 and US$2,200 each.
You'll pay between US$1,400 and US$1,500 per person for a 3-day trip to Yellowstone. This includes accommodation and round-trip transportation. Some excursions include breakfast and national park fees while others do not.
Tours that last 8 days include all meals, activities and park fees, and cost approximately US$6,000 per person.
What will you see and do on a Yellowstone multi-day trip from Salt Lake City?
Old Faithful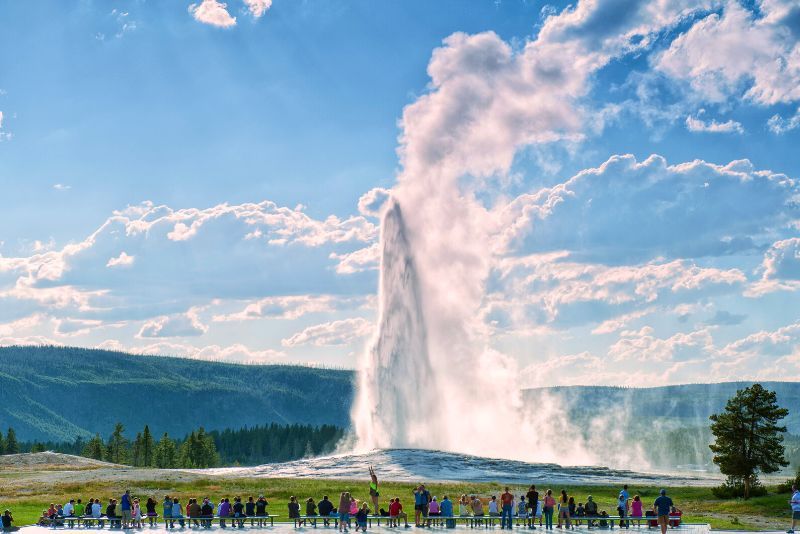 Old Faithful is a cone-shaped geyser located within the national park. Its eruptions of water reach heights of up to 50 meters, and its activity is regular. You'll be able to see the geyser erupt at least once every 2 hours throughout the day. However, it can spout water as regularly as every 45 minutes.
Although Old Faithful falls behind Steamboat Geyser in terms of size, this geyser is one of the most popular tourist attractions in the park, because of its reliability. The water that the geyser expels is boiling hot, so keep a safe distance as you watch the magnificent geothermal feature in action.
Yellowstone Lake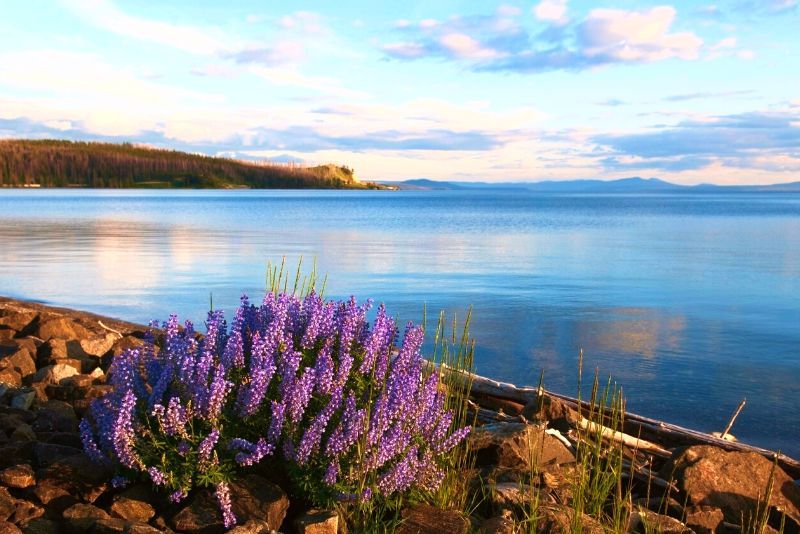 Yellowstone Lake is a must-visit destination on any trip to the national park. The lake is the largest body of water within Yellowstone, covering an area of 350 square kilometers. During the winter time, the entire lake freezes over, while the summer months see visitors boating, fishing and kayaking on the stretch of water.
Yellowstone Lake has the largest population of cutthroat trout in the U.S, and you can catch one yourself from one of its many shores. As you look to the edges of the lake, you may see a wide variety of birds, including Canadian geese and American white pelicans.
Mammoth Hot Springs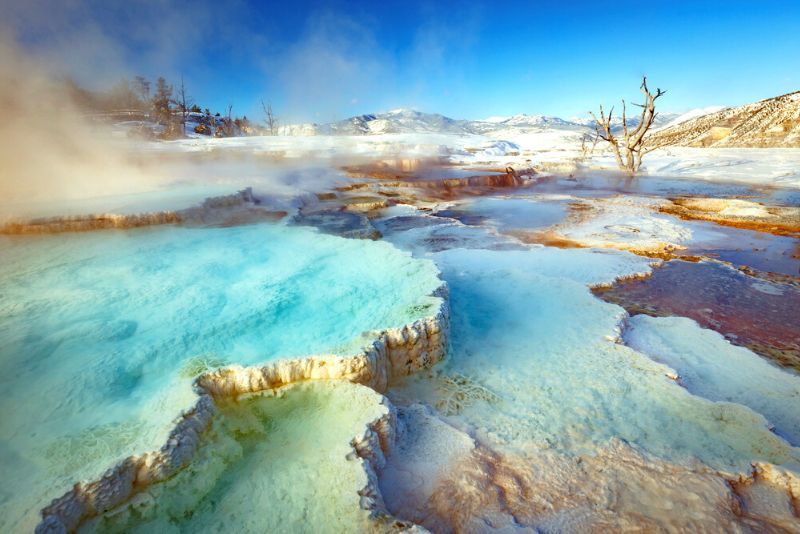 If you're looking for a unique site in the park, head to Mammoth Hot Springs on your Yellowstone multi-day excursion. Its limestone formations are often likened to a cave, and the hot springs began forming 600,000 years ago.
The water is warmed through a molten magma chamber, buried deep underground and the springs of water at ground level reach temperatures of 80 degrees Celsius. While the water is too hot to bathe in, visitors can wander through each area of the hot springs and admire nature at its best.
When is the best time to visit Yellowstone?
The best time to plan a multi-day trip to Yellowstone depends on what you wish to see. If you're interested in spotting bears, you should travel to the national park in April when grizzlies emerge from hibernation.
However, if you wish to see other mammals, such as wolves and elks, you should visit the park during the winter months.
Travel tips
Never approach any wildlife you see in Yellowstone. While animals may look friendly, they can be unpredictable and see you as a threat.
Multi-day tours to Yellowstone are extremely popular. Book as far in advance as possible to avoid missing out.
Bring binoculars with you on your Yellowstone trip to enable you to see wildlife from far away.
Yellowstone National Park has five entrances. However, the only one that is open year-round is the North entrance, sometimes referred to as the Gardiner entrance.