Those who make their way out of Brazil's lively capital to Arraial do Cabo may have to pinch themselves in order to check they're not dreaming.
This region is brimming with postcard-worthy landscapes with dazzling sands, luscious greenery and glittering seas.
It is also home to a vast collection of fascinating marine species that spend their days gliding gracefully through the waters surrounding the bay.
Arraial do Cabo day trips from Rio de Janeiro are a must for anyone wanting to see more of the South American nation.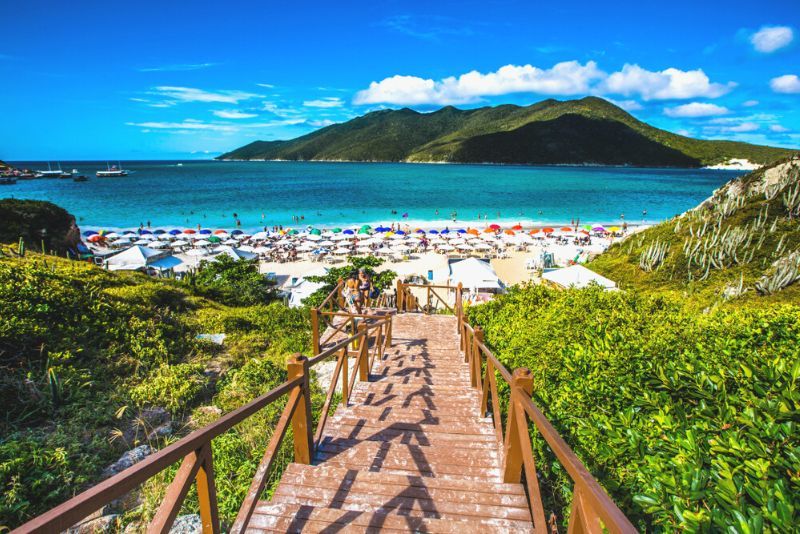 Here's all you need to know about Arraial do Cabo, one of the most exciting day trips from Rio de Janeiro.
How to get to Arraial do Cabo from Rio de Janeiro?
Arraial do Cabo is a small province within the Rio de Janeiro region of southern Brazil. It is approximately 160 kilometers from the city of Rio de Janeiro itself.
From Rio de Janeiro to Arraial do Cabo by car
The journey to Arraial do Cabo takes just under 2.5 hours by car. You'll head east out of Rio de Janeiro, crossing the Rio–Niterói Bridge and journey along Route 101 as far as Rio Bonito.
From there, you'll merge onto the RJ-124 and continue to the region.
From Rio de Janeiro to Arraial do Cabo by public transport
Another option to make the jaunt to Arraial do Cabo is by public transportation.
There is a direct bus that connects the two destinations and takes just over 3.5 hours. Buses run several times throughout the day and tickets are inexpensive.
Guided tour to Arraial do Cabo from Rio de Janeiro
Alternatively, let all the details be taken care of for you by booking a guided excursion to Arraial do Cabo. These usually last between 10 and 14 hours, leaving Rio de Janeiro between 6 AM, and 7 AM.
What is the typical itinerary?
The majority of Arraial do Cabo day tours begin with a complimentary hotel pickup service, early in the morning. You'll simply wait in the lobby at a pre-determined time and await your friendly guide.
Once you've hopped into your vehicle, you'll start the long drive from the city to the enchanting region. Once you arrive in Arraial do Cabo, you may don your wetsuit and slip right into the ocean on one of the best scuba diving tours in Rio de Janeiro.
However, the majority of these excursions enable you to explore several beaches by hopping about between destinations. The most popular places you'll likely see on your Arraial do Cabo day trip are Forno Beach, Farol Beach and Atalaia Beach.
You'll have lunch along the way and spend the afternoon relaxing, swimming or taking one of the famous snorkeling in Rio de Janeiro. Later in the afternoon, you'll return to your vehicle and rest on your scenic drive back.
What kinds of tours are available to go to Arraial do Cabo?
There are several Arraial do Cabo day trips to choose from, depending on the activities you enjoy and the time you have to spare.
Guided tour to Arraial do Cabo from Rio de Janeiro
Day tours to Arraial do Cabo begin by exploring Atalaia Beach — home to some of the clearest waters in Brazil.
Moving on, you'll visit Farol Beach, which features powdery white shores, as well as Forno Beach — a prime snorkeling spot to see turtles.
Speeding through the water, you'll discover other picturesque landmarks in the region, such as the Crevice of Our Lady of Assumption and the Blue Grotto, before returning to Rio de Janeiro.
Diving tour to Arraial do Cabo from Rio de Janeiro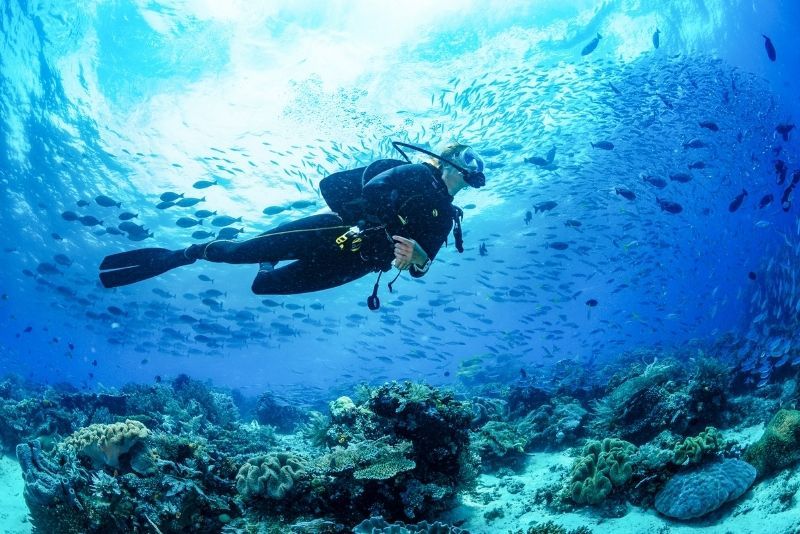 Whether you're a scuba pro or a complete novice, you can plunge into the refreshing waters surrounding the bay and explore on an Arraial do Cabo diving tour.
Those who are beginners will gain the training needed to have a successful first dive and have the opportunity to spot turtles, moray eels, and a plethora of exotic fish in the Atlantic Ocean.
Those who are experienced divers can enjoy two dives, spending more time discovering the marine diversity of the seas in this idyllic corner of Brazil.
3-Day tour to Arraial do Cabo plus Cabo Frio and Búzios from Rio de Janeiro
Over the course of 3 days, you'll explore Arraial do Cabo and the surrounding areas from both the land, and the sea.
Admire picture-perfect bays, experience the buzzing nightlife scene in Cabo Frio and wander the grounds of old colonial forts as you learn about the history of this southern region of Brazil.
Spend half a day cruising through the ocean, stopping only to explore enchanting bays and get acquainted with the friendly sea turtles roaming the waters.
How much does a day trip to Arraial do Cabo from Rio de Janeiro cost?
Arraial do Cabo day trips that take place on a boat cost between US$50 and US$70 per person, and include lunch, as well as a professional tour guide.
Diving tours cost between US$120 and US$170 each, and include underwater photography, as well as all equipment.
If you opt for a 3-day tour of Arraial do Cabo, you can expect to pay US$690 per person, including accommodation, breakfast and entrance fees.
What will you see and do?
Arraial do Cabo is one of the most exquisite destinations within the Rio de Janeiro territory. It is frequented by tourists and locals alike who wish to explore or unwind from the stresses of everyday life.
The city itself is charming, lined with colorful buildings and friendly residents, although it's the beaches that lure most daytrippers into visiting the destination.
Scuba diving is one of the most popular activities in the region, because of the abundance of marine life present in the waters.
These include turtles, dolphins and even whales depending on the time of year you visit, as well as an abundance of smaller fish.
As you dive gracefully past these sea creatures, you'll find over 80 aging shipwrecks, which often attract larger species, such as squid, and enjoy visibility of up to 15 meters.
When is the best time to visit Arraial do Cabo?
The best time to plan a day trip to Arraial do Cabo is between May and September when temperatures hover around 25 degrees Celsius, and humidity is at its lowest.
Many people choose to visit in the peak season, from December to March, however, this means the beaches are often packed and the weather can be stifling during these months.
What are the other day trips from Rio de Janeiro?
Travel tips
This part of Brazil has a hot and humid climate year-round, so don't forget your sunscreen, and sunhat on an Arraial do Cabo day tour.
Most excursions include a local lunch. If you have any dietary requirements, inform your tour provider upon booking.
Bring a towel and swimsuit with you so that you can enjoy the range of activities on offer, such as swimming or snorkeling.
The drive to Arraial do Cabo is relatively long, so bring some snacks and something to keep you occupied while traveling from Rio de Janeiro.