Book a boat tour in Pula, an increasingly popular tourist destination, boasting blue waters, pristine beaches and stunning sites. There's no better way to experience the crystal waters than by setting sail on the Adriatic sea.
From dolphin cruises into the sunset to snorkeling excursions around the Medulin Archipelago, you are sure to find a boat tour in Pula that aligns with your interests!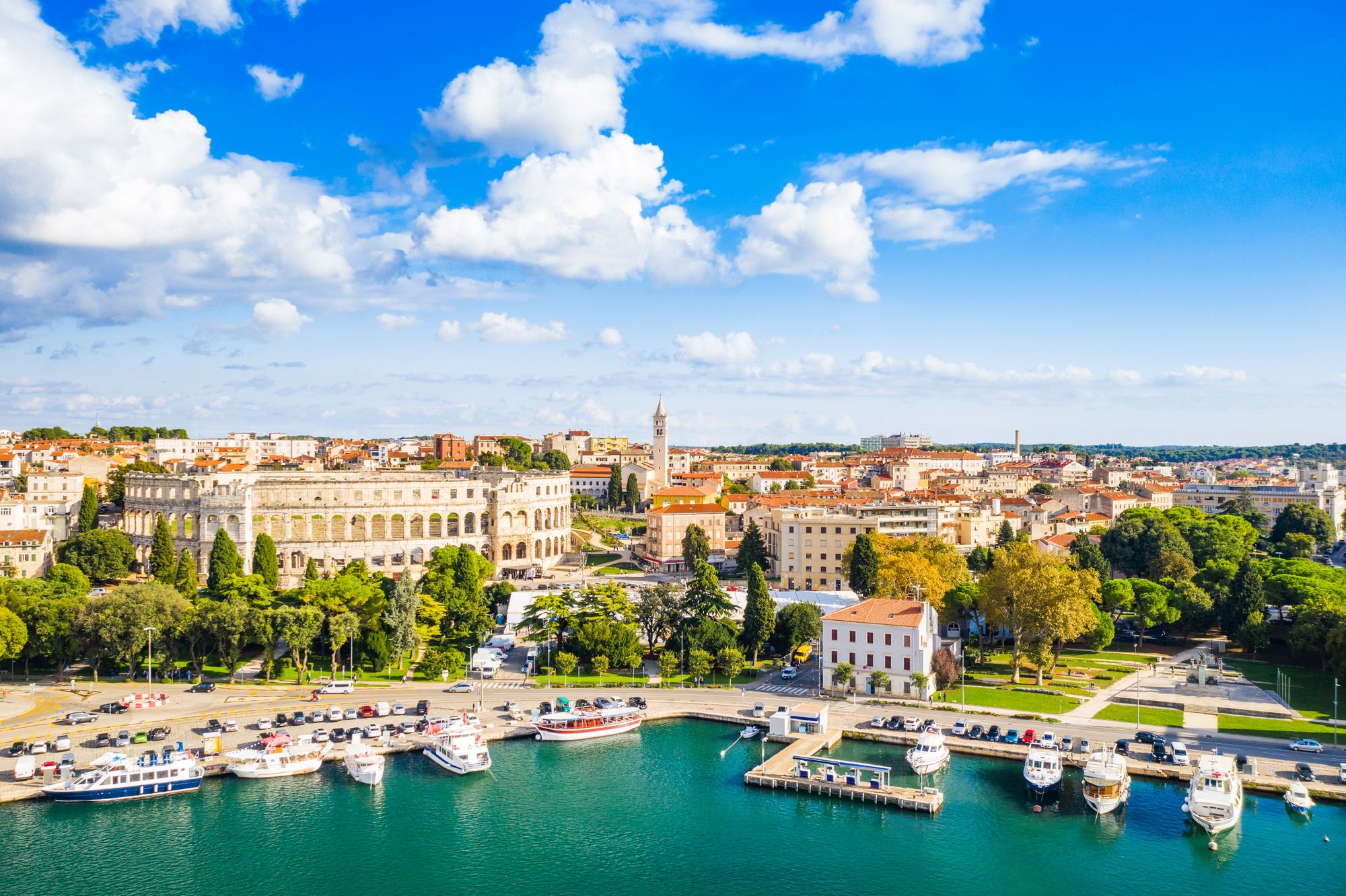 What are the most popular boat tours in Pula?
The southern coastline of Croatia is a popular destination for European travelers, best explored through a boat tour in Pula. Whether you are only spending the day or staying for a couple of weeks, there are plenty of outdoor activities in Pula to fill your itinerary.
Sunset cruise with dolphin watching
You've come to the right place if you're looking for scenic views, dolphin watching and a tour along Pula's coastline. Board your boat at the Pula harbor, take your seat and get ready for panoramic views of the Croatian coast.
As you sail along towards the Brijuni archipelago, be on the lookout for dolphins following beside you. This sunset cruise will last around three hours and includes a mouth-watering Mediterranean dinner served on board.
Seagull Rocks and Cape Kamenjak speedboat tour
At the southernmost cape of Istria, Cape Kamenjak houses many coves, canyons and caves that are only reachable by boat. You can discover all of the secret treasures that this land has to offer during your speedboat tour.
From swimming through private coves to cliff jumping at Seagull's Rocks, you will surely have an incredible adventure in the Adriatic Sea. This tour lasts around 4 hours and is limited to groups of 12 people. Escape the large crowds and book your ticket today!
South Istria boat tours with swimming and snorkeling
This personalized tour takes place on a private boat owned and operated by a local couple. Your knowledgeable guide will show you around the vibrant blue waters of the Kamnejack Peninsula on a crowd-free, half-day tour. During this tour, you will have many opportunities to snorkel and swim with the marine life of the Adriatic sea.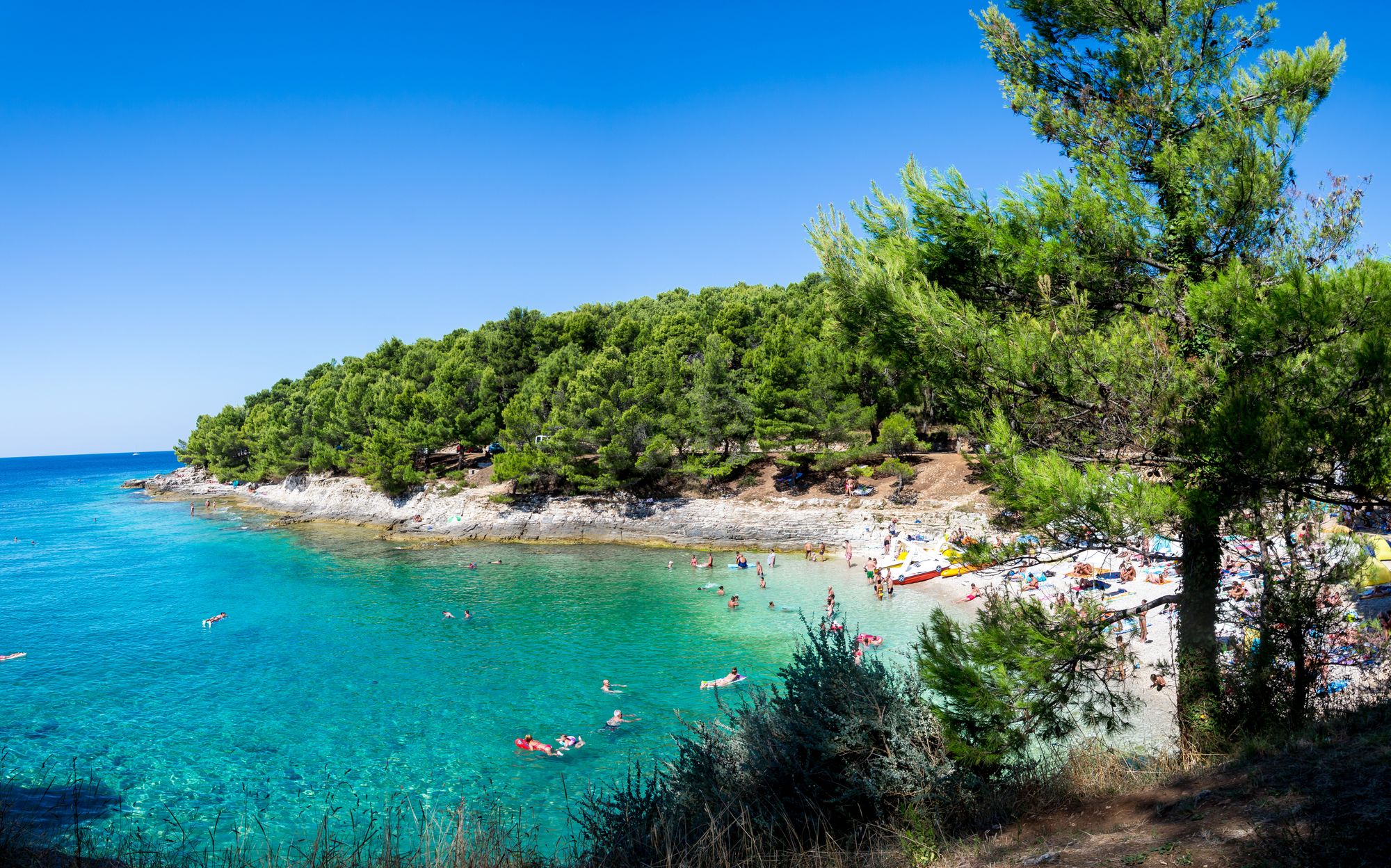 Medulin Archipelago full day boat tour
What once functioned as a traditional fishing village is now a popular destination for thrill seekers of all ages. Catch a ride on a full-day boat tour of the Medulin Archipelago and discover the scenic views that keep people coming back for more.
Golden beaches, hidden coves and the Porer Lighthouse in Premantura are just a few of the beautiful sites you will see along your journey around Kamenjak National Park.
During the tour, you will have a couple of hours to relax and dine on the sandy beaches of Levan Island. Thirst-quenching drinks and tasty lunch will be served on board.
Brijuni National Park boat excursion
Discover all 14 islands of the Brijuni National Park on this peaceful 5-hour excursion! During your tour, the crew will highlight some of the park's most unique treasures within its rich Roman history. Make sure you come ready to eat, as you will have lunch right when you board.
Once the tour is over, you will have 2.5 hours free to swim in the beautiful waters or visit Punta Christo, the largest Austro-Hungarian fortress. Lunch and beverages are provided during the break.
How much do boat tours in Pula cost?
Boat tours in Pula vary in price, so you are sure to find something to fit your budget! Some tours are available at group rates, but most offer individual tickets.
Sunset dolphin cruises start at €41 per person. Dolphin viewing is not guaranteed, but the scenic views, delicious dinner and guided tour are well worth the price alone!
Speedboat tours near Cape Kamenjak vary from €60 to €65 per person, depending on which tour company you choose.
You can go snorkeling along the coasts of South Istria for as little as €30 per person. Extended boat tours with snorkeling adventures start at €60 per person.
Boat tours from Medulin range in price from €26 to €35, depending on the length of the tour and the locations you want to visit. Some tickets even include drinks and a Mediterranean dinner, making them one of Pula's most affordable boat tours!
Full-day excursions to Brijuni National Park range from €40 to €70 per person. Higher-end tickets include snacks, champagne, a professional photographer and more!
Which places are visited with a boat tour in Pula?
Rovinj
A small city, Rovinj is the second most visited town in Croatia, making it a must-see for every visitor! The original beauty of the historic fisherman's village remains in the atmosphere, from the cobblestone streets to the thriving harbor outside of the town square.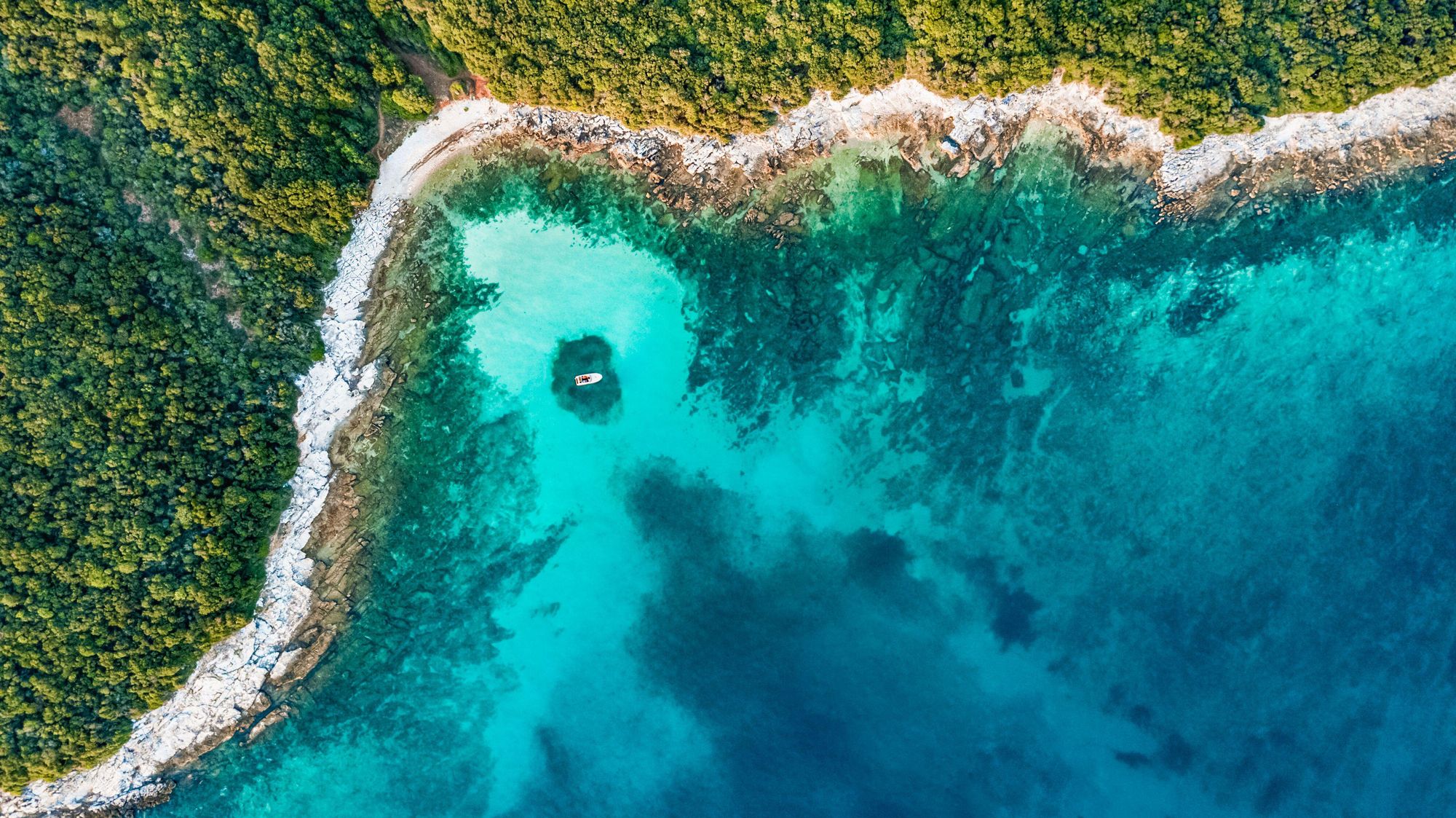 Brijuni National Park
The Brijuni National Park consists of 14 islands and islets along the western coast of Istria. The most visited of these islands is Veliki Brijun, home to flavorsome Mediterranean cuisine and a plethora of recreational activities. Rest assured, you will not be bored on a boat tour through Brijuni National Park!
Cape Kamenjak
Cape Kamenjak is a beautiful Istrian paradise characterized by swimming excursions, cliff jumping and tranquil beaches. Gather a group and dive off the rugged coastline, or take a private swim through hidden coves.
With so many dining options and excursions, every visitor has the opportunity to find their own slice of heaven-on-earth at Cape Kamenjak.
Medulin
Medulin sits just 8 kilometers outside of Pula. This resort is the perfect place for families to relax. Your little ones will love running through the shallow waters around Bijeca, as you sunbathe on the golden sands.
Ice cream shops, quaint cafes and charming small bars are scattered around the area. Experience all Medulin has to offer through outdoor adventures such as boating, sailing, diving, horseback riding and more. Not to mention, you can easily take a day trip to Venice from Medulin!
The Porer Lighthouse
Constructed in 1833, this pleasant lighthouse sits on a tiny islet over 2 kilometers from Kamenjak. Though a small attraction, the Porer Lighthouse is the perfect spot for viewing a sunset over the Adriatic. If you want an exceptionally unique experience, you and up to seven other people can book a stay in the lighthouse apartments available for rent.
Venice
Venice, the iconic "City of Canals," is one of the most exciting destinations on the Adriatic Sea. Take a boat ride from Pula to discover the city's most famous landmarks, including the Grand Canal and Piazza San Marco — home to the famous Doge's Palace and the Campanile bell tower.

Choose from single or multi-day trips and discover the secrets of Venice on a boat trip from Pula.
How long does a boat trip in Pula last?
For most boat tours near Pula, you will want to have at least half of your day reserved for adventure. Of course, there are tours under three hours if you want to take a quick dinner cruise or snorkeling outing. Full-day boat tours from Pula, such as a day cruise to Rovinj, Lim Fjord and Red Island, include up to nine hours of sailing fun.
Where do boat tours leave from?
There are many tour boat harbors scattered across the southern coastline of Istria. Most boat tours set sail from the Pula harbor, near the famous Pula Arena amphitheater. You can take a car to the docks where you will be picked up for your Croatian adventure!
When is the best time for a boat trip in Pula?
The summer months offer the ideal weather conditions for boating and swimming around Pula. Though there is no bad time, visitors tend to have the most pleasant experiences from June to September when temperatures are warmer and skies are clearer.
Boat tours are offered at all times of the day, but many tourists prefer sunset tours.
Which other water activities can be done in Pula?
Travel tips
Be sure to bring sunscreen and swimwear because most tours offer swimming excursions!
Please arrive up to 30 minutes early for your boat tour for the convenience of your skipper and fellow passengers.
We recommend booking tickets in advance to reserve your spot and skip the lines.
Boat tours are subject to weather conditions. In the event of severe weather, the tour may be adjusted, rescheduled or canceled. Refund policies vary based on the tour operator.
Food and drinks may be included on your tour, or you may have an option to dine along the way. Come on an empty stomach if your ticket includes a meal!