The Corsican coast is famous for its rugged red rocks and crystal blue water, a combination that will be etched into your memory forever. Take a boat trip from Porto to access these secluded treasures and take a swim among the grand arches and caverns of Piana.
The small group tours around the bay of Porto allow you to kick back, relax, and enjoy the ride to some of the most underrated and beautiful spots in the Mediterranean.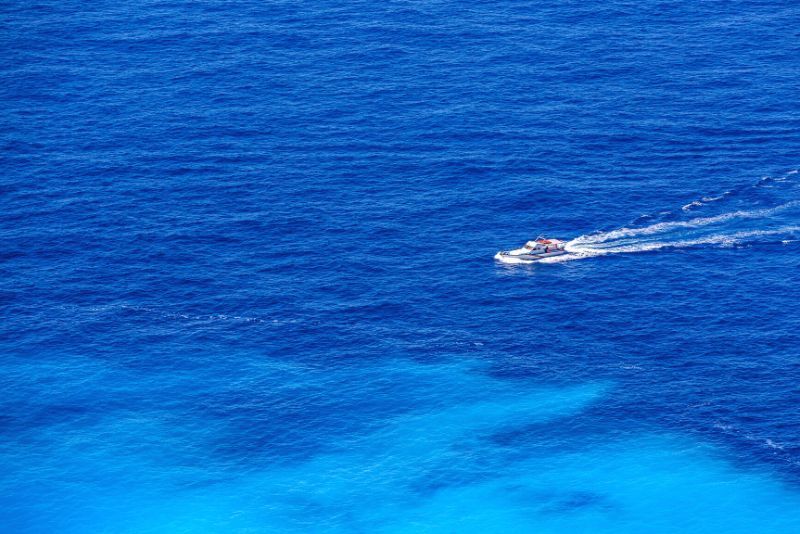 Here's all you need to know about boat tours, one of the most invigorating outdoor activities in Porto.
What are the most popular boat tours in Porto, Corsica?
Whether you want to take a romantic sunset cruise or a comprehensive all-day adventure, Porto has a boat tour for you.
Scandola, Girolata and Calanques de Piana cruise from Porto
A full-day trip around Corsico allows you to access all the hidden corners of the island's rocky edges, spots that are only accessible by boat.
The tour takes a maximum of 15 passengers and the boat is small enough to maneuver through all the tight rocky outcrops of Corsico. The boat has shaded seating as well as a place to catch some sun, a bar and toilets.
Pay a visit to the Scandola Nature Reserve where you can see for yourself why this iconic area has been listed as a UNESCO World Heritage Site.
The boat stops at the charming fishing village of Girolata. You can walk around and soak in the laid-back atmosphere and enjoy lunch at a local restaurant. You could also pack your own lunch and enjoy a seaside picnic.
The last stop for the day is the turquoise waters of Capo Rosso where you can take a dip. The boat will take you through the stone arches and into the caves of Calanques de Piana before returning to Cargèse and Sagone.
Boat trip to Calanques de Piana from Porto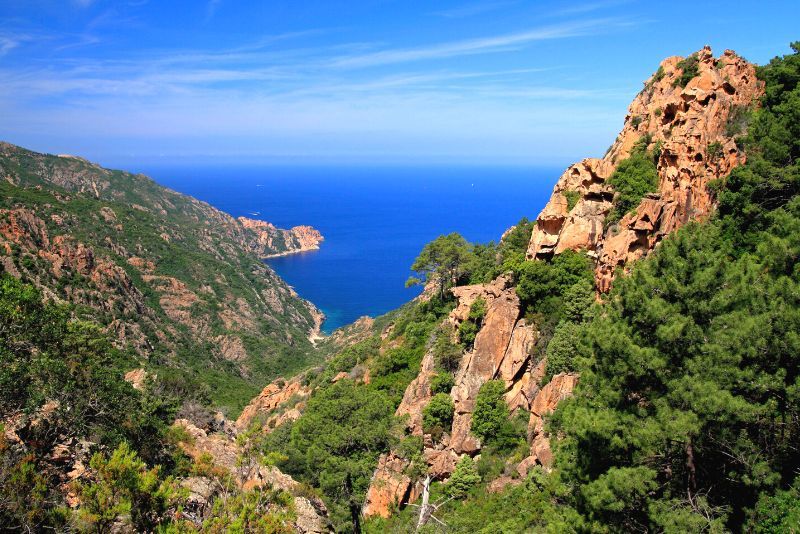 If there is one spot you can't miss in Corsica, it is Calanques de Piana. A short boat trip from Porto to this magical corner of the island lasts only 1.5 hours and gives you plenty of time to see the most prominent natural attraction of the island.
The trip departs from Place de la Marine and heads out to Piana, a secluded location only accessible by boat. You will weave through the ochre-hued rock formations, leaving you breathless as they stand in stark contrast to the bright blue water.
There will also be a brief 30-minute stop in Girolata where you can stroll through the quaint fishing village before heading back to Porto.
Calanques de Piana sunset cruise from Porto
The ultimate romantic experience in Corsica is a sunset cruise from Porto. Board a small vessel and cruise into the sunset as live music ushers you into the evening.
This 3-hour boat trip from Porto is a slow cruise to Calanques de Piana where you will have the privilege to see Corsico's famed red-rocks as they glow vividly in the sunset.
The evening will be filled with the sound of Corsican guitars setting the mood. You will also be treated to a selection of Corsican wines and plates of charcuterie, cheese, and bastille.
How much do boat tours in Porto cost?
A short trip to Calanques de Piana costs €25 per person. A sunset cruise from Porto cost €60 and includes snacks and wine along with live entertainment.
A 7-hour day cruise in Porto costs €60 per person but excludes the price of lunch and anything purchased at the onboard bar. The 4.5-hour option costs €75 but you are in a smaller group and you will be transported by speedboat.
Which places are seen on a boat tour from Porto?
Calanques de Piana
The highlight of a boat tour from Porto is a visit to Piana. This cavernous reserve is a UNESCO World Heritage Site and it is revered for its unique and striking rock formations. You will cruise through the imposing red-rock arch and swim in the turquoise water that flows between the dramatic cliffs.
Girolata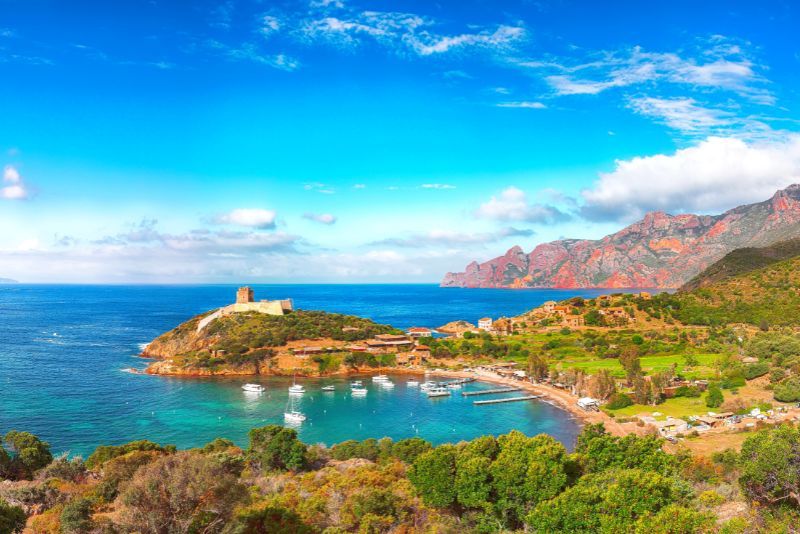 Many boat tours from Porto stop in Girolata. You can only access this village by boat or on foot, making it one of the most remote corners of the island. It is small but there is a selection of restaurants and shops geared toward tourists who arrive at the natural harbor.
On the cliff above the village, you will see the Genoese tower and all around the village is fine white sand and lush Mediterranean vegetation.
How long does a boat trip last?
The shortest boat trip from Porto is a 1.5-hour tour to Calanques de Piana and a sunset cruise lasts 3 hours.
A full-day trip in Porto that includes Scandola, Girolata and Calanques de Piana lasts 7 hours. There is a shorter 4.5-hour option where you travel by speedboat.
Where do boat tours leave from?
The boat trip from Porto to Calanques de Piana leaves from Place de la Marine.
Both the full-day boat tour in Porto and the sunset cruise leave from Sagone's main port but also stop at the jetty in Cargèse 20 minutes later for pick-up.
When is the best time for a boat trip in Porto?
The best time for boat tours in Porto is from April to October. You cannot swim at Piana in every season to taking a cruise in the high season ensures that you can submerge yourself among the amber rocks.
You can take these fun cruises at any time during your stay but a sunset cruise is undoubtedly the best way to end your holiday on a high note.
Travel tips
Wear a swimsuit and bring your own towel if your tour includes swimming.
Bring enough sunscreen, the Mediterranean sun can get harsh!
It is always a good idea to take motion sickness medication for a boat trip.
Inform your tour operator if you have any dietary restrictions ahead of the sunset cruise.