Boat tours in Portland, Oregon, are a unique way to explore the city, offering front-row seats to some of the top landmarks as you cruise along the Willamette River.
Indulge in fine dining and live entertainment for an extra special experience or take a spin down the Columbia Gorge on a jet boat.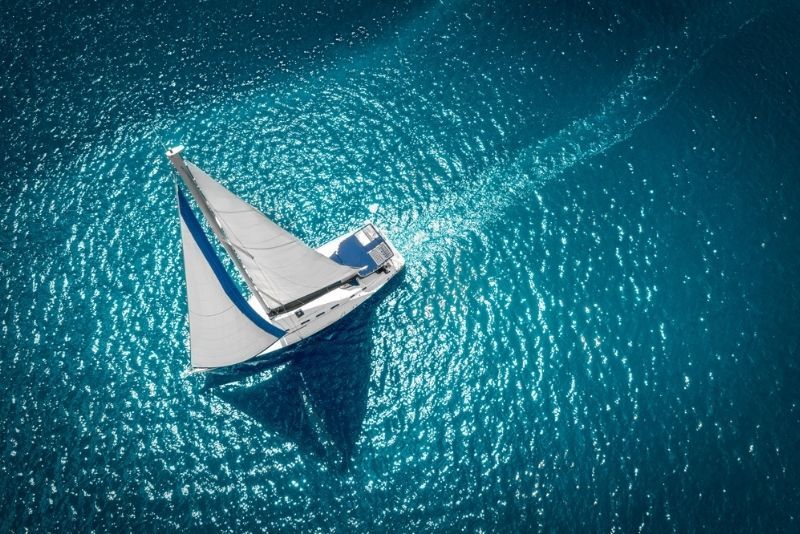 Here's all you need to know about boat tours, one of the most exciting outdoor activities in Portland, Oregon.
What are the most popular boat tours in Portland?
There are several different Portland boat excursions up for grabs, depending on the type of trip you prefer. Lunch and dinner cruises are the most popular, while sightseeing jaunts and jet boat rides will show you a different side of the region.
Dinner cruises in Portland
Why not elevate your day with a dining cruise, and enjoy a side helping of scenery with your meal? These boat trips in Portland operate throughout the day, with options for brunch, lunch and dinner.
You'll tick off some of the city's landmarks as you float down the Willamette River.
Bruch and lunch river tours leave at 11:30 AM. Sit back and soak up the views while you feast on freshly prepared dishes made from local produce.
Dinner cruises in Portland depart at 7 PM and take in the sunset as well as the sights. The Portland skyline is even more beautiful when lit up at night!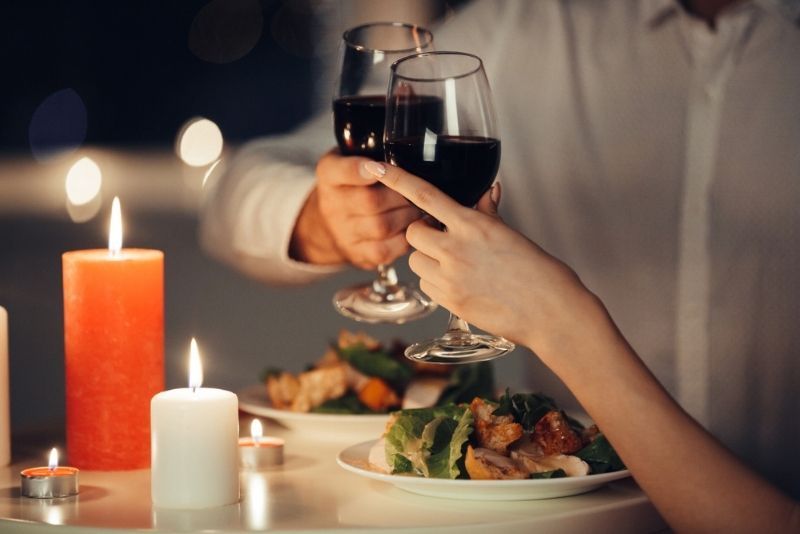 You'll enjoy three courses, with live entertainment and sightseeing commentary from the captain during the meal. Alcoholic drinks can be purchased from the onboard bar.
Sightseeing boat tours around Portland
See Portland in a different light as you cruise down the river, checking off the city sights from the deck. These narrated Portland boat tours are a relaxing way to explore, and you'll learn more about the heritage and people of the local area.
You'll head south on the river to Milwaukie before returning to the dock in Portland. Food and drink are available to buy at the bar.
Jet boat trips to Columbia Gorge
Ramp up the adventure with a heart-pumping jet boat tour in Portland and beyond. These adrenaline-inducing rides transport you into the heart of the dramatic Columbia Gorge for wildlife spotting.
Apparently, this is the place to come if you want to search for Bigfoot, so keep an eye on the shore!
How much do boat tours in Portland cost?
Sightseeing boat cruises in Portland cost about US$50 per passenger for a 1.5-hour tour. These trips include narrated commentary, and you can purchase food and drink onboard the boat.
For brunch and lunch boat trips in Portland, expect to pay US$80 per person with commentary and your meal provided.
Dinner cruises last longer and include a three-course meal – these tours cost around US$130 per participant. Complimentary live entertainment is offered on all dining boat excursions.
Jet boat rides are priced at US$80 per person for a group tour or $230 per passenger for a private trip. Headsets are provided so you can hear the narration, and there is a restroom on board. Bigfoot sightings are not guaranteed.
Which places are seen on a boat tour in Portland?
The Portland Bridges
Among the highlights of all boat tours in Portland are the many bridges that span the river. Each is a marvel of engineering and seeing the bridges up close from below is quite an experience.
Hawthorne Bridge is particularly impressive – it's the oldest vertical lift bridge in the United States. Meanwhile, Marquam Bridge boasts a double deck, and the Sellwood Bridge is known for its arches.
Make sure you keep your camera at the ready as you pass beneath them.
Oregon Museum of Science and Industry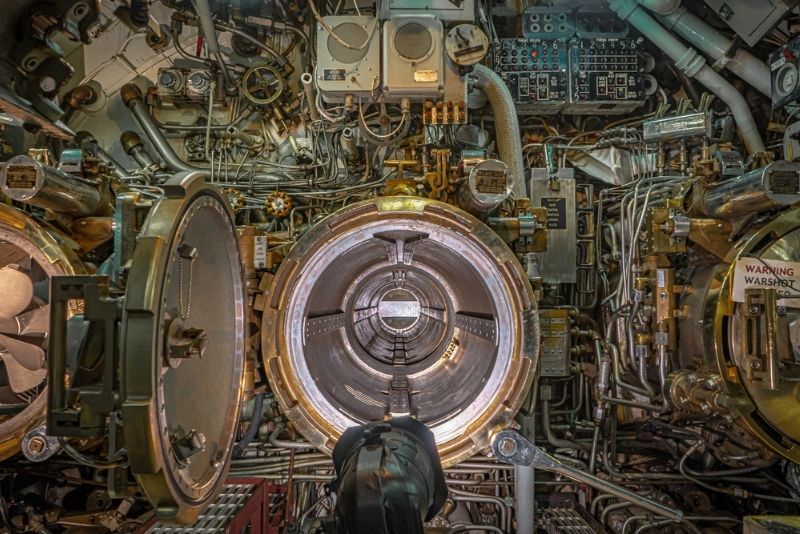 You'll pass by this museum during your cruise, and it's well worth paying a visit once you're back on dry land. Inside you'll discover several exhibition halls featuring natural science and technology displays.
There's also a planetarium that takes you on a journey to galaxies far away, and a retired naval submarine to explore.
Columbia Gorge
Columbia Gorge is the main event on jet boat tours in Portland – this is one for nature lovers and thrill seekers. The canyon carves its way through the Pacific Northwest and is famed for its hiking trails, waterfalls and viewpoints.
You'll zoom past iconic landmarks like the Multnomah Falls and Beacon Rock, with towering cliffs framing your photos.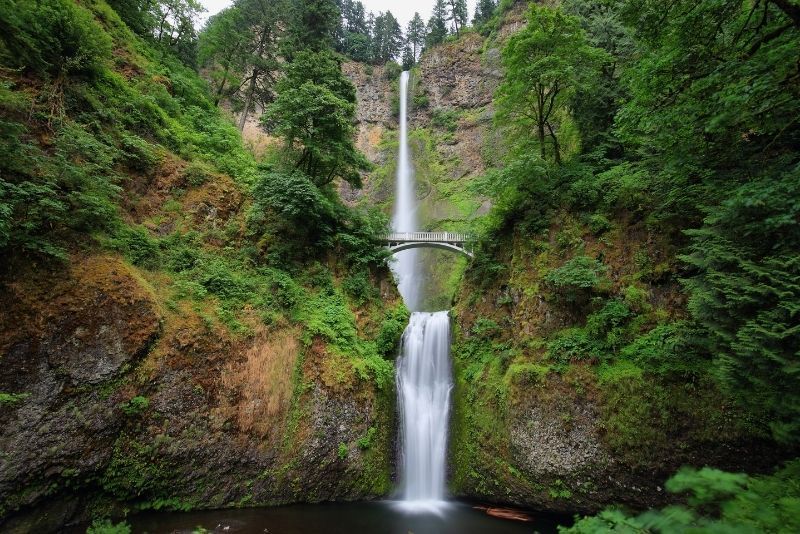 This gorge is where countless Bigfoot sightings have taken place, so if you want to lay eyes on the legendary man-ape, this is your chance! He's quite elusive so you'll need to keep your wits about you.
Sellwood Riverfront Park
This leafy city park sits prettily on the riverbank in southeast Portland. The paths and picnic areas are popular during the summer months, and it's a great place to come if you want to escape the bustle.
There's also a boat dock and wildlife area that makes the most of the waterfront setting.
How long does a boat trip last?
Sightseeing boat cruises in Portland last around 1.5 hours, which is enough time to enjoy the views and a drink or two. Brunch and lunch trips are 2 hours long, while dinner jaunts usually take 2.5 hours.
The jet boat tours are longer still, as you'll be traveling further along the river to the Columbia Gorge. You'll need 3.5 hours to enjoy this excursion.
Where do boat tours leave from?
Most Portland boat trips depart from Salmon Springs Dock. You'll find this just below the Hawthorne Bridge on the western side of the river. There is public parking just across the street.
Hotel pickups and drop-offs are not included in your tour, so you will have to make your own way to the starting points.
For the jet boat tours, you'll need to head to the pier just south of the Tilikum Crossing Bridge, on the eastern riverbank. The operator's office is opposite the Hampton Opera Center, and you can park for free at the landing dock.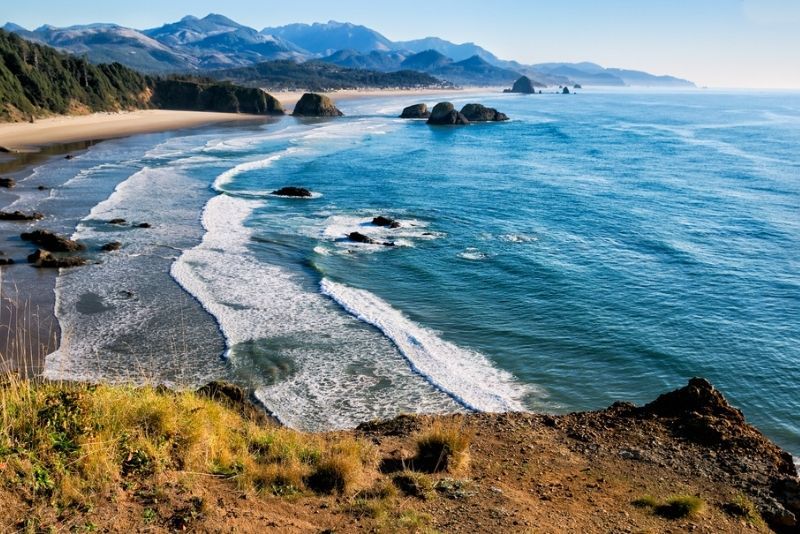 When is the best time for a boat trip in Portland?
Lunch and dinner cruises take place all year round, although they only operate at weekends during the winter. The dinner boat tours in Portland are best if you want to take in the sunset for a romantic end to the day.
Sightseeing tours are available in the summer when you'll be able to stand out on deck to watch the world go by. These trips usually depart in the afternoon for the best light and temperatures.
Jet boat rides operate during summer too, with options for morning and afternoon excursions. Book a weekday morning tour for the quietest experience.
Which other outdoor activities can be done in Portland, Oregon?
Travel tips
Boat tours in Portland take place in most weathers so wrap up warm if you want to spend time out on deck.
A moderate level of fitness is required for the jet boat trips. These bumpy rides are not suitable for pregnant travelers or anyone with back problems.
Take your ID card or passport as this will need to be presented during check-in at the dock.
If you are booking a dining cruise and have special dietary requirements, please advise the operator at the time of reservation.