On a Sonoran Desert day trip from Phoenix, you'll experience one of the hottest landscapes in the United States. Despite the arid environment, wildlife and plants thrive here. The famous plains are peppered with photogenic cacti, and you might even spot a roadrunner or a coyote.
Explorations are enjoyed on foot or in off-road vehicles so you can delve deep into the wilderness. Jeep tours and ATV rides are particularly popular with first-time visitors.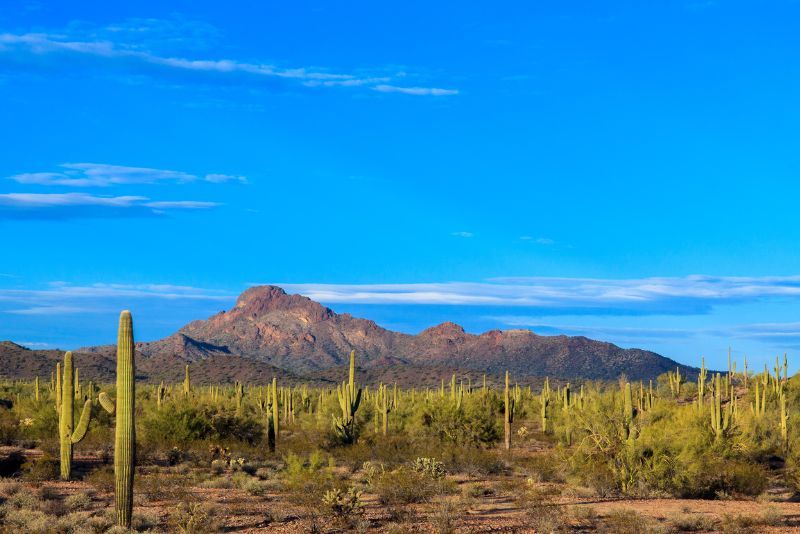 You will find below everything you need to know about the Sonoran Desert, a fantastic destination for day trips from Phoenix.
How to get to the Sonoran Desert from Phoenix?
The Sonoran Desert covers a vast area – it sprawls across southern Arizona, Baja California and Mexico.
Phoenix offers easy access to the wilderness for off-road adventures and hiking excursions. Most of the terrain is inaccessible to road vehicles, so it's not really the place for a road trip.
Guided tour to the Sonoran Desert from Phoenix
By far the easiest way to enjoy a day tour from Phoenix to the Sonoran Desert is with a local guide. Most excursions involve jeeps, ATVs or hiking so having an expert on hand will make all the difference.
Trips tend to be just 2 – 3 hours long since the desert is right on the doorstep. For the ultimate day out, why not combine two tours in a single day?
What is the typical itinerary of a day tour to the Sonoran Desert from Phoenix?
Your journey to the Sonoran Desert from Phoenix begins in the city, with a pickup from a central location. Most tours don't include hotel transfers.
You'll be in the desert in the blink of an eye since it's just a stone's throw from Phoenix. Depending on the type of tour you have chosen, it's then time for some off-roading adventures.
Jeep tours, ATV excursions and Hummer trips are all possibilities. The trailheads are close by too, so if you're on a hiking tour, you won't have far to travel.
After your guided explorations, you'll be driven back to Phoenix to celebrate your successful desert mission.
What kind of tours are available to go to the Sonoran Desert?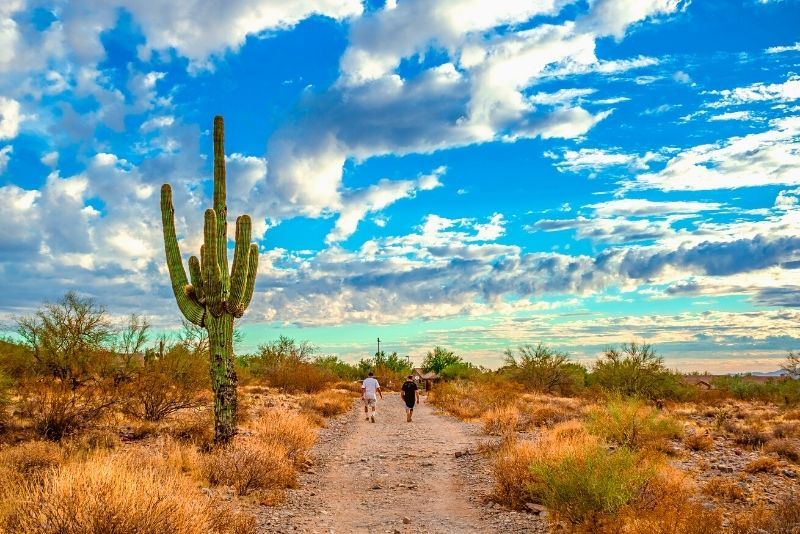 ATV tours to the Sonoran Desert from Phoenix
If you're up for an adventure, you'll love these half-day ATV tours in the Sonoran Desert. This is your chance to zoom through the rugged landscape, stopping for photos along the way.
Transfers from a central Phoenix departure point are provided on this epic small group Sonoran Desert day tour.
Hummer day trips to the Sonoran Desert from Phoenix
These door-to-door escapades are a fun way to explore the more extreme trails. Your day trip from Phoenix to the Sonoran Desert takes you into hidden pockets of wilderness, with several hair-raising routes to tackle.
You'll be in the safe hands of an experienced driver-guide who will teach you about the nature and culture of the desert.
Jeep tours to the Sonoran Desert from Phoenix
Jeep tours let you get up close and personal with the desert, exploring remote trails that standard vehicles can't access. Your guide will be a certified off-road driver, so you can just sit back and enjoy the ride.
These active Sonoran Desert excursions sometimes take place at sunset so you can see the changing colors of the landscape during the evening.
Private mountain bike tours to the Sonoran Desert from Phoenix
Explore the arid desert on a bike tour on these adrenaline-filled excursions. After getting kitted out you'll be transferred to the trailhead for a tailored ride with your private guide.
Tours are available for all levels of rider.
Private guided hiking tours to the Sonoran Desert from Phoenix
There's no better way to connect with nature than by hiking, which is where these Sonoran Desert jaunts come into their own. Suitable for all abilities, these trips are family-friendly and last for half a day.
Hot air balloon flights and sand buggy adventures are also available for intrepid explorers.
How much does a tour to the Sonoran Desert from Phoenix cost?
Half-day ATV tours cost US$240 per person and include safety gear and transport from Phoenix. Meanwhile, Hummer tours are US$270 per person, with hotel pickups, a guide and snacks included in the package.
For a jeep adventure, expect to pay US$180 for a daytime tour and US$130 for a sunset trip. Both of these Sonoran Desert excursions last for a couple of hours and provide a guide and transport from Phoenix.
Mountain bike trips cost US$120 per participant for a 2-hour ride. Cycle gear, snacks and a guide are provided.
Private walking excursions are priced at US$120 per person for half a day. You will have your own guide and the route is customizable according to your requirements. Transport to the start point is not included.
What will you see and do in the Sonoran Desert?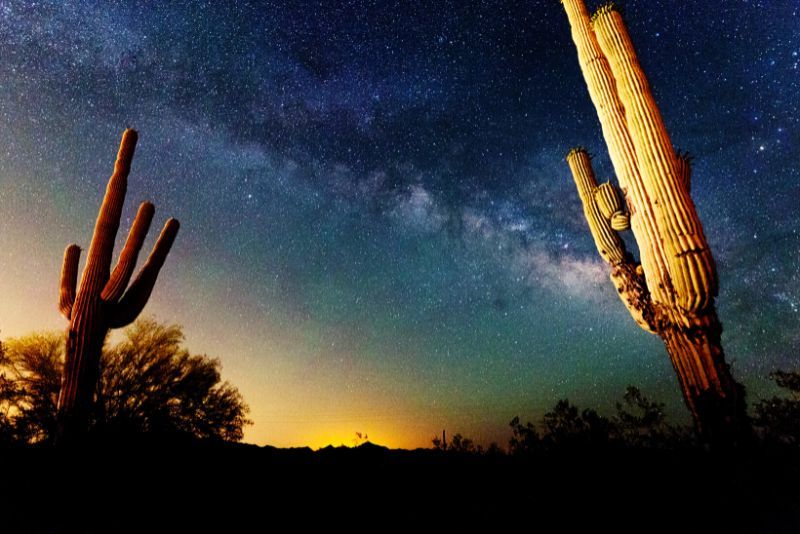 Tonto National Forest
Spread out over 600,000 acres of desert, the Tonto National Forest is the largest wooded area in Arizona. It's rugged and wild, offering untold opportunities for adventure seekers on jeep tours and ATV rides.
This is a land where precipitous peaks look down on sprawling forests, and where cacti-studded plains are home to creatures of the desert. There's everything from deer and snakes to eagles and even mountain lions here, so keep your eyes peeled.
Pinnacle Peak Park
This accessible 150-acre park is one of the most popular hiking destinations in Phoenix. There's a moderate trail through the desert to the mountain peak, with far-reaching views rewarding all those who make it to the top.
Pinnacle Peak Park is a great introduction to the Sonoran Desert, and a favorite with hikers of all abilities.
Sonoran Preserve
Another common location for Sonoran Desert day trips from Phoenix is this pretty preserve. Located just north of the city, it's home to a network of trails.
Beginner hikers should try the scenic Bobcat Trail, while avid explorers can tackle the Dixie Mountain summit.
Wildlife and plants
The most iconic inhabitants of the Sonoran Desert are the Saguaro cacti, which stand like sentinels, keeping watch over the wilderness. Some are over 12 meters high and make an epic backdrop for photos.
Bighorn sheep, jackrabbits and foxes also make their home here, while eagles and hawks circle overhead. See if you can spot the cactus wrens among the prevalent prickly plants.
When is the best time to visit the Sonoran Desert?
Spring is the ideal time for a day trip to the Sonoran Desert. The temperatures haven't yet reached sizzling status and the wildflowers are blooming across the plains. It's best to avoid the summer when the land is parched, and the sun is intense.
Winter is popular too, with blue skies and lower temperatures attracting visitors from near and far.
Travel tips
Sonoran desert day trips from Phoenix are best booked in advance as places are limited to keep tours small and manageable.
Wear comfortable outdoor clothing for these tours as most require some degree of physical activity. Hiking boots are advisable for walking excursions.
Water is provided on most tours, but you might want to take your own bottle as a backup, especially during the hotter months.
Some ATV operators require drivers to have a valid driving license – bring this with you on the excursion.