Planning a beach vacation to Panama? The country's capital offers too much to miss, and it's minutes from many resorts. Take a break from the sun and sand with a hop-on hop-off bus tour in Panama City.
Benefit from the flexibility and affordability of a hop-on hop-off tour that provides commentary and transportation to the best sites in Panama City.
Centuries of history, rich indigenous culture, marvels of engineering and tropical natural beauty await you in this Central American metropolis.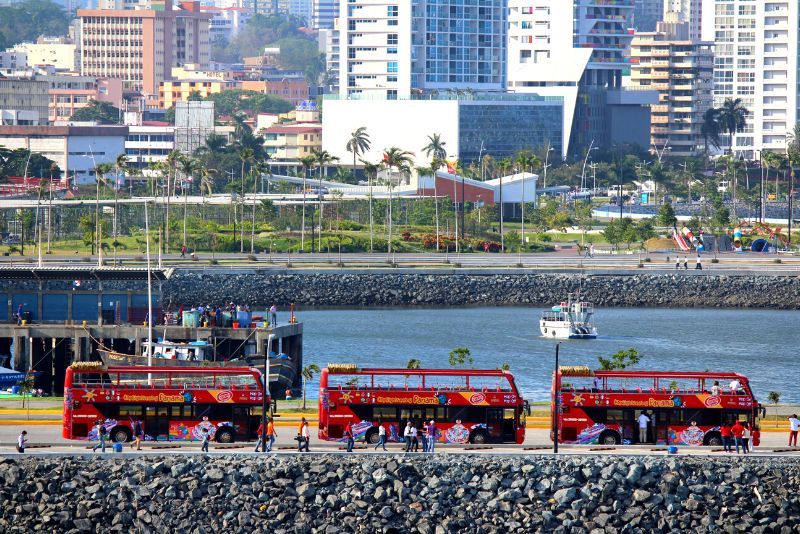 Here's all you need to know about Hop-on hop-off Bus Tours, one of the options for sightseeing tours in Panama City.
What are the best hop-on hop-off Panama City bus tours? What are their prices?
City Sightseeing
Hop-on hop-off Panama City tours operate double-decker red buses labeled "City Sightseeing." This company runs all hop-on hop-off bus tours in Panama City.
A 24- or 48-hour pass takes you around the city with the flexibility of stopping at any site for however long you'd like. Make a full circuit of the town or just hop off at the most enticing spots.
Routes
There is one route that starts at the Balboa Boutiques in central Panama City. However, you may board a bus at any of the stops. The stops continue to Parque Urraca, Mi Pueblito, Albrook Mall, Miraflores Locks, Entrada de Amador, the Bio Museum, Punta Culebra, Isla Flamenco, Isla Perico, Sabores del Chorrillo, Casco Antiguo and ends at Multicentro.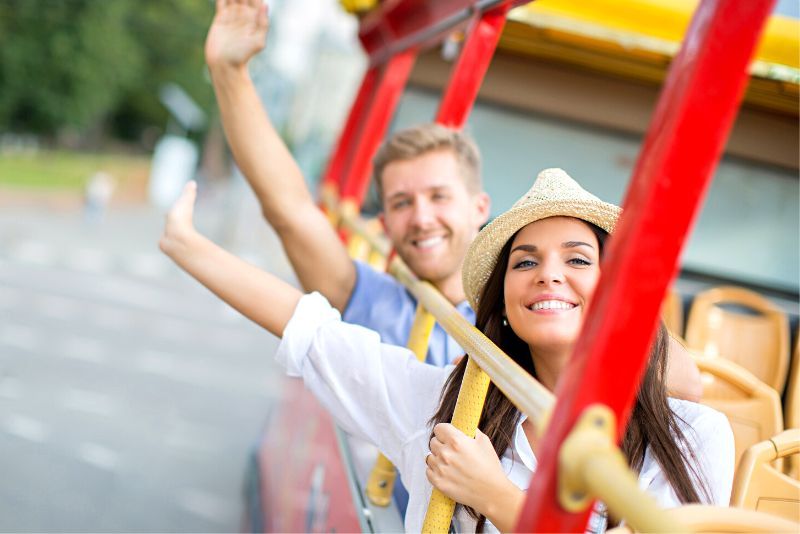 Buses begin circulating at 9 AM from Balboa Boutiques, and it's a good idea to start your tour early to avoid crowds. The last pickup at Balboa Boutiques is at 6 PM. It takes about 2 hours to complete the whole tour.
Buses run hourly but sometimes experience delays due to heavy traffic.
Tickets
Hop-on hop-off bus tours offer two options, a 24-hour and a 48-hour pass.
Prices for a 24-pass are US$27 per adult and US$18 per child.
For a 48-hour pass, adult tickets are US$33 per person, and children's tickets are US$18 per person. Infants ride free.
Enjoy unlimited rides for the duration of your ticket, and your pass is valid for up to 12 months after the date you select at the time of booking. Tour companies also offer free cancellation up to 24 hours before your scheduled ticket time.
How do hop-on hop-off bus tours in Panama City work? What is included?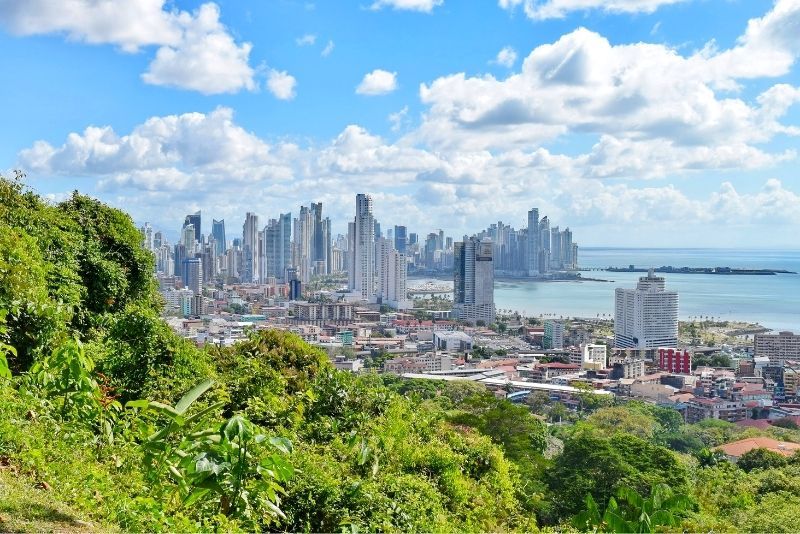 Hop-on hop-off bus tours in Panama City provide you with a bracelet that acts as a pass. Show your bracelet to the driver or guide as you enter the bus. Choose lower-level interior seating, or opt for seats on the open-topped upper level.
While there are live guides present on the buses, City Sightseeing provides headphones to access an audio guide that's available in several languages. You are able to use your own headphones to hear the guide, as well.
All the best sites in Panama City are covered in a hop-on hop-off tour, from the Canal, colonial sites, shopping and museums.
If you'd like to make stops at the most popular sites, especially Miraflores Locks and Visitor Center, the Amador Causeway and Ancon Hill, alight at these spots early in the day to avoid crowds.
You may decide to partake in a full tour of the city at one time or choose to get off at any stop. Stops on the route are well-planned to reach major attractions in the city.
At the time you receive your bracelets, tour operators will give you a copy of the timetable to help you plan your day.

Travel tips
Start your tour in the morning to avoid crowds.
For top deck seating, choosing inner row seats can help you avoid bumping into branches as the bus passes streetside trees.
Non-Panamanian citizens are required to carry their passports at all times.
There is a pause in bus service around noon for lunch.