If you're seeking a relaxing way to spend a few hours in Naxos, look no further than a wine tour. These luxurious excursions enable you to wander through rows of fragrant grapes, learn about the history of wine-making in Greece and, of course, sample some of the local red and white wines.
Whether you're a wine connoisseur or simply enjoy a glass from time to time, there are wine tours and tastings in Naxos to suit you.
Here's all you need to know about wine tours and tastings, one of the most captivating gastronomic experiences in Naxos.
What are the best wine tours and tastings in Naxos?
Winery tour and tasting in Naxos
Let your taste buds tingle in this wine-tasting experience on the picturesque island of Naxos.
Itinerary
Meeting your small group at one of the most esteemed wineries in Naxos, you'll amble through the facility discovering the fascinating process of growing and pressing grapes, as well as transforming them into a lovely liquid that can be bottled and aged.
You'll learn about the techniques used by the ancient Greeks in winemaking and how these have changed over the centuries. Top off your tour with a tasting session of several wines, as well as local snacks, such as olives and cheeses.
Are there any combos available with wine tours and tastings in Naxos?
Naxos food tour with wine tasting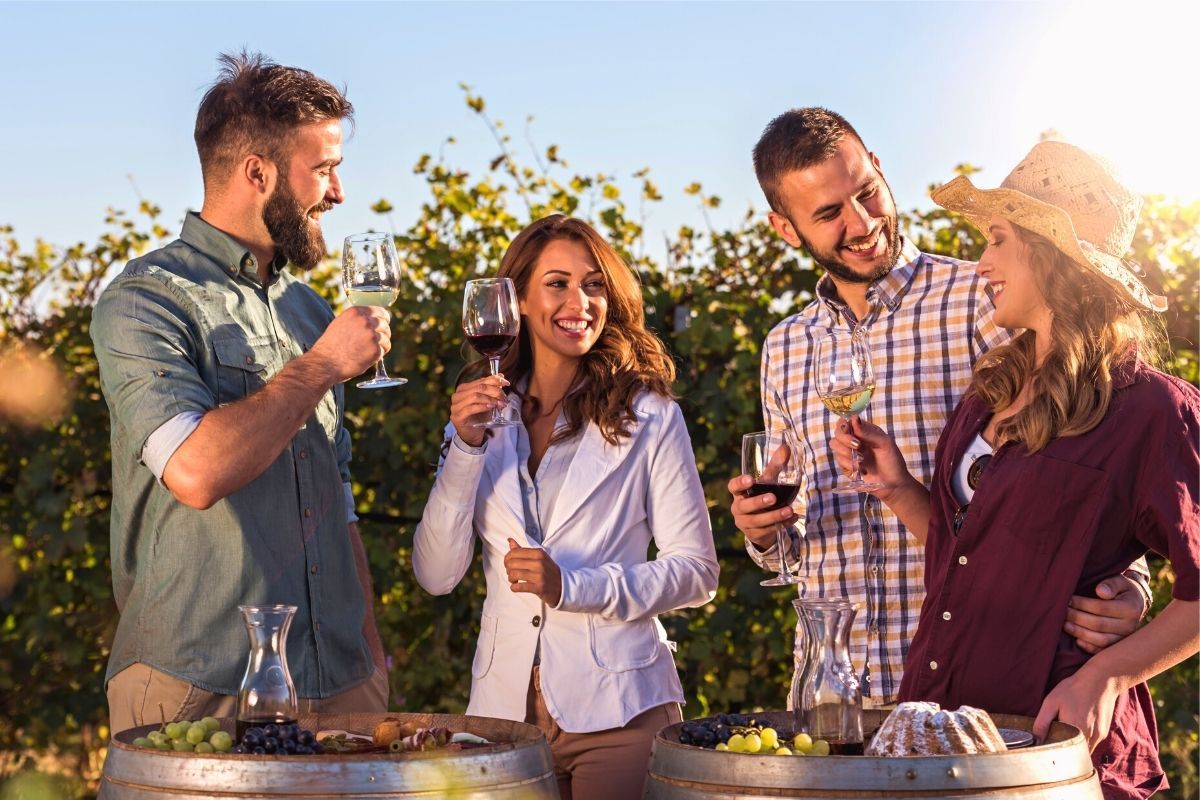 Exploring Naxos Old Town on foot, you'll dip in and out of the locals' favorite food outlets to try flaky pastries, Naxos' famed potatoes and traditional cheeses. You'll also have the opportunity to bond with your group over a glass of wine as you learn all about Naxian food and how it has shaped the island's culture over time.
Private cheese and wine tour in Naxos
This combination tour transports you to a traditional dairy farm where you'll have the opportunity to meet friendly animals and help create cheese yourself.
Feel like a local as you engage with the farmer over mouthwatering delicacies before moving on to a winery where you'll stroll through its vineyard and be educated on winemaking practices.
Ending your excursion, you'll wet your whistle with several wine samples, including Graviera.
Which places are visited?
Naxos is home to just two wineries, each with spectacular vineyards and processing facilities, as the island is still considered off the beaten track when it comes to tourism.
However, winemakers on the island tend to their grapes with expert care and passion. The wines you'll find on offer at these establishments include Fokiano, Mandilara, Monemvasia and Savvatiano.
How much do wine tours and tastings in Naxos cost?
Basic wine tours and tastings in Naxos start at around €50 per person. If you opt for a food tour that includes wine, you'll pay between €70 and €80 each, while a private cheese and wine excursion typically costs €490 per person.
What is included?
Wine tours and tastings in Naxos typically include several samples of different wines paired with a few local snacks.
Where does it start?
Naxos wine tours usually begin at one of the vineyards or wineries on the island. However, they may start at an easy-to-reach destination, such as a central bus station instead.
How long does it last?
Wine tours and tastings in Naxos range from 2 to 5 hours, depending on the destinations they travel to.
When is the best time for wine tours and tastings in Naxos?
Many wine tours in Naxos take place in the evening and are an easy activity to fit into your itinerary. While some operate year-round, others are only bookable between April and December.
Travel tips
Visit the beaches. Naxos has some of the best beaches in the Cyclades, so make sure to spend some time soaking up the sun and swimming in the crystal-clear waters. Some of the best beaches include Agios Prokopios, Plaka, and Mikri Vigla.
Explore the villages. Naxos has many charming villages to explore, each with its own unique character and history. Some of the most popular villages to visit include Chalki, Apeiranthos, and Filoti.
Try the local cuisine. Naxos is known for its delicious local cuisine, so be sure to sample some of the island's specialties, such as stuffed vine leaves, fresh seafood, and locally produced cheese and wine mentioned above.