If you're itching to try the vibrant produce of Naxos, why not participate in a food tour? This Greek island is well known for its mouthwatering, fresh cuisine and the best way to explore this is with a local guide.
From sharp citrus liquors to decadent sweet treats and nutty cheeses, food tours in Naxos enable you to experience Greek cuisine in all its glory.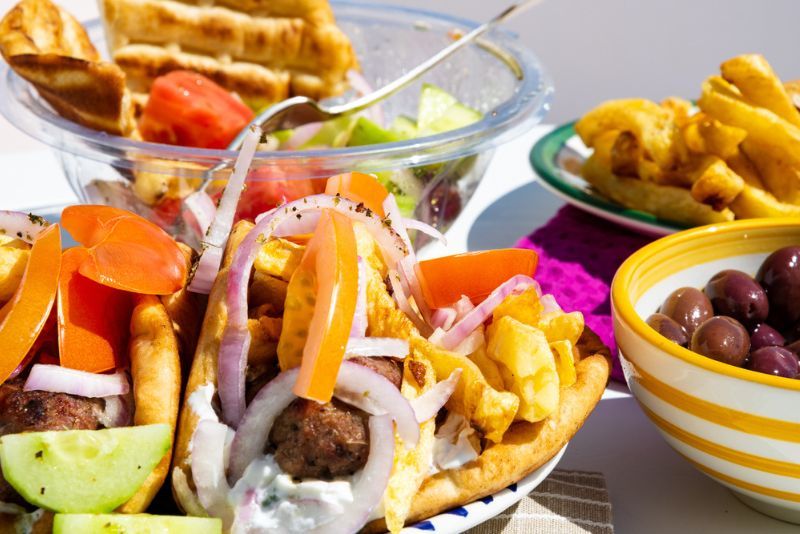 Here's all you need to know about food tours, one of the most captivating gastronomic experiences in Naxos.
What are the best food tours in Naoxs?
Small group food tour in Naxos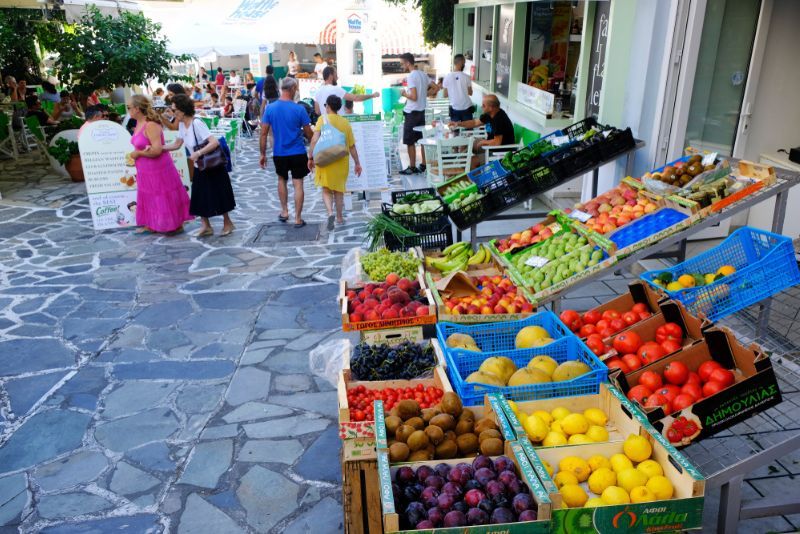 Get to know Naxos Old Town through your taste buds on this evening food tour.
Itinerary
As part of a small group, you'll set off through the streets of Naxos, enjoying a more personalized experience than on other excursions. Allow yourself to be guided through the back alleys and winding lanes of Naxos Old Town, stopping at several celebrated local eateries along the way.
You'll sample Greek cheeses, as well as the most revered produce of the isle — potatoes. Try dry and sweet white wines, as well as liquor made from the citrus trees grown around the town.
In between these culinary experiences, you'll participate in a walking tour of Naxos, admiring its 13th-century Venetian castle and learning about the island's history.
Cultural food tour in the local villages of Naxos
Alternatively, travel out to the traditional villages of Naxos to explore the delicacies that have shaped the isle's long history.
Itinerary
Journey away from the tourist hot spots, past waterfalls and verdant greenery to the village of Kourounochori, where you'll meet a local olive farmer, and taste the salty fruits they produce.
Learn how the ancient Greeks harvested olive oil and how the production methods have changed over the years before continuing on to Apeiranthos — an enchanting townlet on the slopes of Mount Fanari.
Here, you'll participate in a walking tour of Naxos' best-kept secret before indulging in a wine and cheese tasting session. Finally, make your way to Chalki to try the island's famed citrus liquor — kitron — and satisfy your sweet tooth with a creamy custard pie.
Are there any combos available with food tours in Naxos?
Private day cruise with food and wine tasting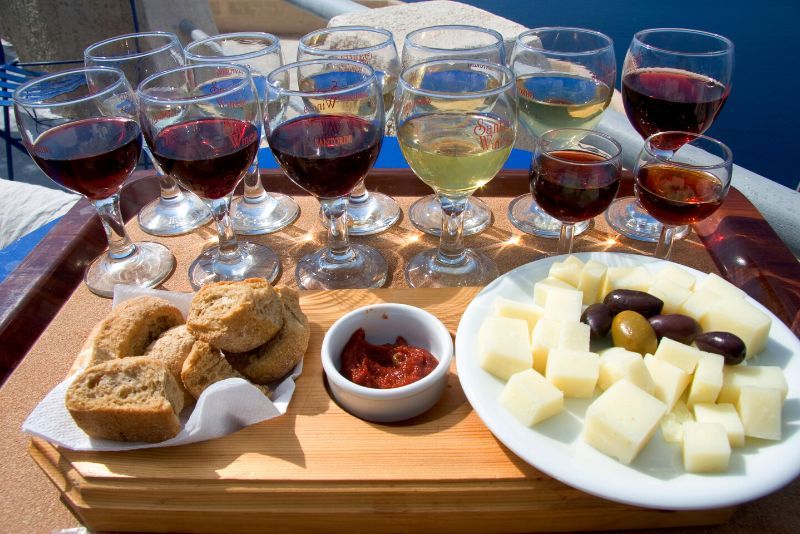 On this Naxos boat tour, you'll set sail to discover the island's hidden gems and most secluded beaches. You'll have the opportunity to snorkel through crystal-clear waters and explore remote sea caves.
Once you've worked up an appetite, you'll be served a tasting menu of traditional Greek delights, which include fresh Naxian produce, such as cheeses, meats, olives and vegetables, accompanied by wine tastings.
Which places are visited?
Food excursions in Naxos visit a variety of destinations across the isle, each of which is known for its own culinary specialty. In Kourounochori, the residents are famed for growing succulent olives, while Chalki is known for its liquors.
Across the island, you can find fresh fruits and potatoes grown by local families using organic farming practices. The farm-to-table approach of serving meals in Naxos is what contributes to the island's reputation for having some of the tastiest cuisines in Greece.
How much do food tours in Naxos cost?
The most budget-friendly food tours in Naxos cost €80 per person and take place with a small group.
You can expect to pay €150 each for a food tour through several of Naxos' traditional villages.
Alternatively, if you opt for a private day cruise with food and wine tastings, you'll pay around €1,410 for a group of up to six participants.
What is included?
Food tours in Naxos always include a guide to lead you to some of the most delicious spots on the island in order to sample traditional Naxian cuisine.
You'll also be provided with samples of dishes at each venue, which usually totals the equivalent of a large meal.
Where does it start?
Food tours in Naxos start at a variety of locations across the isle. These are usually easy-to-reach destinations, such as Naxos Town Hall or Naxos Port.
You can see the meeting point of each excursion before booking so that you can arrange any necessary transportation ahead of time.
How long does it last?
Food tours in Naxos can last as long as 9 hours, depending on any additional activities you may choose to participate in.
However, the majority typically last between 3 and 5 hours, making them the perfect half-day activity to add to your itinerary.
When is the best time for a food tour in Naxos?
You can participate in a Naxos culinary tour at any time during your trip. Simply book one for a few hours after your last meal to ensure you're hungry enough to enjoy it fully.
Travel tips
Make your operator aware of any allergies or dietary restrictions you have when booking your tour.