Naxos, the largest island in Greece's Cycladic Islands, is an ideal jumping-off point for explorations of the rest of the archipelago. The island itself boasts idyllic beaches, crystalline coves and sea caves that beg to be explored.
Within a few hours, a boat tour in Naxos can take you to secret spots on the coast or to other islands in the Cyclades. Experience famed Santorini and Mykonos to secret corners of unknown islets to niches along Naxos's coast that are only reachable by boat.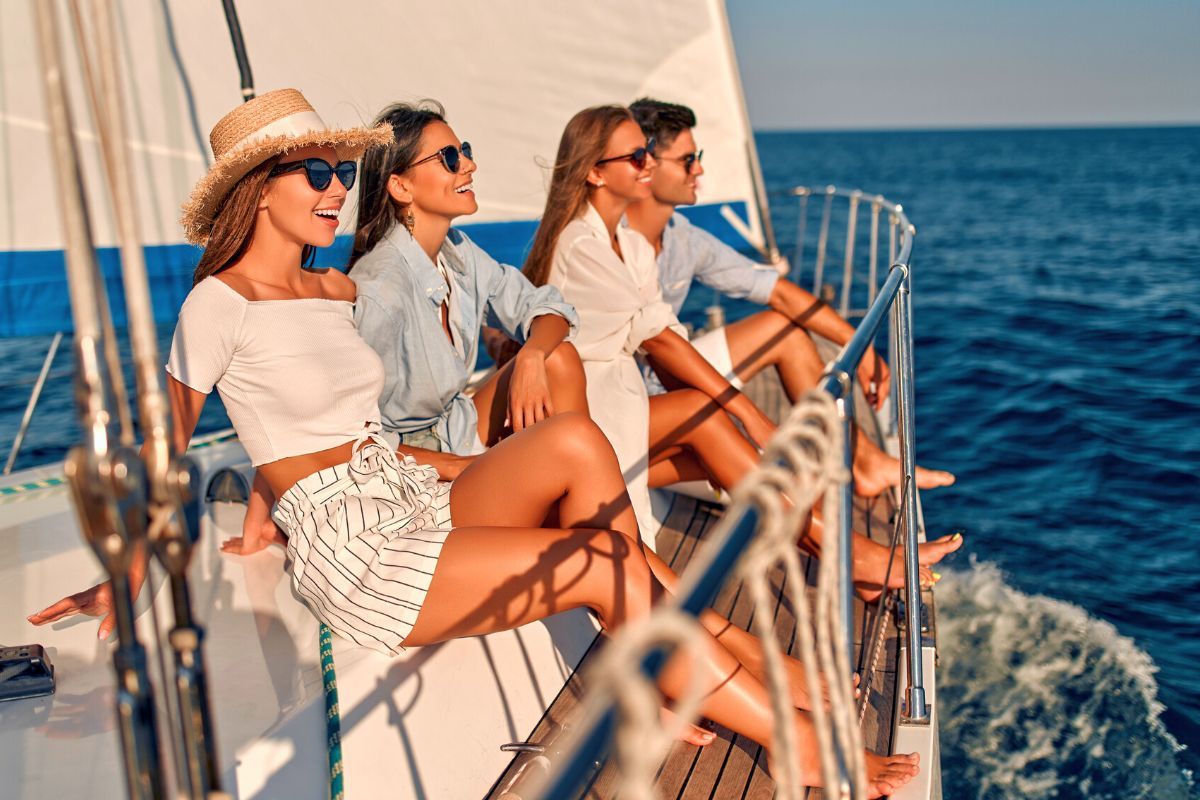 Here's all you need to know about boat tours, one of the most invigorating outdoor activities in Naxos.
What are the most popular boat tours in Naxos?
Catamaran cruises
Perfect for escaping the hot sun and summer crowds, a half- or full-day catamaran cruise from Naxos has pleasure and fun as its main objective. While some catamaran cruises make stops at beaches for a walk on the sands or stroll through towns, most are geared towards sunning and swimming.
Relax on trampoline nets for a peek at sea life below. Jump into the waves from the deck. Snorkel through the underwater world, or just cool off in the shade with an icy drink. Group sizes for catamaran cruises are kept at a comfortably small number, or you can choose a private experience.
Cruises to the Small Cyclades Islands
For sun seekers and those wanting a slice of remote island beauty, book a tour with stops at one to three of the Small Cyclades Islands. These islets are scattered in the Aegean between Naxos and Amorgos. With only four of them inhabited, travelers desiring a true escape will find it here.
Boat tours to Mykonos and Delos
For a dose of history and fun combined, take a day tour that starts on historical Delos, and ends on glitzy Mykonos. Spend around 3 hours to tour Delos alone or with a guide plus a full afternoon on Mykonos.  
Boat tours to Santorini
Spend a full day exploring one of Greece's most celebrated destinations. Make the 2- to 3-hour crossing from Naxos to Santorini followed by guided tours of the island's highlights. Fill the rest of your day with hiking, dining, wine tasting, shopping and more before returning to Naxos.
Multi-day cruises
Take to the seas for 3 to 5 days on a private boat. Stop to explore and swim at different islands and hidden locales only reachable by boat. Multi-day cruises provide accommodation, breakfast and lunch with the chance to try local restaurants for dinner.
Private boat tours
Gather your favorite person or people for a private experience that you'll remember forever. Plan a romantic outing with your partner or a day-long party with friends or family. Private boat tours in Naxos run the gamut from luxurious cruises with a meal to multi-day adventures.
How much do boat tours in Naxos cost?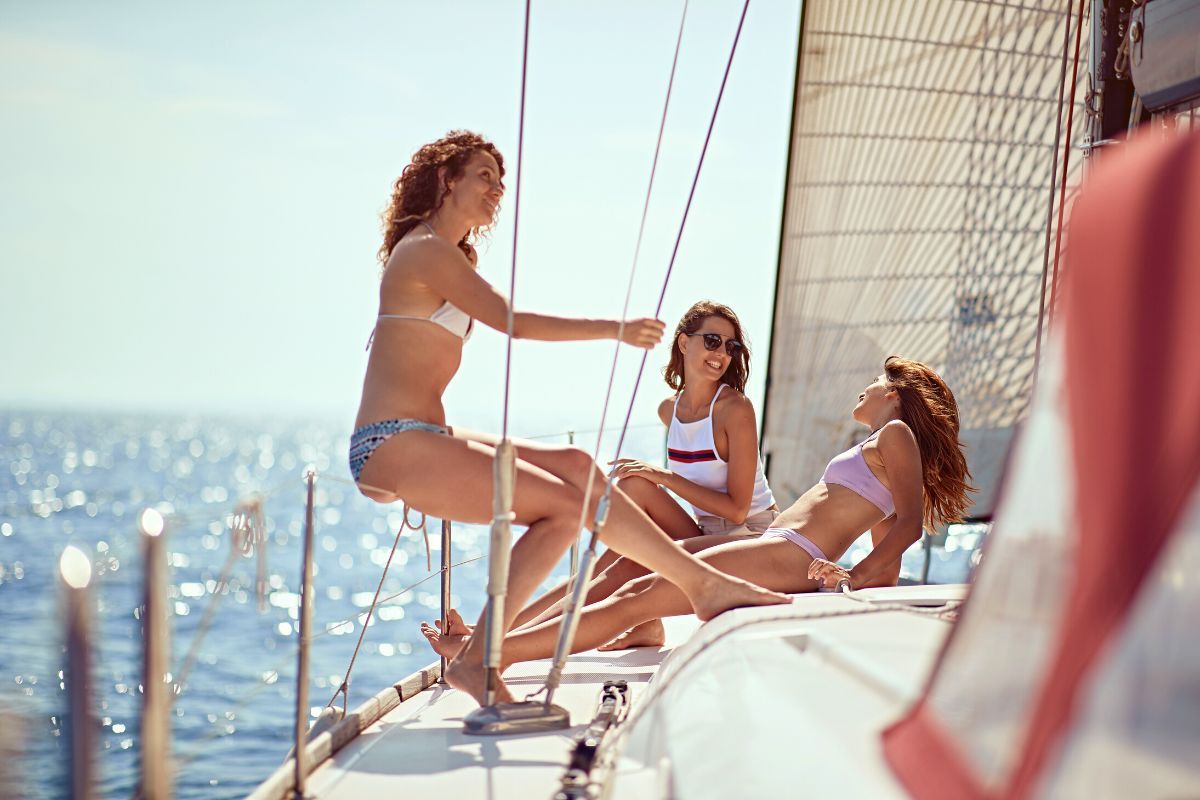 Catamaran cruises cost from €120 per person to €140 per person for small group outings, depending on the duration of the trip. Private catamaran cruises cost from €105 per person for groups of 18 up to €675 per person for groups of two. These cruises serve lunch plus snacks and drinks. They also have snorkeling gear and flotation devices to use.
Cruises to the Small Cyclades Islands cost from €45 per person to €140 per person. Price differences depend on whether meals and drinks are served, the capacity of the boat and the duration of the tour. Private Small Cyclades tours cost from €150 per person for large groups up to €885 per person for groups of two.
Boat tours to Mykonos and Delos cost €60 per person for tours that only provide transportation to the island. Small group excursions that offer guided walking tours of Delos and Mykonos Town cost around €165 per person.
Boat tours to Santorini cost from €75 per person to €100 per person. Tours offer guided visits to attractions on the island by bus, and more expensive tours add on a walking tour of Santorini's most famous points.
Customizable 3-day cruises are private and range from €710 per person for groups of six people to €2130 per person for a couple. Five-day cruises cost from €1780 per person for groups of four to €3555 per person for couples. Included in the price are breakfast and lunch, drinks, overnight lodging on board, wifi and the use of snorkeling gear.
Which places are seen?
Naxos Coast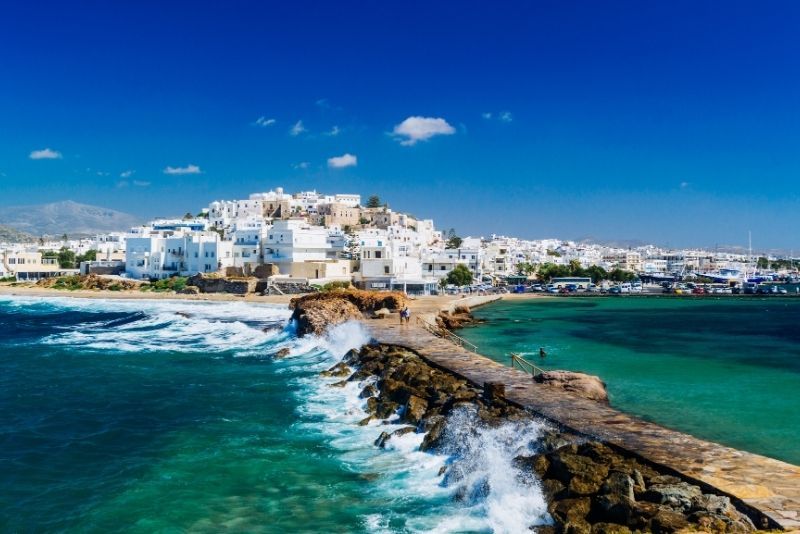 Sail away from the Port of Naxos for a new perspective of Naxos town. Spy its buildings clinging to the hillside dominated by the Venetian castle. See Apollo's Gate on its promontory before heading toward lesser known spots.
Naxos's rocky volcanic coast is sculpted into inlets, sandy beaches and sea caves. A highlight on many boat tours is Rhina Cave at the southern end of the island. Swim or wade your way into the cavern to witness stalactites and stalagmites and marvel at the shade of the water inside the cave. The daring may want to climb up cliff sides for a dive into the sea.
Small Cyclades Islands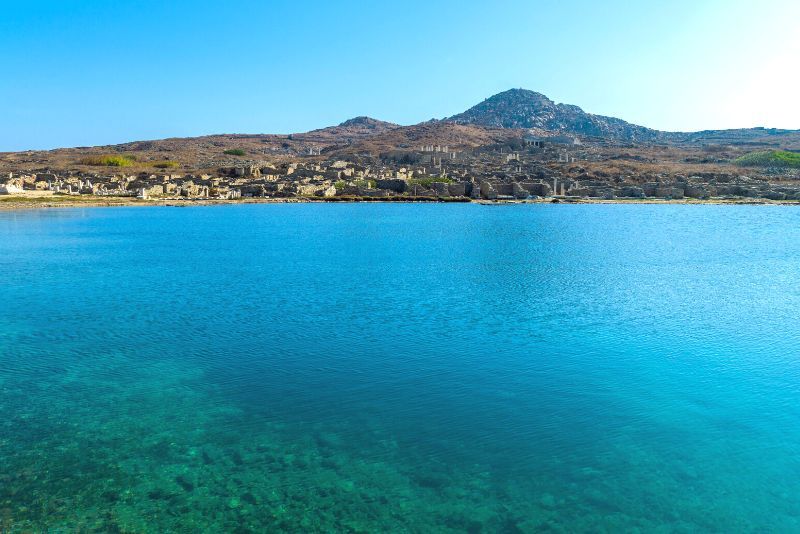 Still relatively undiscovered by the masses, the Small Cyclades Islands are largely unpopulated or feature more rustic facilities. For a traveler burned out on crowds, a day among these islands is a peaceful respite. Revel in rugged natural beauty and traditional villages filled with tidy whitewashed homes.
Santorini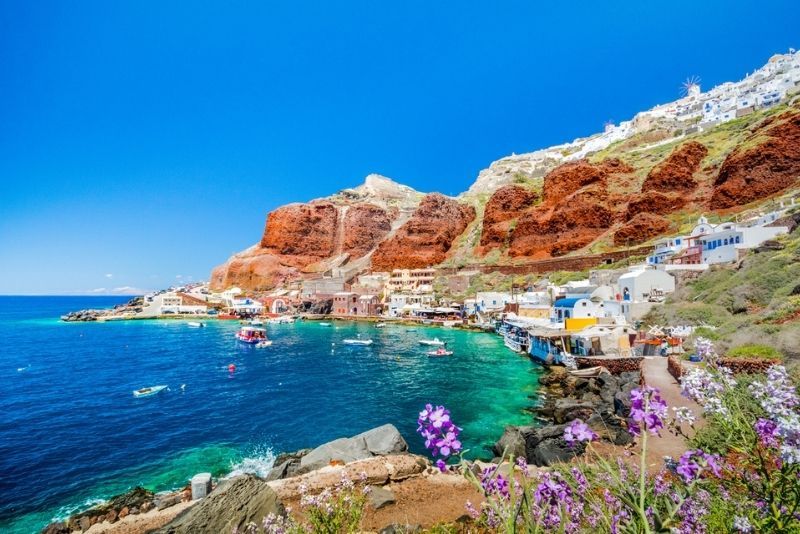 Perhaps the most famous of the Cycladic Islands is one created by volcanic activity. Rising from the Aegean in a ring around its caldera, Santorini is made up of a large island and several smaller islets. Rocky mountain sides are dotted with villages painted in the characteristic blue and white, and inland is some of Greece's best wine growing terrain.
Mykonos and Delos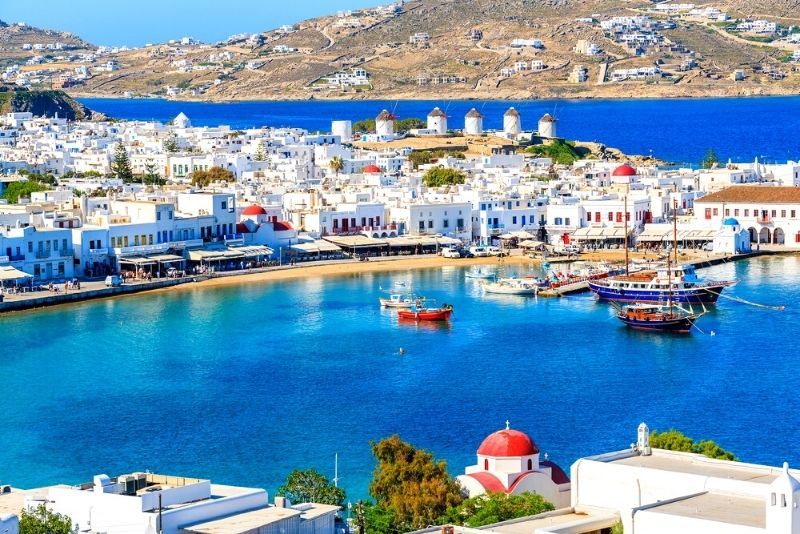 A tour to both Mykonos and Delos is a trip of contrasts. Starting with the UNESCO-protected ruins and museum of Delos, walk among relics from ancient Greece, either alone or with a guide. Stop by the museum for a glimpse of dazzling artifacts found on the island that include pottery, jewelry and statues.
After an intellectually-stimulating morning on Delos, head toward Mykonos for an afternoon of the celebrity lifestyle. Mykonos's beaches are among the best in Greece, and many are drawn here for a party. Nightclubs and designer shopping abound, and hedonistic beach clubs serving cool drinks are easy to find.
No stay on Mykonos is complete without time in Fira and Oia. You can reach the hilltop town of Fira from the port by a scenic cable car. Venture through the cobbled streets of Fira for shopping or celebrity spotting. Oia is the most visited spot in Santorini. Take in a sunset from the ancient windmills, and snap photos of the town's blue domes.
How long does a boat trip last?
Day boat tours last 5 to 12 hours. Multi-day trips last 3 to 5 days.
Where do boat tours leave from?
Boat tours in Naxos leave from the Port of Naxos. Your specific boat tour will give you a landmark in the port where you will meet.
When is the best time for a boat trip in Naxos?
A boat trip in Naxos can be amazing at any time of year. Book your boat trip early in your stay, as choppy sea conditions may lead to a cancellation of the trip. The windiest month is July, and that can lead to dangerous waters.
Depending on your tastes, boat tours that include sightseeing stops can be enjoyable in the quieter months, November through February. If you are hoping to swim in the Aegean, the waters around Naxos reach comfortable temperatures in late June and last until late September.
Which other outdoor activities can be done in Naxos?
Travel tips
For tours that serve lunch, notify your provider of any dietary restrictions at the time of booking.
If you suffer motion sickness, take medication 1 hour before your departure.
Carry sun protection and extra drinking water.