South of mainland Greece, the inviting Cyclades Islands jut from the Aegean Sea. The cluster of islands are known for their dazzling white buildings trimmed in blue, rocky terrain and tantalizing seafood and wines.
Among the archipelago's best-known islands are Naxos, Mykonos and Santorini. These destinations have earned world-wide fame for pristine views, luxury shopping and nightlife, and neighboring Delos's archeological treasures add depth to a pleasure-filled visit to Mykonos.
Whether you are planning a romantic getaway or want a day star spotting on the beach and chic gathering places, there are day trips and tours from Naxos for every taste.
Mykonos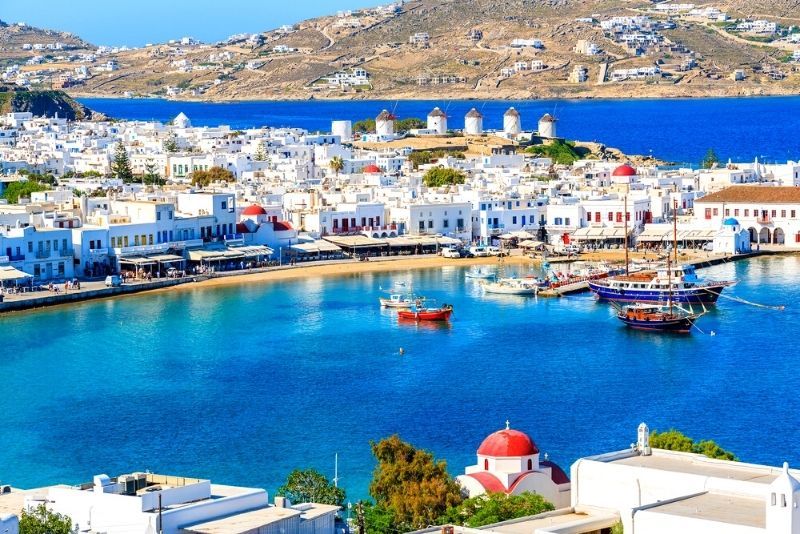 The "island of the winds," otherwise known as Mykonos, has hosted civilizations ranging from prehistoric and ancient Greek to interlopers like the Venetians and Turks over millennia.
Now known as a party destination, the island also boasts rich history, spectacular beaches and hidden corners to escape the throngs of jetsetters.
Day tours to Mykonos range from simple round-trip boat transportation to fully-guided tours. Both options provide free time to indulge your whims.
Designer shopping, celebrity hot spots and beaches teeming with beautiful bodies are a major draw to the island. Hit Little Venice and Matogiannia in Mykonos town for a taste of the celebrity lifestyle, or make your way to beach bars that promise hours of fun.
Mykonos isn't all dazzle. History buffs and natural beauty lovers have plenty to discover here as well. The island is the site of mythical battles between demi-gods and rabble-rousing pirates.
Conquered by the Venetians and the Turks during their times, Mykonos features layers of culture and legend that appeal to any curious traveler.
Must-see destinations are the 16th-century windmills, characteristic churches and of course the beaches. Built for grinding grain, the 500-year-old windmills of Mykonos now sit idle.
The hilltop site is a major attraction for photographers and affords sweeping sea views.
The island's gleaming white churches number among Greece's most photographed sites. Many structures have stood firmly for centuries. Don't miss the blue domes of the catholic church and Agios Nikolaos and the distinctive roofline of the Panagia Paraportiani.
The beaches of Mykonos are some of the most coveted in the world. While there are many spots that exude an eternal party vibe, a short drive can take you to secluded coves and family-friendly strands perfect for a few hours of swimming, sunning and snorkeling.
With day trips scheduling up to 6 hours of free time on Mykonos, visitors in search of lesser-known corners of the island have ample options.
Rent a car or scooter to reach a pristine cove, relax over a wine tasting away from the crowds, or amble coastal paths taking in views. For budget-conscious travelers, local buses run frequently to beaches at more remote points on the island.
Delos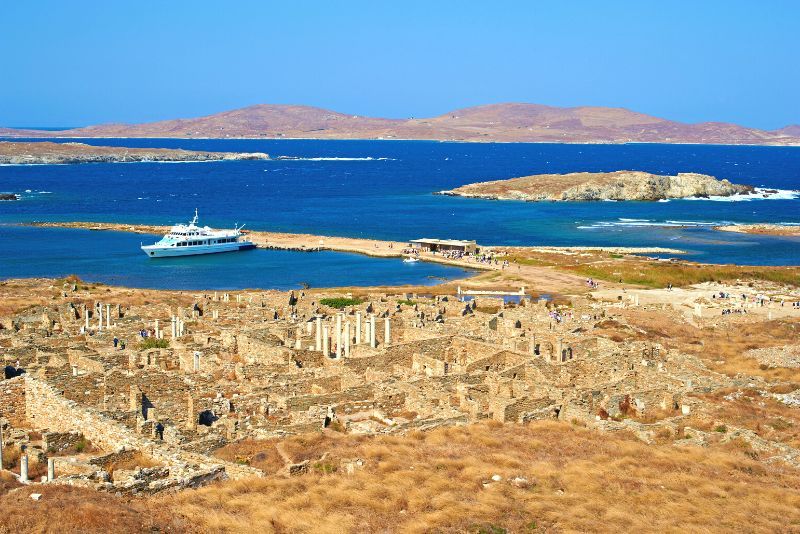 Break up the glitz of Mykonos with an outing on Delos, an uninhabited island rich with archaeological evidence that reaches back over 5 millennia.
Technically a territory of Mykonos, this UNESCO World Heritage Site is an opportunity to walk the paths of the ancient Greeks.
Many day trips to Mykonos begin with a stop on Delos to marvel at the remains of ancient societies. With ruins that date back as far as several hundred years BCE, uninhabited Delos is like an interactive archeological park.
Many tours include entrance fees (around €10 per person), and some give a fully-guided tour of the site.
As the mythical birthplace of Apollo and Artemis, Delos is rife with sacred relics. Walk the avenue of marble lions, climb to the hilltop theater and witness temples to the gods who were born here.
Take some time to spy carefully preserved artifacts at the museum on the island. Jewelry, mosaics, statues and pottery discovered on the island are on display in the air conditioned facility.
Tours with stops on Delos typically spend 3 hours on the island, and due to its hot climate and little shade, bringing sun protection and extra water is advised.
Santorini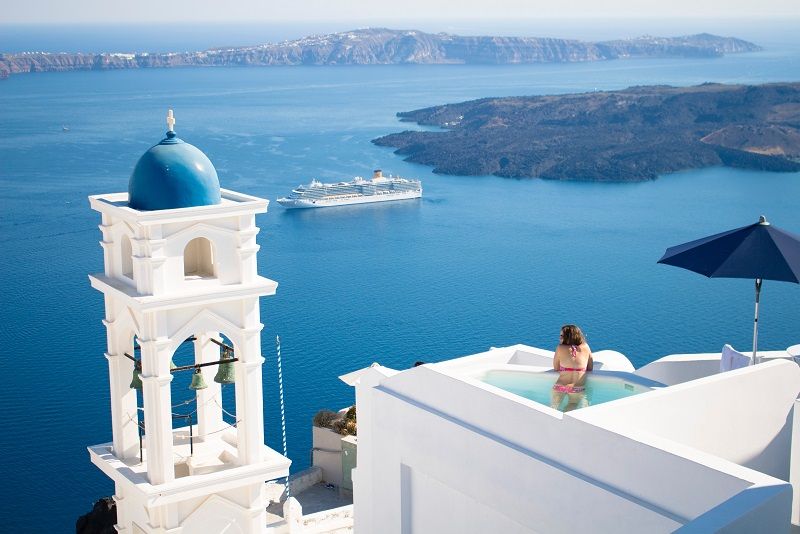 One of the most photographed locales in the Mediterranean, visitors flock to Santorini with plans to capture shots and absorb views. At the top of the list are the island's famed blue-domed architecture and the craggy sides of the caldera that rise above the Aegean.
The island is a delightful mix of cosmopolitan polish and rugged natural beauty. As you make the 2- to 3-hour journey south from Naxos by boat, take in the sapphire seas and rocky islets that make up the Cyclades.
Marvel at the rim of Santorini's submerged caldera that comprises several islands as you approach Athinios Port.
Tours that include round-trip boat travel from Naxos either allow a generous chunk of free time to explore or provide a combination of a guided tour plus time on your own.
Take in the most famous sites by bus with the help of a driver-guide, or arrange your own ground transportation to discover the sites.
Best known to visitors are the towns of Fira and Oia. Fira, the capital of Santorini, is an ideal starting point.
Hop on the cable car that leads from the old port to the town for a lovely combination of views and transportation. The town offers designer shopping, a wealth of museums and Instagram-worthy sites at every turn.
Just 12 kilometers north of Fira sits Oia, the most visited spot on Santorini. Oia's 300-year-old windmills, hillsides of whitewashed buildings and crumbling Venetian castle are some of the most iconic images of the Greek isles. Time your visit just right to enjoy a sunset over the sea.
The popularity of Fira and Oia makes for busy streets and sites, but Santorini's more remote  hamlets allow escapes for travelers wanting a bit of peace.
Step off the beaten path with a stop at Megalochori or Emporio to see a traditional Cycladic village or peerless caldera views from Firostefani.
A surprising contrast to bustling Fira is Karterados, just 2 kilometers downhill from the island's capital. This sleepy oceanside village is close to the airport but maintains a small-town feel.
For the best views on the island, stop by Pyrgos, the island's highest town. Pyrgos's charms rival Oia or Fira with just a fraction of the crowds.
The geothermal activity that gave birth to the Cycladic Islands is evident in Santorini's rugged landscape and volcanic sand beaches. Stretches of the coast are adorned with colorful sands that merit a visit.
See the red beach at Akrotiri and black beaches at Parissa, Kamari and Perivolos. Topping off the geothermal highlights are volcanic hot springs near Amoussa Bay that are perfect for a soak at the end of a day of sightseeing.
Abundant sunshine, volcanic soils and a clement Mediterranean climate have made Santorini an ideal locale for growing wine grapes. Wineries dot the island, and adding a tasting to your day is a refreshing break between sites.
Try bright whites like retsina or assyrtiko, or reds such as full-bodied mavrotragano or sweet vinsanto.