What better way to discover this exciting musical city than with a pub crawl tour? Its impressive stage lights and live intimate music gigs make Nashville, Tennessee,  a spectacular destination to explore on foot, while you dip into age-old pubs, bars and hotels which play host to a range of musicians and lively hen or stag parties.
Nashville is the proud hometown of Miley Cyrus and a string of country music stars who are all creating their very own honky-tonks, making Nashville one of the best cities to party in the US. If you haven't been already, then the time is now to tick a pub crawl in Nashville off your bucket list.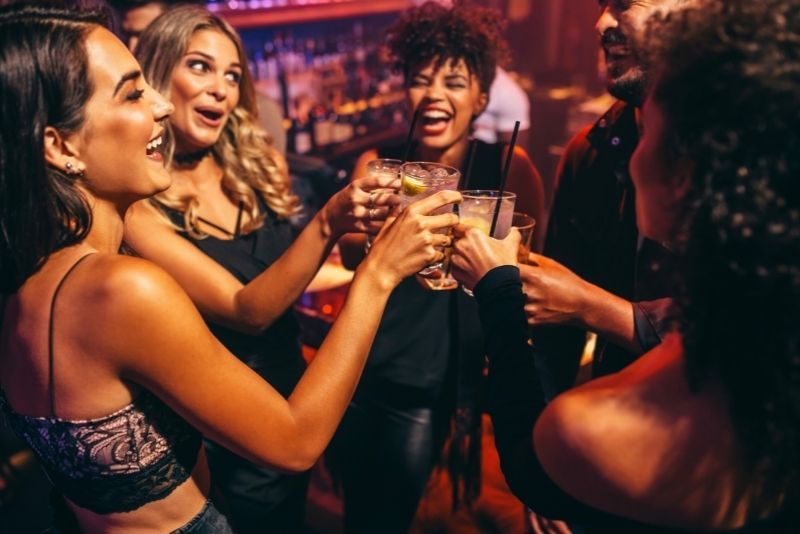 You will find below all about pub crawls, one of the best options for nightlife in Nashville.
What are the best pub crawls in Nashville?
There are a number of different types of pub crawl tours that take place in and around Nashville according to your preferences and interests.
An all-inclusive pub crawl with moonshine, cocktails and craft beer
One of the most popular tours in Nashville, this 2-hour tour allows you to discover the city's bustling nightlife scene with an expert guide who will introduce you to the true tastes of Nashville.
You'll sample delicious cocktails and local brews, as well as the famous Tennesse moonshine while visiting a range of watering holes such as the iconic Honky Tonk and the Gin-Mill – a speakeasy-style bar. At the end of your tour, you'll be given a free gift bag and fanny pack.
Honky-tonk sightseeing pub crawl
If drinking and comedy are your interests, then this is the tour for you. You can expect to see Nashville from an exciting perspective on this tour that is run by humorous guides. They will tell you spooky ghost stories, country music tales and the history of some of the pubs, as well as interesting insights into the area.
You'll visit some pubs and bars that are off the tourist track, as well as some of Nashville's top tourist landmarks.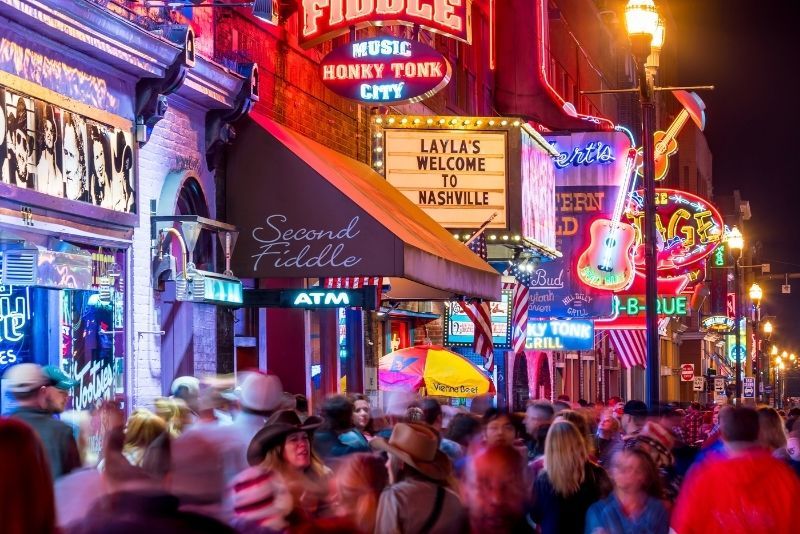 Seeking spirits haunted pub crawl
If you want to discover the spooky areas of Nashville, then opt for a seeking spirits haunted pub crawl. On this 2-hour ghost-themed itinerary, you'll learn the dark side of the city's history, as you marvel at haunted morgues.
You will make stopovers at mysterious pubs and bars, including the Hard Rock Cafe and Skull's Rainbow room, as well as hotels that have intriguingly eerie stories that are kept secret to most tourists.
Music city pub crawl
Music fanatics will love this music city pub crawl. Lose yourself in the spirit of this exciting city, as you visit some of Nashville's most unique watering holes. Your knowledgeable guide will tell you stories of some of the city's top bars, and you can enjoy a number of special offers along Printers Alley.
Expect to sing to your heart's content at karaoke and fill your ears with plenty of live music along the way.
How much do pub crawls in Nashville cost?
An all-inclusive pub crawl costs around US$70 per person and includes a 2-hour guided walking tour, a selected drink at each venue you visit and a Nash fanny pack to take with you as a souvenir.
A Honky-tonk sightseeing pub crawl costs US$30 per person and includes coupons to restaurants visited on your tour, a knowledgeable guide and public transportation rides.
A seeking spirits haunted pub crawl starts at US$30 per person for a 2-hour tour. This includes an expert guide and a spooky evening walking tour.
Music city pub crawls cost between US$20 to US$35 per person, and include a visit to a number of bars, live music venues and a knowledgeable tour guide.
What is included in a pub crawls in Nashville?
Pub crawl tours in Nashville vary, with some venturing to off-the-beaten-track to show you pubs and bars that only the locals know about. There are different themed pub crawls to choose from, which come with live music or a spooky evening experience, depending on the tour.
Most pub crawl excursions come with a knowledgeable local guide and a walking tour, with some coming with a sample of local alcoholic beverages. Hotel pickup is also available on some selected tours, but it's worth checking the specific tour you have booked beforehand.
Where do pub crawls in Nashville start?
Most pub crawls begin on the strip along Printers Alley in downtown Nashville, at a predetermined meeting point.
How long do pub crawls in Nashville last?
Pub crawls in Nashville last anywhere between 1 and 3 hours, depending on the number of stopovers on each excursion. Spirits haunted pub crawls typically last an hour, whereas a combined sightseeing and pub crawl lasts three hours.
When is the best time for a pub crawl in Nashville?
The best time for a pub crawl in Nashville is in the evening when most of the establishments are open, and the top landmarks glisten in the night.
The best time of the year to visit Nashville is during the spring and summer seasons, from April to October, when the balmy weather brings this musical city to life.
Are children allowed on a pub crawl in Nashville?
Given that pub crawls involve the consumption of alcoholic beverages, the minimum age requirement is 21 for embarking on tours of this nature.
Travel tips
Make sure to wear comfortable footwear, as most of these tours involve a lot of walking around town.
Make sure you eat before your journey, as restaurant meals are not always included in the tour package.
Grab a late-night bite at a number of food trucks scattered across town in case you get hungry after your tour.