Boat tours in Montreal give you a unique perspective of this historic Canadian city. You'll travel along the St. Lawrence River, checking out major landmarks and learning how Montreal has the fur trade to thank for its existence.
Brunch and dinner cruises add a refined element to the experience, with decadent meals perfectly complementing the superb views. Live entertainment and dancing are also on the agenda for a dreamy night out.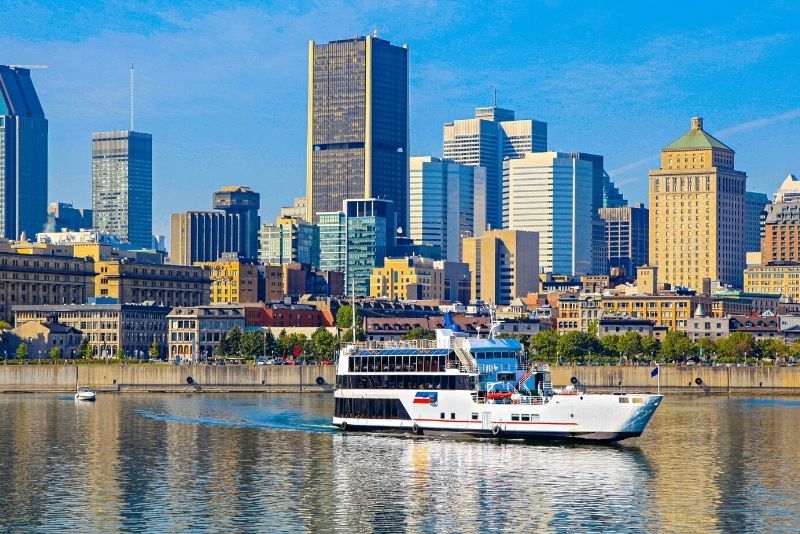 You will find below all you need to know about boat tours, one of the most fun outdoor activities in Montreal.
What are the most popular boat tours in Montreal?
Sightseeing boat cruises in Montreal are one of the best ways to get a feel for the city. You can elevate your experience by booking a brunch or dinner tour for elegant dining with vistas to match.
Sightseeing boat tours in Montreal
The most popular boat tours in Montreal are the sightseeing cruises on the St. Lawrence River. They generally take place on board an iconic Bateau-Mouche boat, just like the ones you'll find in Paris. These excursions pass by some of Montreal's most famous landmarks, with uninterrupted views across the water for great photos.
The onboard guide will provide commentary during the trip, so you'll know what to look out for. There will be plenty of historical anecdotes to provide a bit of context too. Both indoor and outdoor seating is available so you can move about the boat for a change of scenery.
Brunch and dinner cruises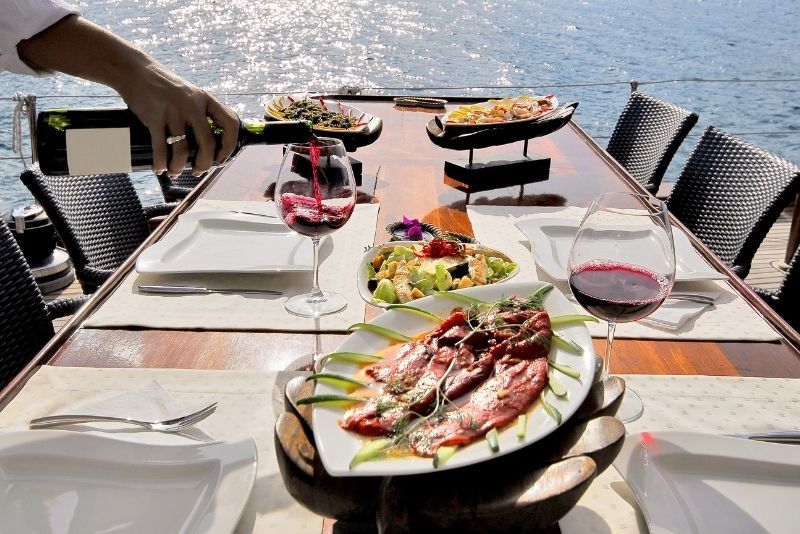 For something a little more special, why not enjoy a bit of fine dining with your sightseeing? Brunch cruises begin at 11:30 AM and come with three courses and a side helping of views. Sit back and relax in the panoramic dining room while being served a delicious meal cooked using local produce.
Dinner cruises in Montreal are an even more lavish affair, with five gourmet courses to keep your taste buds happy. You'll set sail at 7 PM after enjoying a drink at the onboard bar.
As well as the meal, there's live DJ music and dancing under the stars for those who want to let their hair down. Prefer to relax? Then chill out in the dining room with a coffee and watch the world go by.
How much do boat tours in Montreal cost?
Sightseeing Montreal boat tours start at US$30 for a 1-hour trip and US$50 for a 1.5-hour ride. There will be a professional guide on board providing commentary, and a bar where you can buy drinks and snacks.
Montreal boat excursions that include brunch cost US$80 per person, with a 3-course meal and commentary provided. Tea and coffee are complimentary but other drinks are extra.
For a dinner cruise in Montreal expect to pay around US$140 per passenger. This includes a gourmet 5-course meal, tea and coffee, live entertainment and cruise commentary. You can purchase additional drinks at the bar.
Which places are seen on a boat tour in Montreal?
Old Port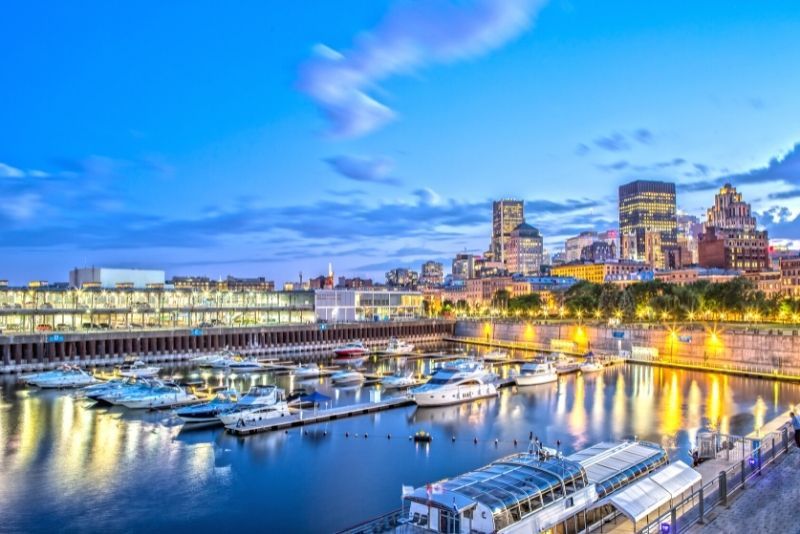 The Old Port is a major highlight on most boat trips in Montreal. This is where the tours begin and seeing the historic docks from the water is a great introduction to your adventure.
Built in the 18th century, the port helped establish the city as a significant fur training center in the Americas. Its use has changed over time, and today the Old Port is one of the most visited tourist destinations in Montreal.
There are five wharves, each with their own distinct vibe. The Clock Tower Quay is the most famous while King Edward Quay is home to the Montreal Science Centre. It's worth spending some time exploring the Old Port on foot either before or after your tour.
Olympic Stadium
One of the iconic landmarks you'll see looming over the skyline is the Montreal Olympic Stadium. Constructed for the 1976 Olympic Games, the stadium boasts the world's tallest inclined tower.
Today, the stadium is used for sporting events, concerts and trade shows, and visitors can explore inside on a guided tour. Want to fit in with the locals? Then just call it "The Big O".
Pont Jacques-Cartier
Boat excursions in Montreal give you the best view of the famous Pont Jacques-Cartier. This steel cantilever bridge is an icon of engineering and serves as an emblem of the city. It was constructed in the 1920s to link Montreal Island to the city of Longueuil.
Parc Bellerive
This leafy park sits on the banks of the St. Lawrence River, stretching for a couple of kilometers along the waterfront. The greenery shows a different side of this sprawling urban metropolis.
Parc Bellerive is a popular place for summer picnics and cultural events and is well worth a visit during your stay.
How long does a boat trip last?
Sightseeing boat tours in Montreal tend to last between 1 and 1.5 hours depending on the provider and the route. This is enough time for you to take in the main river sights and enjoy a relaxing ride without feeling rushed.
Brunch excursions are 2.5 hours while evening dinner cruises take around 3.5 hours.
Where do boat tours leave from?
Most Montreal boat trips depart from the Old Port. Check with your provider to see which quay they use.
Parking in Montreal is difficult during peak months so it's best to use public transport to reach the starting point if you can. Hotel pickups are not provided. You can reach the Old Port by metro, jumping off at the Place D'Armes station. From there, it takes just a few minutes to walk to the quays.
When is the best time for a boat trip in Montreal?
Sightseeing boat tours in Montreal operate throughout the day, so you can just pick a time that fits in with your schedule. For the ultimate romantic experience, book an evening dinner cruise and see the city illuminated at night.
The trips take place in most weather between spring and fall, with covered seating for rainy or colder days. If you want to take in the sights from the outdoor deck, then come during summer when it's warmer. The tours usually stop running over winter.
Which other outdoor activities can be done in Montreal?
Travel tips
Montreal boat tours usually have a bar on board where you can purchase drinks and snacks. You are not allowed to take your own food and drinks on the boat.
Booking ahead is advisable to make sure you get seats on your preferred date. By searching online, you can find the cheapest prices too.
Take a rain jacket, even in summer, as it can be breezy on the outer decks.
The dinner cruises are often quite fancy, so may not be appropriate for younger children. The suggested minimum age is 15 years.