Jeep tours in Moab are a thrilling way to explore Utah's backcountry, taking you deep into the wilderness in search of adventure. You'll discover hidden canyons and mind-boggling landforms as you bounce along the trails.
Your group can ride along as passengers with an expert guide or opt for a self-drive tour and become real-life pioneers. Jeep rentals are also available if you want to be completely self-sufficient.
Here's all you need to know about jeep tours, one of the most exhilarating outdoor activities in Moab.
What are the best jeep tours in Moab?
Guided group jeep tours
These Moab jeep tours run on a group basis, and you'll be journeying with other travelers in your vehicle. This is the cheapest way to explore, and a fun opportunity to meet new friends.
The day begins in Moab with a hotel pickup or collection at the starting point in the town center. You'll then be driven to Arches National Park, which is just a few minutes away. Then it's time for the off-roading to begin.
Look out for the giant sandstone arches and rocky pinnacles as you jostle along the trails. Fossilized dinosaur footprints also make an appearance during the ride. The red rock gleams in the sunlight making for great photos.
If you opt for the evening tour, the sunset brings the rocks to life in spectacular fashion. Your journey ends where it started, back in Moab.
Self-drive group jeep tours
For the ultimate thrill, some tours let you get behind the wheel of the jeep. You don't need previous off-road driving experience, just a thirst for adventure as there will be some steep sections to negotiate.
After meeting your guide and receiving a safety briefing, it's time to get started. You'll be traversing the dramatic Hell's Revenge Trail in central Moab, following your fellow drivers and the lead guide in a convoy.
After tackling the roller-coaster ridge, you'll descend to Lake Michigan down in the canyon. There will be stops along the way, to admire the views and see the fossilized dinosaur tracks that have been unearthed by archaeologists. This is a land as old as time!
You'll then continue to Echo Canyon where colossal sandstone cliffs rule the roost. Views of the Colorado River are a final treat before you head back to Moab.
Private guided jeep excursions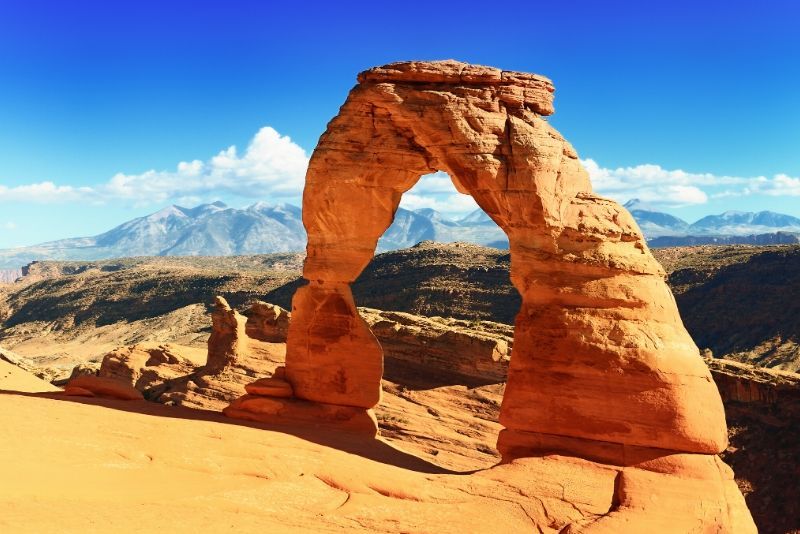 If you're traveling with a group of friends, it makes sense to book a private jeep trip in Moab and have the 4X4 to yourselves. These tours are more expensive but having a personal guide and some flexibility with the itinerary makes it worthwhile.
After being collected from your accommodation, you'll head to some of Moab's most thrilling trails, including Hell's Revenge and Fins N'Things. Some excursions take in Arches National Park or Canyonlands National Park instead.
You can choose to ride in the jeep with your guide or have a go at driving in a second vehicle. As the tour is private, you can swap roles with your fellow passengers during the trip. The guide will drop you back at your hotel after an epic day out.
Moab jeep rentals
If you're a confident driver and are experienced in navigation, then why not rent a jeep for the day and go it alone? You'll be able to explore the Moab backcountry at leisure, stopping whenever and wherever you like.
There's room for five people in the vehicle, so this is a fun option for families or groups of friends. You can even share the driving with your mates. The operator will help you plan an itinerary before you set out, based on what you want to see and do out on the trail.
You'll be given a trail guide and some maps to help you on your way. Then it's time to go, traveling at your own pace for a stress-free trip. Whether you decide to explore Long Canyon, tackle the Gemini Bridges Trail or check out iconic desert landforms, adventure awaits.
You have an entire day to play with, so take a picnic and make the most of it.
How much do jeep tours in Moab cost?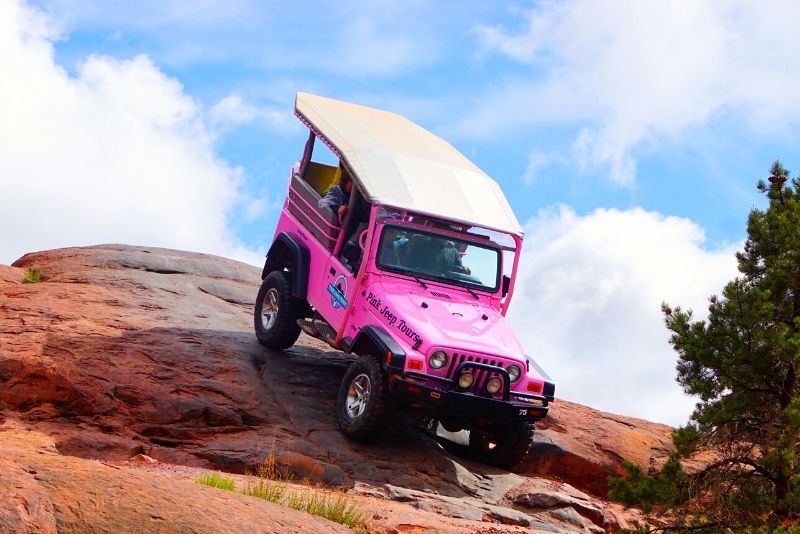 Guided tours that operate on a group basis are US$170 per person with a professional driver included. Meanwhile, for a private guided Moab jeep excursion expect to pay US$400 for a group of up to four passengers.
Self-drive jeep tours in Moab start at US$140 per person for a 2.5-hour group trip. You'll have a guide who will be in another vehicle, and bottled water is included in the price. Private self-drive experiences are priced at US$290 per person for a tailor-made trip.
Unguided jeep rental is also available and costs US$370 for 11 hours. This is valid for up to five people in one vehicle so can be cost-effective if you are traveling with friends. Non-US visitors must purchase collision damage waiver insurance which costs US$40 per day.
What is included?
Most Moab jeep rides come with a licensed driver who is also an experienced local guide. Hotel pickups and water are often included.
Park entrance fees are sometimes covered in the jeep package – check the operator details for more information. For tours where the fees aren't covered, you'll need to pay US$15 per person on arrival unless you have a National Park Pass.
Where do jeep tours in Moab start?
Most guided Moab jeep trips include transfers from hotels and campgrounds in the local area. Check with your provider to see if your accommodation is on the collection list.
The self-drive tours don't usually include hotel pickups, so you'll need to travel to the meeting points independently. These are often located along the main street in Moab so will be easy to find.
How long does it last?
Jeep adventures last between 4 and 10 hours, depending on your destination. The shorter tours take in places like Arches National Park, while the longer trips venture further afield to include Canyonlands National Park.
Guided self-drive jeep tours in Moab are usually 2.5 hours long, which is plenty of time to get the adrenaline pumping. Non-guided jeep rental is also available, and you can hire a vehicle for up to 11 hours.
When is the best time for a jeep tour in Moab?
You can enjoy jeep excursions in Moab throughout the day, with both morning and afternoon trips available. It's cooler in the mornings, so opt for an early start if you're not a fan of the heat. Wildlife is likely to be more active then too.
It's a good idea to enjoy the tour at the beginning of your visit to help you understand the lay of the land.
Are there any combo trips available with jeep tours in Moab?
Moab jeep tour plus Colorado river rafting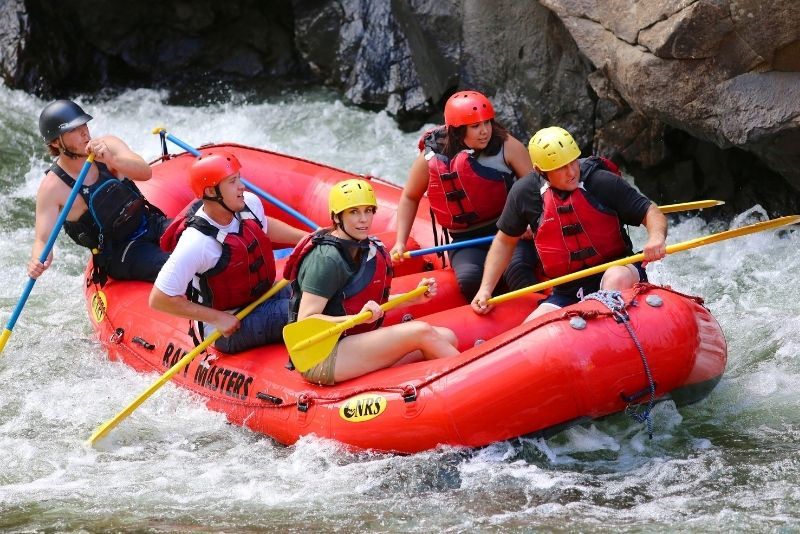 These full-day excursions give you a deeper appreciation for the geology of the Moab area, with adventures by both land and water. You'll begin your trip with an exhilarating 4X4 ride through Canyonlands National Park.
The morning will be spent exploring the remote trails that meander through the Island in the Sky area. After a picnic lunch overlooking the Colorado River, you'll take to the water for some rafting thrills – and hopefully no spills!
You'll be accompanied by professional guides throughout the day, before being returned to your Moab hotel in the evening.
Do I need a driving license to take a jeep tour in Moab?
Yes, if you are driving the jeep, you'll need to take your driving license for inspection at the rental office. All drivers must be at least 21 years old.
Non-US travelers must have collision damage waiver insurance – this can be purchased through the rental company.
Which other outdoor activities can be done in Moab?
Travel tips
Jeep tours in Moab sell out fast in peak season so don't leave it until the last minute to book your ticket.
For safety reasons, closed-toe shoes are required – no flip-flops allowed.
These excursions are bumpy, so they are not recommended for pregnant travelers or those with back problems or heart conditions.
It gets hot out here in the desert so sunscreen, sunhats and sunglasses are a must.