Founded in the 11th century, the German city of Leipzig is brimming with architectural wonders and historic monuments. From extravagant fountains to lofty church spires and opera houses known for the famous faces that pass through, there are plenty of attractions to see in this spectacular destination.
One of the best ways to discover the city's highlights is by participating in a free walking tour in Leipzig. These excursions enable you to discover each landmark through the eyes of a local, learning intriguing facts that you'd miss if exploring alone.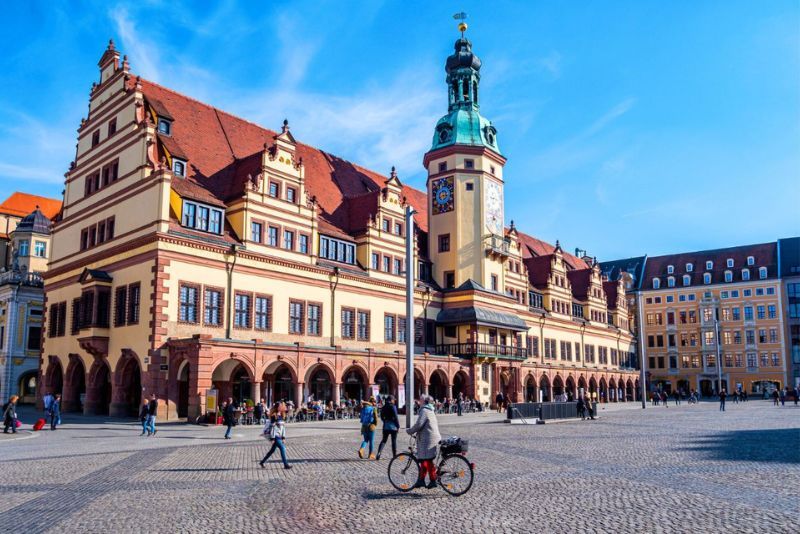 Here's all you need to know about free walking tours, one of the most engaging sightseeing tours in Leipzig.
How do free walking tours work?
Free walking tours in Johannesburg have become increasingly popular in recent years as they provide tourists with an affordable and authentic way of experiencing this incredible city.

Compared to standard walking tours in Leipzig, these sightseeing tours are completely free to book and participate in. However, it is encouraged to you tip your guide at the end of the tour. The amount you decide to tip is completely up to you.
How much should you tip?
When deciding how much to tip, you should take into consideration the effort your guide put into the tour, as well as how much you enjoyed the experience overall.
Most tour participants tend to tip between €10 and €15 per person, but some people tip as much as €50 for outstanding tours.
What are the best free walking tours in Leipzig?
Free Walking Tour in Leipzig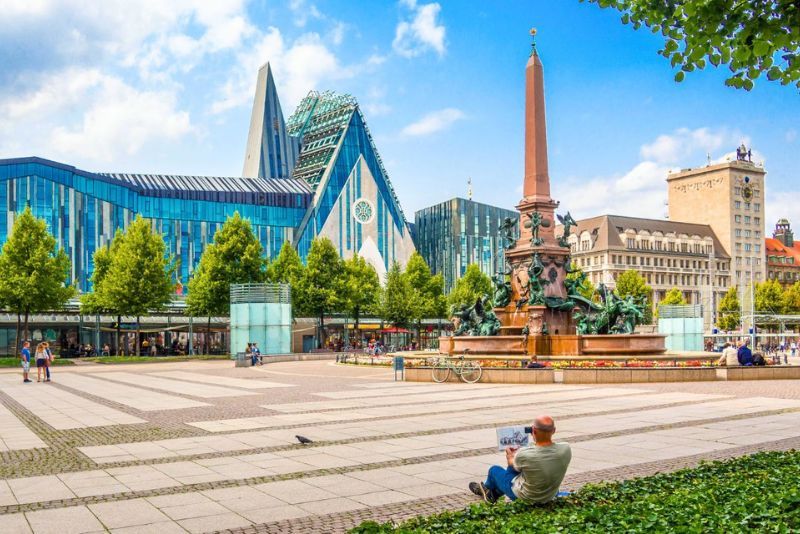 After meeting your guide at the largest square in the city — Augustusplatz — you'll wander the streets together to reach your first destination, Oper Leipzig, which was rebuilt in the 1950s on the grounds of an older theater that was destroyed in WWII. Learn about the masterminds who have performed on the opera house's stage, including Richard Wagner.
Then, move on to Gewandhaus, the third in a line of concert halls built in the city since the 18th century. Travel back several centuries by visiting the Leipzig University, which was founded in 1409 and is known as an architectural masterpiece, designed by Dutch-born Erick van Egeraat.
See the New Town Hall, which has seated the city's administrators since the early years of the 20th century and is formed of shelly limestone, found in the Rhine River. Another highlight on the itinerary is St. Thomas Church, the burial site of the esteemed composer Johann Sebastian Bach. Just outside the church doors, you can admire a statue dedicated to the musical genius.
Visit a historic tavern on your way to the city's marketplace, surrounded by a wealth of fascinating buildings, including the Old Town Hall, constructed in a Renaissance style. The final destination on this walking excursion is the Statue of Goethe — a memorial to the German poet — and St. Nicholas Church, named after the patron saint of travelers.
Plagwitz Free Walking Tour in Leipzig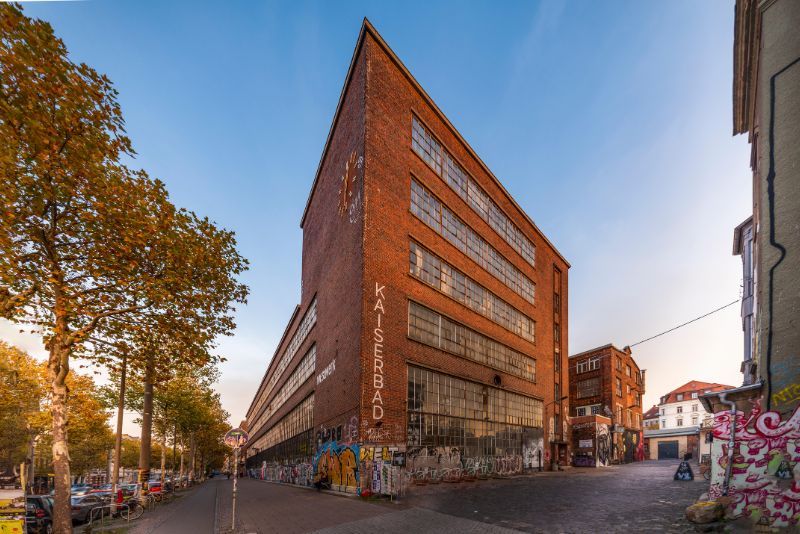 This free walking tour in Leipzig transports you to one of the neighborhoods less frequented by travelers to provide you with a more authentic experience in the city. Once an industrial corner of Leipzig, Plagwitz has long been known as the cultural center of the city, attracting creatives from across the country to contribute to its arts scene.
You'll learn how the district contributed to Leizig's nickname as "Hypezig," and discover a multitude of attractions that are bound to keep any traveler entertained. You'll stroll through the streets, admiring the street art that transforms the neighborhood into a colorful wonderland, and discovering different styles of graffiti.
Alongside its street art, Plagwitz is famed for its collection of independent boutiques and thrift stores, offering a quirky collection of goods, which you'll wander past, gaining a feel for this western part of the city. You'll also learn where the best spot to sip on a frosty brew is, which is bound to be helpful information for the rest of your vacation.
Free Walking Tour of Leipzig Old Town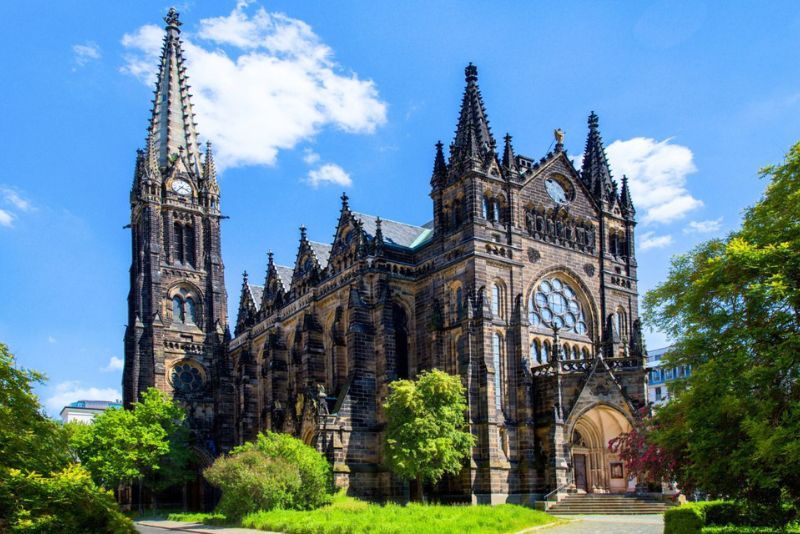 You'll begin this free tour in Leipzig's Old Town by discovering Mende Fountain, which features a multitude of statues of mythical beings from the ancient Greek period, including Nereids and hippocampi. From there, you'll make your way to the city's opera house, where a number of the most celebrated composers have performed since the 18th century, including Wolfgang Mozart and Ludwig van Beethoven.
Moving on, you'll see the architectural masterpiece that is Leipzig University, as well as the Moritz Bastion. This bastion is the only remaining piece of the fortifications that once surrounded the city. Unlike many fortifications, these walls were destroyed by the town itself after their uselessness was highlighted during the Seven Years War, which involved Europe, the Americas and Asia-Pacific.
You'll then visit the New Town Hall, which, alongside being an important governmental building, is known as the location of mass suicides by members of the Third Reich at the end of WWII. Other highlights on this free walking tour in Leipzig include the Federal Administrative Court, located inside the former Imperial Court of Justice, as well as St. Thomas Church.
Watch as locals purchase their daily produce at the Marktplatz and admire the square's surrounding buildings, which include the Old City Hall, now home to the Museum of City History. Then, explore the Old Stock Exchange, which underlines Leipzig's history as an important destination for trade, followed by Specks Hof, a historic preserved shopping arcade.
Finally, you'll visit the Mädler Passage, the roots of which date back to the 16th century, before ending your excursion at St. Nicholas Church.
In which languages is it operated?
Generally, free walking tours in Leipzig operate in English or German, making them suitable for both national and international tourists. However, these limited language options mean that not everyone can enjoy a guided walk through the city. As these excursions become more popular, additional languages may become available.
Where does it start?
Free walking tours in Leipzig begin at a range of locations across the city, depending on the areas you'll be exploring. These meeting points are typically easily recognizable landmarks, such as the Augustusplatz, or close to the Felsenkeller cultural center.
You can see the exact starting location for your tour before booking, which gives you plenty of time to plan your route and arrange transportation. While Leipzig covers a large area, its public transportation network is simple and reliable, making it easy to navigate.
How long does it last?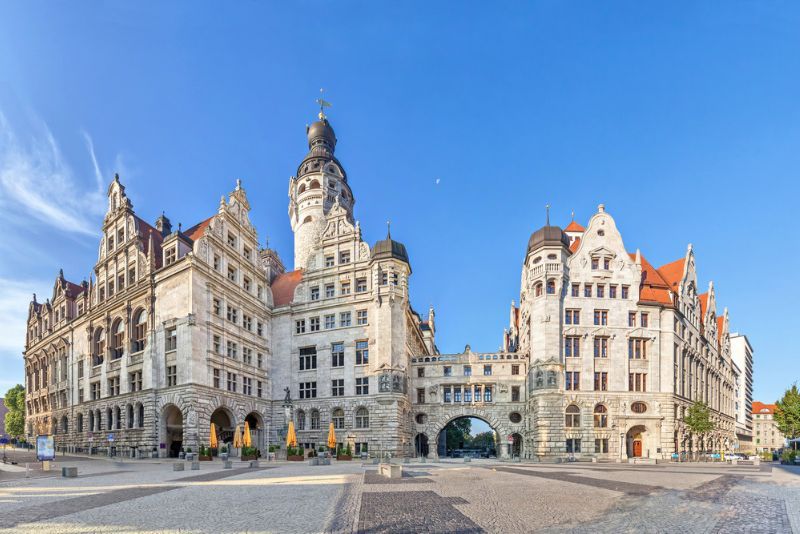 Generally, free walking tours in Leipzig last between 1.5 and 3 hours. Leipzig is among Germany's largest cities, so you won't be able to explore all of its dazzling attractions in such a short time frame. However, you will be able to gain an introduction to the city and discover a number of its highlights.
Is it wheelchair friendly?
Yes, there are free walking tours in Leipzig that are wheelchair-friendly, which largely depends on the areas covered. Excursions through the Old Town are typically not wheelchair-accessible, while tours in the Plagwitz district tend to be suitable for travelers. When booking, consult the operator to confirm whether the tour on offer is suitable for all members of your party.
When is the best time to join a free walking tour in Leipzig?
The best time to join a free walking tour in Leipzig is during the late spring to early autumn months, as the weather is pleasant, allowing for comfortable exploration on foot. During this period, Leipzig's parks are lush and the city's historic sites are most lively. Morning tours are ideal to avoid the afternoon crowds and enjoy a cooler climate.
Should you book tickets online?
It is highly recommended that you book your spot on a free walking tour in Leipzig ahead of time. These sightseeing tours often operate in small groups and can get booked up quickly.
Reserving your spot on a tour is completely free and takes only a few clicks through the online booking platform. By reserving your spot online, you will save time and energy once you arrive in Leipzig, making for a more seamless trip.